Egon Schiele, an Austrian expressionist painter, is known for his bizarre yet innovative ways of depicting erotic atmosphere and deeply psychological self-portraits. Schiele used colors rather sparingly, making his work identifiable by his typical black outlines and limited palette. In his numerous self-portraits done over many years, the artist is usually nude and staring directly into the viewer, making the relationship between the artist and his viewers dynamic, tense, and confrontational . Schiele's female models were also nude, with their bodies depicted in bizarre, contorted positions. The artist was a student of the symbolist Klimt, but only a small portion of Schiele's works, such as his landscapes, evoke the folkloric atmosphere present in Klimt's paintings.[1] Even though Schiele was a prolific painter, his splendid career ended tragically, since he died in 1918 when he was 28, as a victim of the Spanish flu.
[caption id="attachment_301145" align="aligncenter" width="855"]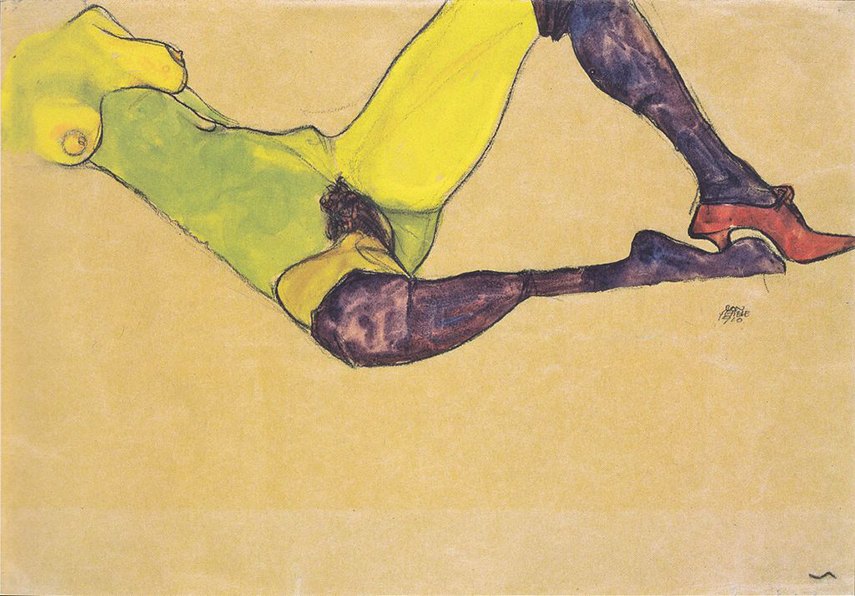 Egon Schiele - Reclining Nude, 1910[/caption]
Childhood and Education of Egon Schiele
Egon Schiele was born in a small Austrian town also known as Blumenstadt or a city of flowers. His father, Adolf Schiele, was a stationmaster at the Austrian State Railways. His mother, Marie Soukupova, was originally from the Bohemian town called Krumau, which is now the site of the Egon Schiele museum. Talking about the artist's family history, Schiele had two sisters, Melanie and Gertrude, the latter of whom married one of Schiele's friends. During his childhood, Schiele was considered a strange person – he was always shy, introverted and bad at school. He excelled only in athletics and drawing and attended classes with younger generations of students. Schiele had incestuous fantasies towards his younger sister Gertrude, which eventually came true - when he was sixteen,he took his twelve-year-old sister Gerti on a train trip to Trieste without parents' permission. Upon arriving in Italy, they spent a night together in a hotel room. Despite his problematic behavior and poor grades at school, one of Schiele's art instructors recognized a natural gift for drawing and painting in him. This teacher also supported him and encouraged him to pursue formal, academic training in visual arts. After his father had died from syphilis, young Egon was been placed under the guardianship of his uncle Leopold and couple of years later, in 1906, he enrolled in Akademie der Bildenden Kunste in Vienne, the same school that Gustav Klimt attended.
Despite his problematic behavior and poor grades at school, one of Schiele's art instructors recognized a natural gift for drawing and painting in him
[caption id="attachment_301148" align="aligncenter" width="835"]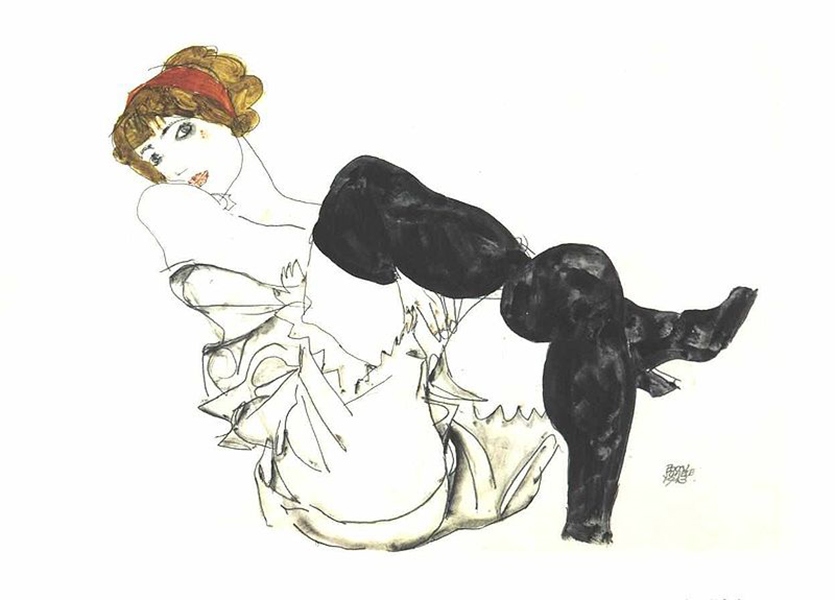 Egon Schiele - Walburga Neuzil in Black Stockings, 1913[/caption]
Schiele's Admiration of Gustav Klimt's Artworks
Painter Gustav Klimt had a huge influence on Schiele's artistic path. He also became Schiele's close friend and mentor. Schiele inherited Klimt's focus on eroticism and they also had an insatiable sexual appetite in common. However, the emotionally intense atmosphere typical for Schiele's work is something he developed on his own – Klimt's pieces are, on the other hand, more peaceful and more idyllic. Eventually, Schiele's exploration of his own inner world and turbulent emotional states started to opposed Klimt's Art Nouveau style. Klimt was fond of rich, brilliant palette and shiny surfaces, while Schiele preferred austere, raw simplicity.[2] Yet, Klimt was very influential in Schiele's life also as a connection to various patrons, models, and other artists that Schiele knew little about, despite being an utterly devoted art student. The artist didn't have many occasions to learn about the culture outside of Vienna, because the capital of Austria was somewhat isolated from European avant-garde circles in the 1910s. Thanks to Klimt, Schiele was introduced to the Wiener Werkstatte, the arts and crafts workshops belonging to the Vienna Secession. The Wiener Werkstatte was considered an innovative movement closely tied to other modernist art styles. In 1908, when Schiele was still a teenager, he took part in his first group exhibition in a small town north of Vienna. In 1909, with a group of art students, Schiele decided to leave the Academy in protest because he deemed their teaching methods too conservative. He also thought that the Academy failed to accommodate properly more forward-thinking artists which were becoming more and more prominent throughout Europe. Schiele founded the Neuekunstgruppe , also known as New Art Group, as a part of his artistic rebellion. This New Art Group consisted of numerous dissatisfied artists who decided to flee their educational path at the Academy. The members of the group were very prolific – they were continuously organizing public exhibitions throughout Vienna and its neighborhoods. Even though Schiele was an active participant in their projects, he was also exploring new painting styles for himself. He introduced unusual distortions, jagged contours, and somewhat somber, dark palette. In this way, he distanced himself from the decorative Art Nouveau style. To put it simply, Schiele was gradually growing apart from the style he once admired, the style typical for Klimt. In spite of this, the two of them remained very close friends until Klimt's early death in 1918.
Painter Gustav Klimt had a huge influence on Schiele's artistic path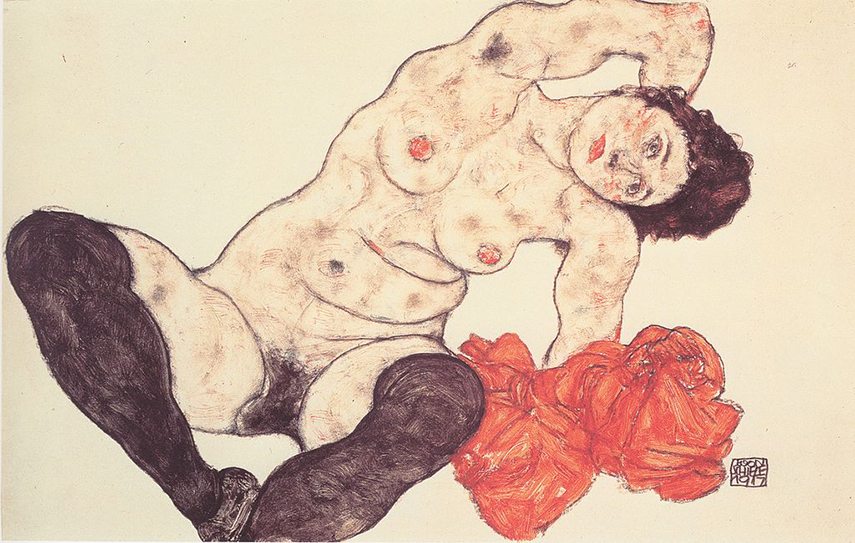 Personal Style, Key Ideas, and Portrait Types
Schiele's portraits and self-portraits which explore people's psyches and sexuality are among the most remarkable and most refreshing visual expressions of the twentieth century. It is also important to mention that the artist, who was extremely prolific during his career, is famous not only for his erotically charged artworks but also for his unusual, mysterious biography.[3] His lifestyle was both scandalous and tragic – he died when he was only twenty-eight, three days after his pregnant wife died, at a time he was about to achieve a significant commercial success which eluded him during his early career. The artist's bold portraits and self-portraits managed to reestablish both subgenres of painting because of their unparalleled emotional and sexual rawness and directness. Also, the use of figural distortion was a novel practice which changed the typical visions of beauty. Schiele was prevalently depicting himself or his friends and acquaintances, using a plenty of awkwardly revealing and unsettling angles, such as views from above, which were uncommon in the portrait genre at the time. Occasionally, he would incorporate traditional motifs as well, in order to create a powerful allegorical statement on the human condition. Schiele possessed enviable, extraordinary drawing skills and he left behind around three thousand magnificent drawings. He regarded drawing as his main expression and he appreciated it the most, because of its immediacy and simplicity. His works count as some of the finest examples of drawing in the history of this medium. When it comes to his paintings, they preserved some of his drawings' crucial characteristics, such as contours and linearity.
The artist's portraits and self-portraits managed to reestablish both of these categories of painting because of their unparalleled emotional directness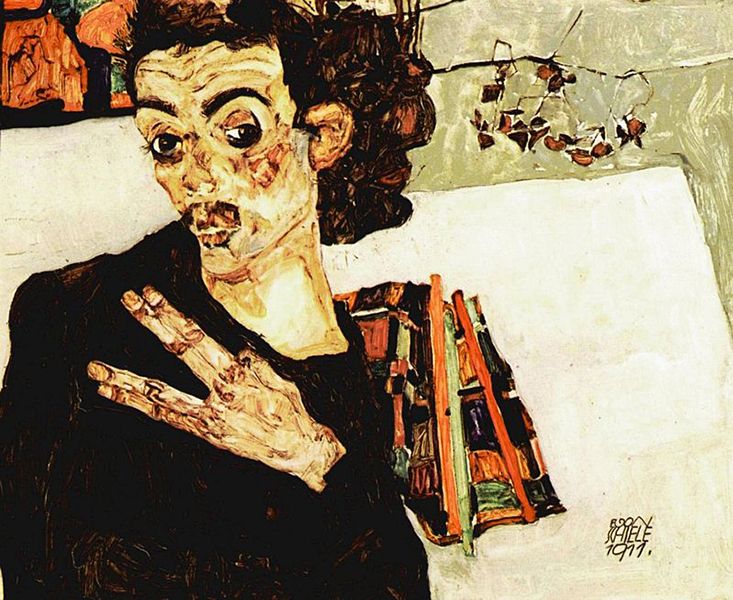 Later Career and First Exhibitions
After forming the New Art aka Neuekunstgruppe, Schiele has achieved a modest success as a painter, which lead to his first solo exhibition in 1911. The show was held at Galerie Miethke in Vienna and it consisted of the artist's psychoanalytical self-portraiture and sexualized portraits of young women. After his debut solo show, Schiele started participating in numerous group exhibitions - in Prague in 1910, in Budapest in 1912, then at the Sonderbund in Cologne in 1912. He also took part in several Secessionist shows in Munich. In 1913, Galerie Hans Goltz in Munich held another Schiele's solo exhibit and the same happened in Paris in 1914. Schiele's early painting studies were very controversial because he used even children as his nude models. While the artist was living with his mother in Southern Bohemia, his practice of inviting young children to his studio was strongly disapproved by the local people. Despite such issues, Schiele was growing more and more popular and he had the chance to showcase his works together with the Der Blaue Reiter circle of expressionists. Schiele's most popular artwork at the time was his iconic Self-Portrait with Chinese Lantern Plant from 1912, which is a unique study of the artist himself, focusing on his face and its imperfections, such as lines, scars, and even small deformities. The Goltz show from 1912 provided a great public exposure to Schiele because it emphasized the artist's use of personal symbolism and dark allegories. During the same controversial year of 1912, while living in Neulengbach in Austria, Schiele was arrested and imprisoned for more than twenty days because he was accused of raping an underage girl.[4] Even though these serious charges were eventually dropped, he still had to pay a certain fine for creating pornographic drawings of his young girlfriend, Wally Neuzil. Because of these incidents, Schiele gradually stopped using children as his models, even though his work, particularly his drawings, remained sexually explicit.
Schiele gradually stopped using children as his models, even though his work, particularly his drawings, remained sexually explicit
Outbreak of World War I and Death
Even after the World War I started, Schiele's prolific artistic output remained the same. In 1914, he had another important solo exhibition at Galerie Guido Arnot in Vienna, along with numerous shows in other Austrian cities. In 1915, Egon Schiele has left his girlfriend Wally Neuzil to marry Edith Harms, who was a young woman of very good social reputation. Thanks to this woman Schiele's work became more mature, as seen in his pieces such as Lovers from 1914 and Death and the Maiden from1915. These artworks, unlike his nudes, have more prominent narrative structures, similarly to traditional portraiture. Schiele was assigned to serve military just four days after his marriage, but he never participated in any real combats during the war, as he was allowed to practice his art and organize exhibitions anytime he wanted. Yet, the war has influenced his art because he was inspired by his frequent travels. Schiele created a large number of landscapes and cityscapes during the war and the style of these works was slightly different from his typical portraiture. Schiele's landscapes are devoid of strong and dark contours, yet they are very detailed and still decisively expressionist. In 1917, Schiele was back in Vienna, where he continued working hard. He also co-founded the city's Kunsthalle aka Art Hall, which was a new exhibition space designed specifically for aspiring Austrian artists. Next year, 1918, was the time of both great success and deep tragedy for Schiele. His mentor Klimt has died from pneumonia but a month after his death the Vienna Secession devoted its main exhibition space to Schiele, who achieved his first serious commercial success. Then in October of 1918, his pregnant wife has suddenly succumbed to the Spanish flu and died. The same grim fate took Schiele's life just a few days later and he died when he was just 28. During the last three days of his life, he was drawing sketches of his late wife.
Egon Schiele has created a large number of landscapes during the war
Schiele's Legacy : Product of Short yet Prolific Life
Despite his short and tragic life, the artist has created a staggering number of both canvas and paper based works. Egon Schiele was the crucial figure in the foundation of the early twentieth-century expressionism - his irregular contours, somber palette, and dark symbolism inspired other fledgling expressionists. Unlike his mentor Klimt, Schiele has produced many self-portraits which suggest his preoccupation with the self, similarly to Picasso. Schiele's unique aesthetic influenced his contemporaries such as Oskar Kokoschka, but also his neo-expressionist successors such as Francis Bacon and Jean-Michel Basquiat. Egon Schiele's iconic Kneeling Nude with Raised Hands from 1910 is still considerably the most important nude piece of the 20th century. The artist's radical yet disturbing approach towards the naked human theme has been challenging even for the most prominent art scholars and painters. His unconventional approach was against the strict policies of the early 20th-century academia - his contorted lines and different kind of figurative expression managed to evoke a new kind of sensuality in visual arts. To sum up, Egon Schiele has excelled in the skill of capturing sexually charged scenes and expressing emotional revolutions.
Egon Schiele's iconic Kneeling Nude with Raised Hands from 1910 is still considerably the most important nude piece of the 20th century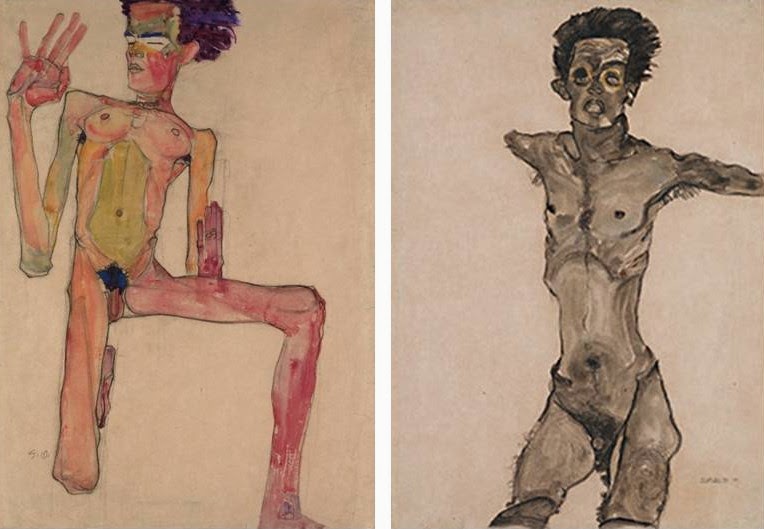 Testing the Boundaries of Portraiture
Egon Schiele is certainly one of the most important portraitists of the early twentieth century. His artworks are influential not only in his native Austria and throughout Europe, but also around the world. As a central figure of Austrian expressionism, Schiele has spent most of his short life in Vienna and the cultural and artistic currents of this region can be analyzed through his art. His works are also documenting the emergence of expressionism since he was an early representative of this style. Throughout his unusual and dramatic career, Schiele tested the boundaries of typical portraiture. His portraits and self-portraits, which are openly erotic and devoid of any scenery, represent artworks of priceless originality and they also exude deep empathy with the universal issue of the human condition.
Egon Schiele lived and worked in Vienna, Austria.
References:
Henry, M. (2015) Justice is Done, Finally, Jerusalem Post [September 1, 2016]
Bauer, C. Egon Schiele: Almost a Lifetime, Hirmer Publishers, 2015.
Kallir, J. Egon Schiele's Women, Prestel USA, 2012.
Kuhl, I. Egon Schiele Living Art, Prestel, 2010.
Featured image: Egon Schiele - Self Portrait with Physalis (Detail), 1912
All images via wikimedia.org