A master of transforming simplistic and basic materials into jaw-dropping assemblages, El Anatsui is an internationally acclaimed artist from Ghana that developed a practice out of shaping complex pieces unlike anything art history saw before him. This unique creative hybrid of a sculptor and painter became famous mostly thanks to his distinctive bottle-top installations which are basically large-scale assemblages made out of thousands of aluminum pieces originally intended for recycling. These cloth-like wall sculptures are a true highlight of Anatsui's career and they've garnered him much international critical acclaim over the last few decades. El also worked in other forms of untraditional art as he loves experimenting with various mediums and techniques. Emerging from the vibrant post-independence art movements of the 1960s and '70s West Africa, Anatsui has gone on to receive widespread international acclaim for his sculptural experiments and effectively influence many generations of young creators.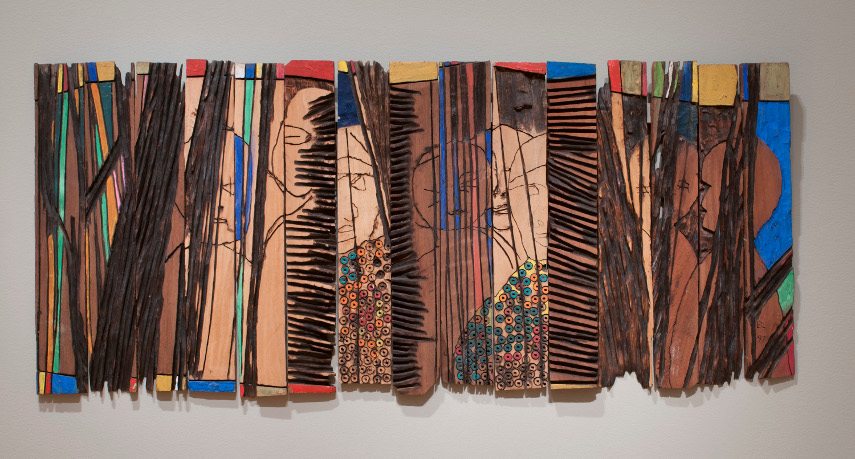 Early Life
El Anatsui was born in Anyako, a part of the famous Volta region. He acquired his formal art education by training at the College of Art at the University of Science and Technology in Kumasi, one of the most acclaimed faculties of Anatsui's native country - if not the most acclaimed college in this African country. Ever since his earliest years as an artist, El preferred to work in clay and wood as these materials enabled him to create objects heavily based on traditional Ghanaian beliefs, motifs and subjects. This enabled him to feel proud of his heritage and have a distinct feeling of belonging. Typically, Anatsui would cut wood with chainsaws and blackened it with acetylene torches. As his hobby of sculpting became the center point of his studies, it came as no surprise that El decided to pursue a career within the world of art. Soon after he graduated from college, he began teaching at the University of Nigeria, accepting the position of a Professor of Sculpture. This happened in the year of 1975, and a few years later, El Anatsui became affiliated with the Nsukka group. This association was constructed by Nigerian open minded individuals who shared the same goal - reviving the practice of uli and incorporate its designs into contemporary art using media such as acrylic paint, tempera, gouache, pen and ink, pastel, oil paint and watercolor. Although uli were originally females, many of the artists of the Nsukka group were male.
Ever since these earliest days of his career, El Anatsui always showed a tendency to experiment and utilize new mediums - which is not a novelty for modern artists but was not a popular practice in El's time as not many individuals back then respected too much diversity. What makes Anatsui different in that field when compared to younger colleagues, however, is the fact El spent years perfecting one medium. He does not experiment with it for a few weeks and then disregards it in order to start testing a new one. This artist has a strict rule of mastering the new medium before he even starts thinking about a new one - a principle that made Anatsui rather popular both in his earlier and mature career periods. Such dedication is not commonly found in any field of human life and it's great to see El's effort was well worth the trouble and effort.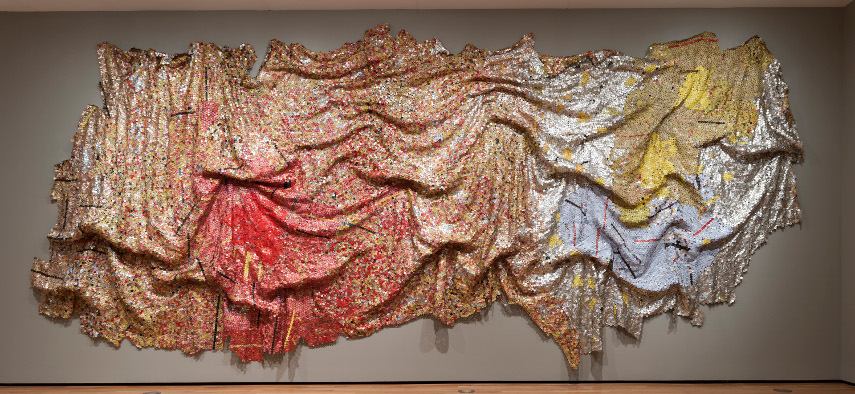 El Anatsui - An Artist
It did not take long for El to start making a name for himself on an international level. He quickly established what will eventually become his recognizable trademark - Anatsui's most famous works resemble woven kente cloths. However, the artist himself insists that although they look like textile works, these pieces are actually made with intentions of creating sculptures and that they should be treated as such. In order to make these large-scale sculptures, Anatsui incorporates what he calls Adinsubli for his works - a clever acronym made up of the aforementioned uli, nsibidi and Adinkra symbols. These phenomenal pieces typically make use of discarded materials, such as liquor bottle caps and cassava graters, giving them a chance to be again utilized and appreciated. El composes them by folding and crumpling thousands of metal sourced pieces gathered from local alcohol recycling stations and bound together with copper wire. These characteristic sculptures literally defy any attempt at categorization. The chosen resources with which El creates his sculptural pieces reflect his interest in reuse and explore the limitations of transformation. They also display an amazing ability to transcend the constraints of any one location without losing his fundamental desire of maintaining a connection to his native continent. This segment of Anatsui's art has a distinguished visual vocabulary and it implies evasive stories and messages concerning the topics of colonialism, consumption, waste and the general well-being of our environments.
After a few years of experimenting, El Anatsui managed to establish his own artistic trademark - sculptures made out of thousands small metal pieces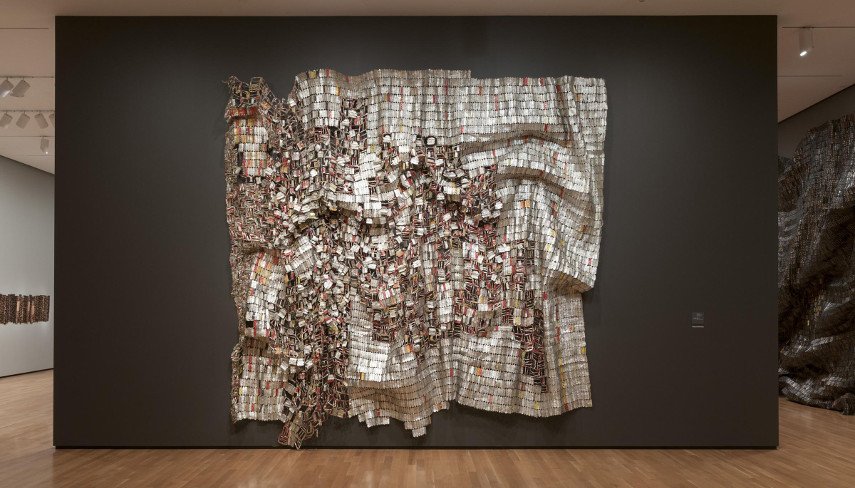 Choosing Installations
In his mature period, El Anatsui started to focus mostly on the installation art which became his focal point. He started to incorporate his intricate sculpted works, often massive in size, within his installations. Something that hadn't changed for the entirety of his life is that El enjoys creating pieces with leaving them open to a wide range of interpretations, allowing the viewers to have much space to find their own meaning to what they are looking at. By leaving the installations conceptually open, Anatsui encourages the artworks to take on different forms every time they are installed to a new location. Furthermore, Anatsui tends to use poetic and evocative titles for his works that open a range of possible interpretations even more, while also inviting an emotional response on a personal level. Another aspect of Anatsui's sculptures makes them rather interesting to traditional concepts. By making most of them with intentions of them being placed upon a wall, El challenges the foundational views of sculptures as something rigid and completely independent. In an attempt to explain and bring his work closer to his audience, El once stated that he considers himself to be both a sculptor and a painter at the same time, honoring aspects of both mediums. One of the finest analyses of Anatsui's wall-based sculptures was given by Roberta Smith: …the works evoke lace but also chain mail; quilts but also animal hides; garments but also mosaic, not to mention the rich ceremonial cloths of numerous cultures. Their drapes and folds have a voluptuous sculptural presence, but also an undeniably glamorous bravado. These words definitely come as close as possible to understanding the mystical, intricate and layered works of El Anatsui.
In the mature period of his career, Anatsui focused most of his efforts to creating installation pieces and combining them with his unique sculptures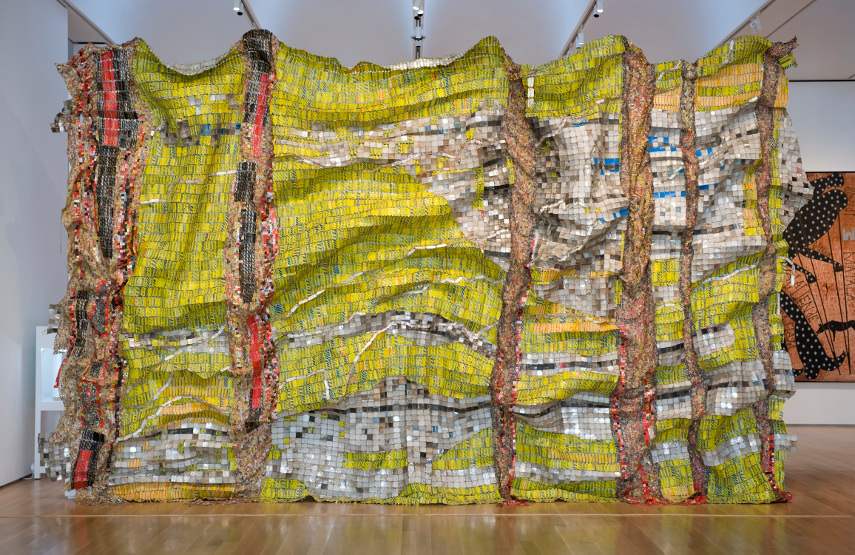 Exhibitions, Awards and Recognitions
El Anatsui has exhibited his work around the world with much success and critical acclaim wherever the pieces found themselves. His shows are always well visited and there's never been a thing such as a lack of interest when it comes to this artist's shows. El Anatsui exhibited his art at prestigious locations, events and institutions such as the Brooklyn Museum, the Clark Art Institute, Rice University Art Gallery in Houston, Metropolitan Museum of Art in New York, National Museum of African Art in Smithsonian Institution of Washington, Fowler Museum at UCLA, Venice Biennale, Liverpool Biennial, the National Museum of African Art, the Centre de Cultura Contemporània de Barcelona and the 8th Osaka Sculpture Triennale. Keep in mind that this is only listing some of the most impressive stats from El Anatsui's Curriculum Vitae, so it's not hard to get the right picture of how influential and respected this artist really is. Arguably his most important exhibition to date was the show entitled When I Last Wrote to You About Africa which opened its gates in the year of 2010. This extensive retrospective of Anatsui's work was organized by the Museum of African Art and it toured venues in the United States for three years, setting various records in numerous galleries and museums. Another recent and major exhibition of El's art was the Gravity & Grace: Monumental Works by El Anatsui show displayed in 2013. Two years later, in April 2015, the famous Venice Biennale proclaimed that it has granted El Anatsui the Golden Lion for Lifetime Achievement award, a prize that recognizes not just the current successes internationally but also El's creative leadership amongst two generations of artists operating in Western lands of the African continent. Lastly, Anatsui was awarded an Honorary Doctorate by Harvard University on May 26, 2016.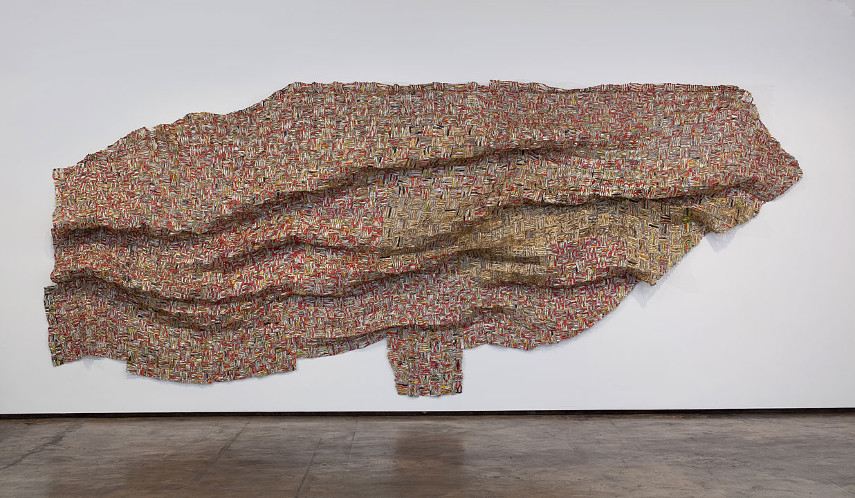 A Crucial Artist of the Contemporary Scene
Nowadays, El Anatsui is widely considered as one of the most important active artists emerging from the African continent. His works are held in an impressive number of both private and public collections in which El's artworks are often regarded as focal points and core piece. The mere mention of his name fills galleries to the brim and the uniqueness of Anatsui's art made sure that El's rightful place in art history is guaranteed. In fact, he already managed to do so much for both his art and his continent that it would be unfair to even ask something more from El. He marked countless art pundits and aspiring creators from Africa, plus he will surely be influential for many more generations to come as his heritage is pretty much secured.
El Anatsui lives and works in Nsukka, Nigeria.
Featured image: El Anatsui - Portrait of the artist - Image via Andy Keate
All images used for illustrative purposes only.