Unquestionably one of the most distinguishable urban artists currently based in Germany, El Bocho is an anonymous street artist that chose to turn the city of Berlin into his giant personal canvas full of both dark and positive imagery. He mostly works with paste-ups which are acknowledged for their scale and quality but has also been known to work with stencils and standard graffiti. Over the years, El Bocho has created plenty of unique characters and symbols, making sure that his works are instantly recognizable. Before we venture any further, we should promptly explain that the pseudonym El Bocho stands for Little Donkey, probably implying where this artist's national roots can be found.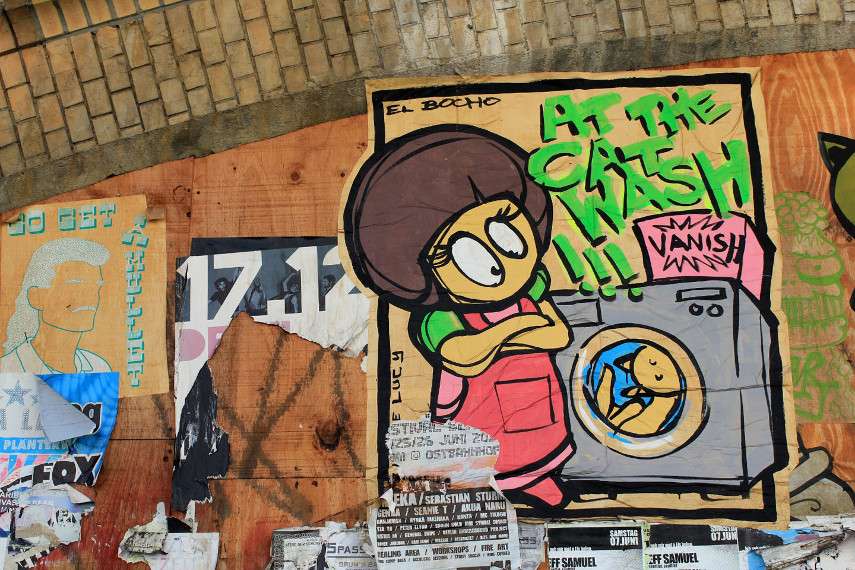 Street Archive Full of Comments
This artist's works can be traced all the way back to 1997 and this year often serves as a beginning when talking about El Bocho's career. He started out small, mostly by tagging walls and bombing random surfaces of the Frankfurt streets. Ever since then, El Bocho was developing and improving what will soon become his trademark - the giant cut-outs and installations, some up to 20 ft tall, later carefully and thoughtfully placed around Berlin during the nighttime. While he was creating and learning on the go, El Bocho held a day job of an illustrator and typographer, mostly getting his pay by working for the famous Frankfurter Allgemeine. Once he made a choice to fully devote his efforts to street art and interventions, El Bocho ceased creating traditional graffiti and made a decisive move to Berlin where his art was able to start reaching impressive heights. Ever since he started making urban art, it was crucial to El Bocho to work outside the popular and trendy scene - he aims at those particular viewers who do not desire nor are ready to observe art. El Bocho wants to reach the people that do not visit art specific locations like galleries or museums and therefore are not prepared or are expecting anything to strike them at that level. It sounds a bit mystical, but it's said that El Bocho actually likes to keep a close watch over his graffiti, witnessing what sorts of reactions they are able to generate from the random bypassers. This type of behavior provides a crucial aspect of this artist's method as it offers a constant communication with the public. Exchanging information and referencing serve as the principal segments of El Bocho's work. Through a small word play, the artist considers himself to be an observed observer - this is probably due to the aforementioned habit of scrutinizing how random people react to his graffiti. What helped El Bocho in establishing his name and building a reputation from the grounds up is undoubtedly his strong sense of dark humor, as you will soon see for yourself. He is also renowned for the fact he never makes prints as El Bocho personally draws every single scene he glues on the streets of Berlin.
Using all the artistic tools at his disposal, El Bocho finally manages to create some of the most intriguing street pieces Germany has to offer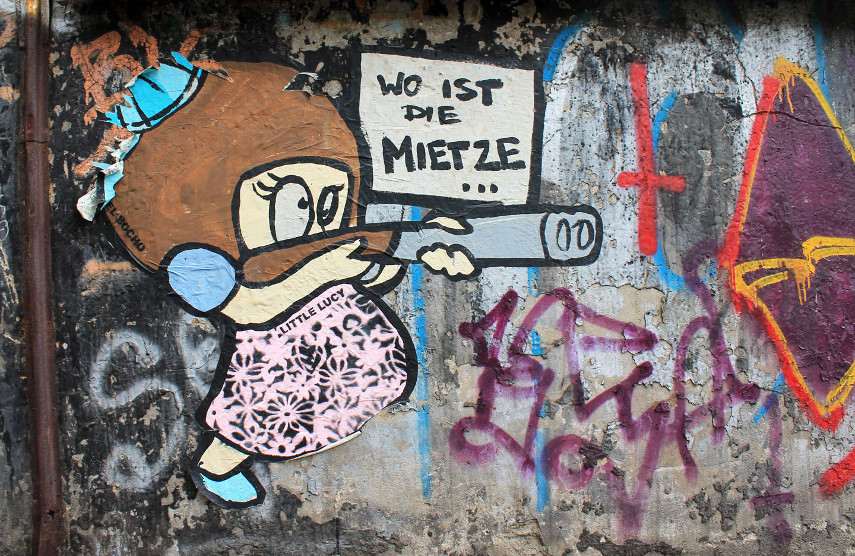 Bocho's Little Lucy and Other Characters
During the year of 2003, El Bocho came up with his signature symbol, the famous Little Lucy doll - the adorable character was based on a 1970s Czech TV series the artist loved watching as a child, titled Little Lucy – Fear of the Streets. Although El Bocho admitted to finding the original character a bit boring, he went with her anyways, but he did give her a twist which definitely made her more interesting - the artist decided to implement a strong note of dark humor and gave his Little Lucy an uncomfortable habit of killing her cat! You can find the unfortunate pussycat painted inside washing machines, being cooked as a Kebab or merely being microwaved. Little Lucy's ideas about how to kill her cat are without limitation and she is always finding new ways to get rid of the poor creature. You need a bit stronger stomach to see these kinds of works through, but nevertheless, you must admit that these types of amusing and funny characters really make the street art scene more radiant. However, El Bocho also possesses a softer note, which actually led him down the path of some interesting series such as his famed Citizens. This series is based around portraits with little pop-up clouds filled with text, similar to the concepts of communications within comic books. Depending on which kind of depiction and feeling he is going for, the artist will use different kinds of paper, some extremely thin and ephemeral yet always of a very high quality. El Bocho mainly works with big format cut-outs, but he also uses stencils and lately he started to create on tiles, which can be a much longer lasting alternative when compared to the longitude of glued paper that falls off during the first sign of bad weather. Besides El Bocho's brilliant style and skill, this artist is a holder of an impressive record as well. In the July of 2019, he completed the largest tape art piece of the world in the German capital. Fifteen thousand meters of tape were used in order to create an 1100m² large piece placed in front of the Stattbad in Wedding. El Bocho has appeared in national and international books, magazines, newspapers and exhibitions. He was also featured in different television shows worldwide, such as German, Hungarian, Israelian, American and Hongkongese productions.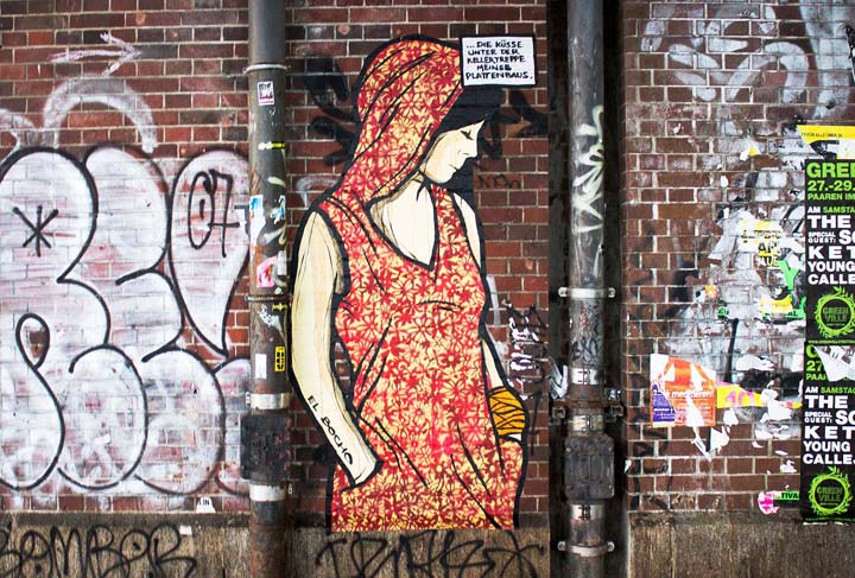 El Bocho Owns the Berlin Scene
Successfully transporting his style back and forth between the spheres of dark humor and romance, El Bocho is surely one of the most innovative street artists Germany has to offer right now. Due to strong irony and referencing, many critics and followers of street art have compared the works of El Bocho with Banksy's pieces - although the German is able to hold the ground on his own without seeking any creative tribute from other artists. Anyhow, if you like street art that is different and has a strong personal lore, you needn't look any further then El Bocho - unless you are a cat person, in which case you better stay clear from this artist's portfolio.
This artist is represented by Galerie Neuheisel in Saarbrücken and Galerie Hegemann in Munich.
El Bocho lives and works in Berlin, Germany.
Featured Image: El Bocho - Photo of the artist putting up Stickers from his Violence-Series, 2012 - Image courtesy of JUST
All images courtesy of El Bocho