Diego Nestar Rosales, better known by his artistic alias of El Dimitry (often spelled together as ElDimitry), is a Spanish man who praises his abnormal ability to simultaneously be four very different persons - Diego for private life and family, El Dimitry as a painter, Dubmitry as a club DJ and I Dimito as a producer. By channeling different ideas and characteristics into every single version of himself, this artist is able to perform across various fields of practices whilst gaining quite different results every time. Today, we ae interested in taking a closer look at the second personality of Diego Nestar Rosales, wishing to become better acquainted with the artistic quarter of this Barcelona-based El Dimitry.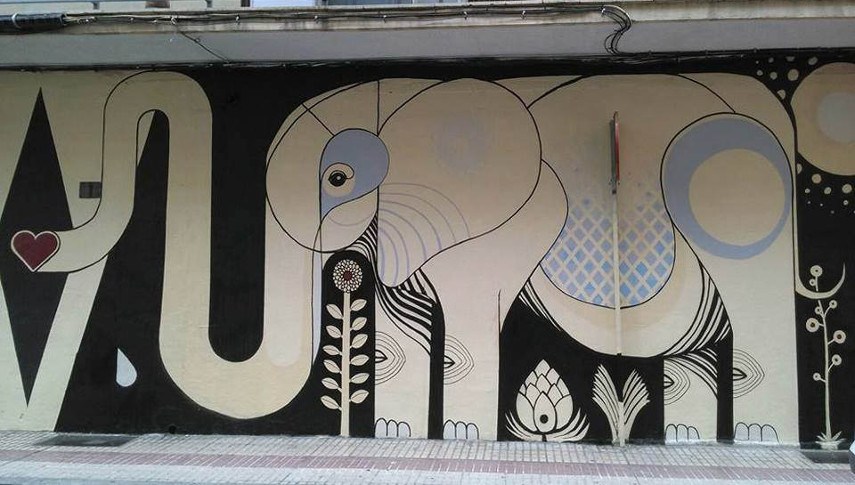 Discovering El Dimitry
Diego Nestar Rosales was born during the year of 1979 in Palencia, a city south of Tierra de Campos, in north-northwest Spain. Ever since he was a small toddler, he would spend countless hours and days creating little paintings in his notebooks, as well as doodling on tables, jeans, walls, etc. - basically on anything that was able to take the paint in. When he turned the age of twenty, El Dimitry started traveling, first in order to attend classes in Valladolid where he studied illustration. This experience provided him with invaluable skill and understanding of how visual pieces are brought to their finest level. A few years later, El Dimitry studied graphic advertising on a faculty in Salamanca - studies that were completed in Madrid. After graduating, all the personalities of Diego Nestar Rosales were kind of kept on a short leash as he is started working as a director for a communication company whose name, by his own claim, he does not even want to remember. However, despite this putting some slowing-down moments in his artistic cogs, being El Dimitry was still the focal point of this man's life as expressing himself via arts is what truly made him happy. He then started working as a designer and illustrator, hoping that such occupations could lead him to his true calling. Spurred by his early successes, El Dimitry moved to Barcelona where he started his career as a professional scribbler, exhibiting his pieces in galleries such as Niu and Miscelánea, as well as working as a part of events like Sonar, Bread and Butter, Swab and Room Art Fair 2016. It should also be noted that El Dimitry had a prolonged break from painting, a pause that was ceased when he returned to exhibit his work in a solo show[1] at the Fousion Gallery in 2014.
El Dimitry's road to creative expression was complex and it was formed by many influences, but it finally came all together in a unique blend of style and form
As Many Styles as There Are His Personalities
Just as there are a few radically different personalities in his mind, Diego Nestar Rosales' art is also quite varied and diverse in style. He explores ideas of street expression whilst also maintaining strong notes of movements such as Art Deco and Expressionism. There are also strong influences of Banksy's work and concepts of artistic recycling, as well as the areas he studied over the years - illustration and design. Only when all of the above is taken into consideration does the work of El Dimitry falls into its complete perspective - a mashed-up blend of countless ideas, concepts, styles and artistic desires.
This artist is represented by Fousion Gallery.
El Dimitry lives and works in Barcelona, Spain.
References:
Anonymous, ELDIMITRY, Fousion Gallery, 2015
Featured image: El Dimitry - Photo of the artist - Image courtesy of Fousion Gallery
All images courtesy of Fousion Gallery.