Elizabeth Neel is an American painter and sculptor known for her abstract canvases which are actuality deeply rooted in the facts of the real world.
Neel earned her BA from Brown University in 1997 and graduated with a diploma certificate from the School of the Museum of Fine Arts, Boston in 2002. She received her MFA from Columbia University in 2007.
The Granddaughter of Alice Neel
Born in Stowe, Vermont, into 1975, Elizabeth Nell was raised into an artistic family. Her grandmother, Alice Neel was a bohemian painter, particularly known for her portraits depicting friends, family, lovers, poets, artists and strangers. Her brother, Andrew Neel is a film-maker, whose work ranges from documentary to narrative formats. When Elizabeth was a young girl, she used to play with a paint-box gifted to her by her grandmother. However, Neel left painting during her studies and came back to art as a career after graduation.
Elizabeth Neel's Abstract Oeuvre
Elizabeth Neel grew up on a farm surrounded by nature and death, which has become some of the important themes for her work. However, her main source material is the anonymous photos from the Internet. Elizabeth does not depict them literally, but using abstraction to translate some of the stories and feelings carried by the chosen images. The pictures are sketched, rather than transposed directly onto the surface of the canvas. While painting, Elizabeth changes the intensity, at times violently.
Drawn from specific subject matter, her pieces trace excavations of life, along with its contamination through death and decay.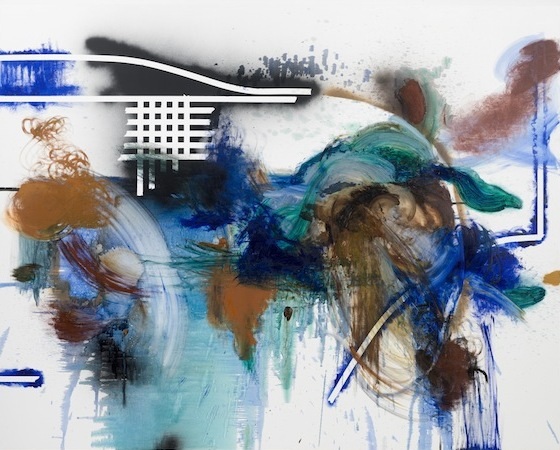 Although Elizabeth Neel is best known for her paintings she has produced sculptural assemblages using a vide range of materials including clay, wood, tape, wax, inkjet prints and found objects.
Critics
Many critics have pointed to comparability between the artist's sumptuous, sometimes violent use of paint and that of American Abstract Expressionist artists such as Willem de Kooning, though Neel does not actively seek the inspiration from the group.
Elizabeth's work is included in the Phaidon book Painting Abstraction: New Elements in Abstract Painting by Bob Nickas, published in 2009.
Represented by Sikkema Jenkins & Co. in New York, USA, Pilar Corrias Gallery in London, UK, and Monica de Cardenas Gallery in Milan, Italy, Neel has participated in numerous solo and group exhibitions internationally.
Elizabeth Neel lives and works in Williamsburg, New York.