Ella & Pitr are a French artist duo who have thus become in a decade as a legendary duo "Paper Painters" of street art. Combining the ruinous beauty of abandoned places with optical illusions, they create unusual murals that transform the surfaces into whimsical playgrounds. Their artistic approach is primarily collage of original posters on the walls of the city, to be around these figures plastered a "family" of silent and ephemeral urban witnesses. The choice of places to their work takes shape by walking, wandering from wall to wall until they find the context that corresponds to one of their wallpapers. Conversely, they may succumb to the call of a wall to which they will design a custom paper. The preferred medium of their creations is a blank newsprint, due to the ink or crayon, sea giants appear sleepy, large birds with heavy wings, child eaters, men nursing, piles of stones, chairs and stairs collapsing, old refuse to die.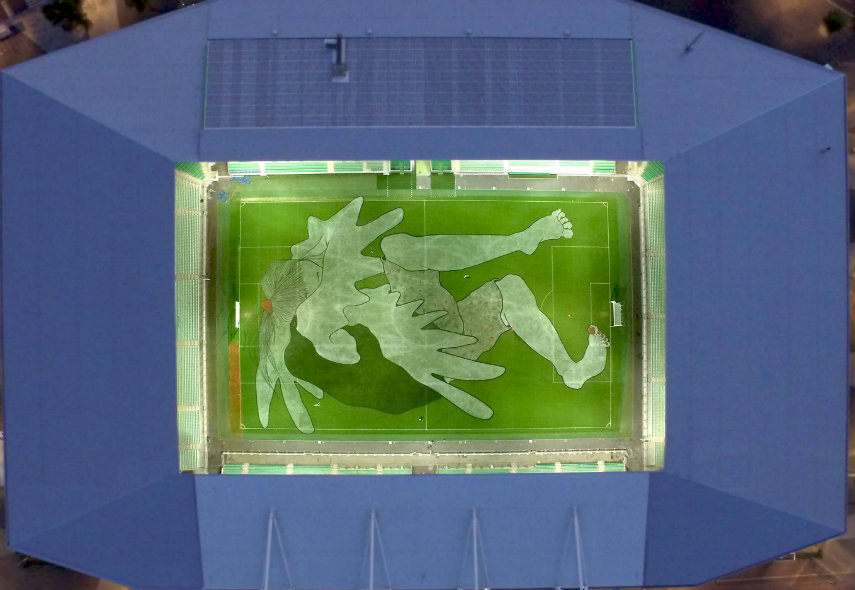 From the Street to Interior Space
Born respectively in 1984 and 1981, randomly on a street they met: one seeking how to speak most directly to a non-selected audience, the other imagining a logical extension of 10 years' graffiti. Today their warehouse is located in Saint Etienne (France) and the street remains their territory of spontaneous expression. Their work is never necessary, they interfere whenever, never failing to question the relationship of each to its space and its history, whether personal and collective. This work "outside" comes to another more sustainable approach designed interior spaces (galleries, foundations, museums), the latter being always extremely connected to the first. They are always trying to create extraordinary projects, as Brigitte-Angélique Des Braises de la Marmite, Painted on the grass of Geoffroy Guichard Stadium in St Etienne. It's the first painted stadium in France, maybe in Europe, maybe in the world?
They combine the ruinous beauty of abandoned places with optical illusions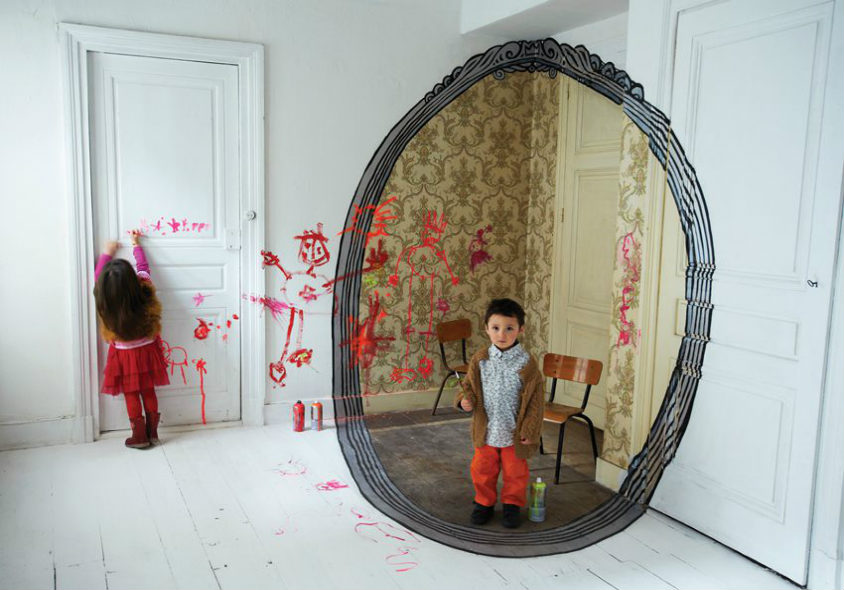 Paper Painters in Action
They develop the principle of "pieces", oscillating between public and private space that is not present in the gallery, a fragment taken from a collage of outdoor creation. In this case, the entire work is visible only on a sample photo where the couple Paper Painters comes to staging, holding it at arm missing glued on a canvas before sticking amputated fragment. They thus form again, just enough time to photograph the complete work. From place to place, they also sometimes suggest to passers to be photographed before "photographs funds" provided for this purpose. Later, they will get a shot posted in Saint-Etienne.
They develop the principle of "pieces"
Bringing New Perspective into Urban Art
By words of an art historian Thomas Schlesser, Ella & Pitr tell stories in the city, often gray, Saint-Etienne, in Paris or elsewhere, (they also demonstrated with several small illustrated editions particularly pleasing) and each of their works suggests a set amazing scene, characters highlights, fundamentals of human existence. Deploy them with the terrors and joys of early youth, the tenderness, the pangs of old age, rage, cruelty, desire for emancipation, thwarted freedom. Their repertoire willingly convenes recurring characters, like a family, and a fabulous bestiary. Their style is characterized by impeccable graphics borrowed from comics and graffiti kids, incessant changes of scale, the tottering spaces like a dream. It swings between hilarious and explosive iconoclasm on one side, in the manner of unruly brats; an overwhelming melancholy, the other - rare in street art. They certainly have models (Ernest Pignon-Ernest, among the most prominent), but their record is quite flexible and generous to express a wide range of feelings and in turn to school.
Ella & Pitr live and work in Saint Etienne, France.
Featured image: Ella & Pitr - Artists portrait, Nuart Festival, Image copyright of Eirik Halvorsen
All images © ELLA&PITR