Ellen Priest is an American abstract painter, whose art is inspired by jazz music. As a painter, she is mainly self-taught.
Born in 1951, Ellen Priest got her B.A. degree from the Lawrence University, Wisconsin. In 1977, Priest received her Master of Divinity from the Yale University Divinity School in New Haven, with a dual qualification in Christianity and the Visual Arts.
Ellen Priest's Evolution of Jazz Paintings
Jazz music has been Priest's subject matter since 1990. Inspiration for her abstractions comes from several different sources – primary, Ellen is captivated by the rhythmic and harmonic structures in jazz and related African and Latin American music. Secondly, her artistic influences include Cezanne's watercolors done in his later period, Matisse's color and compositional structure, and the movement and dynamics of Abstract Expressionism, especially the paintings of Willem De Kooning and Joan Mitchell.
"If I could say one thing to a person viewing my paintings for the first time, it would be - give them time to move" – Ellen Priest
Priest's painting practice that emerged from mentioned influences include jazz-based multi-layered abstractions, translucent spaces full of color and light. Her work balance between painting and sculpture – from a distance, it is seen as a vibrantly colored spatial illusion, and when seen up close, the viewer is faced with relief constructions of layered opaque and translucent paper.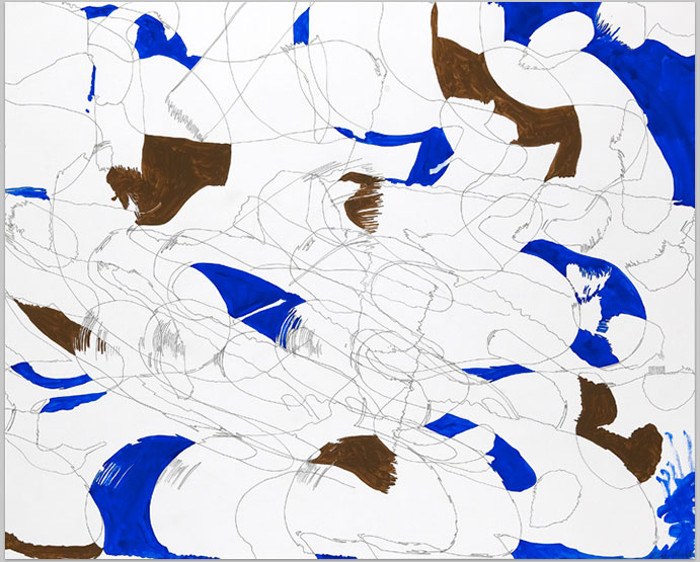 Each of Ellen Priest's series of paintings, such as Jazz Cubano, "Venezuelan Suite", Berklee, and Chelsea Shuffle series, are based on a single jazz composition. She carefully choses music as an influence, listens, studies the score, makes an image in her mind, and as a choreographer, creates movement of a brush while the music is playing.
"Venezuelan Suite" Series: Process of Making
Titled Jazz: Edward Simon's "Venezuelan Suite" #1-23, this series of works was created in a period between 2006 and 2010. Priest collaborated directly with a pianist and composer, Edward Simon, while he was composing and including Venezuelan song forms and rhythms into jazz in a four-movement piece.
Using form as a language of music, her abstractions capture movement and depict jazz as full of joy and energy. In 2007, Edward Simon's 7-piece jazz ensemble performed the full Suite in the Main Gallery at the Philip and Muriel Berman Museum of Art in Pennsylvania as a part of Priest's solo exhibition that included the first ten artworks from the series.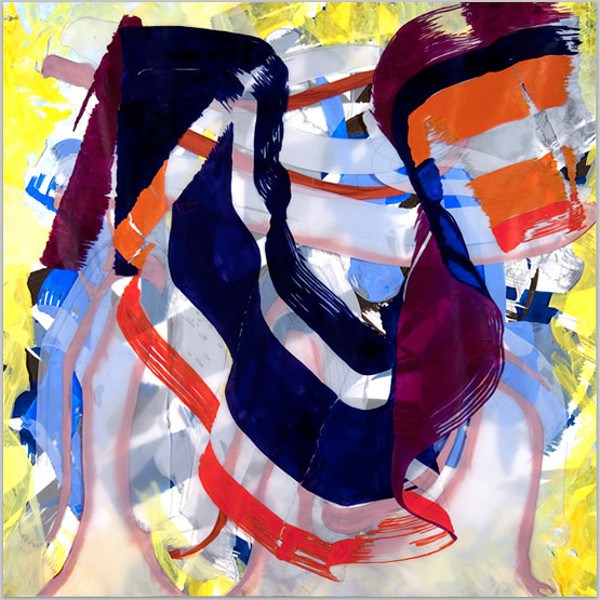 Jazz Cubano Series
Ellen Priest's long fascination with Afro-Cuban jazz was visualized in her Jazz Cubano series of paintings, created in 2012. The musical influence chosen for this series is the duo named Dos Y Mas, consisted of Cuban percussionist Arturo Stable and Cuban pianist Elio Villafranca.
Priest has been drawn to this type of music especially because of the percussion, and its movement and space. In order to visualize it, the artist began deconstructing complex rhythms and melodies to simplest components – literary single percussion notes, only to reconstruct them later through painted visual forms. Works that emerged from this musical decomposing formed a series of fifty brush studies. Combining them in pairs, Ellen made another series - the Percussion Drawings. Months later, when she was confident enough, Priest started creating larger brush studies and paintings.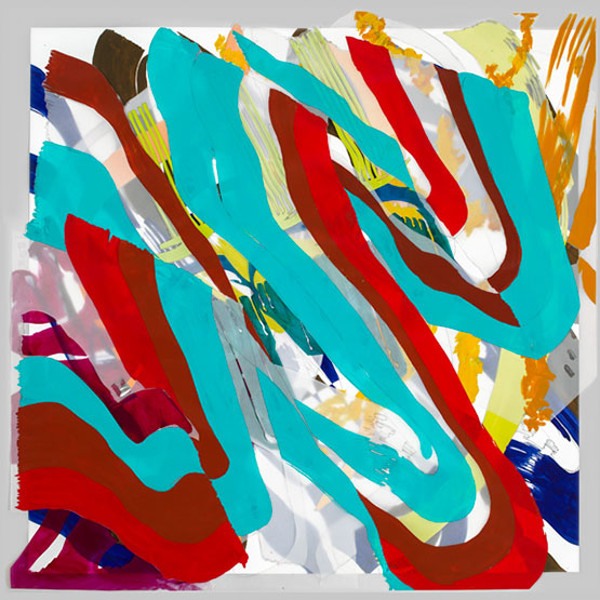 In 2013, musicians from the Dos Y Mas duo improvised from her brush studies, creating new musical compositions. This visual and musical interaction between the artists continued, visible in a new series of Priest's layered, collaged paintings named Jazz Cubano: Arturo and Elio, Thinking Out Loud.
Ellen Priest's Exhibitions and Awards
Ellen Priest's artworks were mainly exhibited throughout the United States, in New York, Philadelphia, Connecticut, Washington D.C. and New Jersey. Her first solo exhibition was held back in 1979, after which she had many more solo and group shows. Since March 2015, Ellen has been represented by IdeelArt.
The Pollock-Krasner Foundation has twice awarded Priest major grants, in 2001 and 2007. In addition to her art practice, Ellen has also started a personal studio art program named Eyeball It!, with drawing exercises and video demos for elementary-age children.
Ellen Priest lives and works near Philadelphia.
Here you can read the latests interview on Ideelart