Photographer Elliott Erwitt has been called a master of Henri Cartier-Bresson's "decisive moment" for a good reason. Having a great eye for absurd situations found in everyday life, Erwitt's candid photos depict the never-ending irony of everyday life, which often gets unnoticed. Taking images in black and white, Erwitt is considered to be a master of the medium and is also known for some of the most famous pictures of people like Marilyn Monroe, Che Guevara, and Richard Nixon. Each of his images can be described as a story found in a single frame, either by presenting the characters or simply having a humorous effect. Besides being known for his documentary photography, Erwitt also established a name for himself in magazine, book advertising, and commercial photos.[1]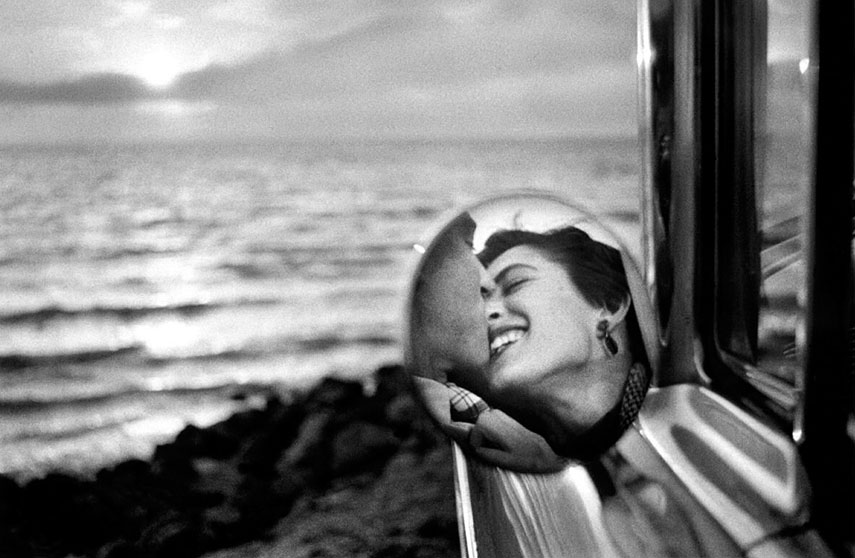 Advertisement Photos and Dogs – The Need to Entertain
Born in France, Erwitt moved to the United States in 1939 at the age of ten. He began his photography and filmmaking studies at Los Angeles City College and after finish his education he was drafted into the army. His first contact with photography was helping to produce signed images of famous movie stars. The year between graduation and new army draft he worked as a photographer's assistant in US army while stationed in France and Germany. During this period he met some of the greatest photographers of the time such as Edward Steichen, Robert Capa and Roy Stryker who heavily influenced his work. It was Stryker who gave Erwitt his next job on a photography project for the Standard Oil Company where his job was to build a photographic library and later took a project of documenting the city of Pittsburgh. After SOC, he continuously started working as a freelancer for many other companies. This experience gave Erwitt a valuable insight in advertisement photography and it was the first step in creating his own approach. He became a member of Magnum by being invited by its founder, Robert Capa, who alongside Steichen and Stryker admired his ability of off-the-cuff shooting. This talent is the base element of Bresson's decisive moment, one which Bresson himself thought it couldn't be learned. Being able to create valuable images without any heavy preparation opened the doors for Erwitt and as the time went by, more and more people reached out to him. While joining Magnum Photos he also began to work for Collier's, Look, Life, Holiday and many other magazines.[2] Even after 50 years, he is still working on various journalistic and commercial projects and photos and he believes that you don't simply take a photo, you rather make it yourself.
Being able to create new valuable pictures of dogs and everyday scenes without any heavy preparation opened the doors for Elliott Erwitt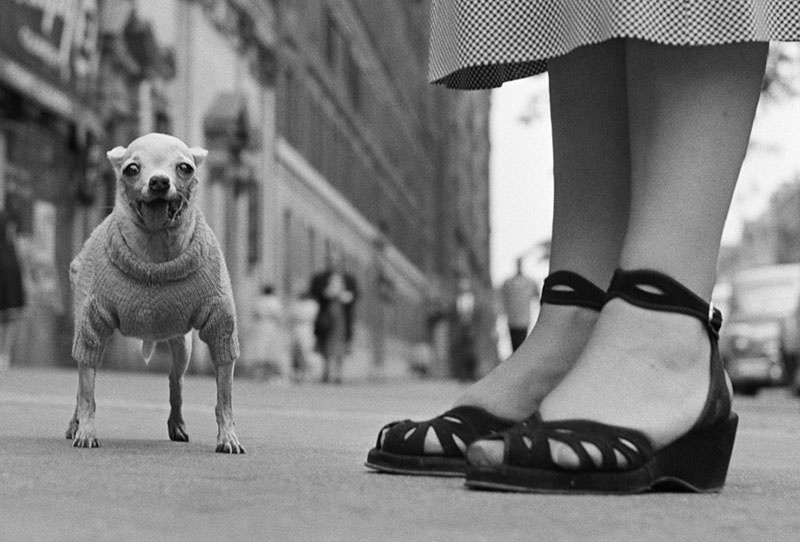 Spending Time with Magnum Photographers
Being a member of Magnum since 1953, he worked with many other great photographers such as Henri Cartier-Bresson. Besides photography, Erwitt also began making film documentaries, with Arthur Penn: The Director from 1970 being his first one. He also worked as a cinematographer, producer and as a camera operator for the documentary Gimme Shelter which depicted the life of the Rolling Stones. Nevertheless, Erwitt is still best known for his warm and humorous images of common people found in their daily routines. His keen sense of observation enabled him to show how even the smallest things in life have a story to tell. One of the interesting elements to his career is an atypical passion for photographing dogs, which Erwitt takes as his personal work. The biggest proof besides the continuous shooting which spans over several decades is four books on the topic of dogs: Son of Bitch, Dog Dogs, Woof, and Elliott Erwitt's Dogs. Although Erwitt himself describes canine photography as his favorite pastime, it's more than just a way to spend free time. Like most of his photography, it's here to entertain, and unlike most of his predecessors, it doesn't have to be raw and deadly serious. What made Erwitt stand out was his ability to stand shoulder to shoulder to great photographers such as Steichen or Capa, despite the fact his photography was more humorous in comparison to the serious tone that could often be found amongst Magnum members. Another testimonial to this is an alter ego Erwitt created for himself named Andre S. Solidor. Andre S. Solidor or ASS is a contemporary artist, from one of the French colonies in the Caribbean, I forget which one - this is how Erwitt described Solidor in an attempt to mock contemporary photography of that time. Solidor's work was published in a book titled The Art of Andre S. Solidor and was exhibited in 2011 at the Paul Smith Gallery in London. Solidor is famous for his pompousness and pretentious arty images. The reason for creating this alter-ego, Erwitt describes like this: I've always been a little suspicious of the art world anyway. I always thought that a lot of the art is simply what you can get away with.[3] Through Solidor he was able to be everything his classic persona wouldn't allow him to be, in a way, the creation of Solidor is a piece of art itself. A piece of art that ridicules art, to be more precise. Eliott Erwitt's work has proven that professionality and humor can go together. Even though his approach might be seen as a comedy, the only element which fulfills his work more than humor is quality.
Elliott Erwitt became a member of Magnum by being invited by its founder, Robert Capa, a master of war photos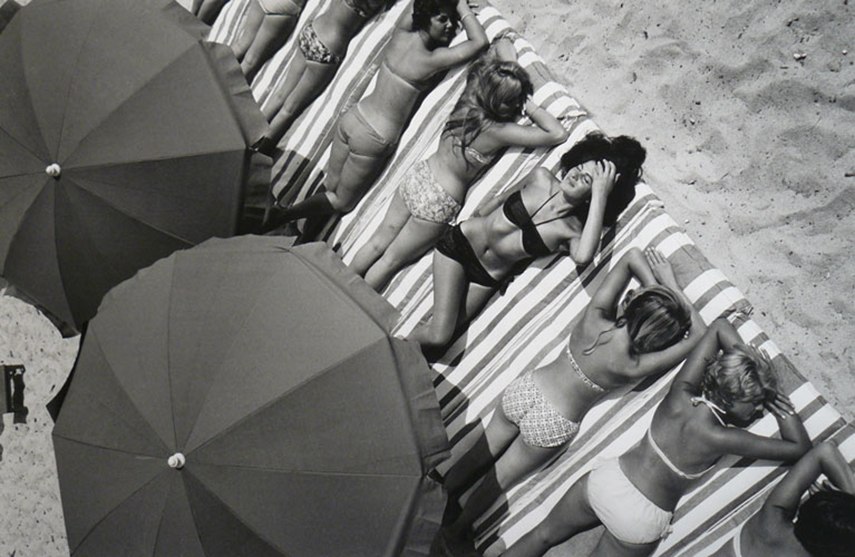 Visual Motion and Famous Photo Books of Elliott Erwitt
Since the early 1970s, Erwitt had a high interest towards movies. Although he is mostly known for his photography, his approach towards film has no less passion than his famous work. Besides previously mentioned work on Gimme Shelter, Erwitt also worked as a still photographer for one of Martin Scorsese's documentaries, Bob Dylan: No Direction Home. When it comes to his own work, there's Beauty Knows No Pain, a documentary about all-female dancing and marching team and Red, White, and Bluegrass, another documentary on the topic of North Carolina musicians. One of his more famous filmmaking work is award winning Glassmakers of Herat, a film which portrays the glassmaking practice in Herat, Afghanistan. Besides this, Erwitt has also done numerous work on commercials and programs for HBO. Thanks to the affiliation with Magnum, he had constant work to document film production for movies such as On the Waterfront and The Seven Year Itch where he managed to create some of the most iconic images of famous actor Marlon Brando. Work like this enabled Elliott Erwitt access to notable world figures of the time. As time went by he photographed Jacqueline Kennedy, Fidel Castro, Che Guevara, Jack Kerouac and Marilyn Monroe.It's probably no wonder that one of the first notable Erwitt's photographs is a dog photograph. A small stylishly dressed chihuahua gives an intriguing look as it stands beside a female pair of feet. Photographs like this or the one where Richard Nixon is poking Nikita Khruschev have cemented their place in history as Eliott Erwitt's photographs. But there are many pictures made by Erwitt which just have an equal level of fame, if not higher. The interesting thing about them is they've become so famous and used in book; they lost all contact with its creator. Photographs such as the one from Provance, France where a young boy can be seen driving on a bicycle with another person and two French pieces of bread tied at the back. This photograph was used on so many t-shirts, cups, book covers, wallpapers; it lost all ties to Erwitt. It's safe to presume more people know the photograph than the photographer.
The artist's most successful career point is his filmmaking work for an award-winning Glassmakers of Herat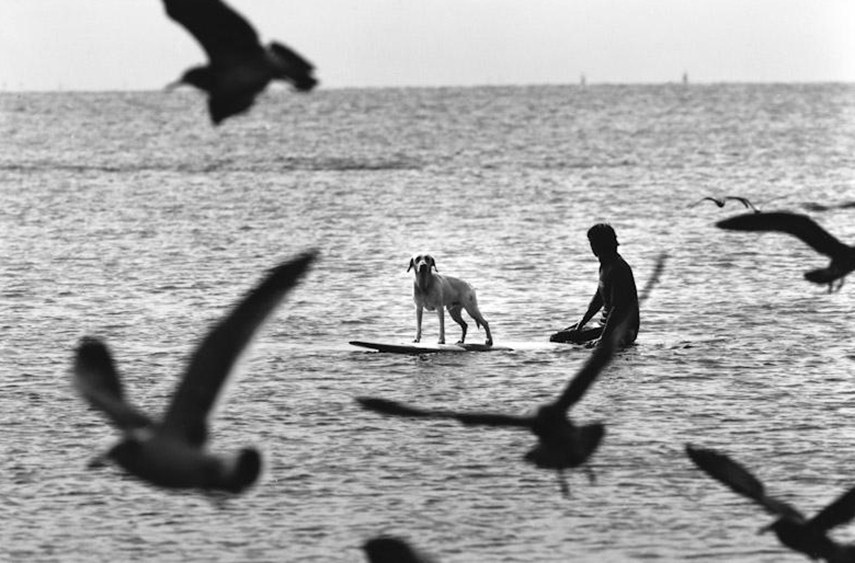 21st Century Photography – The Camera Still Works
After more than a half-century of work, a best case scenario one would expect for an artist is stagnation, but Erwitt would think otherwise. Entering the 21st century, Erwitt's popularity and reputation has grown, both in artistic and advertisement circles. In 2011, Erwitt was recognized through a large-scale retrospective exhibition titled Elliott Erwitt: Personal Best which was held at the International Center for Photography. Following the exhibition, he received the ICP Infinity Award for Lifetime Achievement. Same can be said for his work in advertisement photography. Even in his old age, Erwitt is still heavily active photographer whose services are sought by many.Erwitt's work can be found in more than twenty published books and some of the most notable exhibitions have been held at the Smithsonian Institute in Washington, the Museum of Modern Art, New York, and the Chicago Institute of Art. Besides the award given to him by ICP in 2011, he was also awarded the Oustanding Contribution to Photography Award in 2015 by the World Photography Organization.
The artist is represented by Stephen Bulger Gallery.
Elliott Erwitt lives and works in New York City.
References:
Erwitt, E., Personal Best, teNEUES, 2014
Erwitt, E., Home Around the World, Aperture, 2016
Erwitt, E., Personal Exposures, W. W. Norton & Company, 2012
All images copyright © the artist