Without the slightest trace of doubt in mind, Ellsworth Kelly was one of the greatest 20th-century abstract artists emerging from the United States. His pure forms and colors blended with the tendency to suppress gesture in favor of creating spatial unity within the composition paved the way for Kelly to have massive influences on both the Color Field painting and Minimalist movement. Ellsworth's work mostly consisted of bright, monochromatic shaped canvases and sculptures the artist derived from the occurrences of everyday life surrounding him. Ultimately, his efforts towards validating Abstraction as a genuine creative expression is Kelly's greatest contribution to modern and contemporary art history[1].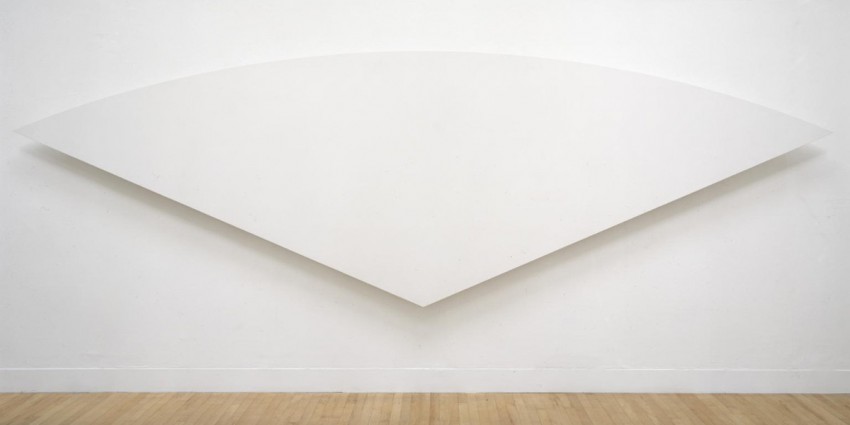 Isolated Youth and Early Education
Ellsworth Kelly was the second son of Allan Howe Kelly and Florence Bithens Kelly, a couple who lived in Newburgh, a town located approximately 60 miles north of New York City. Allan Howe Kelly worked as an insurance company executive, whilst Ellsworth's mother Florence was a school teacher. His gene pool was rather mixed as Kelly had Scots-Irish, German, Welsh and Pennsylvania blood running through his veins. The young artist's family lived near the Oradell Reservoir where his paternal grandmother presented him to the science of ornithology for the first time when Ellsworth was about eight or nine years of age. It was in Oradell Reservoir that Kelly developed his deeply rooted passion for color and form. There are many experts, such as Eugene Goossen, that agree that this artist's career was so devoted to color simply because his childhood's fascination with observing birds never completely left his mind. In that sense, all Ellsworth was doing for the entirety of his career was chasing the same delight he experienced while he was still a toddler at the Oradell Reservoir. His early devotions to birds and nature may have been further forced upon him by the slight stutter that persisted into his teenage years, making Kelly feel very isolated when surrounded by unknown people. He attended the local public school and was lucky enough to end up with the right professors who aimed at developing his creative imagination. As a matter of fact, it was a school teacher that encouraged him to pursue an art training despite Kelly's parents being against such a radical and life-altering decision. Kelly studied at the prestigious Pratt Institute in Brooklyn, an institution of which he was a part of from the year of 1941 until the moment he was inducted into the Army on New Year's Day of 1943.
Ellsworth Kelly intended that his work should be experienced through instinctive responses to its structure and color rather than with contextual or interpretive analysis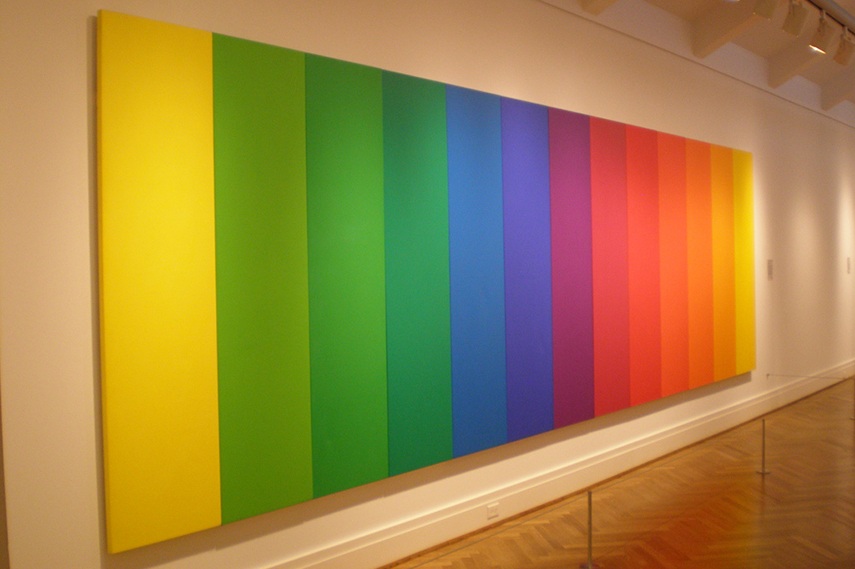 Ellsworth Kelly - the Soldier and the Artist
Hearing that the 603rd Engineers Camouflage Battalion was taking many young artists at this stressful time, Kelly desired to be assigned to that company upon entering the United States military service in 1943. However, after a six weeks training, the young artist served in a deception unit known as The Ghost Army. This company's goals were simple - to mislead the Axis forces about the direction and disposition of Allied forces by using inflatable tanks, trucks and other elements of subterfuge. Due to a lot of exposure to military camouflage, Kelly's future visual vocabulary would be reinforced by this experience. Kelly served with The Ghost Army unit from 1943 until the end of the European phase of the war.
After returning home, Ellsworth decided to accept the G.I. Bill program and study at the School of the Museum of Fine Arts in Boston where he took advantage of the museum's collections. Showing great potential, he was soon offered an opportunity to attend classes at the legendary École nationale supérieure des Beaux-Arts in Paris. While the ex-soldier and a WWII veteran was at this institution in France, he would study day and night, exploring all the advantages this school had to offer and eventually establish his aesthetic vocabulary. Immersing himself in the rich artistic resources of the French capital[2], Kelly found an artistic guiding star within the work and character of Paul Cézanne. He also met fellow Americans John Cage and Merce Cunningham in Paris as the two were in the experimental phases of their career. Some sources state that Ellsworth also befriended Jean Arp to some extent. After being abroad for six years, Kelly decided to return to America in 1954. Like many of his contemporaries who returned to New York after a long time of art studying in Europe, Kelly found the Big Apple scene way too rough and uninteresting.
As did the early twentieth century Dadaists, Ellsworth Kelly emphasized the spontaneous, the casual and the ephemeral much more than any traditional aspect of art making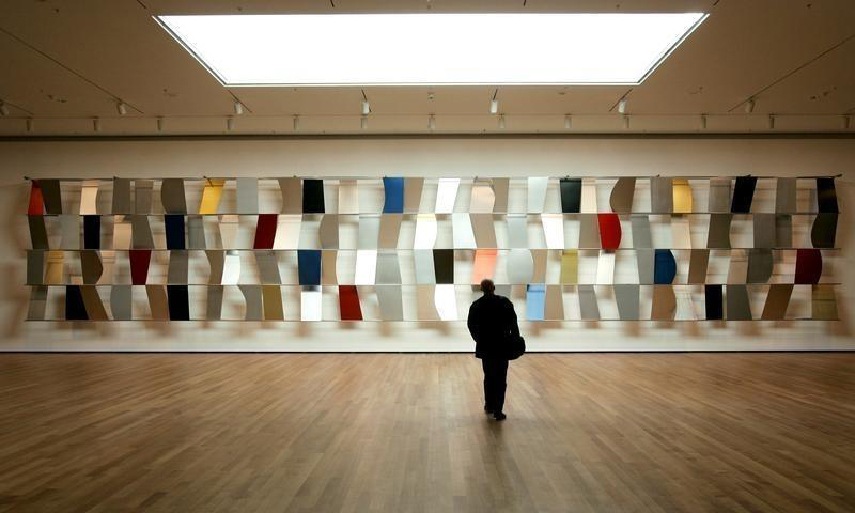 Releasing the Abstraction
It took Kelly a long time to adjust and break through the ranks of the NYC scene. His first solo exhibition was held at Betty Parsons' Gallery during the May of 1956. As expected, his art was considered more European than was popular in New York at the time. His pieces were considered radically different from the other works available at the time - a characteristic that became Ellsworth's trademark at one point. However, he was not able to become as popular as he wanted and after over fifteen years of working in the Big Apple, Kelly left and settled in Spencertown in 1970. Here, he was finally able to release his Abstraction without any boundary that weighted his creativity in New York. In 1973, Kelly began regularly making large-scale outdoor sculpture artworks which remain as some of the greatest abstractly sculptured pieces ever made[3]. Both his paintings and sculptures thrived in these new circumstances. Ellsworth first added curved shapes to his repertoire, something he was terribly lacking in the past decades. Ultimately, this led to a pivotal break with the rectangular support and his redefinition of painting's figure-ground relationship. He was also finally able to use the space surrounding the pieces to his advantage, achieving excellent results that he always wanted and heavily influencing the global development of installation along the way.
In later paintings and sculptures, namely those from the 1980s and 1990s, Kelly distilled his palette and introduced new forms that altered his creative vocabulary a bit[4]. The artist explained his own work in 1996 by stating the following: I think what we all want from art is a sense of fixity, a sense of opposing the chaos of daily living. This an illusion, of course. Canvas rots. Paint changes color. But you keep trying to freeze the world as if you could make it last forever. In a sense, what I've tried to capture is the reality of flux, to keep art an open, incomplete situation, to get at the rapture of seeing. To this day, this remains as one of the greatest explanations of abstract art ever put into words. From 2001, Kelly worked in a 20,000-square-feet studio reconfigured and extended by the architect Richard Gluckman in Spencertown. This room will ultimately be the last working studio of Ellsworth as he spent the last years of his life creating art within these walls[5]. Kelly passed away on December 27 in the year of 2015. He was 92 at the time.
What Ellsworth Kelly Left Behind
When one observes Ellsworth Kelly's career as a whole, it's not a challenge to conclude just how pivotal his work was for establishing Abstraction as a valid field of art making. His explorations of light, space and color were crucial for all of the modern and contemporary art, having massive influences on Pop Art, Color Field painting and Minimalism. His sculptures, paintings and drawings are some of the best abstract pieces ever made and it would be foolish to even consider discussing the United States' scene of Abstraction without analyzing the life and work of Ellsworth Kelly.
This artist is represented by Gregg Shienbaum Fine Art Miami.
References:
Fer, B., Kelly, E., Ellsworth Kelly: Outside In, Matthew Marks Gallery, 2015
Shiff, R., Ellsworth Kelly: New York Drawings 1954-1962, Prestel, 2014
Temkin, A., Ellsworth Kelly: The Chatham Series, The Museum of Modern Art, New York, 2013
Wilmes, U., Kelly, E., Ellsworth Kelly: Black & White, Hatje Cantz, 2012
Kelly, E., Richardson, B., Ellsworth Kelly: Wood Sculpture, MFA Publications, 2011
Featured image: Ellsworth Kelly - Photo of the artist - Image via nyt.com
All images used for illustrative purposes only.