Emanuele Vittorioso developed his own personal style by mixing graffiti, spray paint, theoretical knowledge of painting and restoration and great love for a mid 20th-century Italian painting. He moved street art into a studio and freed himself from all the labels and boundaries. In this freedom, he fell in love with painting. The artist considers every step of the process as something that should be preserved and showed. His first step was writing. Along with writing came the deconstructive process of the letter form. The more he painted, the less he worried about the form. His studio graffiti are full of shattered and fragmented letters.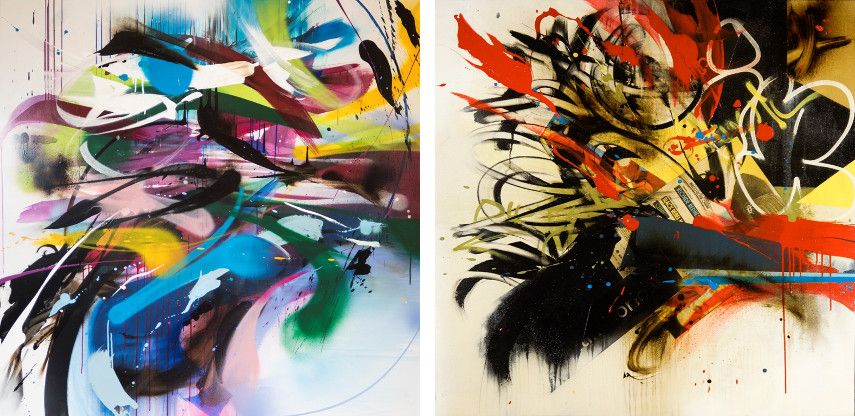 Following the Paint
Vittorioso left his home in Syracuse to study at the Academy of Fine Arts of Brera in Milan. He graduated in Restoration and Conservation of Cultural Heritage. The artist spent ten years working in his field all over Italy, and when the time was right he moved back home to pursue his painting. When he paints he follows the direction of the paint. All the leaking, paint dripping and disintegration are just the steps in the creation process. Instead of correcting the mistakes he leaves them as they are. For him, those so-called mistakes are the essential part of the painting. They lead to making the larger gestural moves where all the composition is created entirely by chance.
The artist chose blue color to emphasize the animate nature of our physical world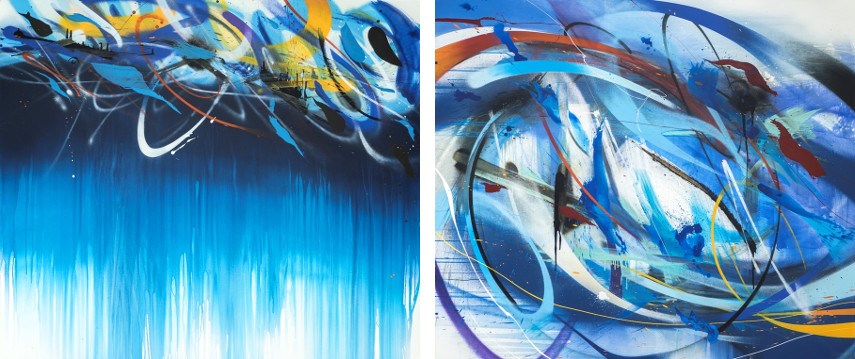 Blue is the Liveliest Color
Emanuele Vittorioso paints using mainly spray paint, but also bitumen, acrylics, and enamels. He changes his palette often, but what is characteristic for every phase is strong, almost rough brush movement. His latest phase is blue and his exhibition was entitled Blueshift. He chose this color for its role in visual perception. When a person is in motion, all the objects are leaning to the spectrum of red color. When a person is stationary, all the objects nearby appear in blueshift, i.e. bluer than the rest. Since everything is in constant flow and everyone is in a constant motion, this occurrence is quite rare.
Vittorioso often experiments with more vibrant color palettes at the same time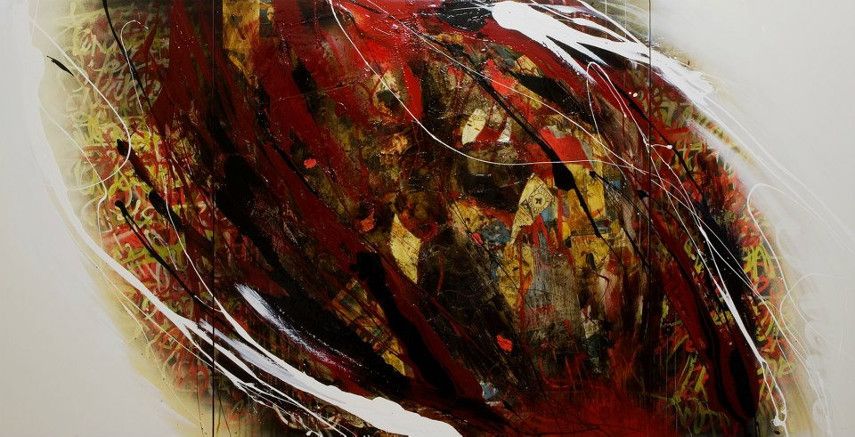 Vibrant Palettes and Freedom of Movement
The blue series was being done over the period of six years. Vittorioso does different collections parallelly and often experiments with more vibrant color palettes at the same time. The Mash Up series that has been done from 2008 to 2015 has all the elements of graffiti art, a typical street style picturesque combined with free, yet refined brushwork. Red phase was done in the similar period. Every color he chooses, he makes the most of out it. Not being restricted by obliging rules, he lets the painting live and breathe. The result is a personification of freedom and choice. His post-graffiti paintings are continuing to progress and keep things in motion.
The artist is represented by Openspace Paris Gallery.
Emanuele Vittorioso lives and works in Syracuse, Italy.
Featured image: Emanuele Vittorioso - portrait of the artist, photo courtesy of Openspace Gallery
All images courtesy of Emanuele Vittorioso