Emil Robinson is an American artist, known for his paintings that depict everyday objects in a minimalistic way. He declares himself to be a representational painter.
Emil Robinson's Background
Narrative figuration
Emil Robinson was born in Madison, Wisconsin in the 80s. Robinson graduated with a master of fine arts degree from the University of Cincinnati in 2006 and a bachelor of arts from Centre College in Danville, Kentucky, in 2003. He received in 2007 a grant from the Elizabeth Greenshields Foundation, a Canadian organization that supports emerging representational artists from around the world and that allowed him to spend six months painting in London.
Showered at Smithsonian
In 2009, he was one of seven prize winners of Outwin Boochever Portrait Competition at the Smithsonian Institution's National Portrait Gallery in Washington, D.C. – with a portrait of his wife (then fiancée ) titled Showered. Robinson wrote in a statement accompanying the work that "this painting went through long and hard growing pains.

"Sometimes a long engagement produces an intimacy with a work from all of the touching and growing."
As he said, he made this painting under a very specific and personal set of restraints. Robinson worked almost exclusively from photographs at the time, and the painting took months to complete while photo faded away slowly. Since Catherine was not around as a visual reminder - the painting morphed and adapted its own language.
"My physical process at the time was a cyclical rhythm of creation and destruction. I painted quite directly with a loaded brush and then used razor blades, rags and putty knives to drag through large areas of the painting to unify the image in light and space."
For Robinson this painting became a document depicting a hard physical fight for something that is ultimately quiet and intense.
Emil Robinson at Taft Museum
In 2009, Robinson's work was exhibited in the first solo exhibition at the Taft Museum in Cincinnati, Ohio. That year, The Taft Museum has launched a new program, Keystone Contemporary that used the intimate Keystone Gallery to present new work by an emerging contemporary artist. For this occasion, he has placed meticulously rendered figures against geometric backgrounds - a juxtaposition of realism and pure pattern (such as painting titled Gym).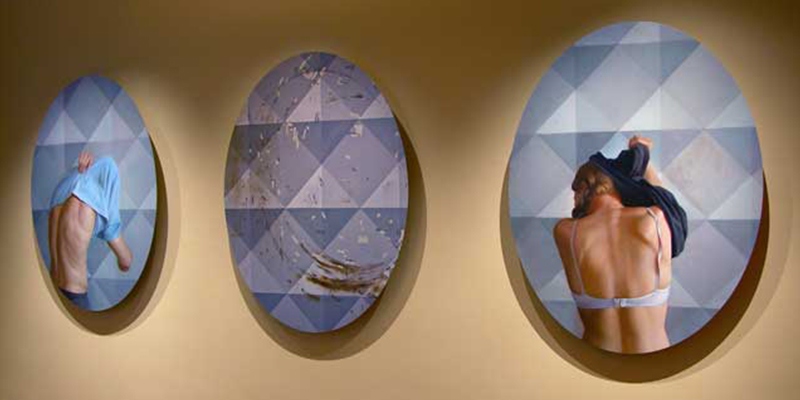 Robinson has provided four new works for the show - a large, cloud-dominated landscape, two figure studies on oval panels, and a painterly-appearing digital photograph mounted on aluminum and polyethylene composite panel. The exhibition was titled Axis Mundi.
Narrative Figuration
Usually, Emil's art takes the form of painting and drawing that he teaches at the University of Cincinnati and at Manifest Creative Research Gallery and Drawing Center. Also, Robinson paints daily in his East Walnut Hills studio.
Robinson's paintings represent his vision of everyday objects, in a minimalistic way. An open book, a tissues box, a few pieces of paper, an envelope, or a lamp – these are all things that inspire this artist. The subject matter of his work ranges from contemplative, almost narrative figurative works to interiors and still lives.
"As a representational painter there are nameable things in my paintings. However, I am invested in the unnamable as my primary subject."
The Geometry and Shape of the Object
As Robinson admits, he often changes the position of the objects that he paints and moves them on the canvas until he feels that he has the right balance. Sometimes, he even adds another object at the end of his process, in order to create interesting lines and shadows.
He constantly seeks to capture the geometry and shape of the object he paints, trying to find unity among their various forms. While doing a painting titled Attrition, Robinson kept pulling tissues from the box until he found the right abstract shape.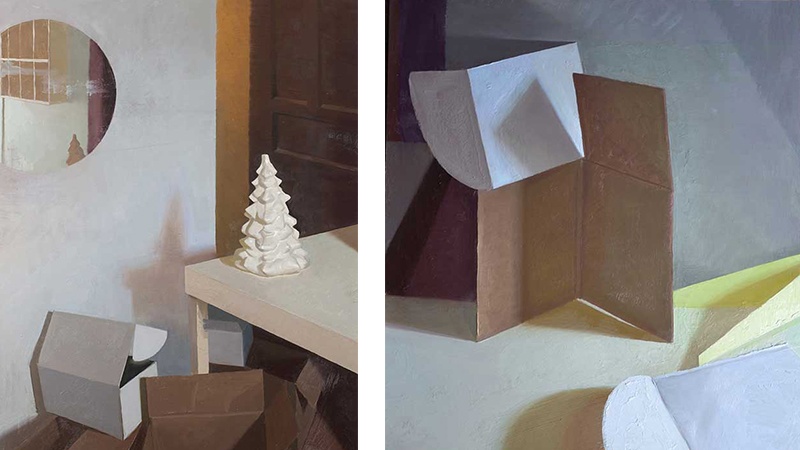 "Photographs tie me too clearly to an image. Photographs actually make painting much harder for me because they dictate only one possible solution. Now that I work from life more, I see each painting as an invitation for growth and a new relationship. I am also painting quite quickly recently with large paintings taking only a couple weeks instead of a few months to complete."
Some of the young painters he follows are Michael Borremans, Ellen Altfest, George Shaw, Josephine Halverson, Diarmuid Kelley, Sangram Majumdar, Matthias Weischer, Alexi Worth, Merlin James… the list goes on. As far as his list of his favorite contemporary painters, as he says, most of them are quite established or old or dead: Lucian Freud, Antonio Lopez Garcia, Frank Auerbach, lois Dodd, Euan Uglow, David Hockney, Avigdor Arikha, R.B. Kitaj, Francis Bacon etc.
Beside painting and teaching, Robinson writes for the critical journal Aeqai, where his work has gained attention and honors from The Huffington Post.
This artist is represented by Anna Zorina Gallery.
Emil Robinson lives in Cincinnati, Ohio.
All images copyright © the artist