Éric Godin is a Canadian artist: a painter, a sculptor, a writer, an editorial cartoonist, an illustrator, and a creative designer.
Godin's Cartoon and Illustration Years
Godin was born in Montreal, and began his career as a freelance illustrator in 1984, when he provisioned his work to a variety of magazines and publishing houses. Since then, he worked on various projects: posters, books, television productions, newspaper articles, teaching… In time, Godin became well-known for his original and clever posters for advertising campaigns, his works as the cartoonist for the Montreal weekly Voir and for the Montreal and Sherbrooke daily newspapers La Presse and La Tribune. Godin's ironic and exceptionally accurate drawings of the collective imagination and socio-political reality have been recognized and the author became notorious for his work with a unique and exclusive signature.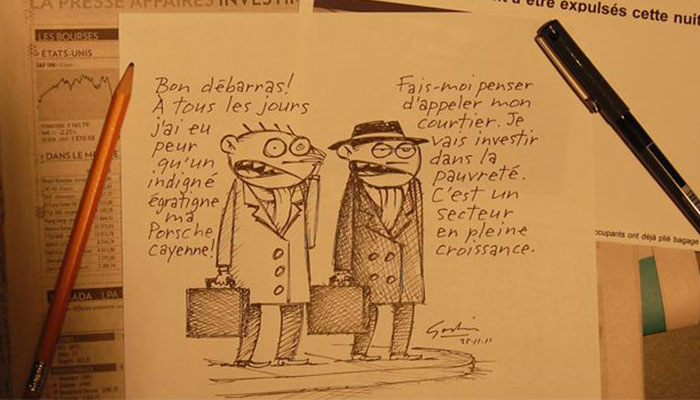 Godin also produced daily caricatures for the homepage of the Web server Sympatico. His editorial cartoon titled Le petit dessin de Godin (Godin's Little Drawing) was broadcasted by the TVA and LCN television networks in Quebec. Since 2003, Godin has created animated capsules for the television game L'union fait la force.
In 2001, the Musée Juste Pour Rire held a retrospective celebrating the 15th anniversary of Pinhead, his four-haired cartoon character. On that occasion, more than 2000 original works were collected and preserved at McCord Museum in Montreal, the Bibliothèque Nationale du Québec and the National Archives in Ottawa.
Godin's Years of Silence and a Letter to Vincent
In 2009 Eric Godin suffered the shock of the suicide of his son Vincent, which will temporarily reduce this artist to nothing but silence as he has long lost the will to live and create. The progress started in 2011, when he took over the brush for the first time.
As a painter, Éric Godin, is not as that well known to the general public as his form of artistic expression through this media is so much more personal and intimate. Godin uses wide lines to surround the shapes of his subject, just like in a cartoon. Even though his paintings do relate to his cartoons – they are, at the same time, completely different - the space on the canvas is enhanced with complex compositions and rich staging which have nothing to do with cartoons.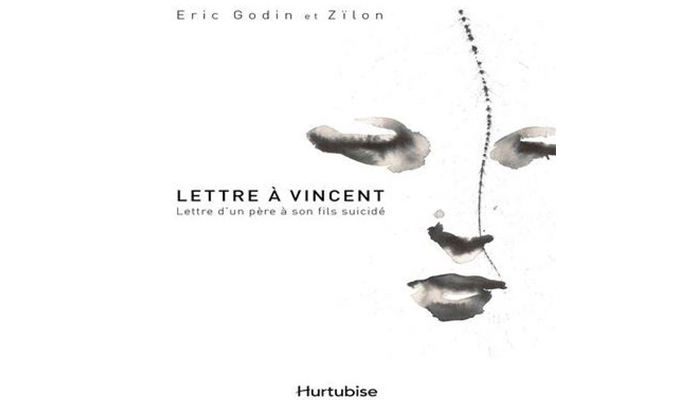 In 2012, Godin wrote a book titled Lettre à Vincent (Letter to Vincent). It is an intimate letter to his 16 years old boy that took his own life on December 14, 2009. In book, Eric slid message in a bottle that was then thrown into the sea. The letter found its way to other castaways who tempted to imitate Vincent and give the surviving relatives a balm to calm the soul. Wrote in simple words, fantastically dense – this book simply sprouted in the heart of an artist handcuffed by death.
Godin even narrated this essay book and with the help of sound and animation designer Zilon, the online book was downloaded more than 10,000 times.
Solo Exhibition at Cultural Center of UdeS and his Return to the Sculpture
Since 2012, Éric Godin has been mostly dedicating himself to painting, sculpture, and writing. His return to sculpture after a more than twenty-year hiatus was warmly welcomed.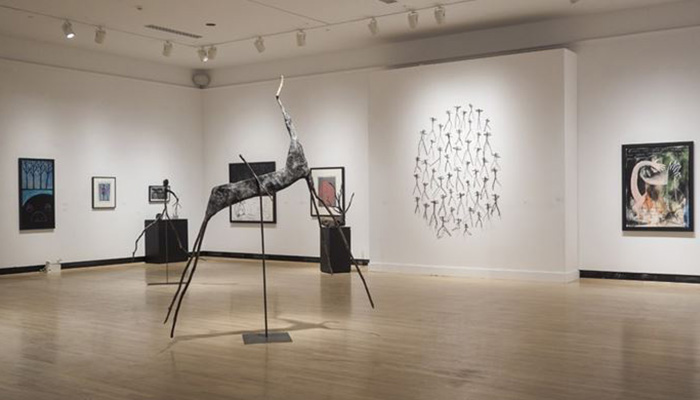 In 2015, Godin has a solo exhibition at the Art Gallery of the Cultural Center of the University of Sherbrooke. This show presented a new dialogue between the painted and sculpted works of the recent production of the artist (2011-2014) and others, from his years of cartoonist and illustrator (2007-2011).
In the pure forms of his paintings and sculptures, Godin revealed the intensity of his work: the introspection on the meaning of life, death, loss, pain and resilience… His works are like a diary in which he built, by hand, with matter, fragments of his thoughts. The result was this powerful show that surely raised the question within viewer on his own relationship with life and the world.
Godin's works have travelled the world and can be found in many public and private collections in Quebec, Canada, the US and Europe. He is represented by Galerie C.O.A.
Éric Godin lives and works in Sherbrooke, a city in southern Quebec, Canada.
All images copyright © the artist