Eric Nado is a Canadian contemporary sculptor and assemblage artist, known for his pieces that evoke the human form, created from various materials. Nado's quest to interpret our shared industrial heritage has led him to create various sculpture-assemblies that investigate the notion of war, work and time in different ways.
Born in Monteregie, Quebec in 1975, Eric Nado graduated with a BA in Visual Arts and Philosophy. His emerging artistic career began in 1999 in Montreal. In 2002, he was a co-founder of Montreal's first artist housing cooperative, called the Lezarts Cooperative.
The Seamstress Series: Assemblies from Vintage Singer Machines
From Nado's ongoing series, titled the Seamstress, emerged assembled sculptures that carry a sense of nostalgia, deeply woven in common collective history. Created in a process of deconstructing, dissecting and rebuilding 1865 to 1950 Singer and other-vintage-brands sewing machines, the Seamstresses evoke the strength of feminism and pay an homage to the hard-working women in the World War II and post-war era. For the series, Eric Nado uses elegant, embellished cast iron and colorful metal parts of sewing machines to construct charming pieces reminiscent of the human form.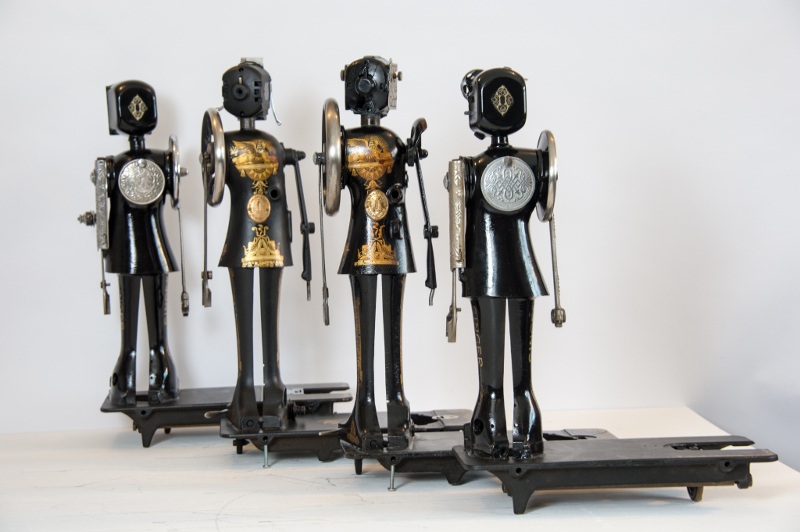 Typewriter Guns: The Power of Words
For his most recent series, Nado transformed and reassembled Underwood Olivetti Lettera 32 and other typewriting machines into an evocative, gun-like assemblies. The series, titled Typewriter Guns, gives and highlights the idea that words are in a historical way stronger than any arms and weapons, and shape the collective memory. Symbolically, Typewriter Guns series refers to the undeniable force of words throughout time.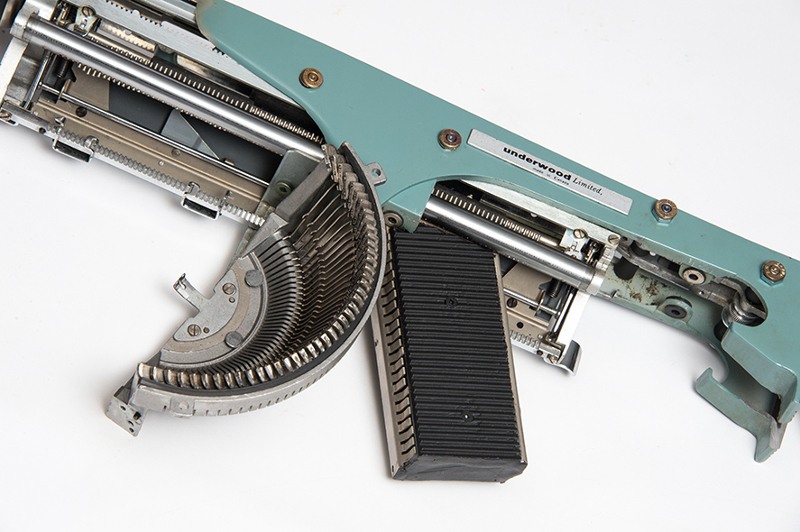 Nado's Exhibitions and Commissions
In the past fifteen years, Eric Nado's works found their way to galleries, institutional and private collections, and they can be seen in public spaces in several cities. During the course of his career, Nado has been commissioned by private companies for various means, and consequently, his art has grown to be recognized by fellow artists and various galleries. His works have been featured in many group and solo exhibitions.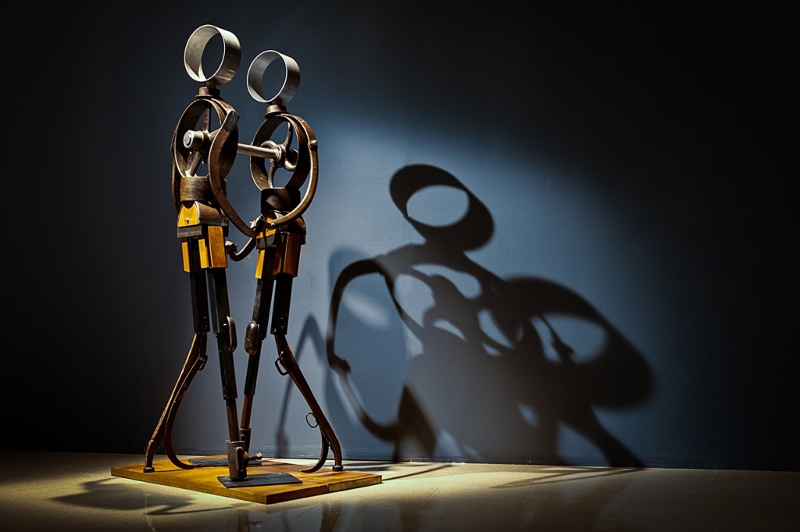 As an activist for art, Eric Nado acted as a Cultural Mediator to many City Summer initiatives, with annual invites for his lecturing in classes and conferences, aimed towards children and young adults in social reinsertion. In addition, he was a chosen participant of the Integration of Arts to Architecture Program (1%) of the Quebec Government.
Eric Nado is represented by several galleries, such as Laguna Gallery of Contemporary Art in California and C.O.A. Galerie, based in Montreal, Quebec.
In 2007, Eric Nado moved about 50 kilometers southeast of Montreal to Saint-Jean-sur-Richelieu, a city with a rich industrial and military heritage – a home to the Singer Factory and to the Canadian Military.