Erik Jones is an American contemporary figure painter, born in St. Petersburg, Florida, in 1982. He went to Ringling College of Art and Design, and earned his Bachelor of Fine Arts degree in 2007. Shortly after he completed his studies, he moved to New York. There, he focused on cover illustration, toured the country and displayed his works at various pop culture and art conventions.
His early works were influenced by pinup painters such as George Petty, Alberto Vargas, Gil Elvgren and other 1960's illustrators. Jones had his debut solo exhibition Motion at Hashimoto Contemporary gallery in San Francisco, California, in 2014.
Now his main focus is painting for galleries and freelance illustration.
Art by Erik Jones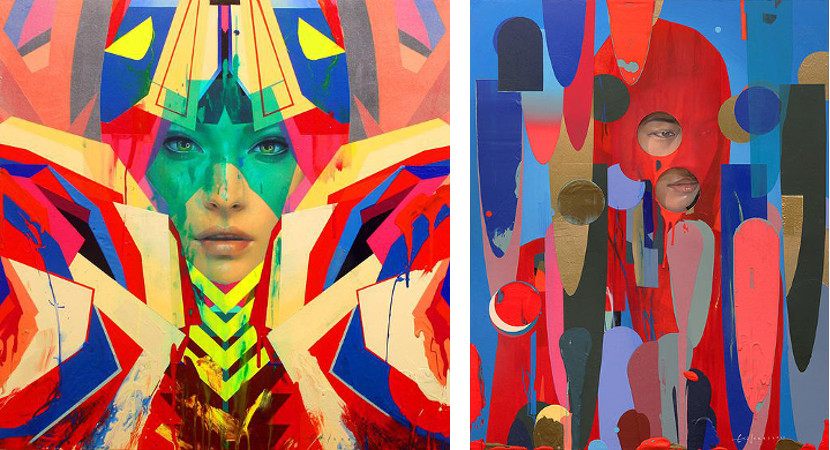 His art blends abstract painting and portrait photography. The central motif of his works are colorful and vibrant portraits of women. Their faces and naked bodies, painted in a very realistic manner, are juxtaposed with abstract and partly geometric forms and large chunks of bold colors. The artist creates his works by using a wide range of media, such as watercolor, colored pencil, acrylic, water-soluble wax pastel and oil on paper, in order to create eye-catching artwork. His portraits are conceptual fashion designs.
In Color, exhibition of Jones' hyper-contemporary works is currently on view at Dorothy Circus Gallery in Rome, Italy. The show contains more than 15 artworks that revoke the best dripping paintings from the fifties.
In Colour will be on view until December 1st, 2015.
Jones is represented by Hashimoto Contemporary gallery in San Francisco, California.
He lives and works in Brooklyn, New York.
Featured image: Erik Jones, photo courtesy of Hashimoto Contemporary
Other images copyright © the artist