Ever since the 1960s, Ernest Pignon-Ernest could be seen wandering the streets of Paris, wheat pasting his monochromatic artworks which would carry inside them a strong political and social commentarie. This man is one of the most important initiators of urban and street art in France, alongside such sounding names as Daniel Buren and Gérard Zlotykam. When you consider just how beautiful and inspiring his work is, you wouldn't be far off if you said that Ernest Pignon-Ernest is the closest thing street art has to Classicism. Urban interventions of Pignon-Ernest are closely tied to concepts of French Fluxus and Situationism, so naturally the pieces he makes have a deep, strong inner meaning that may not be as easy to figure out as you may think.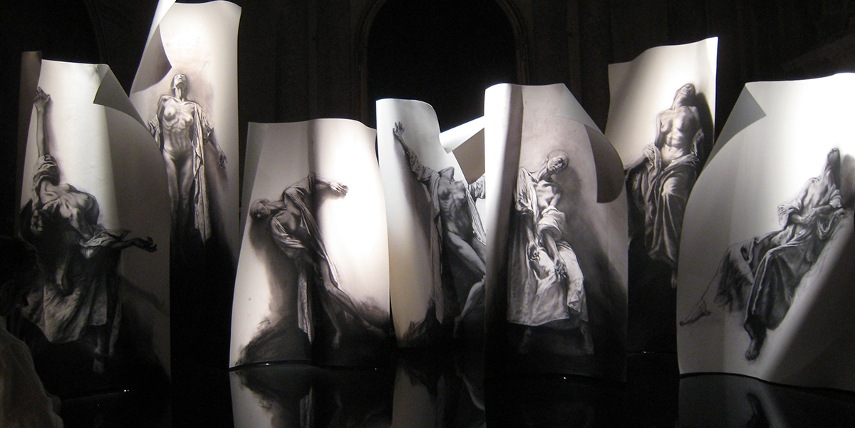 The Background of the French Urban Art Originator
Ernest was born in Nice, France, during the year of 1942. His first contact with art was a lot different when compared with his later, mature work - he began making architectural drawings on a the university in his hometown. This, however, served as an excellent basis upon which Ernest was able to build his ideas and concepts. Pignon-Ernest wanted to become an artist unlike any other that was before him, but he almost instantly ran up into his first obstacle. Luckily, it was an easily conquerable obstruction - there already was an artist with the name Ernest Pignon! Since the man in question was a well-known artist, there was a requirement for our Ernest to somehow alter his own name in order to distinguish himself. And that was the moment Ernest Pignon-Ernest was born, so to say. After he made sure there was no room for confusion with another French painter, it was the right time to start creating. Pignon-Ernest's work was usually based on his political views and it was them that served as fuel for his artistic expression - something that never truly changed as Ernest got older. The first street works were a direct reaction to France's involvement with the nuclear strike force on Hiroshima and Nagasaki. These pieces were inspired by the horrific shadows on the walls left from people that were unfortunate enough to find themselves in these towns during this terrible moment at the end of The World War II. Although these Hiroshima and Nagasaki homage paying pieces were much darker then Pignon-Ernest's mature works, they were a good clue as to what will eventually be his trademark - Ernest has always tried to somehow capture the essence of a place inside his pieces. He draws from the history of the place, the memories it holds. The street art he creates can be interpreted as the artist's personal reactions to a location and things that occurred there. This may not seem like an original concept in street art today, but keep in mind that Pignon-Ernest used to develop these ideas way before this medium had a chance to establish himself. Therefore, all this artist managed to achieve was completely his own and new to the art scene.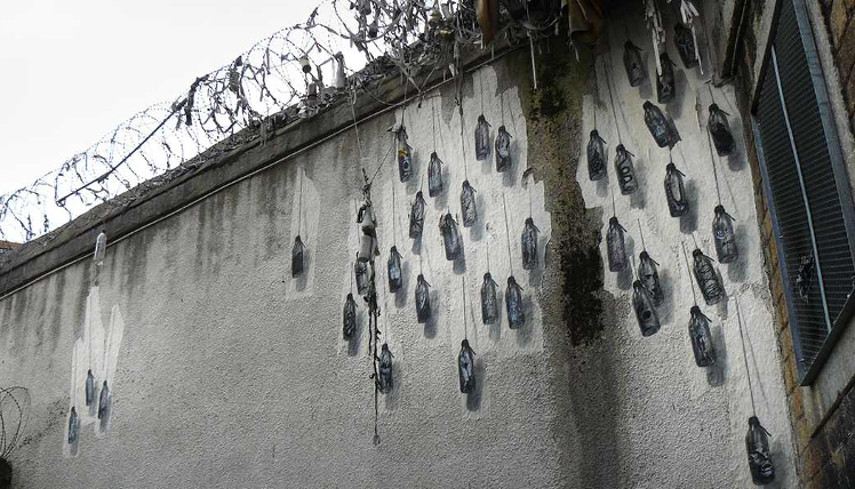 Pignon-Ernest's Style
When he was younger, Pignon-Ernest desired to follow in the footsteps of Pablo Picasso. The incredible innovations the legendary Spanish painter of Cubism brought to the table was simply a limitless source of inspiration for Ernest who wanted to make the same impact on the world. Ultimately, he realized that following Picasso's example meant he would be required to part ways with his own ideas and concepts. With a heavy heart, he decided not to pursue Cubistic designs and he turned towards Situationism, Fluxus and the aforementioned capturing of the essence inside locations. About the latter, Ernest Pignon-Ernest stated: Places are my essential materials. I try to understand, to grasp everything that can be seen there: space, light, colors and at the same time everything that cannot or can no longer be seen: history and buried memories. This is what I use to elaborate my images, which are thus born out of the places where I set them. The aim of this insertion is both to make the into a visual space and to work on its memories, to reveal, disrupt and heighten its symbolism. I do not make works in a given situation, I try to make works with situations. Ernest's interests and love for urban environments can definitely be attributed to his knowledge acquired during the studies of architecture. The artist himself explained it best himself: I always start with walking through a city, by day and night, trying to understand its organization, to comprehend its space, rhythm, color, texture, light, everything visible. Simultaneously, thanks to many meetings as well as the numerous books I have read, I give my best to see what is not visible (anymore) – history, memories that haunts some place, it's suggestive, poetic and symbolic power. Always wanting to open the eyes of the spectator to look at misery, poverty, immigration, racism, epidemics and other difficulties of a particular place he chose to work at, Pignon-Ernest brings to the surface forgotten histories, buried memories and politically informed remarks. As was mentioned in the opening paragraph, Ernest's technique is that of the wheat paste - a method in which a gel or liquid adhesive made from wheat flour or starch and water is used to hold posters and notices to walls.
Ernest Pignon-Ernest is known for his characteristic usage of the wheat paste technique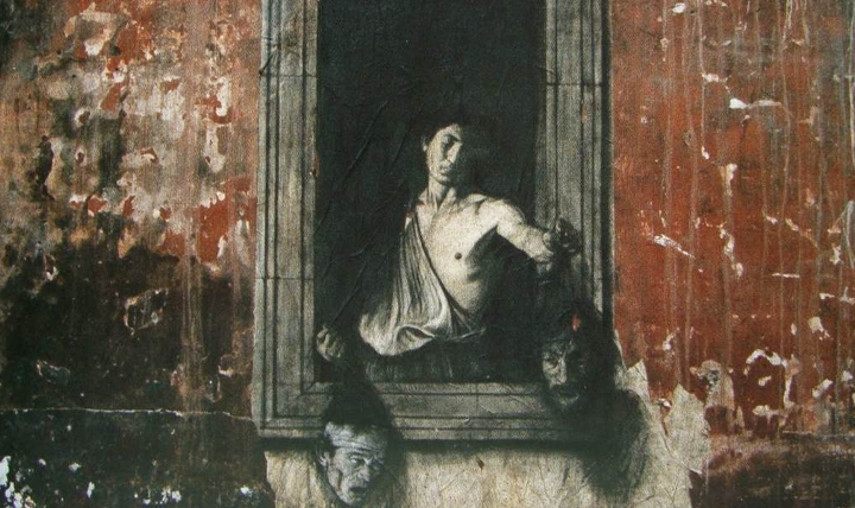 A True Fluxus And Situationist Artist
Ultimately, all Pignon-Ernest knows about art he learned on his own - a pretty logical statement since he quit college before graduating and is responsible for establishing many original concepts of the 20th-century art. As was mentioned before, he is considered to be a Fluxus and Situationist artist. The first movement was connected to experimental syntheses of different artistic media and disciplines in which participants from fields as diverse as art, poetry, economics and chemistry produced performance events. Members of the Fluxus appreciated terms such as Neo-DaDa, anti-art and anti-commercial sensibility. Basically, they were believers in the new artistic ways and were interested in experimenting with established, traditional means of expression. The other side of Pignon-Ernest's artistic duality is, as was already said, the Situationism movement. The intellectual foundations of the Situationist International were derived primarily from anti-authoritarian Marxism and the avant-garde art movements of the early 20th century, particularly Dada and Surrealism. Overall, situationist theory represented an attempt to synthesize this diverse field of theoretical disciplines into a modern and comprehensive critique of the mid 20th-century advanced capitalism. As Fluxus, it also focused a lot of attention towards performance events and changes within society. The combination of the two relatively similar but still very different art movements made Pignon-Ernest strive for blending various artistic medias and disciplines in the 1960s. All in all, it is true that if one wishes to understand the art of Ernest Pignon-Ernest, it is necessary to look closely towards his connection with Fluxus and the intellectual foundation of Situationist movement. Both of this movements had a toll on Ernest Pignon-Ernest's aesthetics and his political consciousness.
Ernest-Pignon-Ernest's artwork is equally influenced by the foundations of both Fluxus and Situationist art movements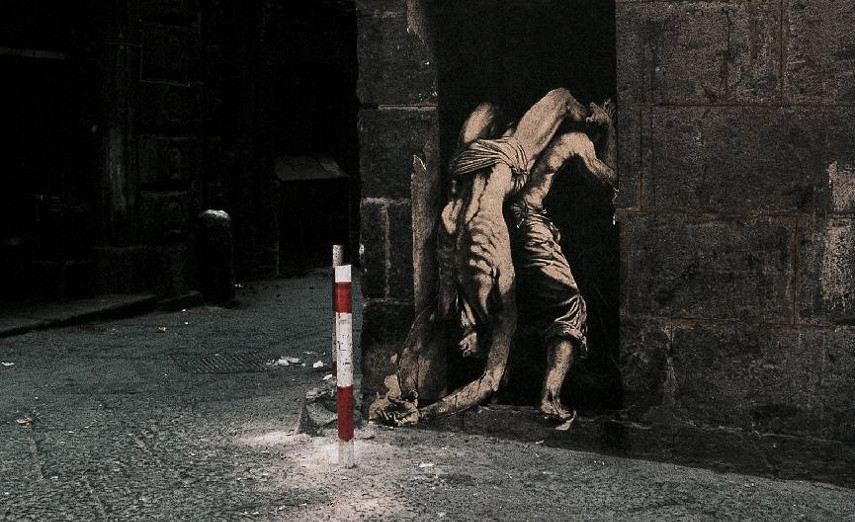 A True Urban Art Legend
Now widely considered to be a living legend of the street art scene, the immortality of Ernest Pignon-Ernest's work is pretty much guaranteed. The man proved to be a true urban art pioneer and it's virtually impossible to imagine that the street art movement would be the same today if Ernest, God forbid, choose to pursue the career of an architect or a Cubistic painter. Luckily for us, this was not the case and the artist paved a way for the generations of young French urban artists that wanted to state their opinions through interventions upon their city's surroundings.
The artist is represented by Artsuggest.com and Galerie Lelong Paris.
Ernest Pignon-Ernest lives and works in Paris, France.
Featured Image: Ernest Pignon-Ernest - Photo of the artist - Photo Credits Ernest Pignon-Ernest
All Images Photo Credits Ernest Pignon-Ernest