Romain de Tirtoff, primarily recognized by his alias of Erté, was a Russian-born French artist and designer whose diverse talent was put to a good use in an array of creative fields and works. His pseudonym was derived from the French pronunciation of his initials and it stands as one of the main indicators that this author preferred France over his native country of Russia. Romain de Tirtoff worked hard in many fields of art making, including fashion, jewelry, graphic arts, costume and set design for film, theatre and opera, as well as outlining interior decorations - the combination of these activities ultimately culminated in making Erte a crucial aspect of the Art Deco movement. One of the main creative guidelines this artist followed were the tapering lines and the simplified ornamentation style Erte saw in the natural world surrounding him.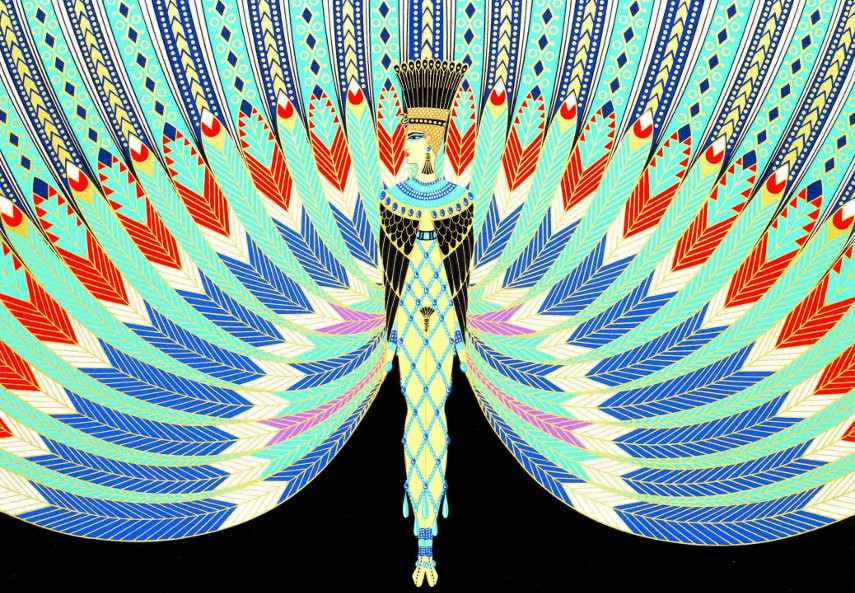 Discovering the Artistic Thrill of Paris
Romain de Tirtoff was born during the year of 1892, in the famous city of Saint Petersburg. He was a member of a distinguished family whose roots were accurately traceable all the way back to the year of 1548. His father, Pyotr Ivanovich Tyrtov, served as an admiral in the Russian Fleet and his line of work heavily influenced the childhood of his son. In 1907, Romain de Tirtoff spent one year living in Paris, a time that will eventually prove to be pivotal for the young artist as it was then that he decided that art could be something worth pursuing a career in. He was utterly fascinated with the Parisian society that was heavily oriented towards art, completely different then all of the people Tytov knew back home. A few years after his return to Russia, Romain managed to persuade his father to allow him to move permanently to Paris where he was able to start chasing his dream of becoming a professional designer. However, Pyotr Ivanovich Tyrtov never truly accepted his son's decision as he desperately wanted him to continue the family legacy of being a part of naval warfare. In order to avoid what his father saw as a disgrace to the family, Romain de Tirtoff assumed an artistic pseudonym of Erte from the point he started working under the guidance of Paul Poiret in 1913. Two years later, Erte secured his first substantial contract with the famed Harper's Bazaar magazine and thus put in motion a distinguished career that initially included designing costumes and style of stage sets[1]. For the next two decades, this author designed over two hundred covers for the Harper's Bazaar, whilst some of his illustrations also appeared in other prestigious publications such as Illustrated London News, Cosmopolitan, Ladies' Home Journal and the unavoidable Vogue.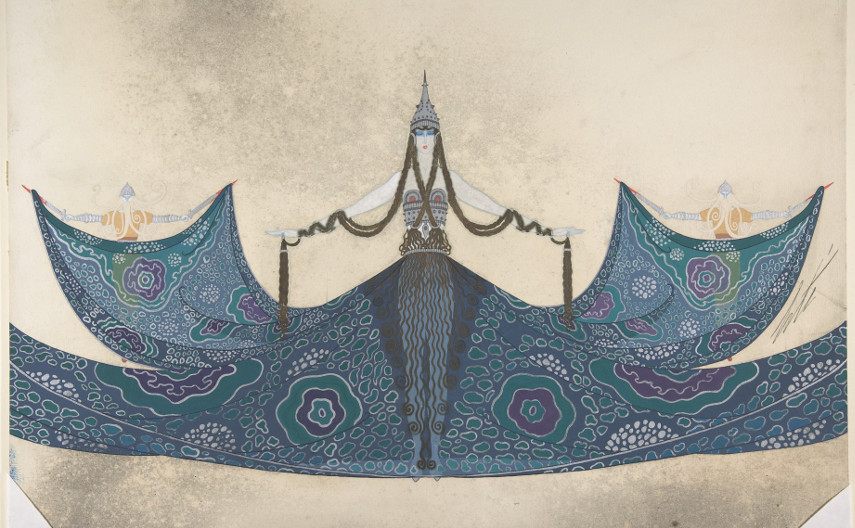 Art Deco Illustrations, Designs, Films and Theaters
From the time he established himself as a leading designer in the City of Light, Erte primarily worked on his elegant fashion schemes that completely capture and reflect the Art Deco period in which they were made. His fine figures and sophisticated, borderline over-glamorous designs are instantly recognizable and made such a deep imprint on the world of fashion that they still influence similar authors working in the 21st century. Erte was also well-known throughout the world of theater as his costumes, program designs and sets were featured in numerous prestigious institutions. For example, Irène Bordoni, a celebrated French chanteuse that was a part of many Broadway shows, wore more than a few of Erté's clothing designs. Starting with the year of 1925, Erte was even a part of Hollywood as his sets and costumes were introduced to silent films by Louis B. Mayer. He designed sets and scenery for such films as Ben-Hur, The Restless Sex, The Mystic, Time, The Comedian and Dance Madness[2]. As far as his illustrations go, this author is by far best known for an image titled as The Symphony in Black - a picture that depicts a somewhat stylized, tall and slender woman wrapped in black, holding a thin black dog on a leash. This influential image has been reproduced and copied countless times over the decades. It should be noted that Erté continued working throughout his life, creating illustrations linked to the fashion scene and designing all sorts of aspects commonly found in revues, ballets and operas. Although the interest in his works did not maintain the heights it once had during the first half of his career, Romain de Tirtoff's art had a major creative revitalization and rejuvenated moment during the 1960s with the Art Deco revival[3].
The elegant figures and Art Deco designs Romain De Tirtoff Erte authored in his time did not only affect his contemporaries - his art is still quite influential in the fashion world of the 21st century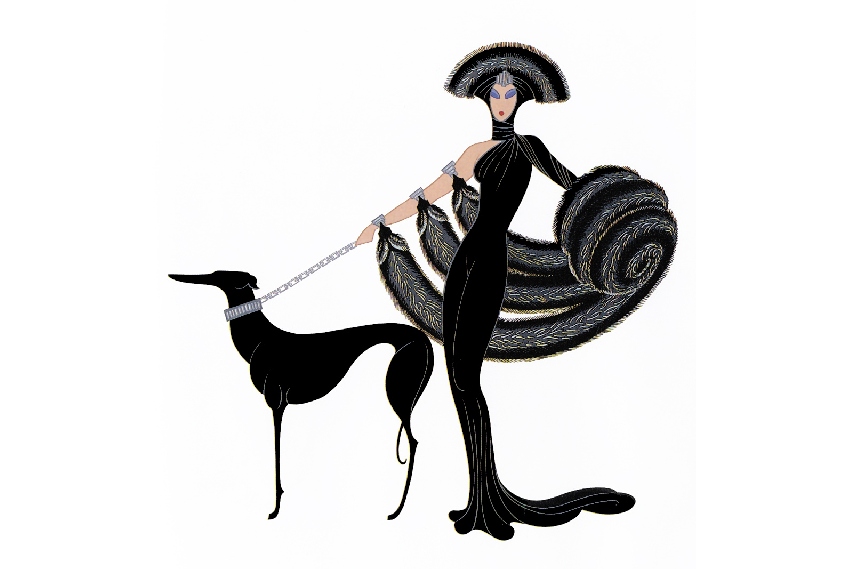 The Diversity of Erte and His Art
When Erte's career is observed as a whole, it's fair to say that his life was completely devoted to creating various works of graphic art, sets, jewelry, costumes and all sorts of designs. Maybe it is precisely this kind of diversity and willingness to experiment with the unknowns what made Romain de Tirtoff so interesting to his contemporary viewers. The ability to constantly expand your work and surprise the audience is one of the most powerful abilities an artist can have in his or hers arsenal and Erte definitely possessed this capability. Such a multifariousness is also the main reason why Romain de Tirtoff was as important to Art Deco as he was, especially when you consider the wide range of practices that this movement aimed at keeping in its core. On the most conceptual level there is, Erte and Art Deco were virtually made for each other.
References:
Spencer, C., Erté, Clarkson Potter; 4th Printing edition, 1981
Tibbetts, J., Erté, Barnes & Noble; Fifth or Later Edition, 1996
Weaver, W., ERTÉ. Romain de Tirtoff., Franco Maria Ricci Publisher; First Edition, 1972
Featured image: Erté - The Beading Yogini (detail) - Image via pinterest.com
All images used for illustrative purposes only.