Esao Andrews makes dark and mysterious, yet warm and tender paintings of imaginary worlds. He works with oil paint on wooden canvas, and his technique contributes to the general feeling of warmth his canvases display. There are images of trees sinking into the ground, castles being attacked by monsters, little girls traveling alone, or riding a bike with the grim reaper. What he offers in his work is not a cohesive story. It pushes the audience into the deep contemplation where they can think of the story behind the images by themselves. Not lacking in essence, he shows us just the sequences of the larger narrative that is happening in the world beyond the visible. His colors are clean, the tone is dark, and the surface of the painting looks gentle and soft as velvet. Working on wooden canvas requires a steady hand and great skill, and this artist holds both.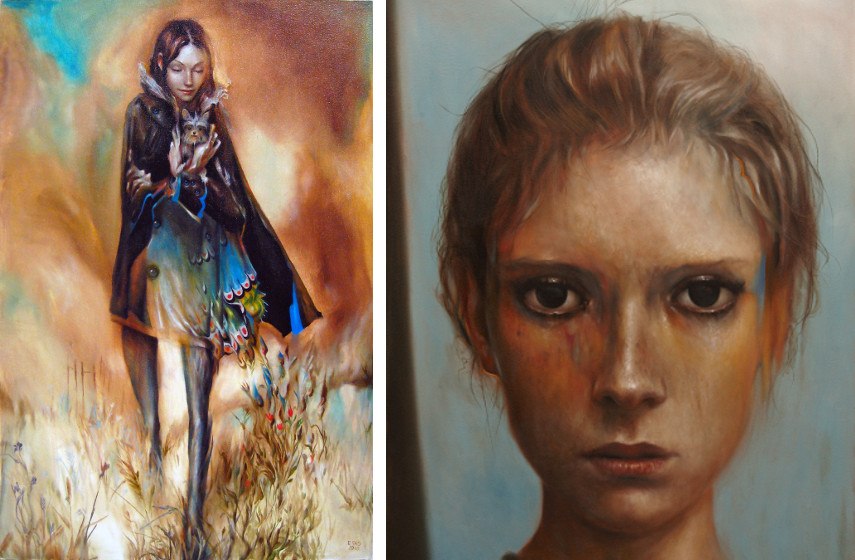 Michievous Females and Twisted Worlds
Andrews was born in Arizona and he moved to New York in 1996. He graduated from School of Visual Arts, majoring illustration. Before dedicating himself to painting full time, he did illustration and flash animation, and still does it sometimes. He designed and illustrated skateboards in a collaboration project with the artist Tara McPherson for DC Comics. His artwork was exhibited worldwide, and he is quite popular among the alternative scene, where people are getting tattoos of his pieces and musicians are choosing his pieces for album covers. Andrew's signature elements are beautiful, detailed painted women, often caught in a mischievous endeavor or in an unfortunate event. He is not trying to pursue morbidity at any cost; his ambition is to subtly emphasize the presence of darkness in nature. The darkness is neither violent nor dangerous; it is more of a literary kind, the one that announces its presence in giving mild goosebumps.
Timelapse video of Esao Andrews working on Spring Hare
Destination Nowhere
Andrew's earlier series called Nowhere featured various mysterious females, fantasy creatures, and anthropomorphized animals. These characters are placed in an imaginary world, but they with real world emotions and events. Every single of his pieces can stand alone, acting out as an essay on life, hope, and resurrection. The source of his creativity, besides imagination and talent, is his desire to grow and evolve as an artist. That is the reason he puts his characters in difficult times of maturing, growing up and overcoming obstacles. The erotic moment in his art is never vulgar, it is there to show attraction and appeal of female figures in a fantasy world. The eroticism is not focused on their bodies, it is delicately exposed in their attitude, how they cope with the situation they are in.
Andrews combines different worlds and mixes them together in order to create a self-sustainable piece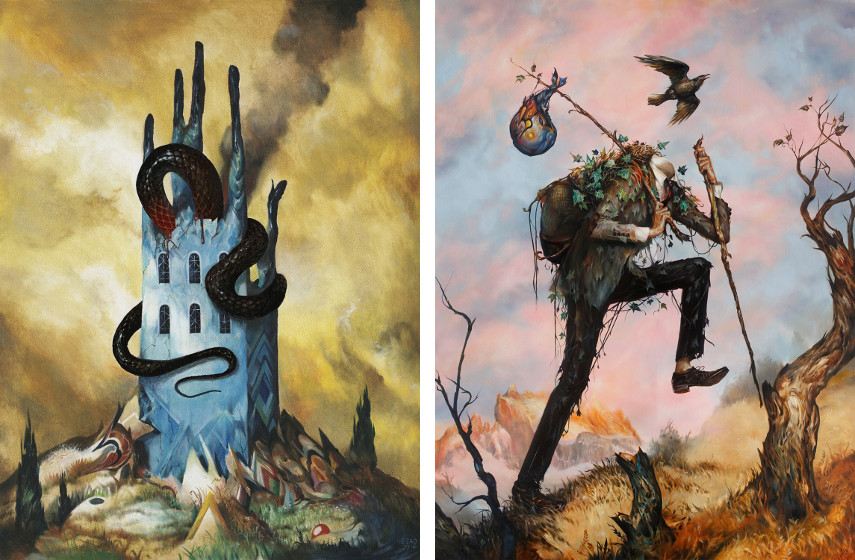 Eppilogue for the End of an Era
With the ambition of leaving an open door for every genre, Andrews incorporates many elements of gothic, macabre and pop-art. He combines different worlds and mixes them together in order to create a self-sustainable piece. However, his works together tell a coherent story. It could be a story about growing up, coming out of age, or coming home after years of wandering. The artist does not insist on finding the meaning and story behind everything. Looking at his work is like reading a fairytale, on every page there is a different story and characters are taking turns as protagonists. In his latest collection Eppilogues, he worked on making a closure. All the characters were on a journey, and they were ready to come home. Whatever their story was, it is now finished, and the ongoing narrative reached its peak and at the same time the completion.
The artist is represented by Jonathan Levine Gallery New York.
Esao Andrews lives and works in Los Angeles with his dog Soybean.
All images used for illustrative purpose only, courtesy of Jonathan Levine Gallery © Esao Andrews