There are two types of graffiti art that are worth mentioning. The first one is the sort that blows us away with its visual appearance. The second one is the kind that conveys a message and it actually makes you stop and think about what might be painted on the wall. If you, as a graffiti artist, are managing to simultaneously coexist in both of those categories - well, you're doing something right. The art of the infamous Escif achieved both being wonderful for observing and having an important point to make. Only his work is not beautiful in the traditional sense of the word, but in an elegant, minimal way to which Escif stayed true for all of his career. This artist is making a conscious effort to get people to look at his work and not just focus on the pure aesthetic but rather be aware of what is happening - Escif explained it best: I´m not looking for decorative paintings, I try to wake up viewers' minds.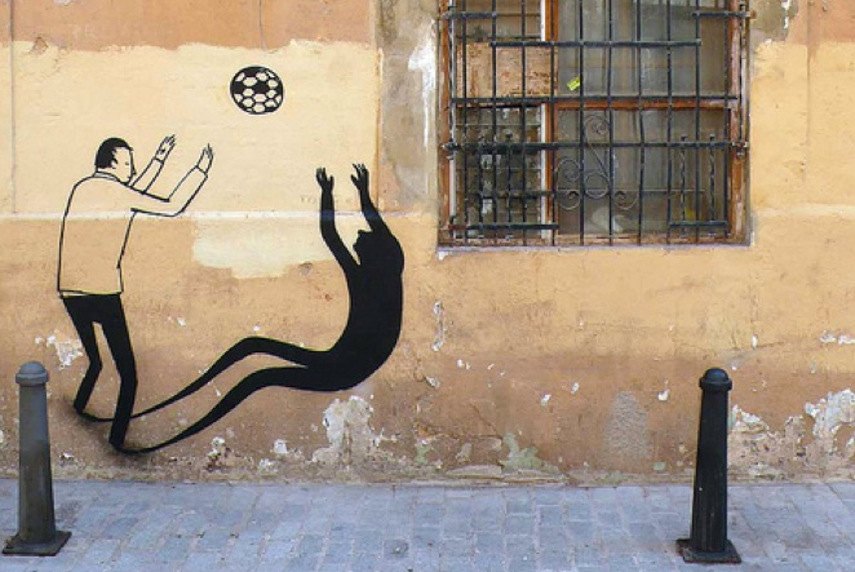 It Started In Valencia And It Shall End In Valencia
Escif regularly works on the walls of Valencia, but good luck catching him - he has stayed anonymous for nearly twenty years since he started painting. Back in the late '90, he came to the public attention with his black and white minimal design, as well as for his strange scenes that border anecdotes. Escif's pieces are deceptively simple yet inspired to a point they cause strong responses from viewers. He uses any masonry surfaces as vertical or horizontal canvases - from small cracks in walls to huge pieces of architecture. It's easy to imagine the real Escif as a caped man who runs as an invisible shadow during the night and seeks valid places to paint, all the while successfully avoiding police officers who haven't been able to catch him for two decades. But despite that illustrative thought, Escif does not consider graffiti to be a guerilla technique, but more of an art of action, of performance. Be that as it may, his art is kinda aggressive - it uses simple lines and figures to send a clear and direct message. Escif usually comments on the aspects of capitalism, politics, the economy and other sensitive social issues that plague modern metropolis.
Escif uses simple figures to send a complex message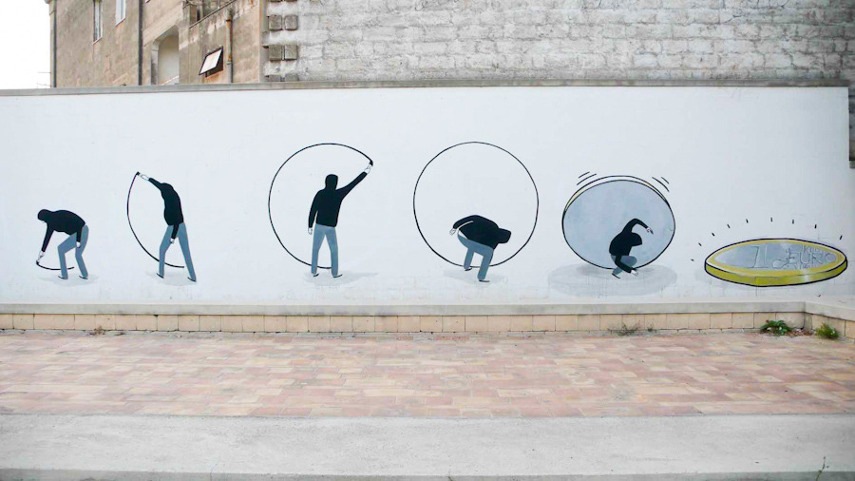 The Escif Way
Over the years, Escif developed his own personal symbology and such elements are incorporated repeatably onto his work. Black holes, walking walls, tumbling common objects; these are only a couple of examples that he often uses. This has led to a special kind of relationship with the citizens of Valencia - they feel as they know Escif personally, they know what to expect from him. His paintings became a part of Valencia as much as the buildings upon which Escif paints. This kind of relationship with viewers is not common amongst graffiti artists. But don't let that lead you to a conclusion Escif gets monotonous! Knowing someone is not the same as being able to predict them, is it? Escif is constantly evolving and developing new languages - just as the person changes, his art grows as well. Interestingly, if we were to catalogue his artwork from the first piece to the last, we would be able to see the development of his style to a point it's instantly possible to distinguish Escif's art from anything else you might compare him with. Escif tries to focus his work around concepts, not shapes and colors. But, ironically and honestly, his graffiti (or public art as he likes to call them) is some of the most apeling work we've seen in a long time.
It's easy to recognise Escif's work in a second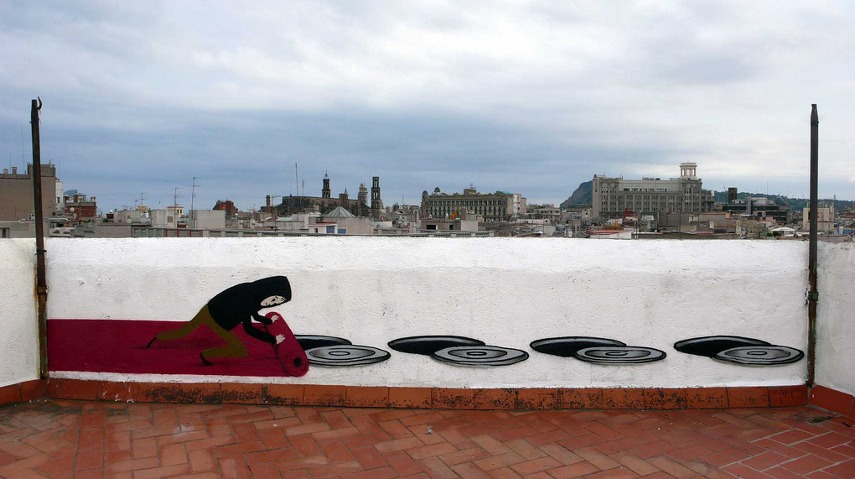 Do Not Imprison His Art Within Gallery Walls
The Escif constitutes his art on the fact it's all about the viewers - the only meaning to his work worth mentioning is the one viewer decides to give it. Audiences that accidently stumble upon his graffitis have the most honest opinion of all the viewers. That's why it's essential for his work to exist exclusively on the streets. For that reason, Escif has a strong belief that graffiti art is pure street art and as such is never under any circumstances to be taken from their urban environments. By doing this you take its validity, it's purpose. Escif himself said: graffiti as a concept implies transgression of public space, and because of this its institutional adaptation ceases to have value. Graffiti is on the street, in its natural condition, where it will die. Obviously, he feels taking his art to galleries is the same as destroying them. But, being anonymous as he is - at least for now - Escif is not really able to come out and stop such procedures from happening. He can only speak through the internet and the medium of graffiti with hopes that someone will listen. Luckily for Valencia, there is so much Escif artwork out there that it's practically impossible to tear them all down and put them on display in galleries and museums. A lucky break for the second largest city of Catalonia.
If Only We Could Meet Elcif...
Escif is a Spaniard and belongs to the city of Valencia, but over the years, his work has become increasingly international. His graffiti apply to all of us living in this day and age. We don't know who Escif is, but we can safely presume he lets a little smile go for every time he sees his graffiti used on the other side of the planet. And it's used for a good reason - Escif's graffiti is simply mesmerizing. Such wide recognition might tempt some of us into revealing our identities, but not Escif who probably doesn't plan on coming out anytime soon. Furthermore, he stayed true to his (presumable) home city and Escif work sightings haven't been reported anywhere else but in Valencia for the last twenty years. Such behaviour makes us want to shake his hand and thank him for bringing back our faith in the romantic way of making art. If only we knew which hand to shake.
Escif lives and works in Valencia (Spain).
Featured Image: Escif - Unnamed graffiti in Valencia - Photo Credits Fubiz
All Images Photo Credits Fubiz.