Esper is a French graffiti artist and illustrator interested in urban culture and collaboration with his fellow street artists. In 2001, together with his colleague called Raphe, Esper has founded a street art collective inspired by hip-hop culture and lifestyle, called Top Color. In addition to his interest in street art, Esper is also a creative director in the field of visual communication and he has worked with the representatives of many famous brands such as Adidas and Nike.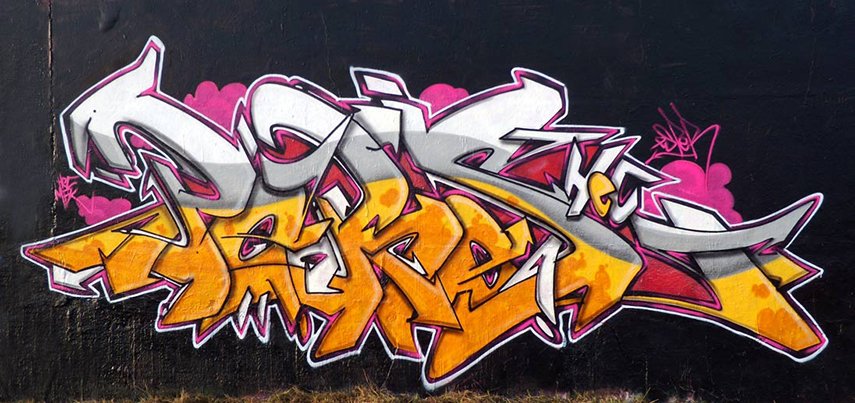 Women Dressed in Calligraphic Forms
Esper was born in Paris, France in 1982 and he graduated from the Ecole Superieure des Arts et Techniques in 2005. It took him a few years to apply his artistic knowledge and develop his own style. Esper's graffiti and illustrations combine Western and Japanese lettering and characters and he also integrates elaborate calligraphic forms into his illustrations of Western and Asian women, which are represented as cartoon characters and have a certain pop-art feel. Esper creates both small and large-scale works with the same motif of calligraphic forms intertwined with female figures and their clothes and hair. Some of his recent pieces, from 2015, are done using an interesting technique called pyrogravure. In this technique, a piece of wood is used as a canvas and an artist is burning wood in a controlled way, so he can leave a burn mark in a desired manner and shape.
Esper integrates elaborate calligraphic forms into his illustrations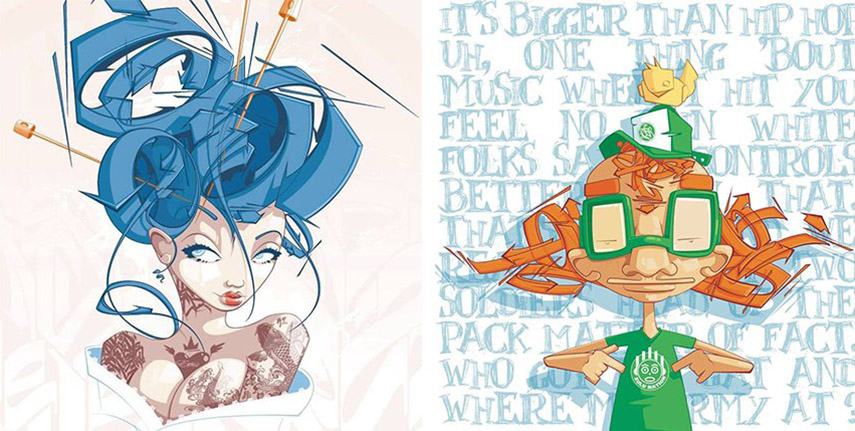 Street Art Collaborations
Since July 2006, Esper has been busy with various visual communication projects. For example, he has created graphics for Zanzoon educational games and Elior chain of restaurants, as well as the visual identity for important companies and brands such as Auditorium, Publicis Event, Adidas, Nike, BNP Paribas, Solidays and La Villette. Regardless of his commercial success, Esper has never abandoned his passion for street art. With his childhood friend Raphe, Esper has founded a street art group called Top Color, which creates murals consistent in their color scheme and overall style. For Esper, painting graffiti is more than a passion or art - it is a way of life.
Esper has founded a group called Top Color, which creates murals consistent in their colors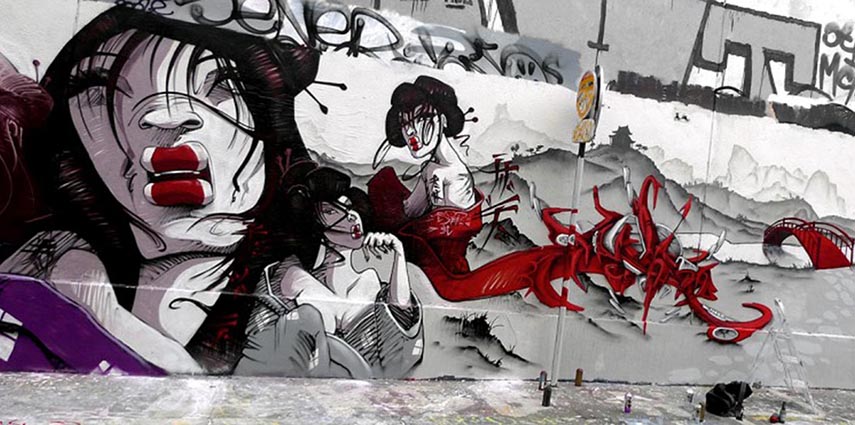 Blend of Graffiti and Hip Hop
Graffiti and hip hop culture in general have been the part of Esper's life and have influenced his professional and social choices over the past 15 years. Besides working as a street artist, in the last couple of years Esper started to collaborate with galleries as well. We can expect to see his new work, which features colorful cartoonish characters, exhibited in solo and group shows in the near future.
The artist is represented by Green Flower Arts.
Esper lives and works in Paris, France.
Featured image: Esper's Portrait - image via youtube.com
All images used for illustrative purpose only.