The past unmistakably finds a way to shape our present, and it often applies to an even greater extent for those expressing themselves artistically. There are those that embrace such a notion, drawing from the endless pool of the past events and memories. Inspired by the eccentric nature of her father and the life that it brought her family when she was younger, Esther Pearl Watson mixes a bit of memory with a bit of fantasy to create extraordinary paintings. An outsider simply by the way of her upbringing, her work is inspired by the great Outsider artists, forming a comic-book, child-like style that is unique and instantly recognizable.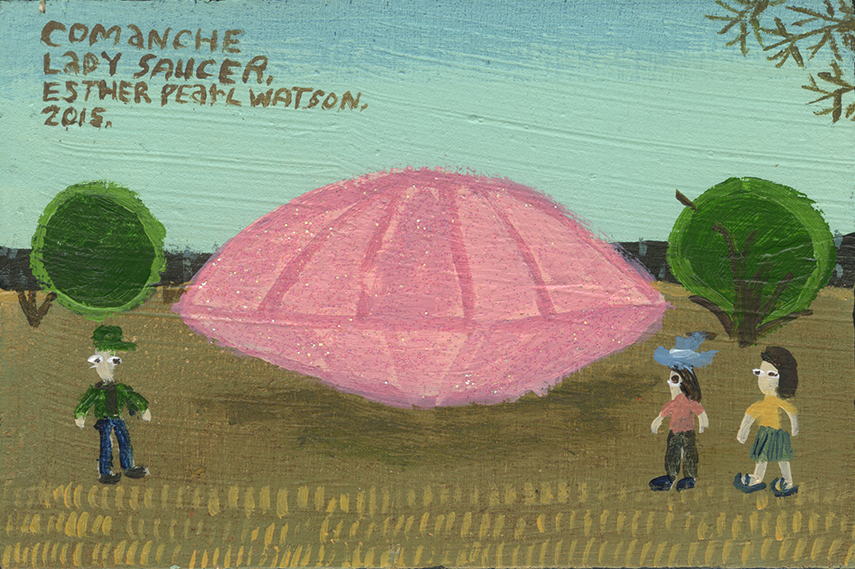 Upbringing of an Outsider
It didn't take much for Esther Pearl Watson to feel like and be considered an outsider. Born in 1973, her childhood revolved around constant moving of her family, changing houses around Dallas on a regular basis. Moreover, she had an eccentric father, Gene Watson, who was dedicated to his work to the point of completely pouring his life and soul into it. With the belief that he had unlocked the secrets behind the engineering of flying saucers, Mr. Watson would focus his brilliance into his many projects, schematics, formulas, scavenging materials, and creating prototypes. Needless to say, it left an enormous impact on the persona young Esther Pearl Watson, carving out memories that she'll be revisiting in her current artistic practice.
Eventful and rich as it is, her past was not the only influence that formed her uncanny output. Receiving her MFA from the California Institute of the Arts, Watson remembers her portfolio standing out even during her college years, inspired by children's art and the artists that stood for the Outsider art movement. Witnessing their works for the first time in the outsider art magazine Raw Vision, her own creative ways have been influenced and often placed in the category of outsider art, and for a good reason.
Eventful past influences the work of Esther Pearl Watson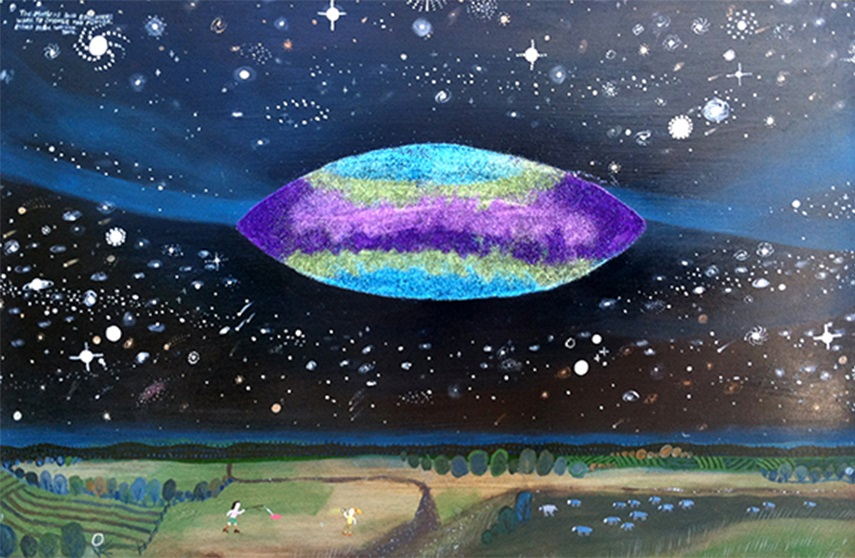 Viewing the World Through Esther's Eyes
Drawing from the memories of her childhood, Esther Pearl Watson's nothing short of fantastical. There's a certain mix of both reality and fiction in each of her representations of moments from the past, but with her upbringing being anything but conventional, it's not always easy to draw the line between the two. Portraying her father and the saucers he so diligently worked on, she often inserts a slight fantasy of them being finished in her paintings, flying around as they were meant to. Watson portrays all of these moments in a truly unique style: blurring the line between reality and fantasy in a crude, childish depiction of biographical references, and it's no wonder it is often compared to the Outsider art. Though some may argue about the validity of such child-like, seemingly untrained art, there's more to it than catches the first glimpse of the eye. The subtle complexity of the composition brings the obvious formal training of the artist to the surface, making the simplicity of her art almost forcefully placed upon each piece, giving it a certain expressive depth. Proving its own value, her work is a part of the art collections of Matt Groening, the creator of The Simpsons, and contemporary artist Cindy Sherman, among others.
Watson's work is often categorized as Outsider art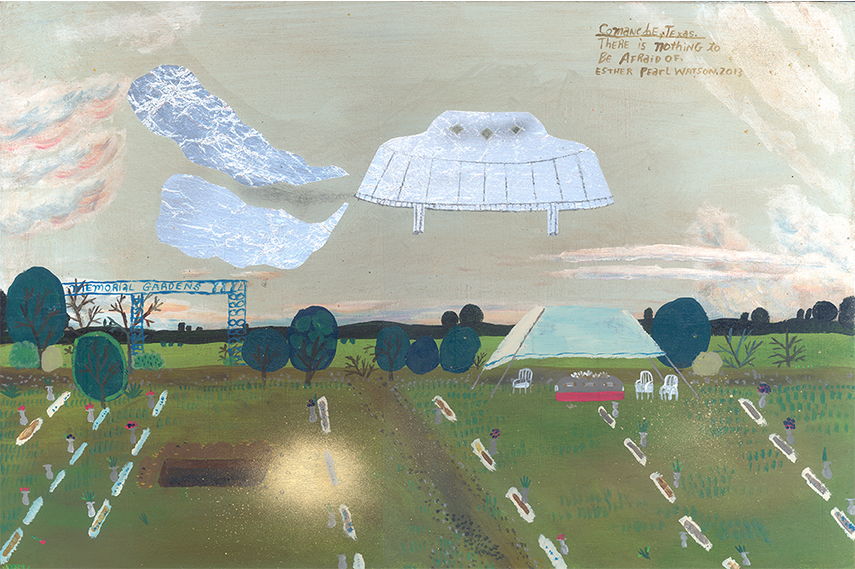 Genius of Esther
Many have put the work of Esther Pearl Watson in various categories: faux-naïve, faux-grotesque, Insider/Outsider, amongst other, showing the complexity of her seemingly childish depictions. Drawing from her past, she contradicts her years of college training by creating in a style resembling an unschooled artist, creating unique, uncanny art that draws attention in the sea of everyday similarity. Exhibiting more than ten years worth of work in numerous solo and group exhibitions, the genius of her "documentation" of her own odd childhood keeps capturing the affection of the contemporary art public.
Featured image: Esther Pearl Watson. Photo via cartermuseum.org.
All other photos courtesy of the artist.