Best known for his large-scale portraits on walls, Nicolás Romero Escalada aka Ever is an Argentinean street artist born in Buenos Aires in 1985. He began as a letter-based graffiti writer on the streets of his hometown in the 1990's. Additionally, he turned towards portraits and developed a style that is more typical for paintings found in fine art galleries. A five-month long study trip to Paris helped him to develop his own signature style as he spent hours in such art spaces like the Musée d'Orsay looking at works by Vincent van Gogh, Gustav Klimt, Francis Bacon and other widely recognized artists. He is also inspired by Mexican muralists, especially the way their art reflects the people and their social consciousness. "Before 2009, I was apolitical. But in 2009, I lived in Paris, and I began to think of art as the means to inspire societal change. The revolution must start here — on the walls".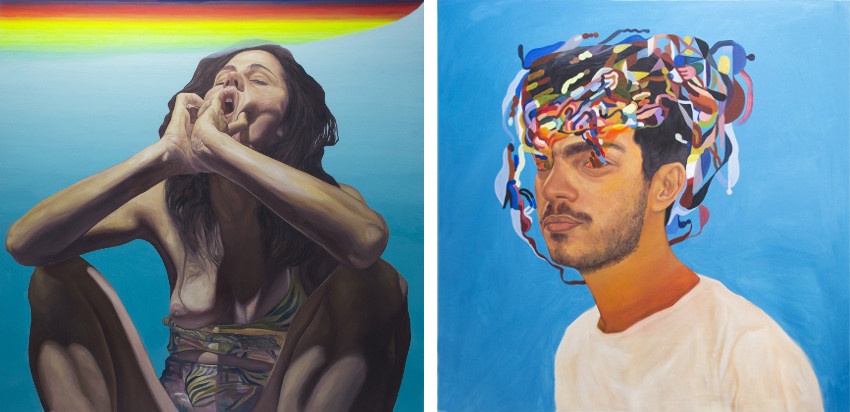 When Ever Met Jaz
The artist began his studies in architecture at the local university, but he gave up just a few months later. Subsequently, Ever met Argentinean street artist Franco Fasoli a.k.a. Jaz and other members of DSR crew (mostly members from Buenos Aires and Mexico City) and became really serious about street art. Skilfully using a blend of surrealism, spirituality and politics, Ever creates powerful works of social commentary characterized by clear and strong colors, dreamy, cloud-like forms and whimsical subjects. He paints the faces of ordinary people, using photos of people he found on the Internet or those people he saw on the street. Ever's colorful, abstract clouds are inspired by the psychedelic patchwork of vibrant colors. He uses both aerosol and brush-based techniques in his work. "I've become more abstract and I've begun to think of the body as 'just a dress to use on Earth.' My portraits no longer have eyes. And I've begun to use religious symbols obsessively in my work, even though I don't believe in a traditional God. My work has also become more socially conscious."
His portraits on the walls are characterized by clear and strong colors, dreamy, cloud-like forms and whimsical subjects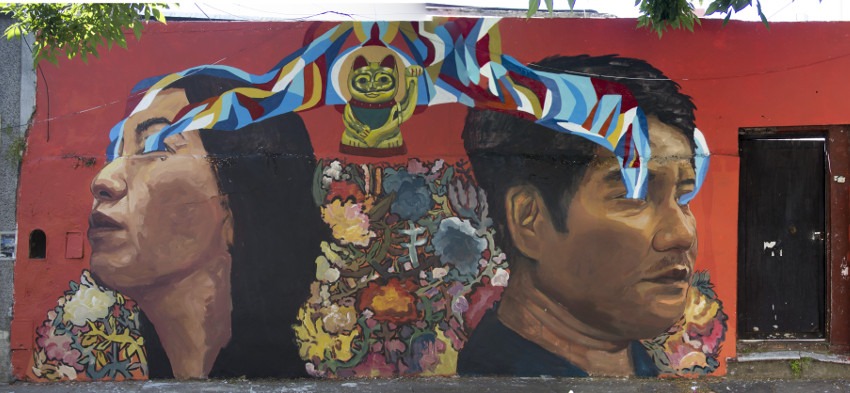 Graffiti Art by Ever: Miguel
One of Ever's murals is titled Miguel. Miguel is a young man from the U.S. whose photo Ever found by chance on the Internet. "I was looking in Google Images. I type in concepts, for example: 'woman, beauty, fidelity…' One day I typed in 'Miguel' and out jumped this image that I painted on the wall. It's something that I like and I like to work with things that I don't know. When I work with an image that I don't know, I can imagine lots of different things and I'm not forced to think about the personality of the person. In the case of Miguel, his face is really strange, with wide eyes, a nose like a Mexican, and in the photo his gaze is really penetrating. There are people who say the eyes are the window to the soul. I don't believe in that but in the case of Miguel's eyes, they show a lot. So I made another eye it's his third eye if you like. He has a lot of soul because the photo is a bit sad. I did a bit of investigation and found that the photo is of a kid who was caught by the police in the U.S. for possession of cocaine. The photo is your typical police mug shot."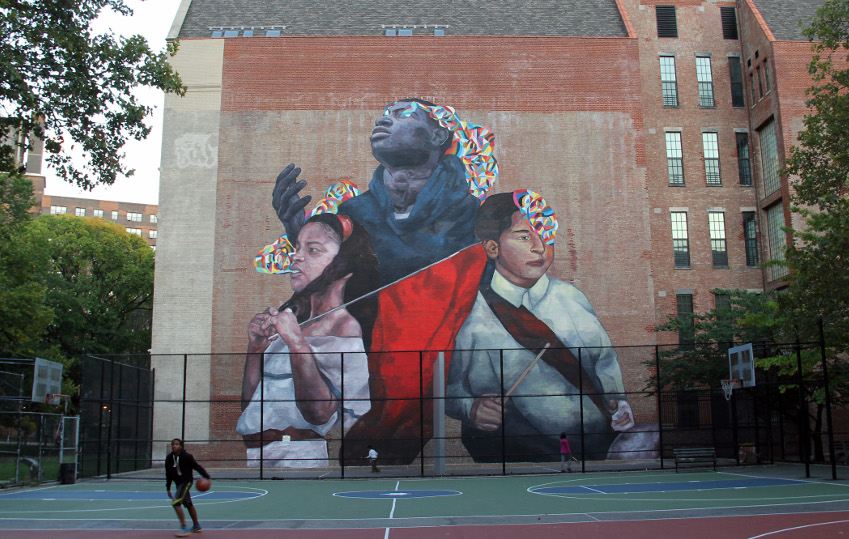 A Lawsuit Against Terry Gilliam
In 2014, three street artists filed a lawsuit against a famous film director Terry Gilliam. Ever was one of them, together with Jaz and Derek Shamus Mehaffey a.k.a. Other. They alleged that Gilliam misappropriated their collaborative work in his film The Zero Theorem. In 2010, this trio painted a mural in a famous street art zone of Buenos Aires called Chacarica. However, mural has achieved international recognition so the work has been copyrighted under the title of Castillo in 2013. Although Castillo mural represents a harmonious whole, the individual elements of the Copyrighted Artwork are instantly recognizable as the contributions of Other, Jaz and Ever. These elements include Jaz's human-animal hybrid figures, Other's portrait of a person with patterned clothing and hair, and Ever's lines streaming from the eyes of two people's faces. In the lawsuit, this trio complained: "The Infringing Work plays a key part in the world brought to life by the filmmakers onscreen, and it is fully integrated into the Film, the Trailer and related promotional materials, and is being used extensively to market the Film to U.S. moviegoers. Thus the scope of Defendant's unlawful use of the Infringing Work and derivatives thereof is vast."
In 2014, Jaz, Other and Ever filed a lawsuit against a famous film director Terry Gilliam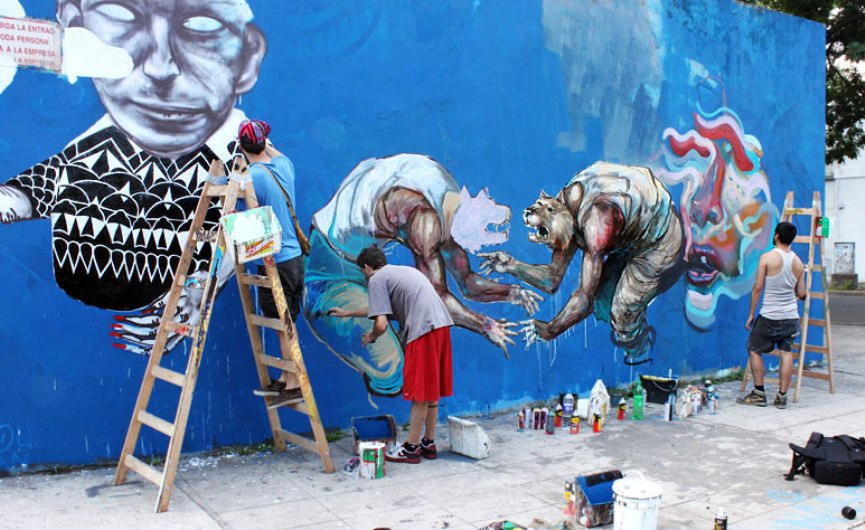 Ever's Installation: The Head
Since 2014, besides his workshop and muralist practice, Ever has developed an interest in three-dimensional works and installations. 头部 (The Head) is an art installation based on the analysis of the Chinese Communist posters. Ever was intrigued by the fact that on posters that represent some great idea, humans are always in the bottom of the picture while Mao Tse Tung's portrait floats in heaven, protecting the idea. Installation The Head aimed to make people think why the "communist theory" always fails in reality. Ever offered a solution to that dilemma: the great idea has to be taken through a body, a body that exercises the idea that exercises power. The installation is a representation of the power of the idea, represented by 3 characters (performers) that go around the head, feeling that invasion, that invisible force that invades our bodies, a communist tragicomedy - China has a communist government, but its factories create capitalist products, politics don't exist. Ever presented The Head through Dinámica, a project dedicated to urban art exhibitions, with the mission to promote, disseminate and expose such expressions.
The Head is an art installation based on the analysis of the Chinese Communist posters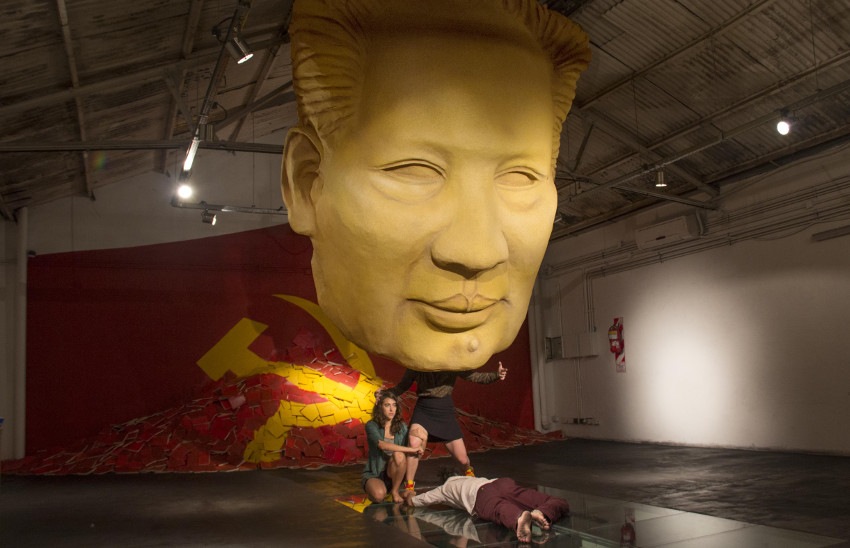 Idealism Metaphor Applied to Reality
In May 2016, Ever participated in a group show at the Contemporary Museum of Art of Cordoba in Argentina. For this occasion, the artist literally froze one of his portraits! The thought-provoking installation entitled Idealism Metaphor Applied to Reality had a cooling system on its back that maintained the low temperature that created the ice chunks seen on the front. Approximately 29.4% of the painting was frozen representing the percentage of children in this province living below the poverty line according to a study by the Catholic University of Argentina.
Ever's recent oeuvre is inspired by children growing up in poverty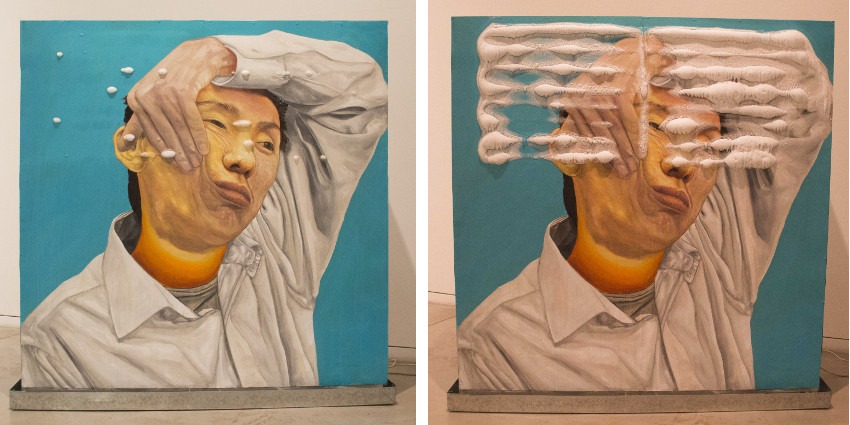 Public Work and Exhibitions
Ever's beautiful, vibrantly colored portraits of both ordinary, everyday people he sees on the streets and icons from all areas of life can be found worldwide, including Miami, USA, Ciudad Juares, Mexico, Barcelona, Spain, Vienna, Austria, Besancon, France, Rion San Juan, Dominican Republic, Rome, Italy, and Perth, Australia, and many others. Amongst gracing countless cities across the world with his wondrous vision, Ever also creates amazing paintings that he has exhibited in Europe, United State, México, Argentina and Australia. Over the years, he has established himself as one of the most prominent Argentinian urban artists.
The artist is represented by 999Contemporary.
Ever lives and works in Buenos Aires, Argentina.
Featured image: Ever in his studio
All images copyright of the artist