EVOL is a German street artist, who literally transforms streets with his art. Electric boxes, small planters and a variety of other geometric city forms turn into miniature apartment buildings and many other structures. These urban installations and paintings are made on used cardboard and depict 1960s East Berlin housing architecture. Each piece of paper is printed with a pattern of flat gray walls with plain window frames, a repetitive sight which makes EVOL's work recognizable in a number of different cities.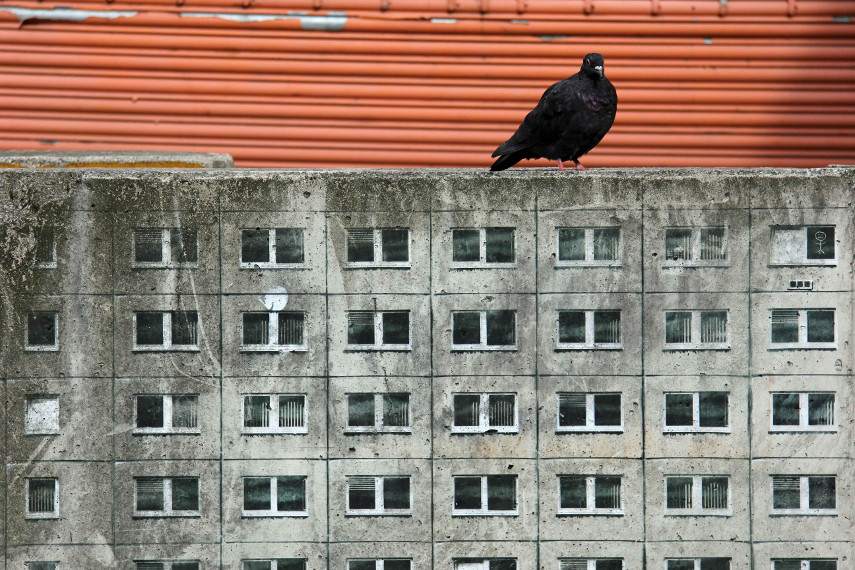 Art With a Message
Not only is his art different and unique, enriching every cityscape, but it also conveys a message. EVOL plays with the notion of low-income housing, taking it literally and to the next level. He plays with the theme of discarded and unwanted, as he uses cheap and used materials to create his photorealistic paintings. The artist, who refuses the term street artist, enjoys when the public interacts with his work, for example when his stencils are graffitied, just like regular buildings. His outside structures live a life of the large-scale building, as they are put outside, exposed to the weather and every other street condition, they are prone to change.
EVOL's structures are prone to change under the outside conditions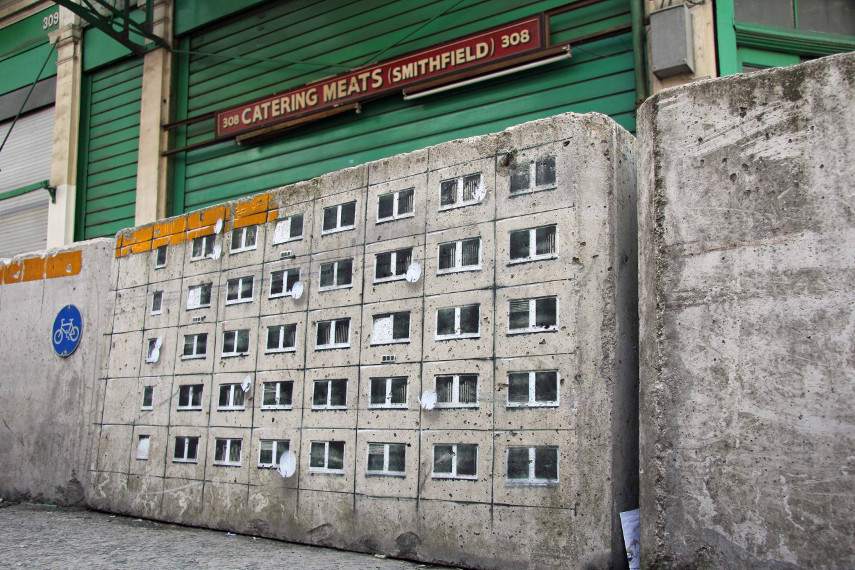 From Slaughterhouse to Piece of Art
Some of EVOL's amazing work can be seen in Dresden, in a former slaughterhouse, that hasn't been used for 15 years, but still, the stench is nauseous. The artist managed to create his miniature stencil buildings, locating this little city in a 10x8 meter hole in the abandoned warehouse floor, that took him eight days to finish. These concrete shapes that are now a part of his Building series probably used to make the foundation of a huge boiler plant that served for further utilization of carcass. This really goes to show how anything everywhere can be turned to art.
A famous piece from the series Buildings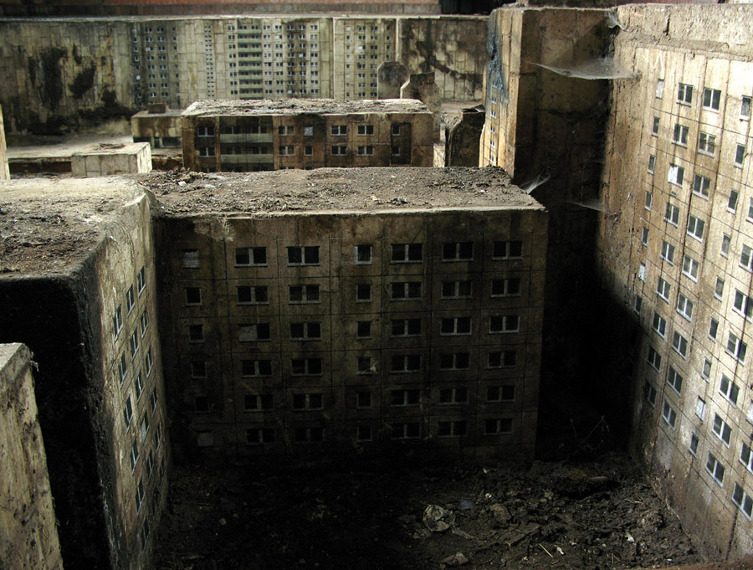 In the Beginning, There Was a Building
The artist was born in 1972 in Heilbronn, Germany, and he studied at the Kuopio Academy of Arts and Crafts in Finland. In 2011, EVOL was commissioned to create a specific installation in Hamburg, Germany, for the Ms Dockville Art Camp. What he did was something new and fresh, when he excavated an intersection in a field of 1.5 meters deep, creating a subterranean city. The artist had his first solo exhibition in 2009. in Berlin at WILDE Gallery. His other notable solo exhibition Balancity, took place in the German pavilion at the World Expo in Shanghai in 2010. He also participated in the 2011 Moscow Biennale, and his art has been featured in solo exhibitions in Germany, Belgium, Netherlands, Italy and the United States. EVOL's works have been featured in publications such as BBC, The Independent, Interview Magazine and Paper Magazine, among others. He has won the Arte Prize at Slick Art Fair in Paris, France.
EVOL lives and works in Berlin.
Featured image - EVOL, portrait - photo via andberlin