How can one escape a cruel reality? How can one child live in a hospital for the first 15 years of his life (due to a mysterious disease) and then continue to live in the outside world? A young French artist, Fabien Verschaere has an answer because that is exactly what happened to him, and what he had to live through. What Fabien did is create a world of his own, a world of wild and untamed imagination, full of hybrid creatures coming from some dreamlike circus or a fairy tale.
15 Years in Hospital and Nulla dies sine linea
Verschaere was born in 1975 in Vincennes, in the Val-de-Marne department in the eastern suburbs of Paris. Vincennes fortress and its prison were home to a notorious Marquis de Sade in 1777 before he was moved to Bastille. The Man with an Iron Mask was held there as well. Coming from the place with so much history that inspired numerous novels and movies, Fabien was predestined to make a living out of his lavish imagination.
Fabien's world is hidden behind an enigmatic symbolism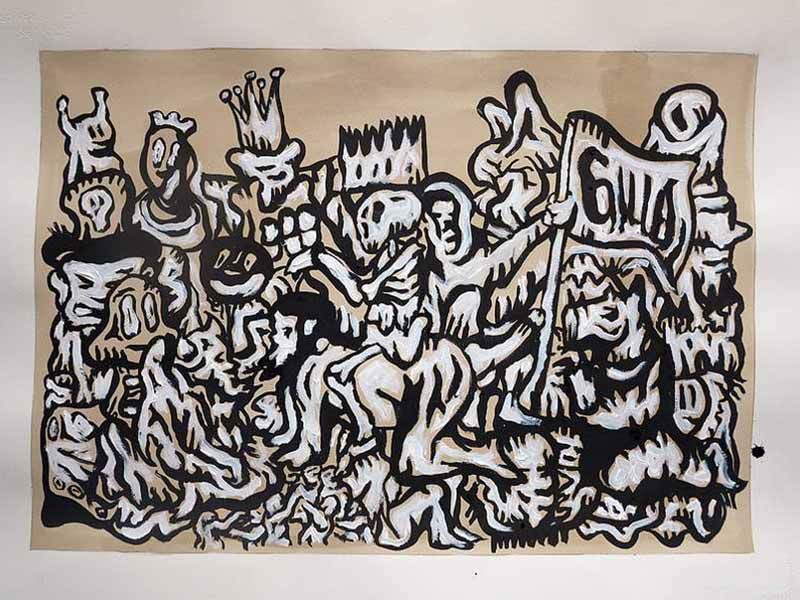 Fabien's artistic education was nurtured at the Ecole Nationale Superieure des Beaux-Arts in Paris and Fine Arts in Nantes, under the direction of Robert Fleck. Extremely passionate about art, ever since his challenging childhood, this artist followed the maxim: Nulla dies sine linea - Not a day without a line drawn - as Apelles, an ancient Greek artist, said. This is why today we have the privilege to enjoy a scenery of a private universe, located somewhere between fantasy and reality, in a fully organized chaos. Nevertheless, the reality of Fabien's world is hidden behind an enigmatic symbolism and references from history and history of art. Knowing a story behind his growing up, it is completely understanding why the focus of his work is tightly connected to the exploration of a human condition. When looking his imagery, the viewer actually enters the world between Fabien's dreams and nightmares, a life seen through the eyes of a scared child that doesn't know where the hospital stops and the home begins.
A Theory of Otherness as an Inspiration
Still, Verschaere's personal mythology doesn't lose touch with a reality – a numerous and continues references to a pop culture go along with his interest in telling a story of contrasts: life vs. death, beauty vs. repulsion. Fabien is deeply fascinated with a theory of Otherness, coming from Emmanuel Levinas, a French philosopher. This standpoint acknowledges a trace of Divine within an ethics Otherness: being anyone or anything that is not me.
A face is a trace of itself, given over to my responsibility, but to which I am wanting and faulty. It is as though I were responsible for his mortality and guilty for surviving.
Other influences and sources of inspiration can be found in German Expressionism, Joseph Beuys and Viennese Actionism, as they all fit the profile of boundary issues inquirers.Some of the artistic techniques he always comes back to are watercolors, drawings, paintings on canvas, installations and film. However, he is curious about any other way he can express his visions, so Fabien recently experimented with painting on wood and ceramics.
Human condition as a source of an inspiration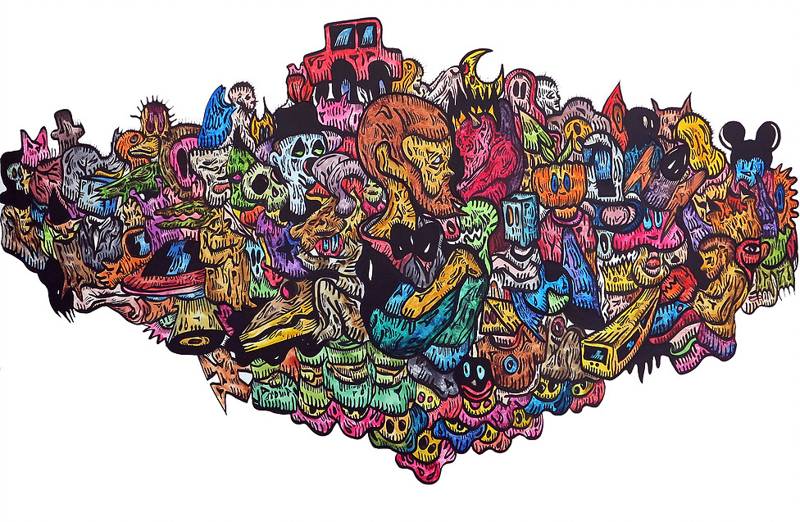 Verschaere's work was exhibited worldwide, from Paris to Milan, Hong Kong, Newcastle, New York, Bucharest, Hanoi or Abu Dhabi… He participated in such events as The Force of Art at the Grand Palais and 02 Vraoum at La Maison Rouge, Paris where he came back in 2014 with the show titled The Wall.
Fabien collaborated with designers Domeau & Peres, the toymaker Elie Bleu and Centre International Glass Art in Meisenthal. He also joined forces with Pierre Hermé when they created Itinérantes Residences, based on Verschaere's drawings.
This artist holds within a true power of being a human as he was able to found a source of consolation in hard times, creating something beautiful from something that feeds on fear and giving up. By sharing his secret universe with the entire world, Fabien was generous enough to pass some of his mental and emotional strength to a viewer, being honest about the share of fear he had and some serious doubts about the destiny's setup.
This artist is represented by Galerie Brugier-Rigail from Paris.
Fabien Verschaere lives and works in Paris, France.
Verschaere's portrait image copyright © Michel Lunardelli
Artworks images copyright © artist