Fabio D'Aroma, an Italian painter and draughtsman, creates a bizarre imagery influenced by Leonardo's physiognomic studies, Caravaggio's masterpieces and post-war Berlin artists. The deliberate awkwardness of his art represents a realistic depiction of the modern day phenomena, infused with grotesque exaggerations. Fabio has been an active exhibitor since the early 2000's, while since 2008 he has been developing his most prominent series so far, entitled Retrocorionica. In order to create his enticing imagery, the artist combines digital technologies with historical painting techniques. This results in utterly innovative works winning hearts of audiences on both sides of the Atlantic.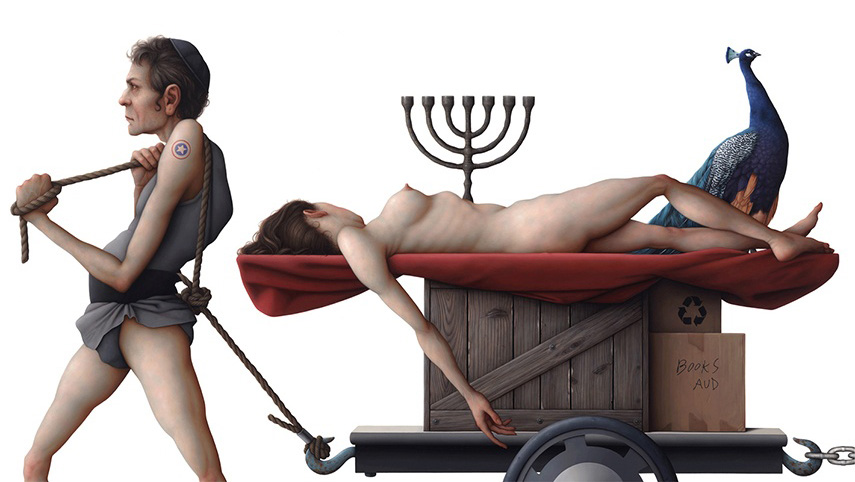 D'Aroma and His Interest in Caravaggio
The painter was born in the early 70s in Pescara, Italy and he graduated from the prestigious Accademia di Belle Arti, located in Rome. His thesis was focused on Caravaggio, which is his favorite artist and one of his main influences. Fabio has been showcasing his imaginative pieces ever since the early 2000's and he has spent the last fifteen years living a dynamic life between the United States and Europe. He has spent most of his time in New York City, but he lived briefly in Chicago, Miami, and Houston as well. His artworks are influenced prevalently by Caravaggio and his grotesque figuration; he wants to deconstruct the idea of elite art in painting and drawing. In 2008, Fabio started working on his Retrocorionica, a work based on digital assemblage which aims at recreating historical techniques. Two years later, in 2010, he began his procession project, in which 30×56 paintings fit into a three-hundred character frieze.
Fabio's work shows Caravaggio's influence and his grotesque figuration makes us think about medieval art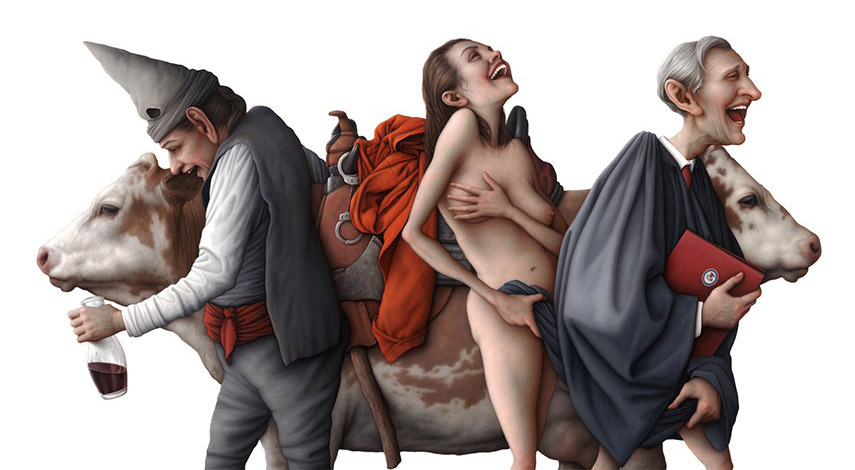 Retrocorionica Details, Line Breeding and Exhibitions
Retrocorionica is the artist's series of paintings processed in a complex way - the artworks are first scanned, then digitally assembled and later on transferred onto a canvas. Afterwards, they are shipped to a photo studio and scanned again, creating tremendously large digital files. In the end, they are joined together in a frieze. When it comes to the main topics of his art, it is dismantling and recycling of various religious and cultural symbols through time. These symbols are getting transformed and contaminated until a full metamorphosis has been done. There are a lot of historical references in the painter's pieces, such as ancient friezes, military parades, and even Fellini's cinematic endeavours. The artist successfully sabotages the traditional ideas associated with figurative painting through the act of distortion, exaggeration, and vanishing of the background. Besides his Retrocorionica, Fabio has also created a series entitled Line-Breeding. This is a procession artwork in which the artist creates series of oil paintings designed to fit into a three hundred figure frieze. This piece, which is at the same time his newest work, includes his works from the past two series – already mentioned Retrocorionica and West of Ovest. Line-Breeding is a term normally used in animal coupling to describe the phenomenon of inbreeding in its lighter. First generation inbreeding usually causes genetical damage , while line breeding can simply reduce the genetic diversity of a certain population. The Italian artist is about to have his solo exhibition entitled Line-Breeding in Germany, which will be opened at BC Gallery in Berlin, on September 10th, 2016.
BC Gallery in Berlin is about to open the first solo exhibition of Fabio D'Aroma, entitled Line-Breeding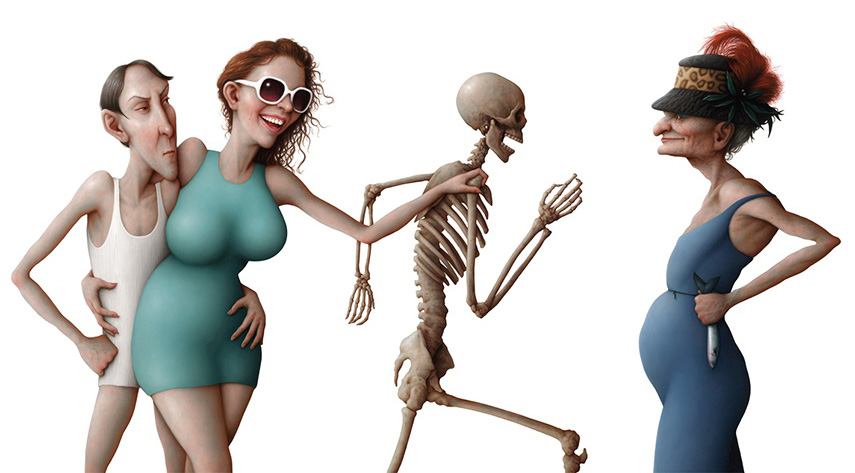 The Creative Use of Grotesque
The Italian artist's witty and highly authentic work is easily recognisable for its signature grotesque exaggerations that dominate the empty surfaces of his canvases. The artist's search for expressive and bold figuration is clearly different from photorealism and he also uses a plenty of historical and political references in order to comment on various phenomena typical for the contemporary society. Fabio have had many successful solo and group exhibitions in Europe and the United States and some of them were held in notable and art spaces such as the Station Museum of Contemporary Art in Houston and Jonathan Levine Gallery in New York.
He is represented by BC Gallery in Berlin.
The artist lives and works between Italy and New York City.
Featured image: Fabio D'Aroma - Piggybacking (Detail)
All images courtesy of the artist.