Located on the southernmost tip of the African continent, South Africa is widely known for its ethnic and cultural diversity and eleven official languages. But what many people don't know is that the country has the contemporary art scene that is as diverse and vibrant as the population living there. One of the most talented creatives coming from this amazing country is Faith47, a street artist whose original name is still unknown but whose work is instantly recognizable. Inspired primarily by the social realities in her homeland, Faith47 creates striking graffiti and murals that deal with the universal themes of life, death, freedom, authority and respect. The artist also produces works on canvas, photographs and collages often with found objects which she cleverly incorporates into the artwork.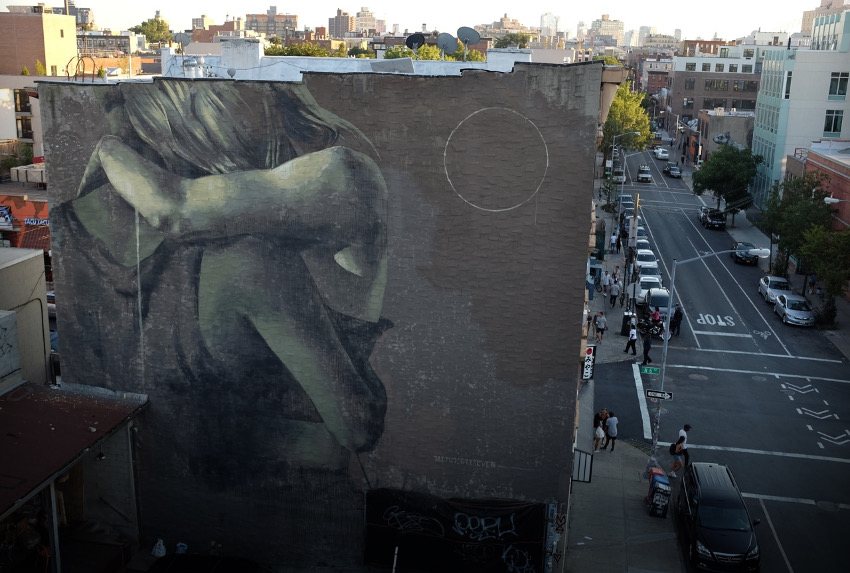 Tackling Social Realities
Born in 1979, Faith47 is a self-taught street artist and graphic designer active on the streets of Cape Town for more than fifteen years now. Through her creative practice, she conveys her thoughts on the political, social and environmental spheres and cultural traditions in her homeland. Her raw and realistic murals tackle issues like injustice and inequality making powerful political and social statements. Inspired primarily by the social realities in her country, she skillfully creates artworks that evoke strong emotions and illustrate the profound political and social instability of South Africa.
Video of the newest collaborative work from Faith47 and Lyall Sprong of Thingking
Nature-Inspired by Faith47
In her early works, Faith47 was interested in juxtaposing the large difference between the promises of a better life and some harsh realities of life that most South Africans have to face constantly. Additionally, she became interested in the themes like the human condition and our relationship to animals and nature, for example, her monochromatic piece Estamos Todos Los Que Cabemos - painted in Haarlem in 2015 - speaks of the migratory patterns of birds, while The Taming of the Beasts – painted in Shanghai in 2012 – draws attention to the execution of rhinos from their natural habitat. One of her most recent series of works is entitled 7.83 Hz, after the natural phenomenon in which thousands of thunderstorms each second create an "atmospheric heartbeat known as Schumann resonance," the highest frequency of which is 7.83 Hz. In her pieces, this resonance serves as a metaphor for our collective actions, which create an overall reverberation that we can call human nature.
7.83 Hz series is inspired by an atmospheric heartbeat known as Schumann resonance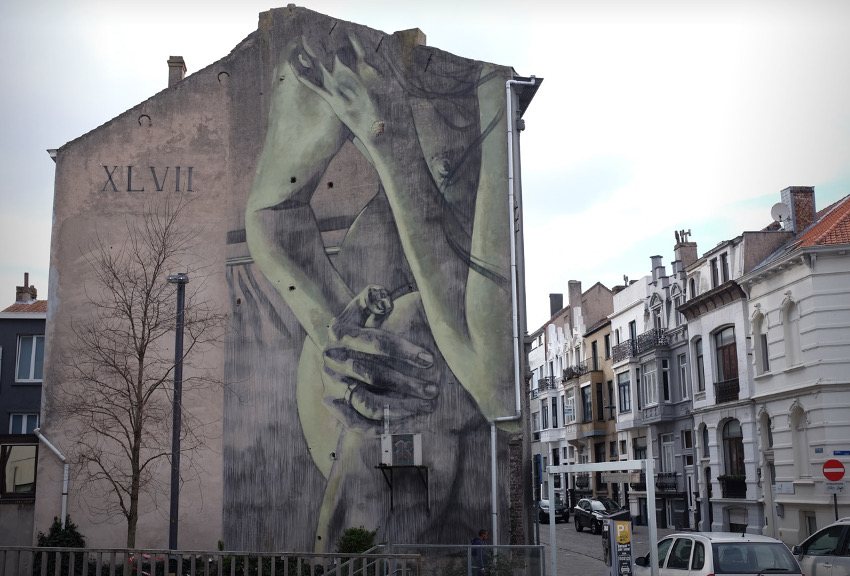 Studio Works and Recent Exhibitions
Primarily known for her outdoor pieces, Faith47 creates nothing less than amazing studio works that she has exhibited in galleries throughout the world including her native country, Europe, Australia and the United States. The artist's first personal show in her native county was held at David Krut Projects Parkwood from November 2012 to January 2013. Entitled Fragments of a Burnt History, the show was composed of an installation of found objects and pieces created in the artist's studio. The exhibition was inspired by the Faith47's experience of living in the city of Johannesburg and all the problems that a common person faces in his/her daily life. The exhibition was followed by a highly successful Aqua Regalia - Chapter One at Moniker Projects, London in 2014, and Aqua Regalia – Chapter Two at Jonathan Levine Gallery, New York in 2015. Her work is included in Freedom as Form exhibition, alongside BR1, Alexis Diaz and Eron at Wunderkammern Milano. The show is open until August 10, 2016.
Faith47 lives and works in Cape Town.
Featured image: Faith47 - portrait, photo via woostercollective.com
All images copyright of Faith47