Mexico is a country with an extensively rich heritage and culture. People of this nation are very proud of their legacy and they have every right to be since their history is amongst the richest in the world. One such proud man is Farid Rueda, a Mexican street artist known for painting graffiti full of his country's cultural references. However, the way he depicts these themes is not what you would expect - Rueda figures out new concepts of representing Mexican popular culture without turning it into a cliché. He is primarily known for his murals and other large-scale pieces, but he has been known to paint smaller works as well.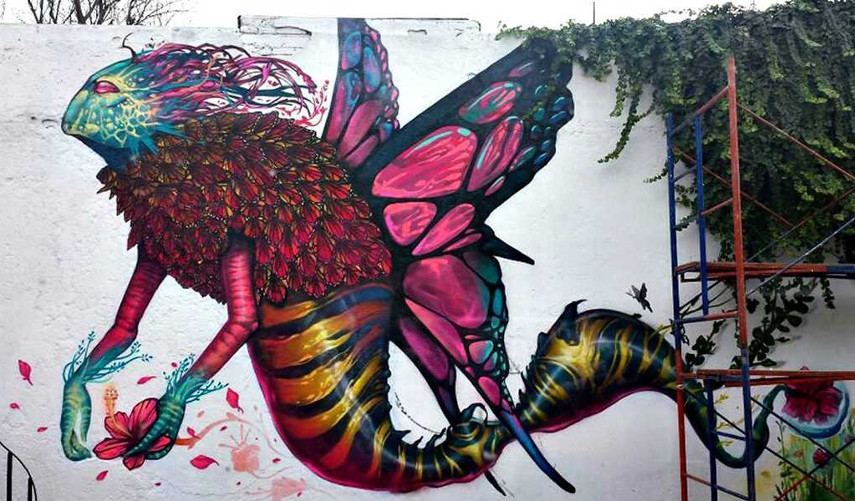 Rueda and Seher
Rueda was born in Morelos, officially titled as a Free and Sovereign State of Morelos. Mexican pride runs deep in these lands, so it's not surprising to see how much affection this artist has for his country. When young Farid turned the age of nine, his family moved to Xochimilco, México City. This was the crucial time for his development as this transit meant Rueda had much more art at his disposal - Xochimilco offered much more galleries and art institutions. He entered the famous ENAP (Escuela Nacional de Artes Plásticas or National School for Visual Art). Although he did learn a lot while studying at this university, Rueda ultimately decided he was not satisfied with the ENAP's program and made a tough choice to leave without graduating. This, however, meant he could completely devote to his personal expression full time without interference. At about that time when he was leaving ENAP, Farid met the famous artist Seher, who was the first one to encourage him towards pursuing a career in street art. In the beginning, he was a bit hesitant, but eventually said yes and teamed up with his new friend. They started working together on several projects and this can be identified as a true beginning of Farid Rueda's art. From then it was obvious that his career and style will be based on vivid colors. As was clued beforehand, Farid chose to paint elements of his country's culture and heritage, but only in a new way, uniquely his - yet still continually tied to some Mexican legend, verse or famous saying.
It's all about color when it comes to Rueda's murals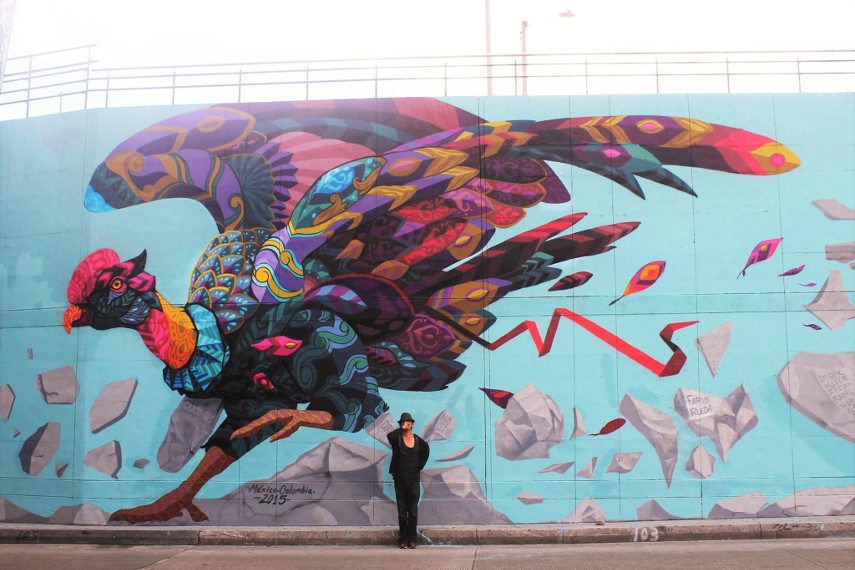 Analyzing his Work
This young graffiti painter admits that he is very much influenced by such artists as John Baizley, Stuntkid, James Jean, Alphonse Mucha, Gustav Klimt and José de Ribera. As you can see, he finds inspiration in the most diverse styles and moments of art history. Farid Rueda uses various techniques when trying to achieve his artistic goals. Naturally, as is the case with many graffiti artists, he had to go through many mediums before he became effective at wall painting - he mastered acrylic oil painting, drawing, watercolors and engravings. All of the above helped Rueda while he was developing his own personal style - especially the masterful usage of color. A signature of Rueda's work is a technique of kaleidoscopic multicolored patterns. He is also very prone to changing and evolving artistically - an important feat by his opinion. The artist once stated: Painting a wall requires quick work and a constant artistic evolution. I don't like to work on one piece more than five days, since I usually get bored very fast and my mind is already processing the next painting. Most recently, Rueda is dedicated to public space interventions, as well as Easel painting (a type of mid-size painting that is painted on an easel, as opposed to a fresco wall painting or miniature that are created sitting at a desk, but also on an angled support) and digital art, while at the same time he subsequently writes short stories that he also illustrates. It's easy to see just how much he got from the decision to leave ENAP and devote all his free time to creating all sorts of stuff.
Rueda's work is full of subtle references to Mexican culture and heritage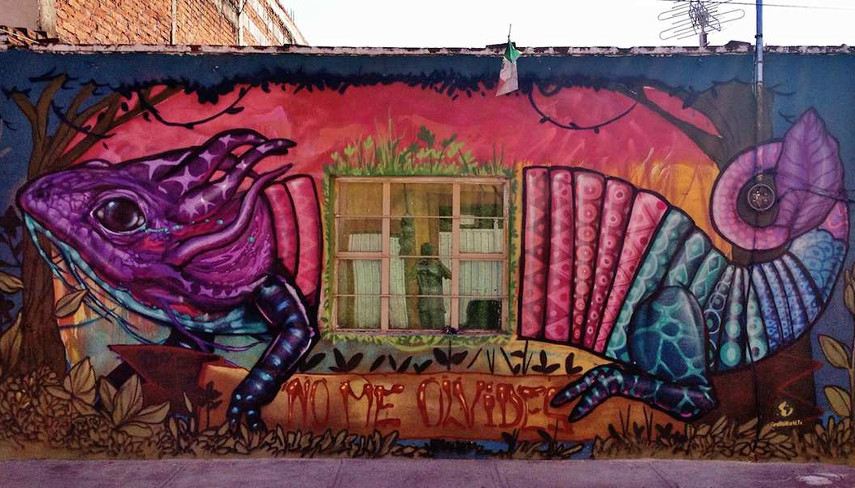 Another Look at Rueda's Graffiti
Over the course of the years, Rueda worked alongside some very famous fellow graffiti artists, such as the likes of Saner and LeSuperDemon. Combining styles of these visionaries made sure we got some extremely interesting results and pieces that were lucky enough to have the best out of every author combined inside them. No matter on which project Farid was working on, the main color characteristic was never brought to question. This is without a doubt his most renowned trademark. It should be noted that Farid Rueda is a part of the no-galleries wave and does not believe graffiti should ever be taken down and brought inside museums or such. It would be equal as destroying the pieces, as if you would amputate an arm and then expect it to continue living on. Such actions also destroy a vital part of graffiti identity - it changes its relationship with the viewers. Rueda once said: When my work is exhibited in galleries, people are instantly "programmed" to believe that what they see is art - even though sometimes they don't understand it. It is different on the street, the critics are all over the world and artists get to connect with all of the viewers, beyond their tastes and knowledge in the matter and that is the biggest compliment in this line of work.
[caption id="attachment_234535" align="aligncenter" width="855"]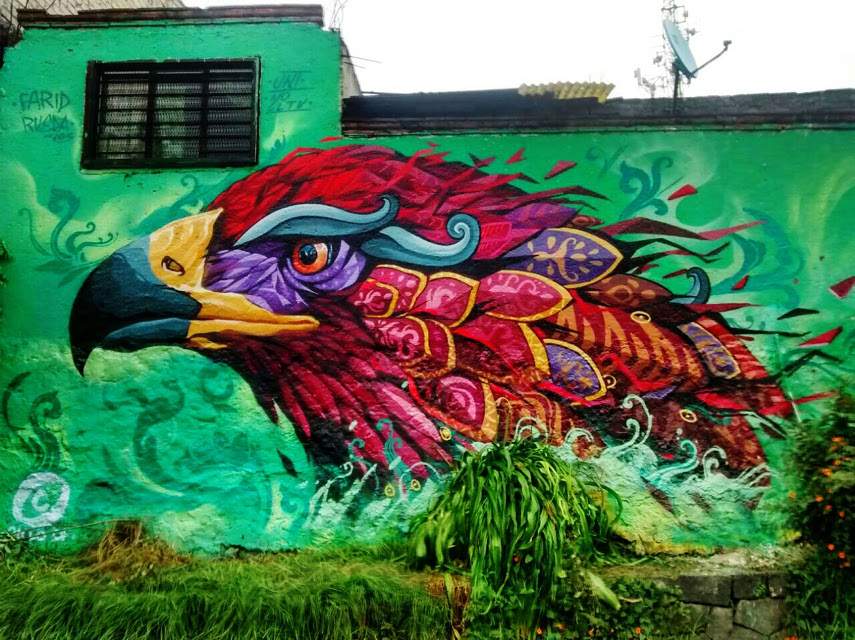 Farid Rueda - Wings of destiny[/caption]
Preserving the Legacy
Sure, the main goal of Rueda's graffiti is to entertain both us and the artist, but we should not neglect giving credit to their national note. The things he paints are all well established and people instantly recognize them, but when we get used to them and know about them for all our lives, it's easy to start looking at them as redundant stereotypes. We stop appreciating them to the fullest, we start taking them for granted. However, when someone shows them to us in a different light, in an edition we 've never seen them in before, we kinda feel a little click happening inside us. We become aware of how much we need to take care of aspects that make us what we are. Rueda makes this happen to us - and in addition, he does this through some of the most visually impressive graffiti pieces we've seen in a long time.
Farid Rueda lives and works in Mexico.
Featured Image: Farid Rueda - Artist in front of his work - Photo Credits Farid Rueda
All Images © Farid Rueda