Federica Marangoni is an Italian contemporary artist and designer who has spent her career researching different materials and technological media such as video and neon light.
Fedra Studio Design
Born in 1940 in Padova, Italy, Marangoni's began her artistic career in the early 1960s when she trained at the Venice art school. Marangoni was focused on the use of new plastic and neon materials until the early '70s when she shifted to the use of videos in order to record her works and installations.
In 1970 Federica opened her own design studio "Fedra Studio Design" in Venice.
In the same year the artist began to use and experiment with glass, a material which became an important part of her sculpture and her design. The artist began to create both small sculptures and objects for mass production working with continuous frequency in numerous furnaces on the Venetian island of Murano where glass has been made for more than 700 years.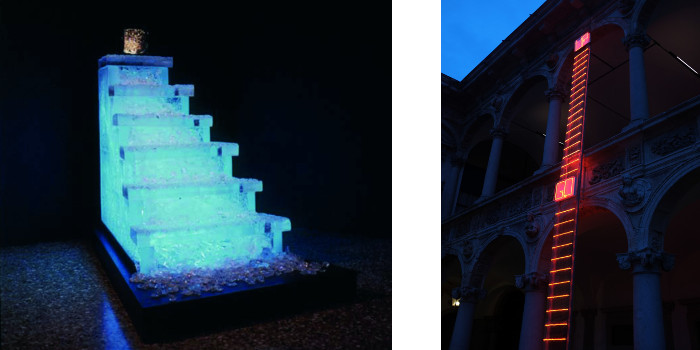 Marangoni's works ranges from design objects for the production to glass sculptures and large-scale installations made of technological media such as video and neon light combined with glass.
The Interrogation at the MoMA
In 1980 she achieved international success when her installation-performance The Interrogation which was presented, together with the world premiere of her experimental film The Box of Life, 16mm, at the Museum of Modern Art in New York.
The film was acquired by the Archive of media arts of MoMA.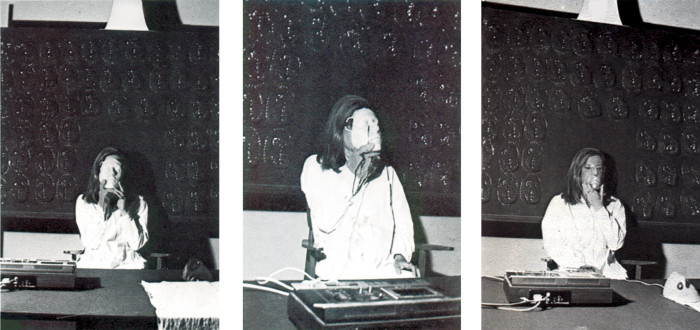 Following the exhibition at MoMA, Federica Marangoni participated at the Venice Biennale in 1980, where she used the video, electrified body in wax and self-portrait on silk-screened Plexiglas panel, two CH TV and video installation on VHS - Life is Time and Memory of Time. In this video, the artist drew a line between her early productions and late works.
The Electronic Rainbow by Federica Marangoni
The use of electronic technology combined with glass has continued since the early 1970s, as in her 14m high glass-video installation The Electronic Rainbow in laminated glass of 7 colours promoted by The City of Venice, with the Mazzotta Foundation, for the Venice Biennale in 1997.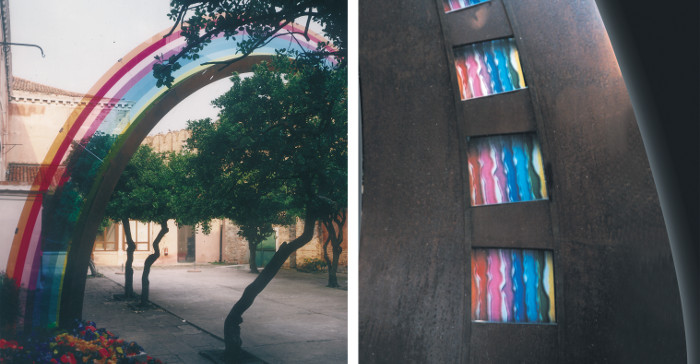 Fusing in her mixed media works neon or Led lights, glass and the moving virtual images of the screens, a video pioneer Federica Marangoni creates a new dynamic with an elusive, liberal dimension, even with strong iron structures and huge dimension, her sculpture acquires a special dynamic energy. The technological supports represent in her works the third dimension that has been given to art in our time by technology; the movement, life and emotiveness of contemporary society.
After more than 40 years of international activity, she still maintains a strong aesthetic quality and humanist essence in her message.
Federica Marangoni: The Places of Utopia
Federica Marangoni: The Places of Utopia is Marangoni's book published in 2008. The book shows the artist's view of the world through neon and video, both in frequent combination with glass, her material of choice. The book was previewed at the Villa Croce Museum of Contemporary Art in Genoa, Italy in 2008, along with The Room of the Free Woman, an installation dedicated to the famous English writer Virginia Woolf. The installation was composed of "The unwritten book" situated at the centre of the room, on a "pedestal". It was the book of memory, the symbolic icon of the unwritten book of the women artist, surrounded by barbed wire in which red neon letters are trapped.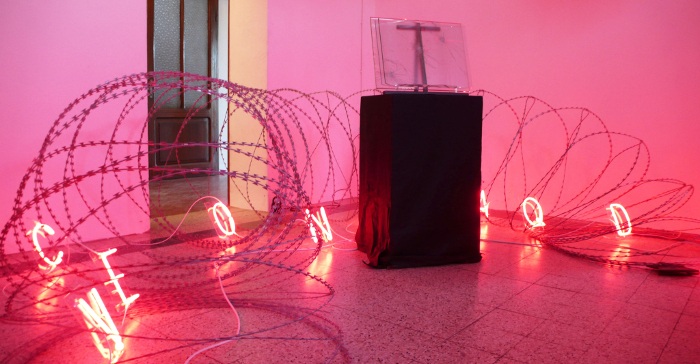 The Places of Utopia was also introduced at the Italian Cultural Institute in New York, accompanied by an exhibition of selected works from 1970 to the present that included video-installation Tolerance-In-Tolerance, fronted by a barrier of barbed wire, emblematically reverberating with a line of red neon. Tolerance-In-Tolerance included projection of 100 images from the everyday news, about humanity tragedies.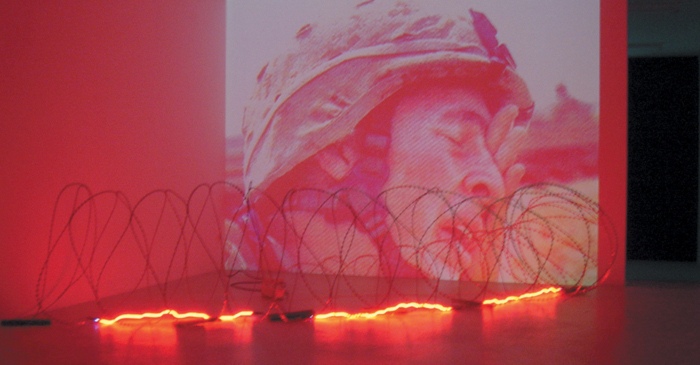 The Leading Thread and Other Exhibitions
An exhibition/installation by Federica Marangoni entitled The Leading Thread is currently on view at Ca' Pesaro – International Gallery of Modern Art in Venice. Organised by the Fondazione Musei Civici di Venezia in conjunction with the Venice Art Biennale The Leading Thread is on view until September 13th, 2015.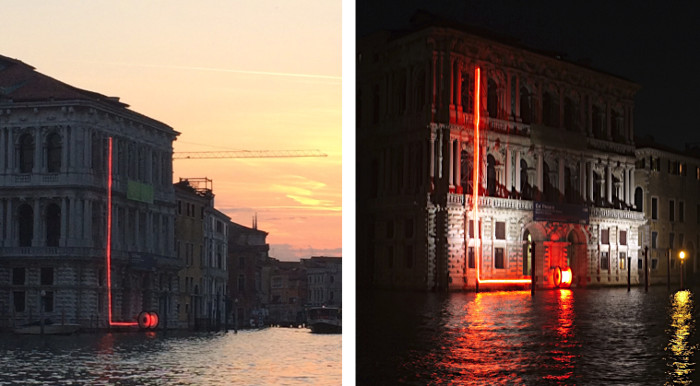 Federica Marangoni has participated in numerous individual and collective exhibitions in museum and galleries worldwide, including Palazzo della Fraternita die Laici, Arezzo, Italy (2014); Anna Zorina Gallery, New York City (2013); Villa Croce Contemporary Art Museum, Genoa, Italy (2011); Museo del Castello di Sasso Corbaro, Bellinzona, Switzerland (2008); Carnegie Museum of Art, Pittsburgh, PA (2007); Institute of Italian Culture, Madrid, Spain (2006); Remy Toldeo Gallery, New York City (2005); Holly Salomon Gallery, New York City (1995); Kunstmuseum, Dusseldorf, Germany (1990); Hara Museum, Tokyo, Japan (1990); and Musée d'Art Contemporaine Véhicule de Montreal, Montreal, Canada (1980), among others.
Marangoni has a wide experience as coordinator of exhibitions as well as installations, including those for fairs, and catalog editing.
Teaching Career
From 1976 to 1989 Federica Marangoni was assistant professor of the Department of Art and Art Education at New York University, NY. She has held seminars at NYU and Summer courses in Venice with a workshop on glass. She also holds lectures and courses in many universities in the United States and cultural centres.
Federica Marangoni lives and works in Venice, Italy.