Imagine the small woman on the ladders who is trying to hang on the wall her two times bigger than she art piece. Ferle is a French painter who creates surprisingly monumental, non-figurative, but at the same time, not informal art. Her paintings remind of the big piece of fabric, taking the shape of cope, with repeating patterns with the shade of rust. She uses four big sheets of paper stuck together, laid on the floor, onto which she projects ink with the brush. Her colors are black, gray and red and tones vary in a range of primitive cave art, inspired by the Lascaux caves, where the rocks play with the form.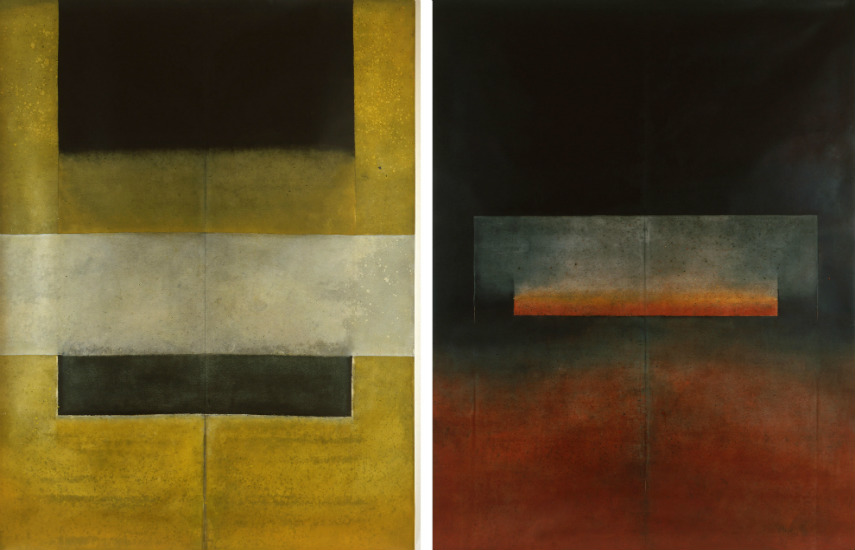 Opening the Door of Infinity
Ferle's paintings convey the impression of spirituality. For her, art is a moment which captures the motion of the artist, physically and emotionally involved with the creation. Faced with these monumental paintings, the viewer is subconsciously looking for a similarity. Red lines maybe represent sunset sky, and the blue one could be the horizon. But at the end, black color makes a so strong impression, taking away one's mind into the very depths of the canvases. Ferle creates new spaces, she is opening the door of infinity. Her large canvases are similar to the black hole, depicting unlimited universe.
Her paintings reveal the new world behind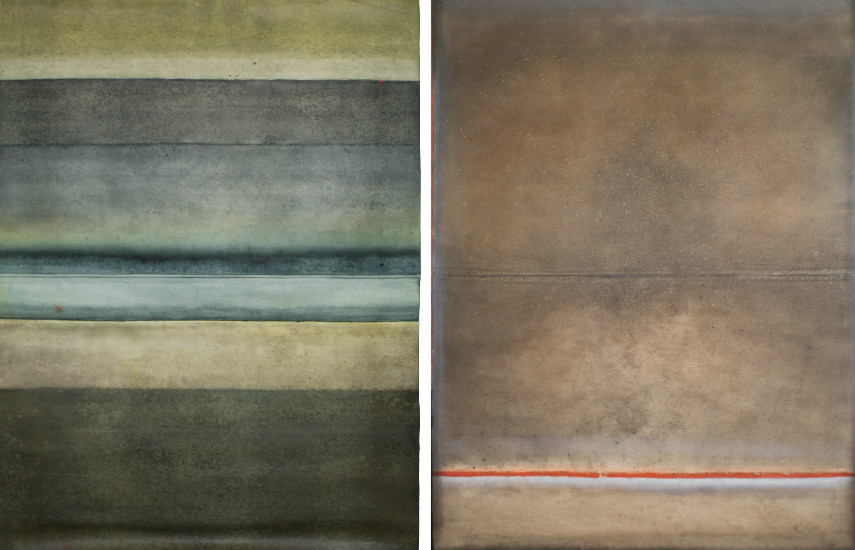 Silent Paintings in Contrast to Motion
Ferle has exhibited mostly in Paris and her monumental work is very distinctive and personal in its essence. Her canvases reveal the new world behind, the fourth dimension which draws in the observer. Harmony behind her silent paintings may appear in contrast to the gestural violence that is implemented in her process of creating. Placing the paper on the floor, engaging herself entirely, Ferle translates the energy on the surface.
Painting Is the Same as Breathing
There's no doubt that Ferle through her work shares the spirituality, placing the purpose in terms of metaphysics. She understands the painting as any other process in a life, like breathing, or walking. She makes the art pieces because she can't resist. There's nothing rational in artistic expression. Her action painting is a driving force of her imagination. Ferle's art is deep and profound, impressive and special in so many ways. She is not the artist who likes to talk about her work, and that is totally fine because her paintings are telling everything that should be told.
Ferle is represented by Artistics Gallery and Z Gallery Arts.
Ferle lives and works in Paris.
Featured image: Ferle with her works
All images courtesy of Artistics gallery