Ferris Plock is a San Francisco based artist that is known for his cartoonish characters inspired by Japanese culture and tradition, pop and contemporary culture, and comic books. He is widely known for his artistic collaboration with his wife Kelly Tunstall, with whom he works and exhibits under the moniker KeFe. They are both immersed in their creative and personal constant communication that result in playful and colorful large-scale paintings, featuring different styles and characters that harmoniously fit with each other.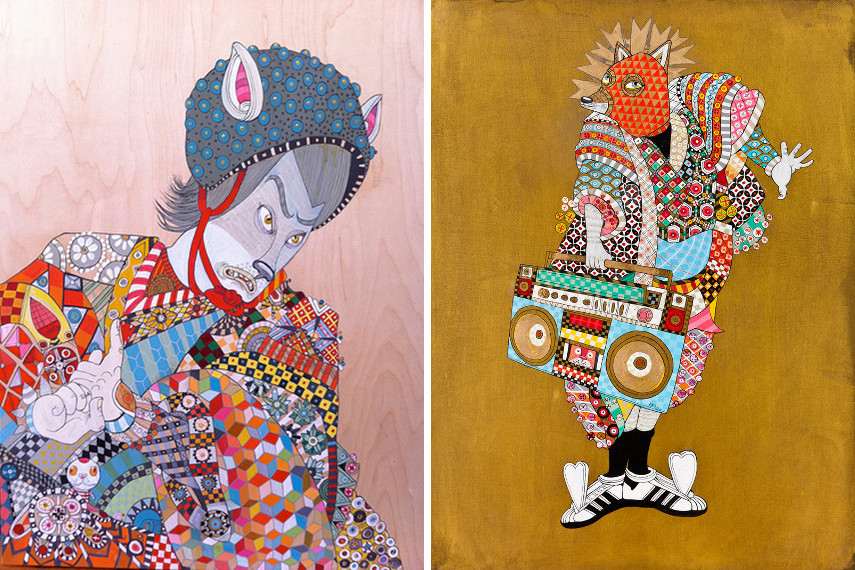 A Mash of Cultures for Plock's Alive Characters
Ferris is born in 1974 and since childhood has been fascinated with children's and comic books – the stories and fantastic characters entangled in his imagination as a perfect medium for both funny and versatile art he creates today. He refers to himself as a character painter, expressing himself always through these anthropomorphic creatures and monsters on simply stained backgrounds in garments with intricate patterns. Plock enjoys the most in reflecting about his characters, thinking about them as alive persons and creating stories around them, immersing in the unpredictability of painting them, giving them the freedom to spontaneously develop.The painting style and the composition are highly influenced by Japanese woodblock prints, but his work is a space for merging different cultures and identities - a mash of ancient and contemporary, foreign and domestic, skating, hip hop, Japanese ukiyo-e art. Flock manages to catch the similarities of specific codes that they all incorporate and deliver them through playful images full of humor.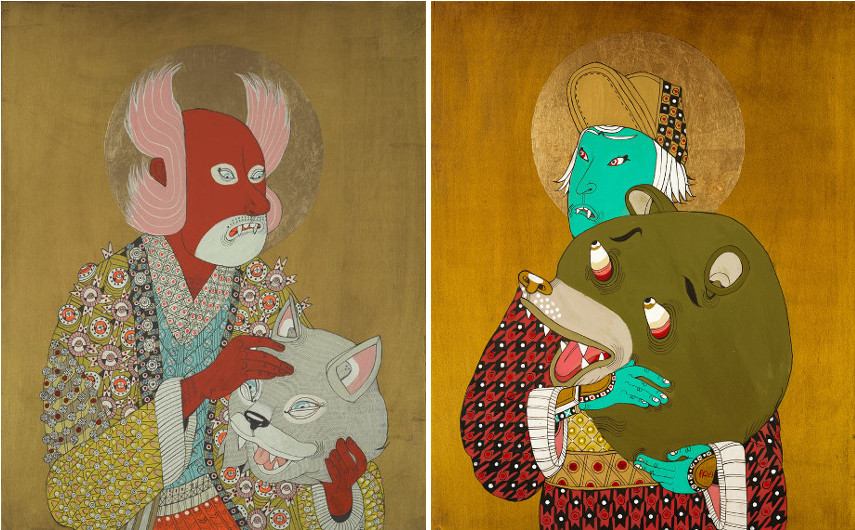 Collaboration With his Wife in the KeFe Project
Collaboration with his wife Kelly Tunstall has been a crucial aspect of Plock's career. Not only that they learned a lot from each other and have constantly been influencing each other, but the notion of sharing the materials, space where they work, even the paper on which they draw at the same time defines their art. As Plock said, creating art with someone made him become someone else and helped him grow personally and artistically. Since they both work in characters and share the autobiographical approach, they try to create happy characters with great relationships and awesome outfits that have fun together. Collaboration between them regarding the painting is a part of their everyday conversations and sharing's, a never-ending passionate and nerdy conversation in which someone always brings something up and they both fully enjoy. They use a variety of materials in their work, from acrylic, watercolor, sprays, collage, paint, gold or silver leaf, and India ink.
Ferris Plock loves creating characters like Hip Hop samurai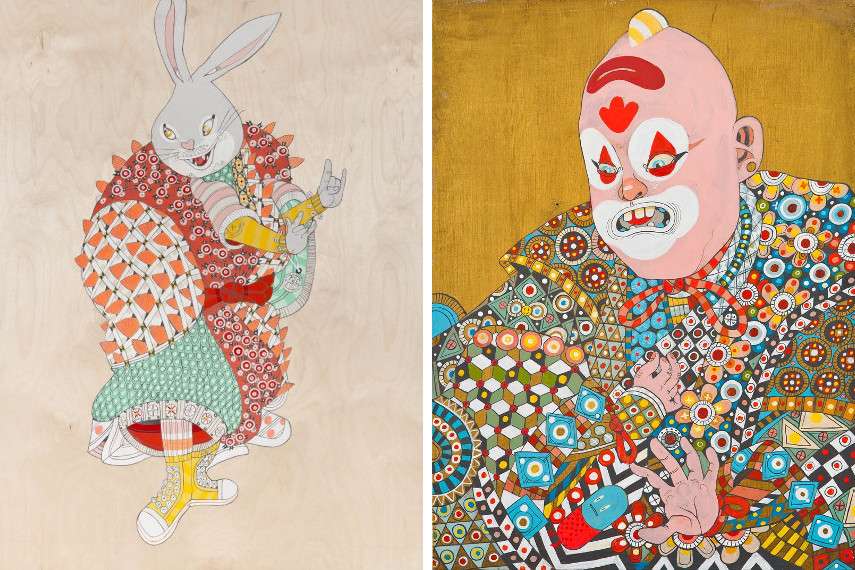 Intense Creativity Recognized
Ferris Plock is an paintor with creative tenacity and unique intensity of his work - one can sense that he really finds pleasure in what he does and manages to influence people with his cartoonish stories. He has exhibited across the America and internationally in many art gallery and museum shows, both alone and with his wife. One of the latest exhibitions is named Closer and is at a show at the Spoke Art gallery in San Francisco during April 2017.
Ferris Plock lives and works in San Francisco.
Featured image: Ferris Plock - Portrait of the artist - Image via Youtube
All images used for illustrative purposes only