Filippo Minelli is an Italian contemporary artist who has been creating art for public spaces since the late 1990s. Born in Brescia, in 1983, Minelli earned his BFA in New Media for the Arts, from the Academy of Fine Arts of Brera, Milan, in 2006. His studies went alongside with the urban interventions in public spaces that characterized his research in previous years.
Pioneer of Street Art in Italy
Filippo Minelli was primarily engaged in instinctive and unauthorized actions, which in the beginning of the 21st century made him a pioneer for Italy of what will later be called street art. After few years, he developed his own unique style based on the aesthetics of protest, bringing politics to a new level by decontextualizing the use of tear gas, reversing the function of flags and borrowing from the aesthetics of protest slogans. Amongst politics, Filippo has been analyzing and researching issues in fields such as architecture, communication, and geography using them as the basis for creating installations and performances documented through photography and video.
The two competing forces of his work are words and silence, he investigates the importance of the word in contemporaneity, as well as its opposite, silence.
Contradictions
In 2007, Minelli started his ongoing project called Contradictions, in which he has produced land art that consists of writing the names of social networks and corporations on the walls of slums in developing countries.
"The aim of the project is to point out the gap between the reality we live in and the ephemeral world of technologies".
Filippo spreads the logos of anything connected with 2.0 experiences in the slums of the third world in order to show the idealization connected with these experiences, which produces a small-but-important detach of the perception of the real world. His photographs from the Contradictions series, taken in Cambodia, Vietnam, Mali, and China, among others, quickly take a viewer lost in the world of modern technologies, back to reality.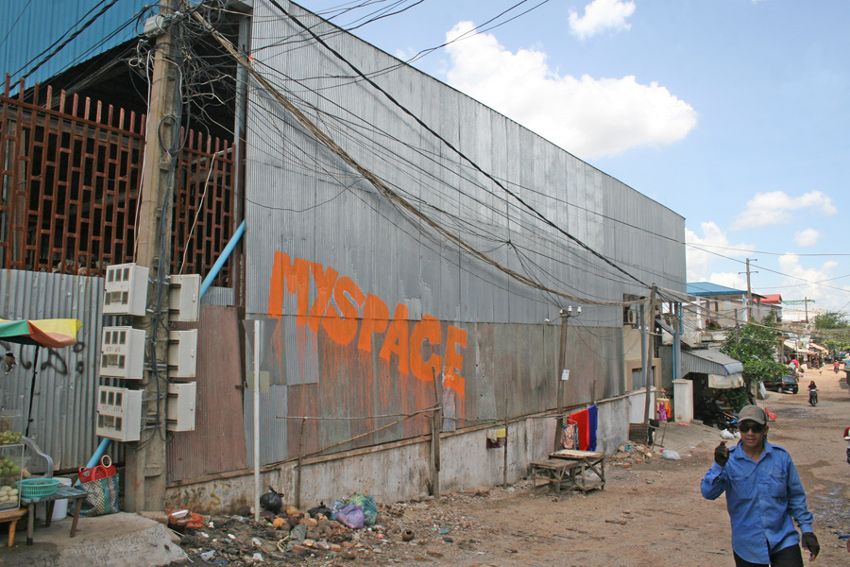 Silence/Shapes
In the works of the ongoing series Silence/Shapes, commenced in 2009, Filippo has been taking photos of handmade smoke bombs in romantic landscapes to juxtapose the beauty of nature with the violence of a medium devoted to generating chaos in political demonstrations. Minelli became interested in smoke bombs after he saw them in use during various political protests. Keeping that in mind, the artist chose to photograph many of these smoke bombs in a rather unusual setting. Instead of seeing these vibrant color of smoke arising from the disorganized scenes of a protest, the artist photographs them in areas of outstanding beauty creating a perfectly framed fantasy. By highlighting the beauty of a smoke bomb, his Silence/Shapes series of works show how prettiness can be found in extremely conspicuous contrasts. The series got featured in several major magazines including Harper's and numerous prints were sold on Public Delivery. In 2013 Elephant Magazine, UK, dedicated the cover of the 13th issue, entitled Post-photography to the series Silence/Shapes.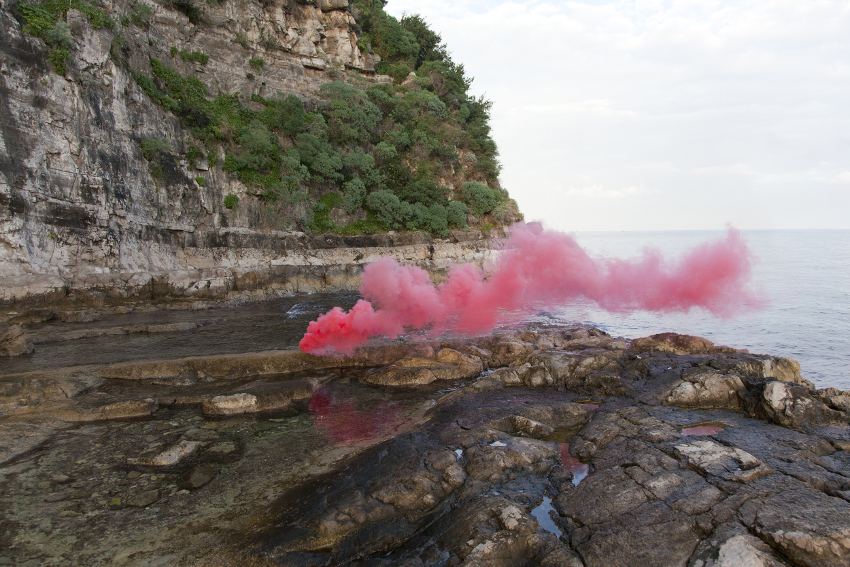 Chemotherapy Update
In 2010, Filippo Minelli was diagnosed with a 4.2-degree (on a scale to 5) Non-Hodgkin Lymphoma, type of blood cancer, which he managed to beat and survive. This experience did not stop him from making art, and Chemotherapy Update was born. Conceived as an update blog for his friends and relatives who couldn't visit him during his recovery, the blog turned out to be a real artistic project. Updated daily from the phone, Chemotherapy Update is a deeply personal and highly observational project containing ironic and sarcastic comments, diary entries, aggressive collages and affecting confessions.
In 2014, the project was presented at LINK Center for the Arts of the Information Age (Link Art Center), Brescia, Italy, in a special installation designed for space.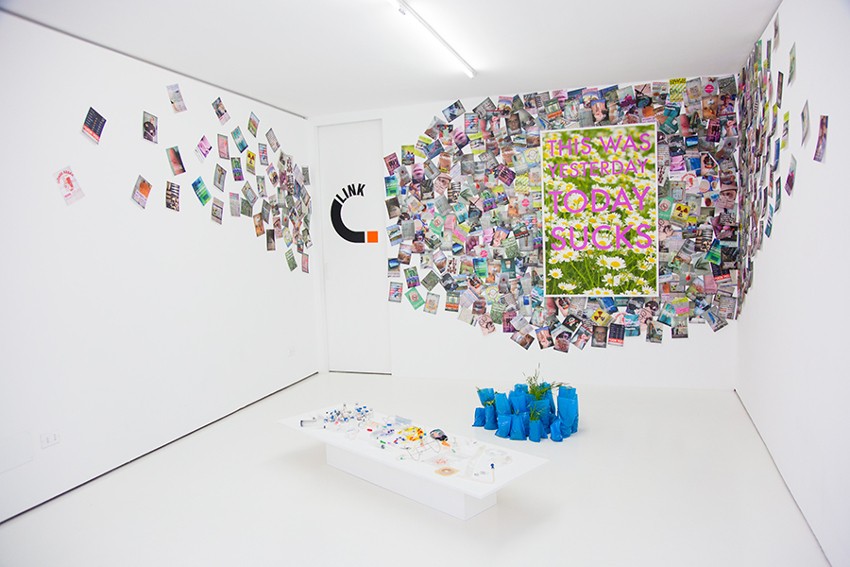 Monograph by the Dutch Publisher Onomatopee
Minelli's thoughtful, thought-provoking pieces can be found throughout Europe, South America, Africa, South-East Asia with stops at places such as the Mongolian steppe, African deserts, Israel, and Palestine.
His artworks are frequently featured in books and his series has been reviewed by some of the major international magazines and newspapers including The New York Times, Le Monde, Harpers, Huffington Post, Al Jazeera, and Sueddeutsche Zeitung. An overview of Filippo Minelli's works was published in a monograph by the Dutch publisher Onomatopee in 2014.
His work was shown at international Photography festivals from Rome to Singapore, as well as in numerous solo and group exhibitions in many galleries and museums worldwide.
He participated in the Venice Biennale in 2011.
Filippo Minelli lives and works in Barcelona, Spain.
Featured image: Filippo Minelli, photo credits Alice Caputo
Other images copyright © the artist