Filthy The Bear is a German-born pop surreal artist living and working in Australia. His work is mostly influenced by his childhood, cartoons like Masters of the Universe, Mightor, Superfriends, Herculoids, Voltron and such movies as the Six Million Dollar Man, the original Battlestar Galactica, Man From Atlantis and Star Wars, among others.
Aside from his paintings, the artist regularly dress in a bear suit of his own making and use it to interact with the world in an attempt to brighten the mundane and challenge perceptions. He wears it everywhere, to all the galleries he shows at and everywhere he travels. Filthy has visited many places like this, including China, Indonesia, Mexico and Japan.
Paintings by Filthy The Bear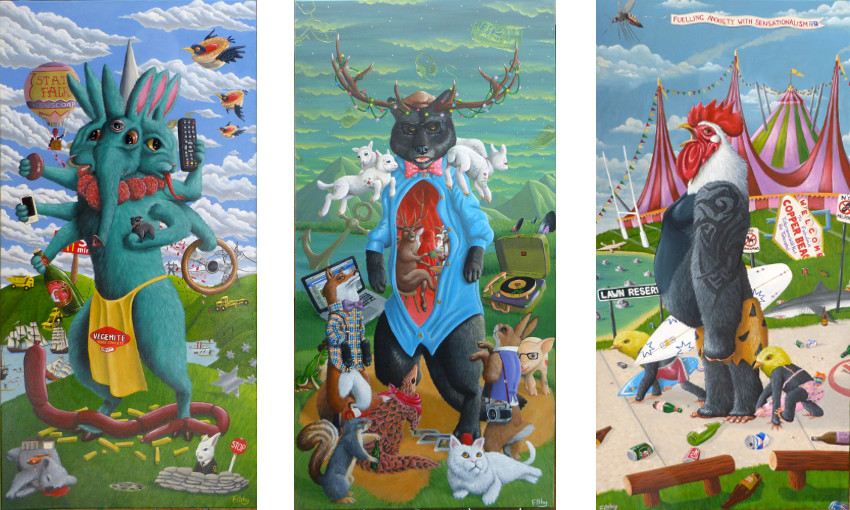 The artist, who obtained his Bachelor of Fine Art in Painting from the National College of Art and Design in Dublin in 2000, won his first prize on The Early Bird Kids TV Show with drawing of The Pink Panther at the age of five. He spent many years traveling the world and painting murals in Europe and the USA. Since the beginning of the century, he has focused on the pop-surrealist style propagated in Los Angeles by such artists as Todd Schorr and Mark Ryden.
Paintings by Filthy The Bear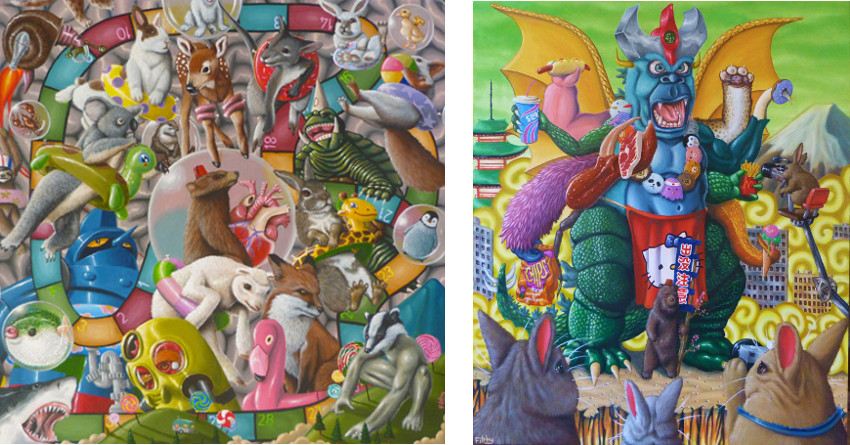 His debut novel entitled Connor Finn: The Secret of Snow was released in December 2013. The young adult fantasy novel is about a couple of teens who venture to Iceland to save their missing parents. They are thrust into a world where Viking mythology is real and where Valkyrie, talking animals, magic and monsters are commonplace.
Filthy The Bear is also the creator of the Rabbit vs. Robot blog.
He is represented by 19 Karen Contemporary Artspace located on the Gold Coast in Queensland. In August 2015, his work was included in international group exhibition Pain-Ting, organized by 19 Karen gallery and hosted by Open Walls Gallery in Berlin.
Paintings by Filthy The Bear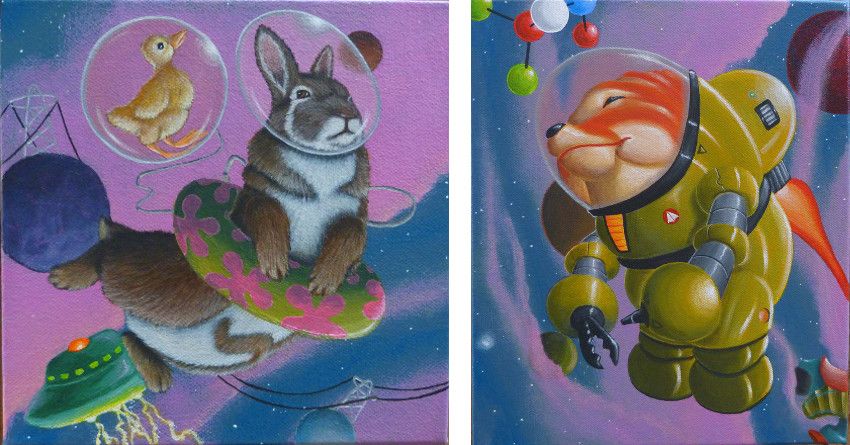 Filthy The Bear lives and works in Gold Coast, Queensland.
All images courtesy © the artist and 19 Karen