Fin DAC makes large murals of beautiful women, taking a new turn on 19-century art movement The Aesthetics. He believes, so did the Aesthetics, that art should not be political or social, it should only serve a purpose of bare embellishment of mundane lives. The purpose of art is to bring the beauty to the world. Being that the leading idea in street art is the social and political engagement, Fin DAC chose his theme to be a bit different. His murals depict beautiful women, with eye masks, who wear gorgeous clothes and elegant makeup. He named his style Urban Aesthetics, in which he combines the modern urban stencil art and traditional art of portrait.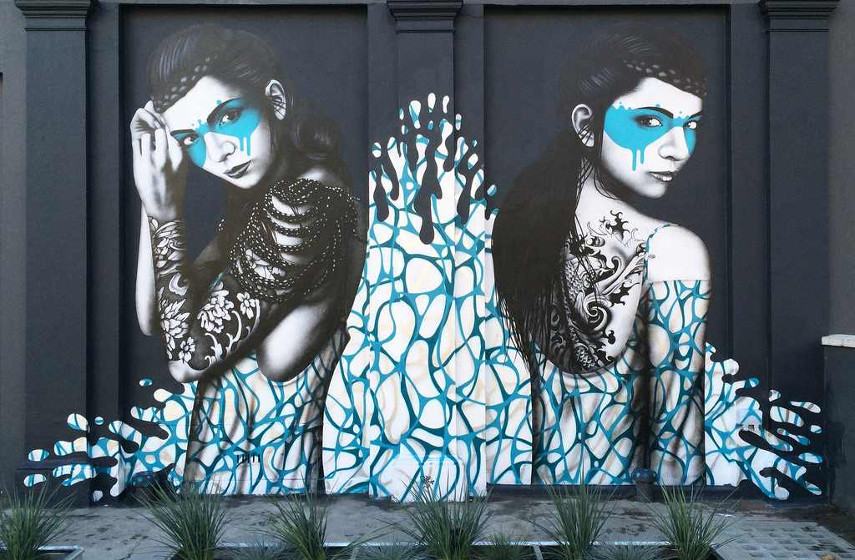 Female Beauty and the Mystery of Masks
The women he portrays are the real girls, who he met on various occasions. Their beauty is more than just the looks. He portrays them in ethnic clothing, with distinctive makeup and stylish jewelry, pointing out the significant appeal of variety. They come from different countries, with different styles, and everything that they represent plays a large role in Fin DAC's artistic journey. The one thing this artist never revealed is the origin and the meaning of the masks the women are always wearing. The masks are painted with color splashes, that usually complement the entire appearance. He paints caucasian, black and Asian women, stressing out the authentic appeal all these women have, fighting against the stereotypes and giving them the opportunity to display their personal characteristics without prejudiced assumptions.
Fin DAC named his style Urban Aesthetics, in which he combines stencils and traditional art of portraits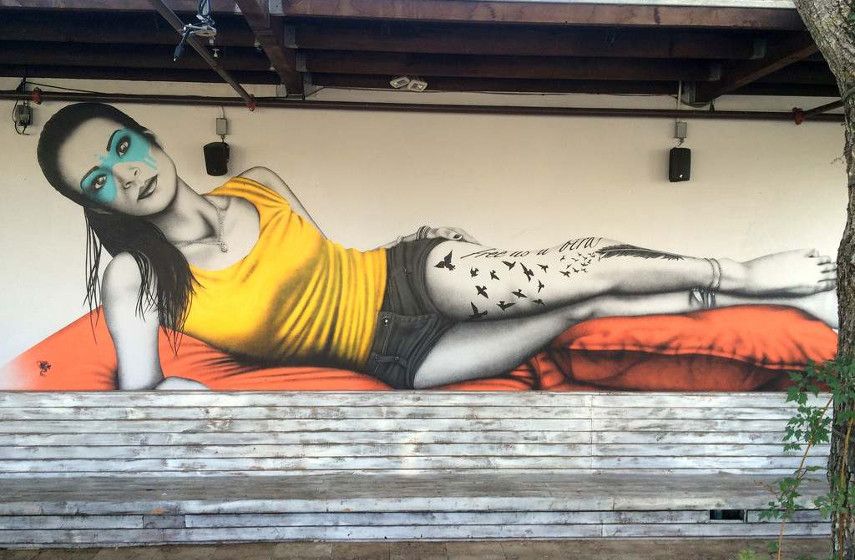 Handpainting and Stencil Outlines
Fin DAC, originally Finbarr Notte was born in Cork, but lives and works in London. He started making street art in 2008. DAC is an acronym for Dragon Armoury Creative. His combination of traditional portrait techniques and stencils crosses the boundaries of conventional street art. He uses stencils to make the outlines like a painter would use the photograph as an inspiration for canvas work. After he puts on the templates, he fills in the outlines by hand, using aerosol. This method gives his murals a blissful appearance and more dramatic shading. His sense of fashion is admirable. The women are dressed in stylish clothes, with statement pieces that signify their heritage and bring out their bold and fierce characters.
The women in the murals are dressed in stylish clothes, with statement pieces that signify their heritage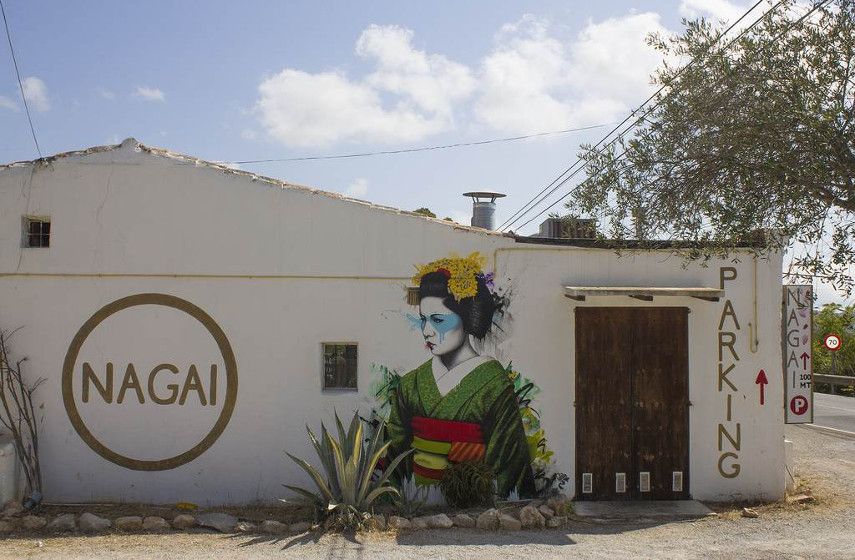 Killer Instinct for Capturing Free Spirits
Glimpses of his charismatic personality and optimistic nature can be seen in his brilliant murals. Coming from the advertising world, he does not take for granted the freedom of the street art. What he does is the opposite of advertising. Instead of capturing the women into the stereotype and exploiting their desire to fit in, he gives them freedom to be themselves on the surfaces of many walls. This self-taught artist enjoys working with other creative minds such as Nick Walker, Jamie Reid, and Jef Aerosol. He painted walls all over Europe and even did a commissioned work for The Royal Albert Hall. He collaborated with some of the most popular brands, such as Armani, Red Bull, and Jagermeister.
The artist is represented by Hang-Up Gallery, London, and Pretty Portal.
Fin DAC lives and works in London.
All images © Fin DAC