Fintan Magee, a prominent Australian street and fine artist, creates socially and environmentally engaged works. He often uses personal experiences in order to describe global world issues – for instance, in 2015, his solo show at Backwoods Gallery in Melbourne was dedicated to the depiction of his own experiences with the 2011 Brisbane floods. In addition to pressing issues such as the climate change, Magee often comments on social topics of various people, like the migrant crisis, through his clever and authentic works. The artist has received a great national appraisal for his work portraying Felix Baumgartner in Brisbane and he has participated in various public art festivals in Australia and abroad since 2007.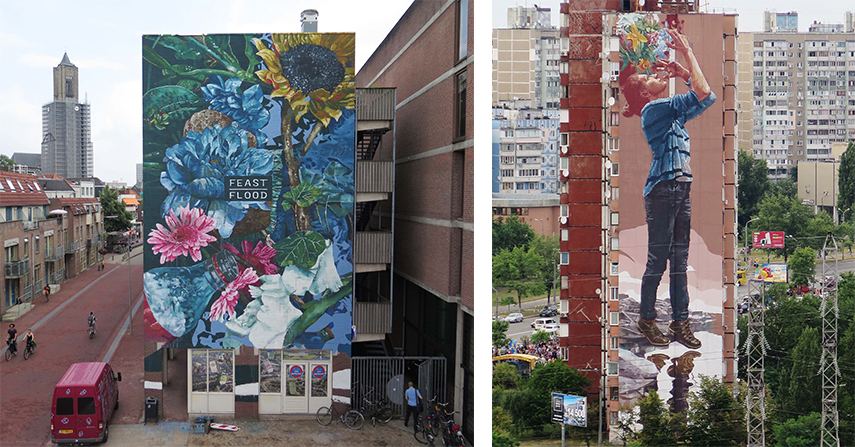 Growing up in Australia - Interest in Nature and Street Culture
Fintan Magee was born in 1985 in Lismore, Australia. He was encouraged by his parents to practice drawing since his young age. However, it wasn't until 2009 that Magee began painting full time. Nowadays, his murals, oil paintings, drawings, and prints draw inspiration from multiple sources, such as nature, advertising industry, contemporary culture, and architecture. When it comes to the style of his artworks, it is really eclectic and it represents an entire visual circus of diverse imagery that incorporates both the mundane and the unexpected. To put it simply, Magee highlights the extraordinary and beautiful nature of our everyday life. Magee was exposed to Brisbane's graffiti culture since his early teenage years and before he started creating canvas-based works, he was strolling the streets of Brisbane and scrawling his name across the city with vibrant and unique letterforms. The artist has moved away from traditional graffiti in the last couple of yeas and developed his trademark large-scale mural style. His most famous work mixes the surreal and figurative imagery and explore urban environment and its decay. The most common topics in Magee's work are issues of waste, consumption, loss, transition, but also sentimentality and nostalgia related to childhood memories.
To put it simply, Magee highlights the extraordinary and beautiful nature of our everyday life as well as some national issues of contemporary Aussies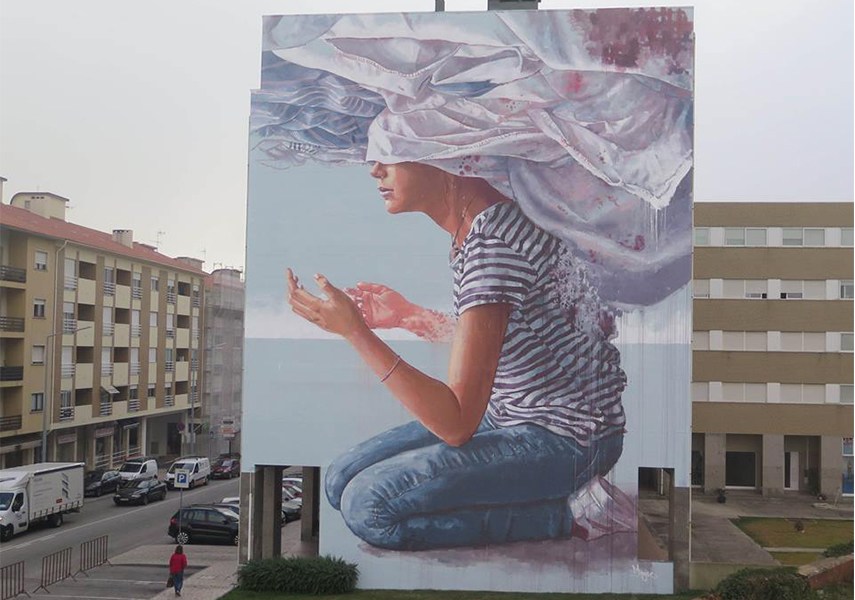 Exhibition History and Collaborations of Fintan Magee
Fintan has been a very prolific exhibitor – he has showcased his works throughout Australia and has been selected as a finalist for the Prometheus, Churchie and Lethbridge art prizes. In 2012, he won a 4-week residency at ISAD studios in Jakarta, where he collaborated on a large-scale installation with Indonesian artist collective called Ruangrupa. Their collaborative piece was later included in the 7th Asia Pacific Triennial. When it comes to Maggee's new exhibitions, in April 2016 he had his solo show entitled The Backwaters, Stories from the Endless Suburbia, at Galleria Varsi in Rome, Italy. The main theme of this solo exhibition revolves around the artist's childhood memories of his native country. Maggee tells majestic stories about an isolated Australian town inhabited by people from all over the world, such as Indians, Filipinos, Maoris, Vietnamese and Pakistanis, who have created an authentic cultural melting pot.
In April 2016, Fintan Magee had his solo show entitled The Backwaters, Stories from the Endless Suburbia, at Galleria Varsi in Rome, Italy
Leading Figure in Australian Street Art
Thanks to his diligence, enviable technical skills and unique approach to both street art and canvas-based pieces, Fintan is considered one of Australia's most important emerging artists. Everyone has a story worth telling. Be tolerant and understanding of others, says the artist about his personal motto. He has traveled extensively in the last couple of years because he was commissioned to complete many exciting public projects in Sydney, Melbourne, London, Vienna, Los Angeles, Bogota, Buenos Aires, Copenhagen, Moscow and Oslo, to name a few . Together with other prominent street artists from Australia, Magee contributed to Toowoomba's First Coat project and festival.
Fintan Magee lives and works in Brisbane, Australia.
Featured image: Fintan Magee's Portrait – Photo Credits Maksim Belousov