Working in a wide range of media covering photography, painting, sculpture and installation, Fiona Hall is one of Australia's most respected and prominent contemporary artists. She examines the notions of topics such as the process of globalization, history and interaction between humans and their natural environment – perhaps best incorporated in her trophy-like, military-camouflaged sculptures of threatened or endangered species. Through her rich and prolific career spanning over four decades, Hall has exhibited her work in numerous individual and collective shows including Documenta 13, the Biennale of Sydney and the Moscow Biennale. In 2015, the Australian multidisciplinary artist represented her country at the 56th Venice Biennale, with an exhibition called Wrong Way Time and composed of about 800 objects.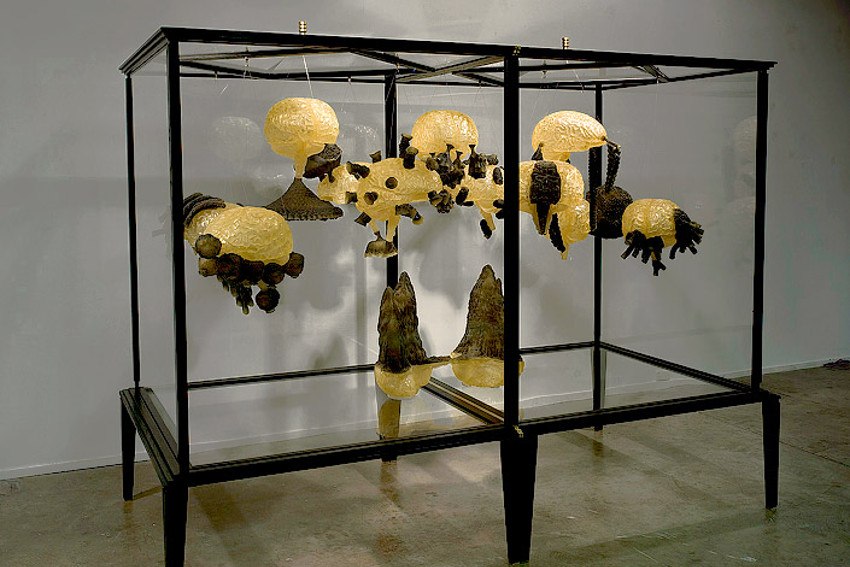 Background and Early Works
Born in 1953 in Sydney, New South Wales, Fiona Hall grew up in a very supportive family – her mother Ruby Payne-Scott, an Australian pioneer in radiophysics and radio astronomy, and father William Holman Hall, a telephone technician, encouraged her leaning toward the arts since an early age. At age 14, Hall's mother took her to see Two Decades of American Painting show at the Art Gallery of New South Wales, which developed her interest in art. She studied at the National Art School between 1972 and 1975. Although Hall obtained a diploma in painting, she was drawn to photography. With the support of John Firth-Smith, a celebrated abstract painter and Hall's painting teacher, she experimented with photography and studied it as a minor under the tutelage of George Schwarz. She exhibited her early photographs publicly for the first time at the age of 21. It was group show entitled Thoughts and Images: An Exploratory Exhibition of Australian Student Photograph at Ewing and George Paton Galleries, Melbourne in 1974. Just upon graduating in 1975, Hall exhibited her oeuvre as a part of Six Australian Women Photographers at the Australian Centre of Photography in Sydney and the National Gallery of Victoria. The same year, she relocated to the United Kingdom where she worked as an assistant to Fay Godwin, a famous English photographer. She had her debut one-man show at London's Creative Camera Gallery in 1977. In 1982, she obtained her Master of Fine Arts in Photography from the Visual Studies Workshop in Rochester, New York and moved back to Australia.[1]
She exhibited her early artworks publicly for the first time at the age of 21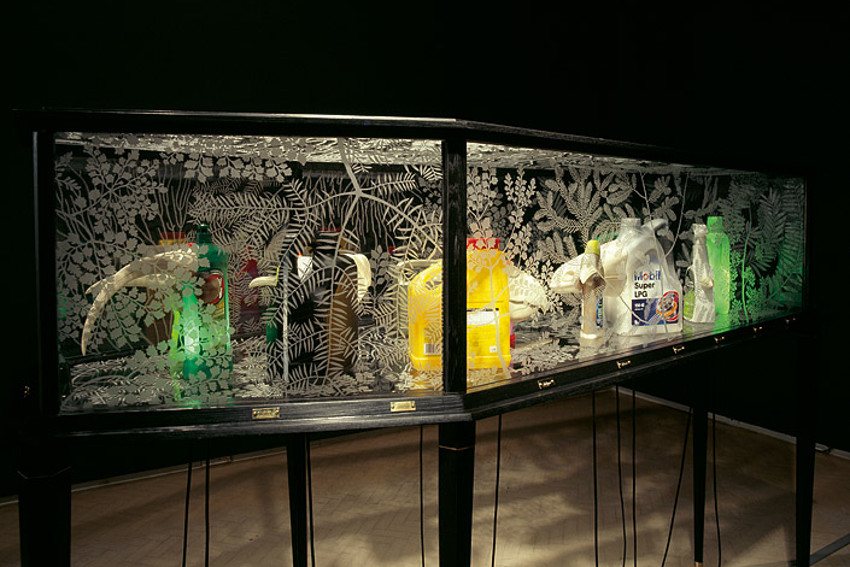 Paradisus Terrestris
Although the Australian artist first came to prominence as a photographer, she has extended into diverse media like sculpture, installation and garden design. In the later 1980s, Hall achieved great acclaim with Paradisus Terrestris, a series of amazing works fashioned from sardine cans, of botanical specimens juxtaposed with erotic vignettes and body fragments. While standing above these are botanically correct representations of native flora, one can see meticulously created suggestive equivalents of the anatomical details below. The series was exhibited at the Art Gallery of South Australia as part of the Adelaide Biennial of Contemporary Art.
Hall achieved great acclaim with Paradisus Terrestris series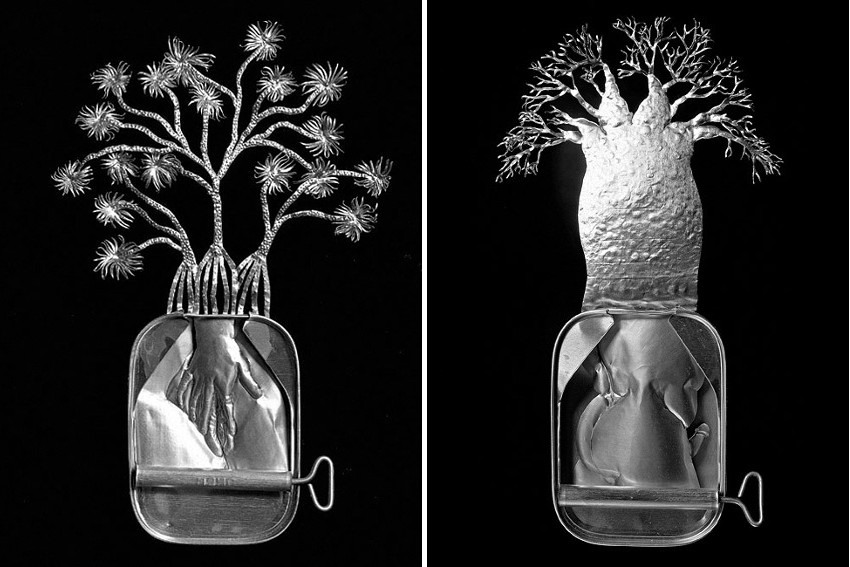 The Art of Fiona Hall
In the following years, Fiona Hall has offered fresh perspectives on a myriad of complex issues of contemporary era. These include histories of language, colonization and trade, as well as the relationship between man and nature and cultural aspects. She explores the history of the objects, the language we use to describe them, or their place in the contemporary world creating stunning piece of art that have the ability to change our views of mundane items. Hall's practice includes major public commissions and projects that have increasingly engaged with themes of ecology, history and the effects of globalization.
Hall has offered fresh perspectives on a myriad of complex issues of contemporary age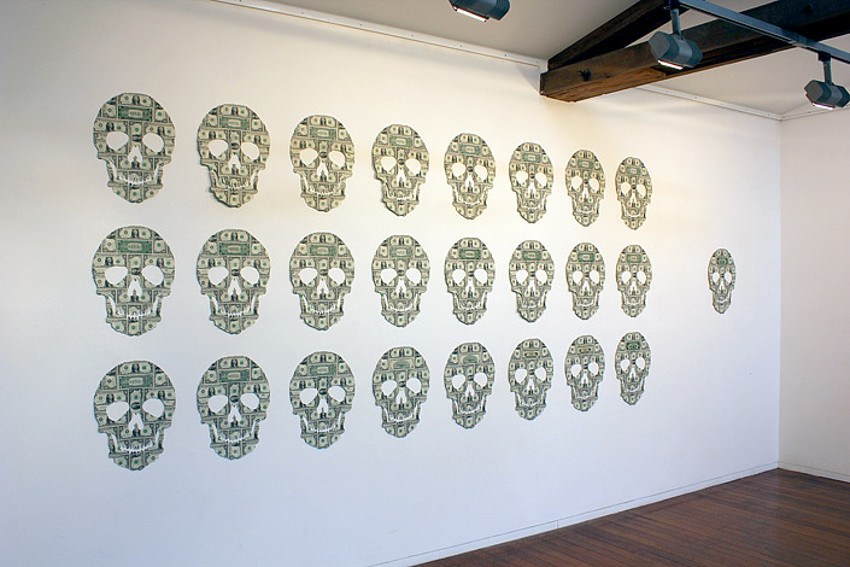 Raising Awareness of Endangered Species
At the heart of the artist's oeuvre lies her preoccupation with the natural world—with all its beauty and grotesquery, power and helplessness, secrets and revelation. This preoccupation has been influential in shaping anchoring points for Hall's practice: how humankind and nature interrelate, and, by extension, how nature sits in relation to culture. In Fall Prey, an installation created for dOCUMENTA 13 in Germany in 2012, Hall's focus was on environmental degradation, the endangered or critically threatened species and the deterioration of our environments. The piece presented a menagerie of "trophies" of species on the International Union for Conservation of Nature and Natural Resources' Red List, and as the title suggests, these creatures have fallen prey and humankind is the predator.[2]
Fall Prey installation was exhibited at dOCUMENTA 13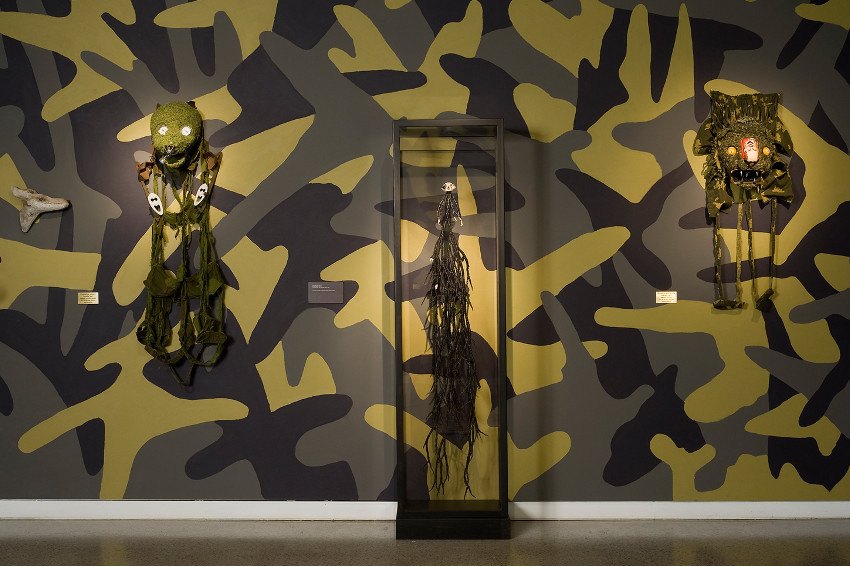 Wrong Way Time at the 56th Venice Biennale
In 2015, Fiona Hall was chosen as the first artist to represent Australia at the newly built Australian Pavillion at the Venice Biennale. Entitled Wrong Way Time, the installation featured 1000 works in a sort of a "cabinet of curiosities", a project which examined global politics, world finances, and the environment. Having more diversity of materials than she has ever used previously, every piece in this colossal installation carried its weight. Camouflage garments, newspapers, found things, old-fashioned clocks, cooking pots - they all brought along their own context and gave the work their conceptual reading within the material. Her lifelong passion for the natural environment can be intensely felt in works that respond to our persistent role in its demise, or the perilous state of various animals, insects and plants.[3]
Wrong Way Time featured 1000 works in a sort of a "cabinet of curiosities"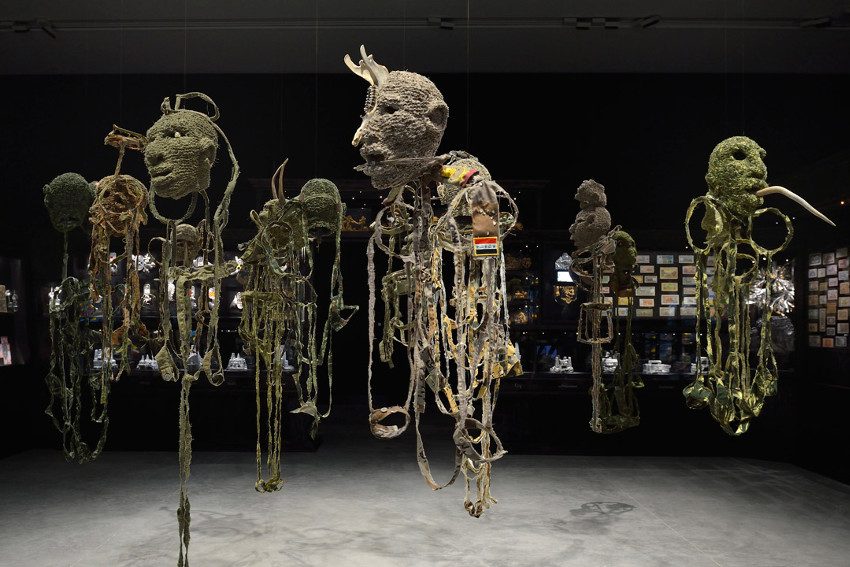 Leading Australian Contemporary Artist
Over the years, the Adelaide-based photographer, sculptor and installation artist became one of the most influential, critically acclaimed artists working today. Her work has been included in over 150 important solo and group exhibitions at such places as Art Gallery of South Australia, Adelaide, Katonah Museum of Art, Katonah, New York, Roslyn Oxley9 Gallery, Sydney, Govett-Brewster Art Gallery, New Plymouth, New Zealand, Bridgestone Museum, Tokyo, Japan and Gallery 706, Colombo, Sri Lanka. In 2016, her work was on display at National Gallery of Australia, Canberra. Her oeuvre is included in collections of National Gallery of Australia, Canberra, Art Gallery of New South Wales, Sydney, Museum of Contemporary Art, Sydney, National Gallery of Victoria, Melbourne and many other. Although she has gained international recognition as one of the top Australian artists, Hall doesn't stop there but continues to investigate issues ranging from consumption, politics and trade to the environment, nature, paradise and the body.[4]
Fiona Hall lives and works in Adelaide, Australia.

References:
Featured image: Fiona Hall in front of her art, photo via lostateminor.com
All other images copyright of Fiona Hall and Roslyn Oxley9 Gallery