When it comes to the history of photography, there aren't many tragic stories that can compare with the life of Francesca Woodman. This brilliant photographer's artwork was so misunderstood in her time that it's hard to find a proper analogy - especially when you consider that her career met a sudden end as Francesca committed suicide when she was just twenty-two years of age. Woodman was from The United States Of America and was without a doubt one of the most talented photographers of her generation, best known for her black and white style and photos in which she and other female models posed in order to create unsettling and dark imagery that had the objective of depicting different states of the artist's mind.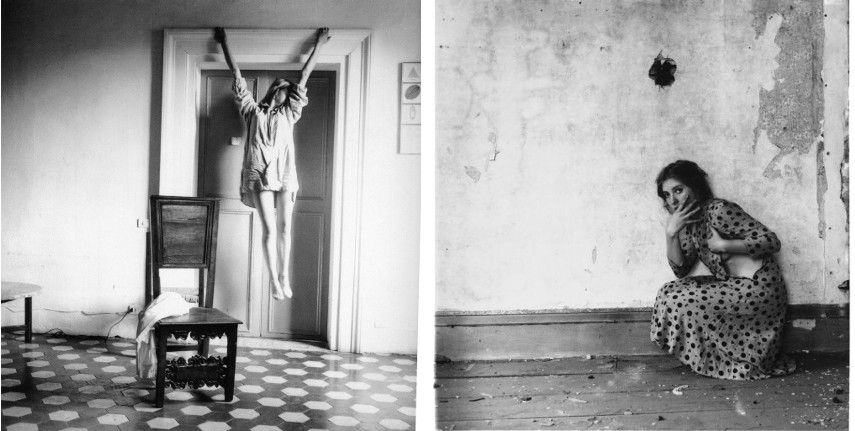 Woodman's Backstory
Francesca Woodman was born on April 3, 1958, in the city of Denver, Colorado. Her parents, George Woodman and Betty Woodman, were both professional artists and Francesca did not fall far from the tree - she began taking photographs at the age of thirteen. With her parents supporting and guiding her, Woodman was developing rather quickly, establishing her own way of taking images that were a bit darker than that of her mother and father. In the year of 1972, Francesca started attending a private Massachusetts boarding school Abbot Academy and it was here that she started really developing her own ways of expression offered by the medium of photography. This was also the time that Francesca started to observe and approach her photos as art. After graduation, Woodman spent yet another summer with her family in Italy - a tradition that existed ever since Francesca was a toddler - and after that, in the year of 1975, she began attending the Rhode Island School of Design in Providence. Two years later, she traveled to Rome as a part of an honors program. She returned to the United States of America in 1978 and graduated from RISD the same year. Soon after that, Francesca Woodman relocated to New York in order to pursue a career in photography, as there was never any doubt as to which profession she will try herself at. She started by making a few untitled black and white photos - something she stayed true to her entire career as many of the more than 800 prints produced during her lifetime are black 'n' white and untitled, usually named by date and location.
Although she was under a strong influence of her parents, Woodman decided to steer her style into much darker waters from her mother and father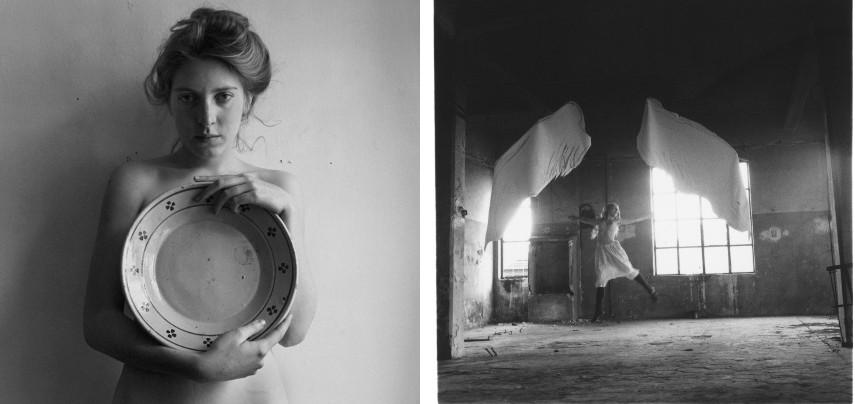 Francesca Images And Their Style
Thematically, Francesca Woodman's photographs used to explore issues of gender and self-identification, but technically speaking, her images were always the representation of the body in relation to its surroundings. Every single image from her portfolio was a combination and a successful blend of performance, play and self-exposure, as well as a strong metaphor on its own. Over the years, Woodman's photos have established an infamous reputation of creating extreme and often disturbing psychological states in its viewers - the same states the artist was in during the making of the pieces. Francesca used to put herself inside most of her images, creating the entire audience-photo relation that much more intimate - however, it should be noted that in spite of that, Woodman's artwork can not be described as conventional self-portraits. Although she is in most of her frames, Francesca is almost always either partially hidden or concealed by slow exposures that blur her moving figure into a ghostly presence. Her body seems to literally merge with its surroundings - covered by sections of peeling wallpapers, half hidden behind the flat plane of a door or crouching over a mirror - giving every single photo not only an incredible effect but also a far deeper meaning. Much of her work has been influenced by her aforementioned visits to Italy, where Francesca was exposed to the symbolic work of Max Klinger. Woodman was also influenced by artists such as Man Ray and Duane Michals, but we'll cover her inspirations in the next paragraph.
Even though Francesca herself is in most of her photos, her images are far from the conventional self-portraiture pieces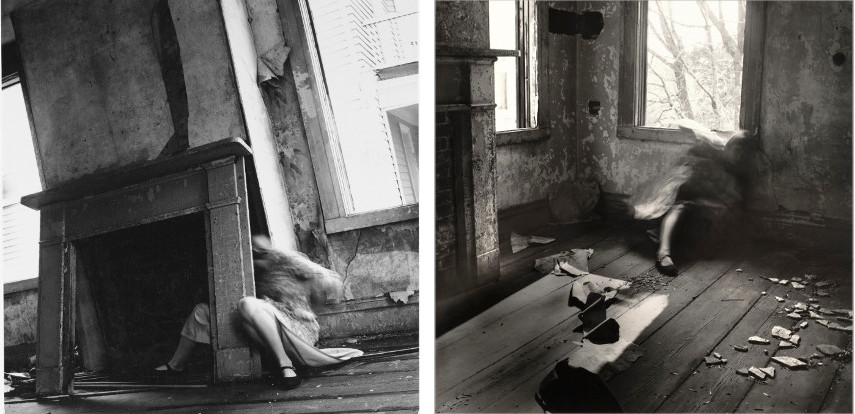 The Artistic Peak Before A Tragic End
Woodman's entire career has been based on many influences, starting from her parent's styles to symbolism and surrealism that certainly had a huge effect on the way Francesca worked. She even showed glimpses of connections to fashion photography and Baroque painting. Such broad ranges of influences all managed to find their own place inside this photographer's images, all being equal and apparent, yet somehow under the surface and hard to spot. Many critics have also connected Francesca to Yayoi Kusama due to her well-known photo series titled Polka Dots, in which she appears wearing a polka dot dress. Francesca Woodman's deserted interior spaces often find themselves full of found objects and suggestive props, carefully arranged to create unsettling, surreal or claustrophobic scenarios. Her mature photos - and we use that term very loosely, as Woodman's did not have a chance to fully develop her style - had a strong sense of an underlying vulnerability, further emphasized by the small and intimate format of the photographs. It may seem weird now, especially when you read the in-depth analyses of Woodman's work, but back in the 1980s, the world was simply not prepared for that kind of art. Francesca continued to send her portfolios to photographers and magazines with no success, causing the young artist to slip into problems with depression and self-questioning. As a result, Woodman attempted to take her own life on two occasions, being successful on January 19th of the year 1981. The young woman was only twenty-two years of age.
Francesca Woodman carefully positioned every single detail inside her compositions in order to achieve the wanted disturbing effect that was to both shock and fascinate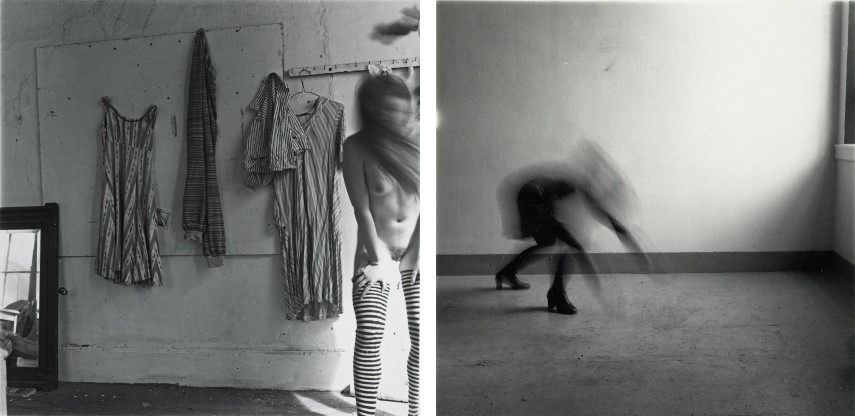 A Bitter-Sweet Story
As was said before, the story of Francesca Woodman is one of the most tragic in the entire history of photography. Such talent and skill so ahead of her time make Woodman's work simply crucial, but the way she ended her life really puts a dark mark on her career. Besides the aforementioned 800+ prints, she created at least 10,000 negatives in her short lifetime, all of them now in the possession of her parents - every single one of them beautiful and artistic in their own right. Her images are arguably the most successful example of photography coming close to Conceptualism and, although the loss of such a young artist is always troubling, her work full of symbolic motifs such as birds, mirrors and skulls will continue to live on.
Featured Image: Francesca Woodman - Self-portrait of the artist - Photo Credits Pinterest
All Images Photo Credits Francesca Woodman