Imagine you can foresee the future, and yet be completely powerless to make it happen as it's foreseen. Francis Bacon knew this all too well, as his ideas were always transformed by the paint and his pieces never really became what he has imagined. They were all accidents. What made him one of the best-known artists in history was his ability to select which part of those accidents he wanted to preserve. He saw painting as a perfect way to express himself, to rise above words. Bacon was an Irish-born British Figurative painter, renowned for his raw, emotionally charged images. He is considered to be one of the most important and influential British painters in Post-World War II period. Largely self-taught, Bacon created in Expressionism, Surrealism, and Cubism.
He is considered to be one of the most important British Post-World War II painters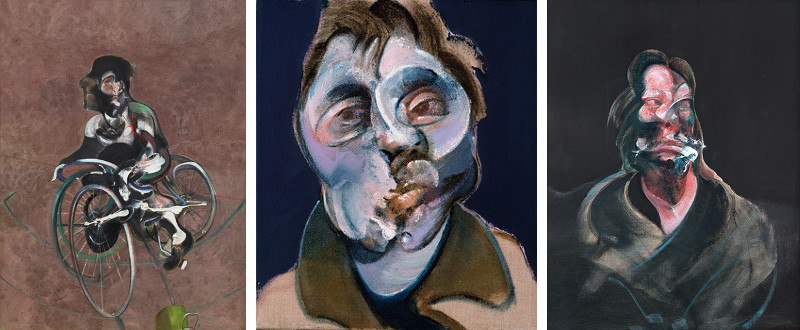 Misunderstood and Pushed Away
Francis Bacon was born on October 28, 1909, in Dublin to English parents. His father was a former Army captain while his mother came from a wealthy family. As a child, Bacon was diagnosed with asthma, which his father didn't take very well. A weak child, Francis couldn't participate in all the activities associated with the everyday life in the countryside. As he was growing up, he became aware of his homosexuality, as did this family. They didn't accept it, and in 1926, Bacon, only 16 at the time, was kicked out of his house. Shunned by his family, Francis moved to London that same year. He could barely make ends meet for several months, as his mother would send him only 3 pounds a week.
In 1927, the artist's father sent him to Berlin with a friend. Francis was overwhelmed by Berlin's beauty and culture. He was mesmerized by the architecture and art, and above all – cinema. It is possible that in Berlin, Bacon saw Battleship Potemkin for the first time. However, the influence that this motion picture by Sergei Eisenstein had on the artist would become noticeable later in his life. A few months later, Bacon moved to Paris. It was there that he really started considering an art career. Two important things happened to him while in France, which probably swayed him towards art. He saw The Massacre of the Innocents, a painting by Nicholas Poussin, and he went to an exhibition of Picasso's paintings. Amazed by Picasso's works, Francis took a pencil himself and without any knowledge, he began drawing. This eye-opening experience prompted him to stay in Paris, where he continued to frequent art galleries and shows and to "learn from them". However, in 1928, he decided to go back to London and start a business.
His homosexuality was the reason he was shunned by his family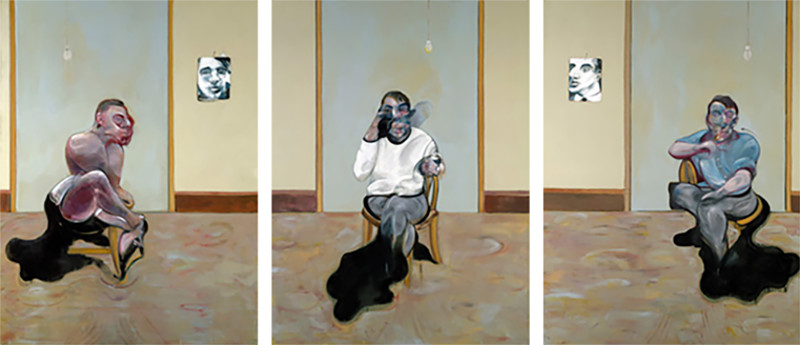 Formative Years of Francis Bacon
Francis became a furniture and interior designer. Creating in glass and steel, he mainly drew inspiration from his contemporaries and modernists like Eileen Gray and Le Corbusier. The artist became acquainted with Roy de Maistre, an Australian painter, who showed him the ropes of oil painting. The two even had a joint exhibition in 1930. However, he couldn't make enough money off of his paintings or furniture, and he moved to Chelsea, London. It was in 1933 that Francis Bacon did his first critically acclaimed painting titled Crucifixion. But this painting wasn't enough to establish him as an artist yet. His works didn't sell as much as they should have, and he was even turned down by the International Surrealist Exhibition in London in 1936 because his paintings weren't surreal enough. Unfortunately, not many pieces from his formative years survived, since the artist himself destroyed them. During the World War II, Francis painted only a few pieces. Those were mainly influenced by the ruins of bombarded London, and by the poems of T.S.Eliot.
The artist destroyed many of his early artworks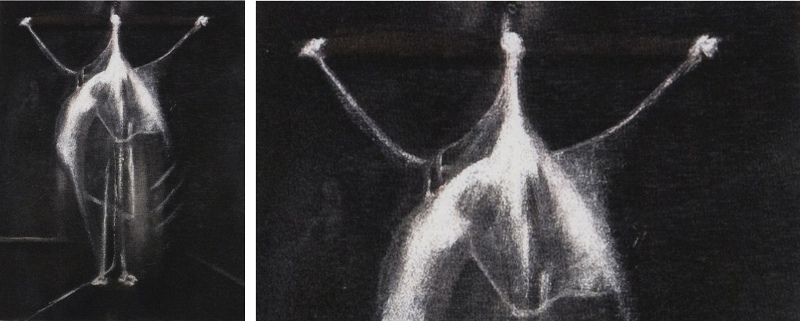 Successful Years
The pivotal year in Bacon's career was undoubtedly 1944 when he finished his triptych called Three Studies for Figures at the Base of a Crucifixion, which propelled him to the center of the art world. The paintings were exhibited the following year at the Lefevre Gallery and were highly praised by both public and critics. In the orange background, each painting captures a stone-colored monster which barely even looks like a human being. It was later acquired by Eric Hall (who was also Bacon's lover of 15 years), who subsequently presented it to the Tate Gallery in 1953. In 1945, Francis painted another piece which would cement his fame; the piece is simply called Painting. He first intended to paint a bird. However, the painting evolved to a complex assemblage depicting an almost headless man under an umbrella. Painting ensured him several group exhibitions and a contract with the Hanover Gallery. Three years after the creation of the artwork, the Museum of Modern Art in New York obtained it.
Piece titled Painting cemented his hard-won fame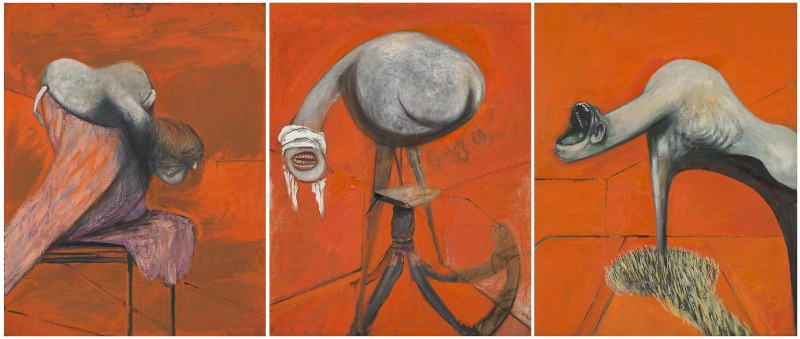 Painting On the Wrong Side of Canvas
Bacon had his first one-person exhibition in 1949 at the Hanover Gallery. The paintings were very simple and focused on only one figure, with often disturbing details like open mouths, diverting the viewers' attention from the rest of a composition. Such was the Head series created between 1948 and 1949. What is interesting about this series is that Francis painted it on the wrong side of canvases. He realized that the paint and the texture looked better on it, and decided to stick to it, which he did until his death. One particular piece caught everyone's attention, and that was Head IV, which was the artist's earliest variation on Portrait of Pope Innocent X from 1650 by Velázquez. This piece was also influenced by Battleship Potemkin film, and a video still of a screaming nurse. Francis completed his Study after Velázquez's Portrait of Pope Innocent X in 1953 and had also finished a series entitled Study of Portrait I-VIII. During this period, Bacon also produced several thematically different paintings. Most were influenced by his trips to Africa when he was visiting his mother who had moved there after Bacon's father's death. He also created a series titled Man in Blue I-VII, which he completed in 1954.
Head series caught everyone's attention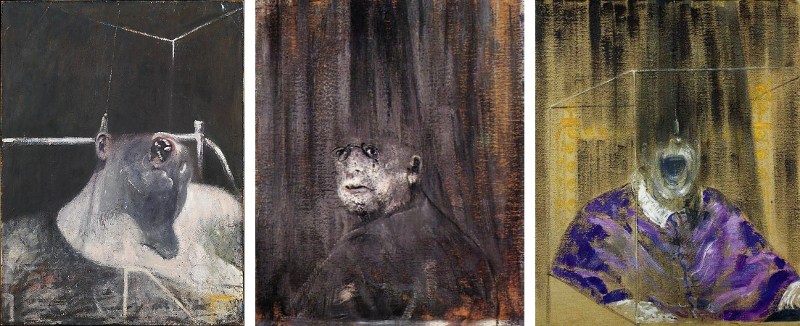 International Renown
For some time in the 50s, Francis lived between Morocco and London, while his art became known worldwide, and he was gaining an international renown. In 1953, he had his first solo exhibition in New York, and four years later in Paris. During this time, the painter's style was beginning to change, in terms of color and handling. The exhibition at the Hanover Gallery featured yet another series of his which consisted of six pieces that were inspired by Van Gogh's The Painter on the Route to Tarascon. The change was evident in texture, which became rougher, and in colors, which became brighter and more vibrant. Bacon would continue with this style until the end of his life.
Several years after the show, in 1962, the painter completed his first large-scale triptych called Three Studies for a Crucifixion. He once stated that it had been the first time he had managed to paint while intoxicated. It was a liberating experience for him. That same year, the Tate Gallery organized the first major retrospective exhibition, which included not only this triptych but also 90 other artworks.
He received worldwide recognition in the 50's
Love as an Inspiration
Sometime around this period, Francis met George Dyer with whom he had fallen in love. Infatuated, Francis chose Dyer as a recurrent subject of his works in the 60s. He started using photographs, as they enabled him to convey the vitality of the subjects to the canvas. Some critics say that this was the most fruitful and mature period in his career.
The death of George Dyer in 1972 proved to be a surge in Bacon's career. He painted several series and triptychs dedicated to his late lover's life and death – some of the bleakest and most somber of his pieces. The greatest of them was certainly Triptych May-June, completed in 1973. Simple, and yet incredibly powerful, the triptych describes the last days of Dyer's life.
Death of his lover inspired some of the bleakest and most somber pieces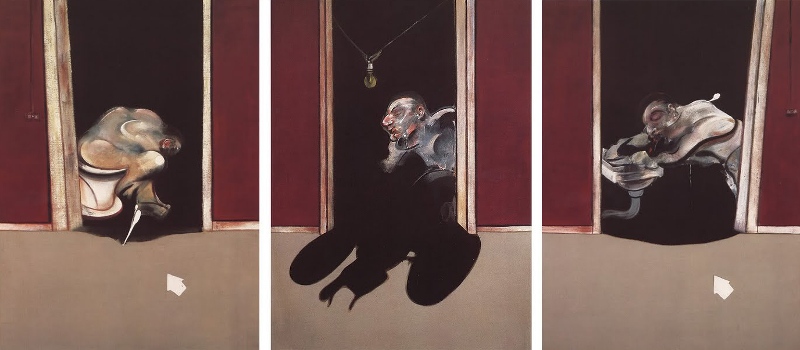 The Final Decades of Bacon's Career
From the mid-70s onward, many one-person and retrospective exhibitions had been organized worldwide. Another retrospective was held at the Tate in 1985, with over a hundred paintings displayed this time. Francis was also the first Western artist to exhibit in the Soviet Union in 1988. His style still continued to progress and develop – he now tackled landscapes. Some of his notable works from this period include Landscape from 1978, and A Piece of Waste Land, which he painted in 1982. The latter was influenced by T.S. Eliot's poem The Waste Land. During the 80s, Bacon's subjects became even simpler, reduced to only a stump and a pair of legs. This period yielded two important artworks: the triptych Three Studies for a Portrait of John Edwards from 1984, and Study for Self-Portrait, Triptych, 1986.
In the 80's, Bacon's work became simpler and reduced to a stump and pair of legs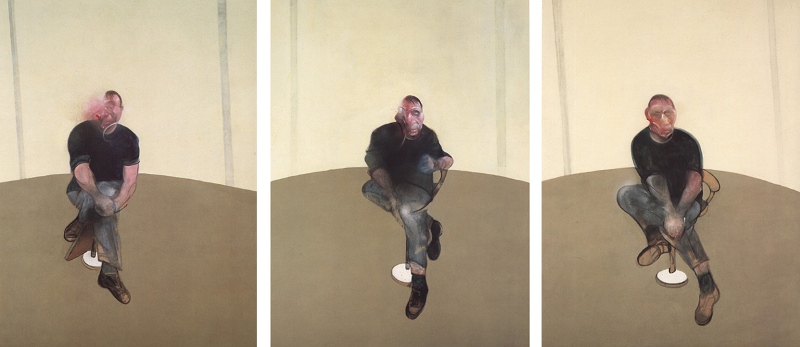 Death and Legacy
The last years of his life, Bacon spent in a relationship with a young Spanish man. In spite of his doctor's advice, he went to Madrid in 1992 and suffered a heart attack only a few days upon his arrival. He was then cremated, and his ashes were transferred to Britain and later scattered in a private ceremony. His art continues to amaze people to this day, as his paintings are still displayed at numerous venues around the world. His artworks are a part of many public and private collections worldwide.
The artist is represented by Hang-Up Gallery London, Gagosian Park & 75 New York, Gagosian West 24th Street New York, Gagosian Madison Avenue New York, Gagosian Britannia Street London, Gagosian Beverly Hills, Gagosian West 21st Street New York, Tony Shafrazi Gallery in London, Marlborough Gallery Monaco, Marlborough Fine Art London, Markowicz Fine Art Gallery in Miami, Puccio Fine Art.
Francis Bacon died on April 28, 1992 in Madrid, Spain.
All artworks are Copyright of The Estate of Francis Bacon