When your father is Michel Jacques Boisrond, a creator of Cette Sacrée Gamine (A Naughty Girl) - a Brigitte Bardot movie, even more popular than her And God Created Woman, you are easily predestined for the world of arts. François Boisrond chose the oldest form – the visual art.
On the Waterfront (driving)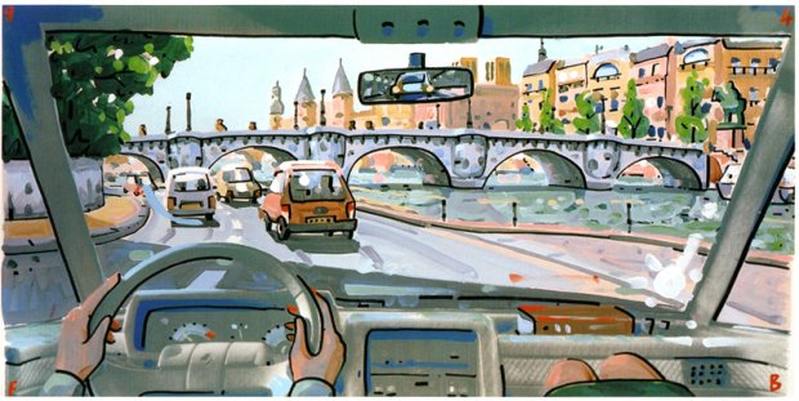 Boisrond and the Figuration Libre Movement from the 80s
François Boisrond was born in Boulogne-Billancourt, a western suburbs of Paris, France. When he was 14 years old, he spent a year in an internat. This event will mark him for the future – the loneliness he felt in the austere atmosphere of the typical English boarding school, imbued him with a strong love for the written word. Young François just couldn't stop reading, creating the world of his own, enriching his inner life, more each day.
However, the art wasn't his first choice. At the time.
Boisrond first tried to devote himself to the medicine, by enrolling in a medicine school. His dream of becoming a psychiatrist slowly faded away as the interest for the medicine was getting weaker and weaker. In 1977, François got into the National School of Decorative Arts in Paris, where he explored his artistic potential through the graphics and audiovisual techniques.
Boisrond made some important friendships there: Hervé Di Rosa, Combas, Rémi Blanchard, and Louis Jammes were amongst those who, together with François, formed an artistic group named Figuration Libre (in the 80s). The roots of the group's aesthetic and philosophy lie in Art Brut and anti intellectualism – one can say that it can be treated as a form of an artistic protest, continuous and targeted against a good taste and mediocrity. Figuration Libre's aesthetics of bad fed on the mass media culture, creating so a parallel to the work of their American fellow artists such as Keith Haring, Jean-Michel Basquiat, or Kenny Scharf. The year 1983 was marked by the first major museum exhibition of this movement: Blanchard Boisrond, Combas, and Hervé Di Rosa show was presented at the Groninger Museum in Groningen, Netherlands.
The Ordinary People's Art Brut as the Inspiration
François Boisrond's figurative paintings are filled with pure forms and shapes, hemmed with a black contours. The main source of inspiration is, as the artist claims, the ordinary people's art brut: stickers, comics, Christmas decorations or video games. Boisrond is fascinated by the world of film and television and its iconographic simplicity and clarity. He is a very active and fertile artist, known for a great number of various projects and exhibitions, each one ennobled with an original approach and fresh ideas.
Making Art from Touring the France on Bike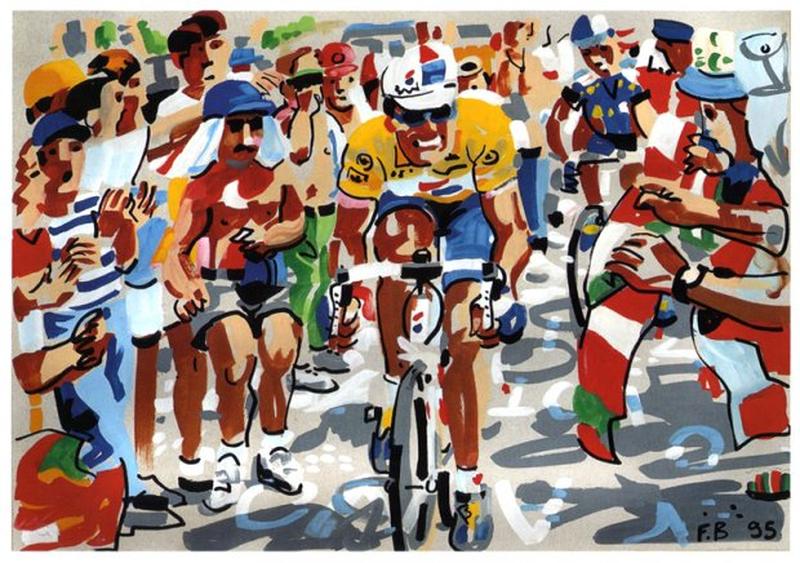 In 1998, Boisrond spent a month in Fukuoka, Japan, where he created a monumental painting in situ for its Biennale. Upon his return home, it was obvious that the Japanese life and cultural style made a huge impact on this artist. For example, his Opio series of ceramics, done in collaboration with Hans Spinner, carry some of his Japanese memory within.
Another interesting project was born when François Boisrond made his personal hobby a part of his art. As he was touring the France on bike every year, together with Franck Bordas, he produced a series of bike-tour related lithographs gathered in a book and presented to the The Society of American Graphic Artists (SAGA). In 2003 he made a trip to India with his students, following the theme of Movie studios. He even directed a short film on this voyage and the experience behind it.
In 2007, Centre Georges Pompidou was celebrating its 30th anniversary. François created 6 paintings to commemorate three decades. But, he did not stop there. He set up a studio with a tent in one room of the museum, with an idea to live right there during the time of the exhibition and its preparation. Unfortunately, for security reasons, the idea had to be abandoned – even though he did have just a little nap on every Tuesday.
On the other occasion, in 2011, for the 10th edition of the White Nights, Boisrond painted in front of the visitors, while his other pieces were scattered on the ground and in the back were reproduced fragments from a 1982 movie, Passion by Jean-Luc Godard.
The first major retrospective of François Boisrond's work was held at the The Abbey Museum of Sainte-Croix in 2012.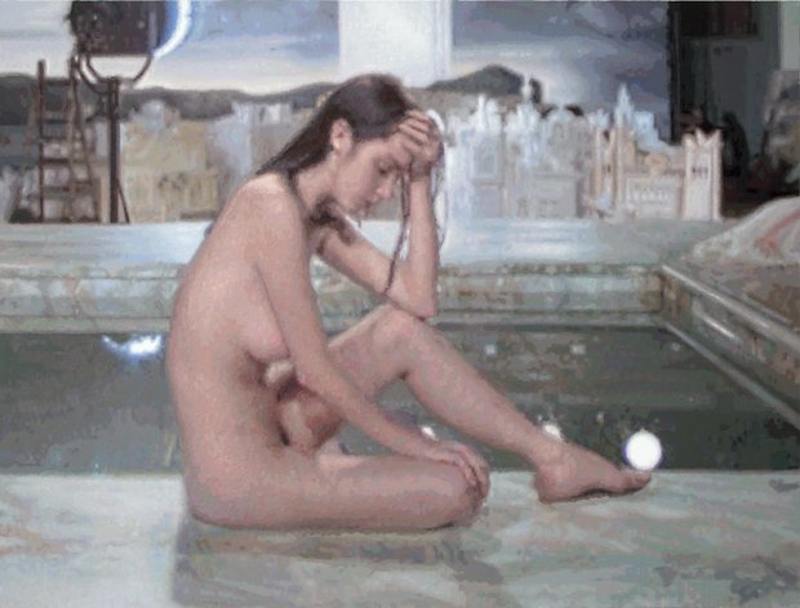 François Boisrond's Fresh Approach to the Art
If we had to describe this artist in one word only, without the doubt - the word would be: freshness. He owns the courage to paint what everyone can see but no one wants to watch. There is nothing so ugly not to be represented: car, washing machine, dryer… François made a long way, from his early experience with a cardboard and a newsprint, up to the use of synthetic materials and industrial colors. However, the white canvas remains her favorite medium so he keeps creating and enriching his own personal mythology with his self-portraits and a portraits of his close friends or everyday objects.
This artist is represented by Galerie Brugier-Rigai from Paris.
François Boisrond lives and works in Paris, France.
Featured image copyright © Michel Lunardelli
Other images copyright © the artist