Francois Coorens is a Belgian contemporary artist born in 1971, whose large-format Neo-Pop paintings portray a world filled with television, cinema and tabloids references.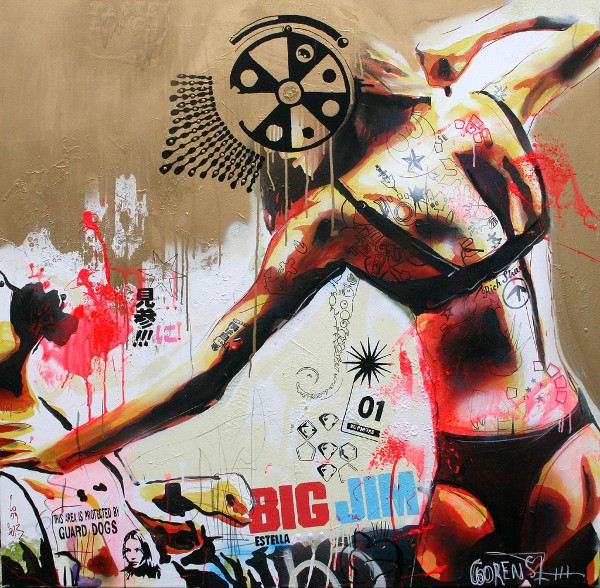 Beginnings: The Goldomania (Grendizermania) Project
Born in 1971 in Belgium, Francois Coorens was, as a boy, fascinated by Grendizer, a superhero from Japanese anime and manga series. He used to draw tons and tons of images about his childhood hero, and in that way he developed his pictorial technique. Later, Francois Coorens decided to become a graphic designer. After graduation, his interest in art was noticeable while working for a commercial and advertising companies. In 1999, Coorens' painting career takes off with his Goldomania collection, designed around the theme of his childhood superhero – Grendizer.
The Goldomania project emerged from an artist's idea for a celebration of the New Millenium. To mark the occasion, Francois Coorens started painting ferociously, creating a canvas a day during the last hundred days of 1999. In the artist's own words, one Picasso's quote gave Coorens a big boost to launch his artistic career:
"Inspired by Picasso, I was using a diary as a logbook, the quote of the day on the 31st of December was - If there was only one truth, then painting a hundred canvases around one theme would not be possible – Picasso".
Style and Technique: Coorens' Pop World
Francois Coorens' images are a mixture of words, shapes and colors, applied by scraper, brush, pen, sheet, sponge or even fingers. Influenced by punk and rock 'n' roll way of life, his paintings create a stirred world of celebrity personas, bodies, color and various typography of words and quotes, where each layer overlaps another. As a whole, this controlled chaotic universe comes together surprisingly well, creating a unique atmosphere of each painting. The use of acrylic paint and other materials create a deconstructed piece done with a pictorial technique which reflects Francois' total control of his art.
Coorens' figurative and multi-layered style of painting developed from a lucky accident, in his own words "one day I accidently upturned an expensive paint pot on a piece of work while painting, to save some of it I started scraping the canvas. What came out of it amazed me and the result actually pleased me. My style was there".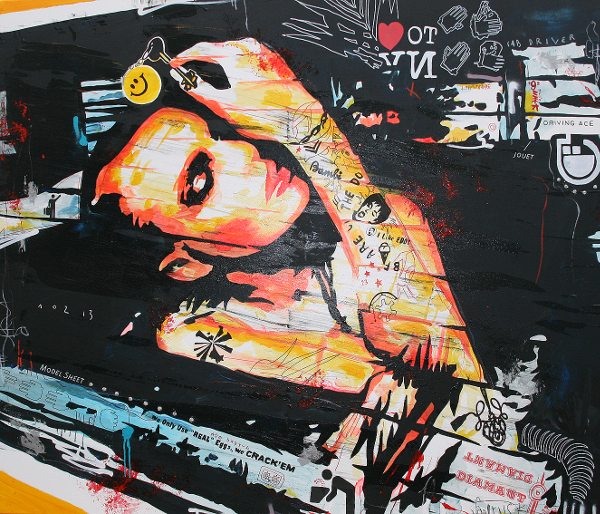 The typography of a painting is written in different styles and languages. It appears written in French, English, Cyrillic and Japanese, or sometimes in symbolic language and mirror-writing. Using these various writing styles, Coorens creates symbolic puzzles that are not always decipherable or readable. Compared to the typography and contrary to it, Francois' main subjects and characters are easily recognizable. His fun, pop and upbeat images tell stories about a society driven by desires, a society worshipping its mass media childhood heroes.
A London Wedding and Vegetal Coriace Series
After Goldomania series, Francois Coorens continued with a same pace, creating many different-themed series of works. Some of the series are Les pirates de Luxe - Luxury pirates, Les Pucelles de Bruxelles - Virgins from Brussels, Oscar Goldman, and Supervixen. His most recent series, titled A London Wedding and Vegetal Coriace, display an array of characters, from Gisele Bündchen, Kate Moss and Cara Delevingne, to Daft Punk.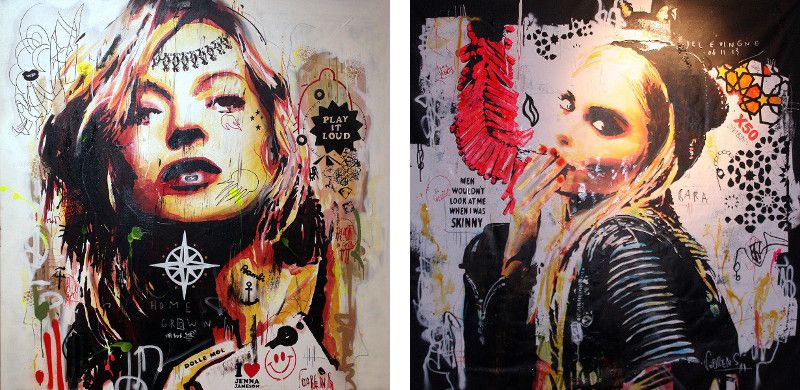 Francois Coorens' work has been exhibited throughout Europe. Most of his artworks are in private collections, hanging in European celebrities' living rooms, from Brussels to Beyruth, from Cologne to Ibiza and Corsica. The artist is represented by the 30works Gallery, based in Cologne.
Francois Coorens lives and works in Ixelles, Belgium.