Born in Berlin, Frank Auerbach is a British painter widely known as a genius of painting art and one of the most influential painters today. Auerbach is best known for his figurative pieces through which he was able to establish himself as a seasoned creative. Interestingly, primary two subjects of his work are his wife Julia (full name Juliet Yardley Mills) who's referenced in the paintings under her initials, J.Y.M. and his friend and lover Estella Olive West, whose initials he also used (E.O.W.). Also known for leading a modest life, this modesty Auerbach transferred on his creations through scenery found near his studio in Camden, London. Nevertheless, his work is rich in imagination and depth which overflows the entire canvas in each of Auerbach's canvases.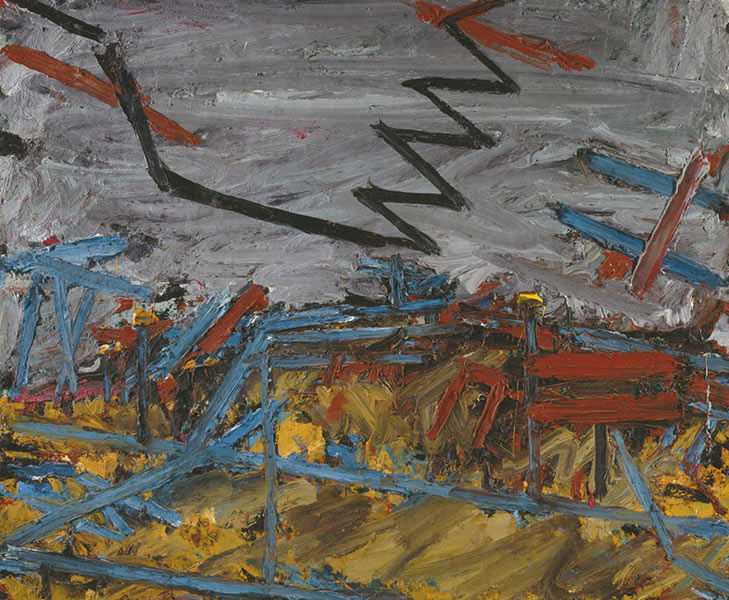 Early Art of Frank Auerbach
When Frank was 7 years old his parents sent him to England in order to escape Nazi regime in 1939. There he got his education through the Kindertransport Programme, a school organized specially for war refugees. Already at young age, Auerbach showed a huge talent for art, which was discovered by the writer Iris Origo. Origo enabled Auerbach to study at St. Marin's School of Art and later at the Royal College of Art. Besides having impressing talents in expressionistic painting, Frank also had a gift for acting. At the age of 17, he got his first part in Peter Ustinov's House of Regrets where another event vital for Auerbach's painting career happened. It was here that he met Estella Olive West (E.O.W.) who at that time was 32 years old. Stella was an amateur actress and a widow who had a boarding house in Earls Court. Soon she became his lover and muse which would last for the next 23 years, long after Auerbach would marry his second muse, Julia.[1] It was Stella who helped Frank to find his unique style of creating and reworking drawings. The main aspect of this style was thoroughness because of which he would spend countless days and nights finishing a single painting. This perfectionism reflected on Auerbach's and Stella's relationship which in return reflected on his artistic approach. Interestingly, the only thing he spent more on his paintings than his time, was the massive quantity of paint. Some of his work had so much paint layers, it was impossible to hang the artworks, thus they had to be displayed flat at many of his prominent exhibitions. Because of this, many critics wouldn't approve his art and called it grotesque, obtrusive and self-indulgent. Similar aspect can be found in his drawings. He would insert multiple layers and erase to the point of going through several sheets of paper in an obsessive-compulsive manner. One of the drawings where this thickness can easily be seen is Head of Julia from 1960.
Auerbach would insert multiple layers and erase to the point of going through several sheets of paper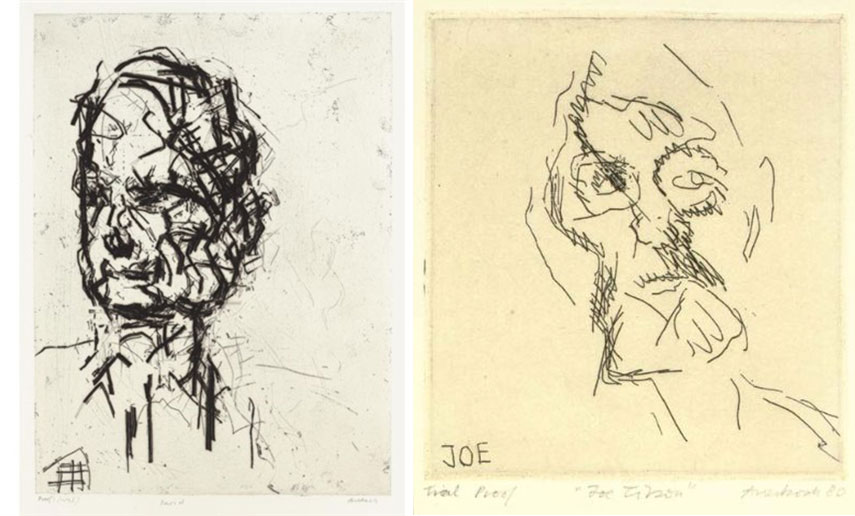 Abstract and Figurative Paintings
The dominance of monotone, pale colors in his early work is mostly due to lack of finance. Some years after Auerbach got an annuity of 1,500 pounds from the Beaux Arts which enabled to use a broader set of colors. Although often described as an expressionist, his pieces go far beyond the point of expressionism. Unlike many expressionist artists, Frank didn't focus on connecting the visual with the spiritual, it can be discussed he did quite the opposite. It was largely due to this fact that Auerbach created a strong connection with his subjects. Although his primary goal was to resolve the life experience from his art, Auerbach found inspiration exactly in these elements. As he mentioned in an interview: If you pass something every day and it has a little character, it begins to intrigue you.[2] In other words, this quote is a testament to Auerbach and his passion. Anything, no matter the dose of intrigue, was enough to inspire Auerbach to paint. This highly emotional connection Auerbach cherished was the main reason for his often dissatisfaction with his work, which resulted in scraping and starting all over again. Thus, the number of layers which can be found in his art isn't for the sake of art, but for the sake of the painter. This is also the reason for Auerbach having a small number of human subjects. The dissatisfaction made him turn back every time in order to try again. This can even be applied to his landscapes and the reason why he stayed at the same place for more than half a century. Besides taking the influence directly from experiencing people and the surrounding, his creativity is also under the new influence of acting and drama. There is yet another interesting phenomenon to his work. Although his paintings can be described as abstract and figurative, Frank was very much under the influence of famous classical artists such as Rembrandt, Titian, and Rubens. He even created his own versions of Bacchus and Ariadne by Titian and Samson and Delilah by Rubens. Frank's art has its foundation in deep realism, no matter of the medium he used.
Frank got a great annuity of 1,500 pounds from the Beaux Arts which enabled him to use more colors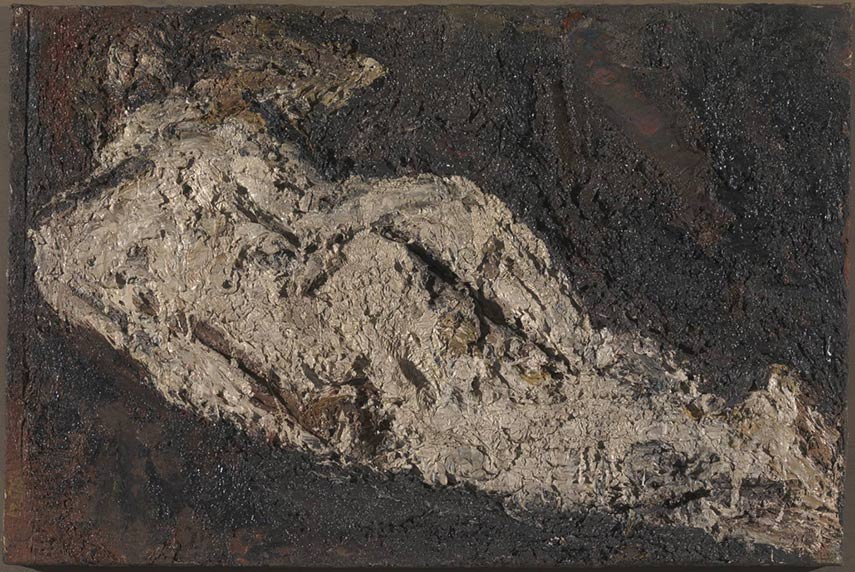 Printmaking - Expanding the Creativity
Besides being a prolific visual creator, Frank Auerbach also showed great talent for printmaking. Auerbach started printmaking while attending the Royal College of Art and he would often redraw figures on pieces of zinc alloy by creating scratches and injecting ink into them. After finishing this step, Auerbach would finish the printing process by laying and pressing a sheet of dampened paper over the alloy. Most of the prints have spoon marks on them, the tool he would use to apply the pressure. For Auerbach, the main motivation behind printmaking was the possibility of reconstructing and reformulating an existing work. By moving it from one medium to another, the artist was able to express himself through an existing piece of art. The rules Auerbach used in painting were applied in printmaking as well. Hard, continuous efforts until the final product was next to perfect. In his lifetime, Auerbach has made only two landscape prints and unlike all of his other landscapes, they don't involve his home surrounding. Instead, these two prints were made during his trips to a house in Tretire Herefordshire. The lines seen on the screen are of the same scale as the plate. This created a strong feeling of layers in his prints as the quality was pretty much the same. When creating landscapes from his window at his home and studio in Camden, London, the British artist used any means necessary in order to get a satisfying image. He often set food for the local chickens at specific places, just so he could have them in the perfect position for his work.[3]
Auerbach started printmaking while attending the Royal College of Art in London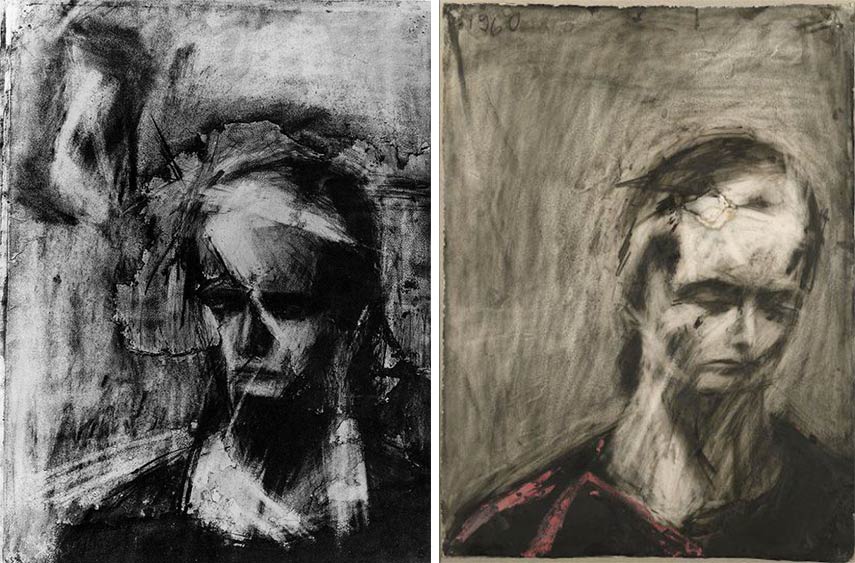 Portraits of Stella and Julia
Besides Stella and Julia, Frank Auerbach also did portraits of many of his friends and artists, for instance Lucian Freud. In fact, his first double plate etching titled Six Etchings of Heads included these people. Here, the artist used a dart to draw as he grew accustomed to using anything that had a sharp end in his work, another element that proves the modesty he practiced. Later, he took a 10-year rest from etchings until he published Seven Portraits which also were of Auerbach's acquaintances, but this time he used a screwdriver instead of a dart. It's interesting to notice how the tool of choice affected his work. While the one where he used a dart had thinner lines, the one where he used a screwdriver vary in width.From 1994 to 2001, Frank mostly did prints of his wife Julia, which are now exhibited at the permanent collection of Rijksmuseum and Tate Gallery in London. The emotion he shared with her, Auerbach expressed in his art. Besides Julia, at the time he had another new subject, Ruth Bromberg. With Ruth, the artist further expanded his creativity, mainly in terms of something that could only be called zooming out on the subject. Besides the head, he also portrayed her figure and he started using a new wider array of linings through aquatint for the very first time. This enabled the artist to deepen the already achieved mastery. He started doing harsher linings while simultaneously keeping the elegance.
Besides Stella and Julia, the painter also did portraits of many of his friends and artists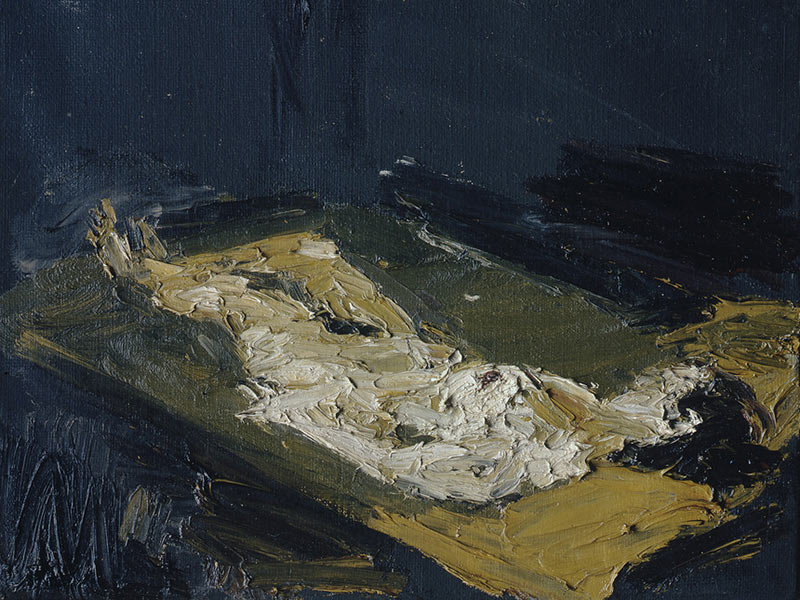 Important Postwar Painter
Frank Auerbach is one of the most important postwar painters. Not just because of his legacy, but because of the huge contribution he made in the form of artistic innovation. The deliberate restrictions Auerbach practiced, forced him to be creative even with the smallest of things. Not to be mistaken, these restrictions don't apply to the quantity of material, but to the approach, Auerbach has been using through all these years. The talent created a painter, and the passionate restriction created an artist. Frank Auerbach declined knighthood in 2003 and currently is one of the most internationally collected living artists. Yet, due to his privacy concerns, he is not overly active in terms of his social life. After a focused retrospective exhibition at the Hayward Gallery in December 1978, Auerbach was chosen to represent Britain at the Venice Biennale where he won the Golden Lion for his collection, an award he shared with Sigmar Polke. In November of 2001, BBC 2 broadcasted Frank Auerbach: To the Studio, a film by Hannah Rothschild.
The artist is represented by Marlborough Gallery.
Frank Auerbach lives and works in London, England.
References:
Hughes, R., Frank Auerbach, Thames & Hudson, 1992
Lampert, C., Frank Auerbach: Drawings 1954-2001, Royal Academy of Arts, 2001
Wright, B., Frank Auerbach: The London Building Sites 1952–62, Paul Holberton Publishing, 2009
Featured image: Frank Auerbach's Portrait - image via ordovasart.com
All other images via tate.org