One of the most iconic figures that emerged from the post-World War II American art, Frank Stella is a painter and a printmaker whose influential work is considered to be crucial to the generations of artists that moved beyond Abstract Expressionism. Abandoning the concepts of this relatively loose movement, Stella set his creative course down the path of Minimalism, playing a major role in writing out one of the most important late 20th century chapters in 20th century art. Frank went through many phases and stages during his career[1], from his banishments of symbols to his image reductions to his strict geometric forms. However, all Stella did can be linked to his famous and playful saying that can easily describe every single piece of art Frank ever created: What you see is what you see. This is often considered to be the unofficial credo firmly standing behind the conceptual basis of all the varied Stella's art-making practices.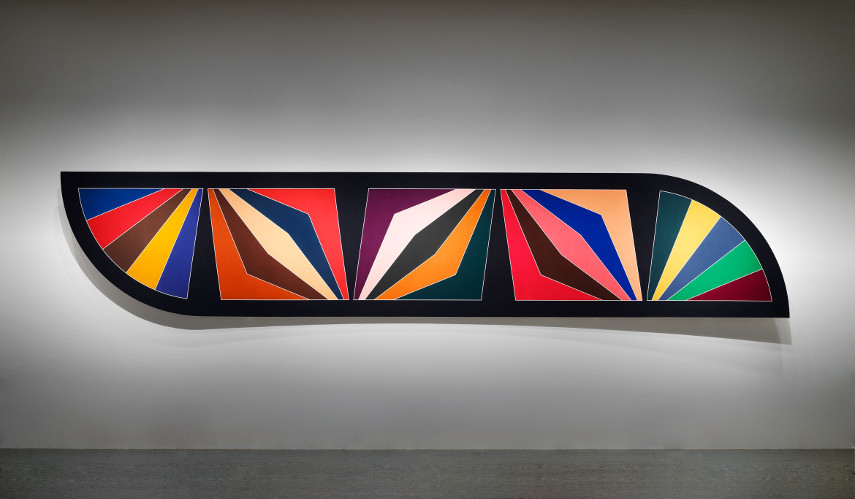 Early Life and Education
Frank Stella was born during the year of 1936 in Malden, a city in Middlesex County, Massachusetts, United States. His family was of Italian descent. Although Frank's father was a gynecologist and had no particular affection towards creativity, Stella's mother was an artistically inclined housewife who attended fashion school and later took up landscape painting. Her influence will prove to be of great use for the young author during the times he was forming his own visual vocabulary. Whilst still attending classes at the Phillips Academy in Andover, Frank learned about abstract modernists Josef Albers and Hans Hofmann. This experience inspired him to pursue an artistic career and, with that goal in mind, Stella enrolled with the Princeton University where he majored in history and met the likes of Darby Bannard and Michael Fried[2]. The young artist started visiting New York on a regular basis, frequently touring through local galleries that truly fostered his initial artistic development. After he graduated and received his diploma, Frank moved completely to The Big Apple in the year of 1958. Three years later, he married Barbara Rose, a woman that will later become a well-respected art critic.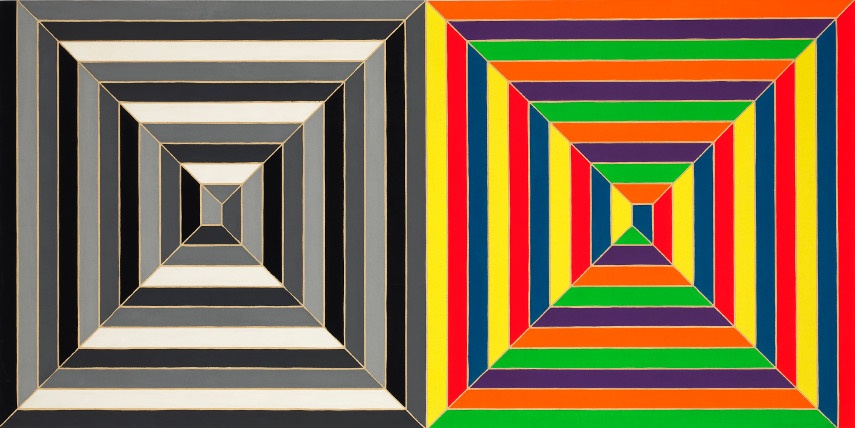 Frank Stella and His Contemporary Scene
Early on, Frank Stella's visual vocabulary was heavily shaped by the influences of the abstract expressionism of Jackson Pollock and Franz Kline[3]. Right from the very start, he reacted against the popular expressive use of paint by most artists of the abstract expressionist movement, instead claiming that opting for flatter surfaces normally found in the arsenal of Barnett Newman or Jasper Johns. Furthermore, he insisted that the painting is nothing more than a flat surface with some paint on it, completely avoiding any symbolic qualities that some believed are the essential core of the painterly compositions. Such an approach led Stella down a very minimalistic path, as evidenced by his Black Paintings series. In these, regular bands of black paint were separated by very thin pinstripes of unpainted canvas, as the case is with the Die Fahne Hoch! (1959) piece. Besides being the perfect indicator of the author's style, this painting is also believed to be linked to the famous American flags project of Jasper Jones. Emotional coolness was what separated him from the majority of his contemporary colleagues and is the exact reason why he was so well received by the public. It should also be noted that Stella's art was recognized for its innovations before the author turned the age of twenty-five, meaning that Frank was forced to withstand heavy expectations and pressures when he was still a very young man.
From the very start of his career, Frank Stella was unafraid to explore and speak his mind against what he saw to be issues in the contemporary art scene of the United States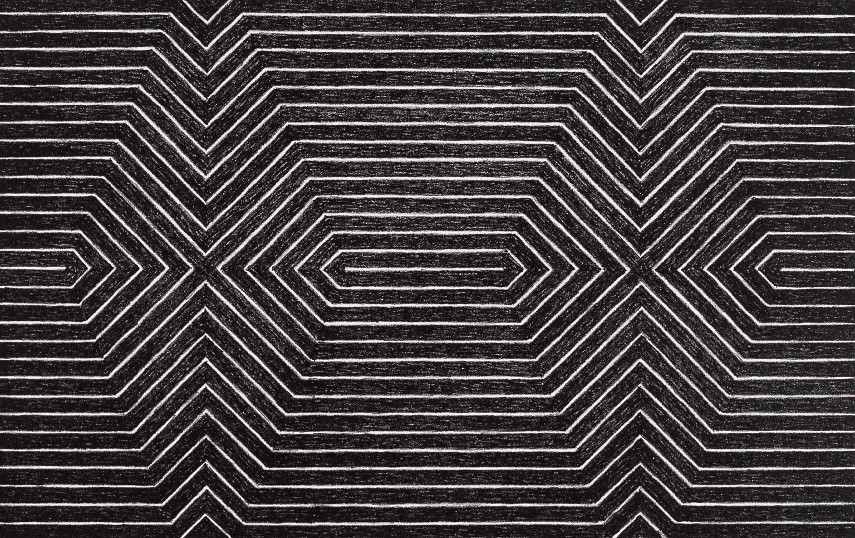 Mature Works and New Mediums
Starting with the year of 1960, Stella began to produce paintings in aluminum and copper paint, introducing a variety of new and refreshing factors to his work. However, these pieces all followed the conceptual lead of his earlier works, although they did use a lot more colors than their predecessors. These paintings were also the first ones for which the artist used shaped canvases that avoided the traditional rectangle and square forms. These surfaces were oftentimes in the shape of letters, usually the L, N, U or T-shapes. As he matured, Frank turned these into much more elaborate designs, as exampled by the 1967's series titled simply as The Polygon. Stella began his extended engagement with printmaking in the mid-1960s as well. He utilized a wide range of printmaking techniques, including lithography, screenprinting, etching and the offset lithography[4]. In 1970, The Museum of Modern Art in New York presented a retrospective of Stella's work and he became the youngest author to receive this kind of recognition. During the following decade, Stella also introduced elements of relief into his art - these he came to call maximalist paintings for their unique sculptural qualities and visuals. The 1990s and the 2000s were marked by the continuation of experimentation as Frank never ceased to test the boundaries of materials, three-dimensionality and forms. Stella also began making freestanding sculptures for public spaces and even developing architectural projects[5] from time to time.
Frank Stella dedicated his career to experimenting with forms, concepts, colors, materials and surfaces, combining them with various fields of art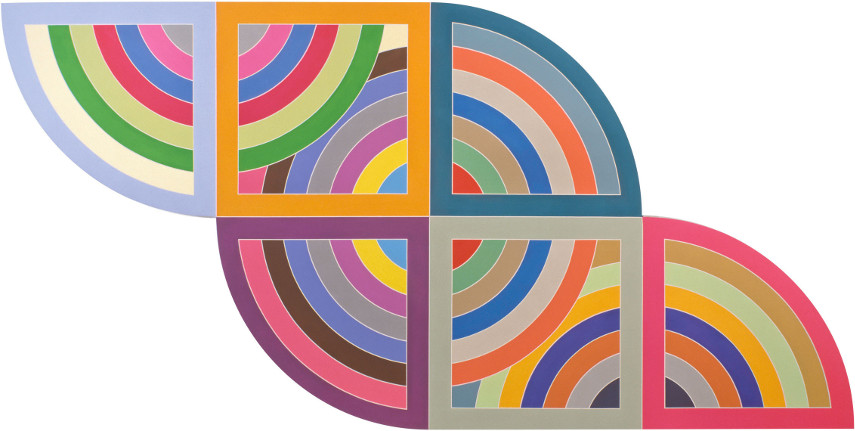 Emphasizing the Materiality
What Frank Stella ultimately managed to achieve, what makes him so invaluable to all of art, is the fact he was able to make paintings in which pictorial force came not from symbolic meanings but from the very materiality of the piece. Such a contribution to the neo avant-garde currents of the 20th-century makes this author arguably one of the most important living American authors[6]. Stella has a specific relationship with all the pieces he made and dedicated much of his efforts to explain this correlation. Without wanting to give our interpretation, we prefer to quote Stella himself and allow the artist to both have the last say in this article and explain in his own words his own art: "No art is any good unless you can feel how it's put together. By and large it's the eye, the hand and if it's any good, you feel the body. Most of the best stuff seems to be a complete gesture, the totality of the artist's body; you can really lean on it."
This artist is represented by Galerie Thalberg Zurich, Freedman Art New York, Gregg Shienbaum Fine Art Miami, Woodward Gallery New York, Puccio Fine Art and The Jane Kahan Gallery New York.
Frank Stella lives and works in New York, United States.
References:
Auping, M., Frank Stella: A Retrospective, Yale University Press; Slp edition, 2015
Rubin, W., Stella, F., Frank Stella, The Museum of Modern Art, New York; Reprint edition, 2002
Pearson, J., Frank Stella: American Abstract Artist, Crescent Moon Publishing; 4th edition, 2013
Axsom, R., Frank Stella: Prints, Jordan Schnitzer Family Foundation, 2016
Goldberger, P., Frank Stella: Painting into Architecture, Metropolitan Museum of Art, 2007
Rubin, W. S., Frank Stella, Museum of Modern Art; 1st edition, 1970
Featured image: Featured image: Frank Stella - Imola Three IV (Circuit Series), 1984 (detail). Relief-printed etching and woodcut in colors on Tyler Graphics Ltd. handmade paper. 65 x 52 in. 165.1 x 132.1 cm. This is a unique work. Photo courtesy Berry Campbell Gallery
All images used for illustrative purposes only.