Starting from the realistic style based on the academic training and admiration of the Old Masters, Franz Kline made a turning point in his career by moving to New York, where he met Willem de Kooning who influenced the change of his artistic approach towards abstraction. Inspired by urban surroundings of the big city, a landscape of his home in rural Pennsylvania, and Japanese calligraphy, the artist transfused these motifs into the recognizable large black-and-white paintings which helped establishment of Gestural Abstraction as an important segment within Abstract Expressionism. Striving to achieve a physical engagement with the viewer, Kline's powerful forms and their impressions of agility and promptness tended toward creating an experience of structure and almost palpable presence. Along with other action painters like de Kooning, Jackson Pollock, Robert Motherwell, and Lee Krasner, he was a prominent member of the New York School group of artists. Decisively rejecting the idea of hidden meanings of the artworks, his principles influenced a later generation of Minimalist sculptors as Donald Judd and Richard Sera.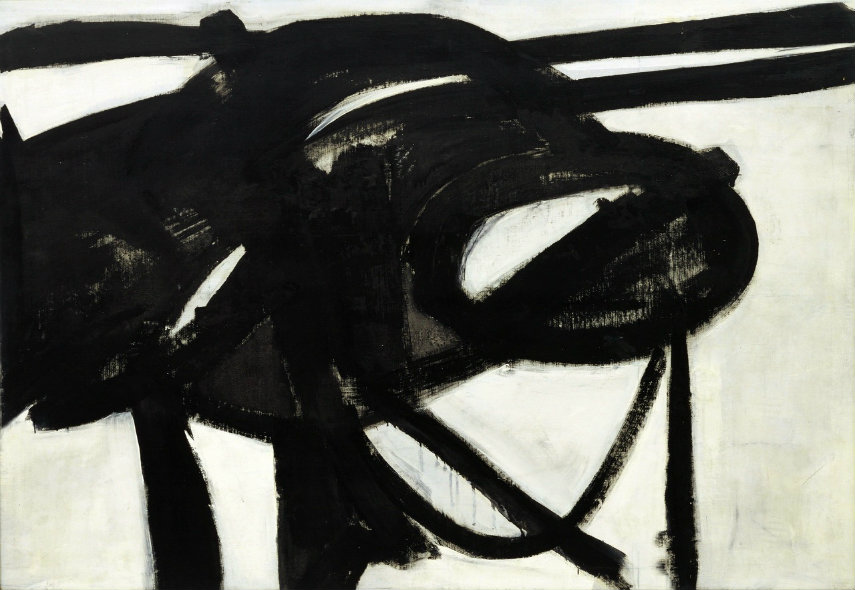 From Figural to Untitled Abstractions
Kline was born in 1910, in Wilkes-Barre, Pennsylvania, the small mining town, a not much supportive climate for the future artist. His father committed suicide when he was seven years old and his mother remarried and sent her son to Girard College, a school for fatherless boys, which the small Kline considered for the orphanage. Determined to create a better future for himself, he worked as a cartoonist for a school paper and managed to enroll the Boston University's School of Art where he had a chance to see city's private and public collections. After the brief studies at Art Students League in New York, he spent a year in England at Heatherly's School of Art in London. There he met ballet dancer, Elizabeth V. Parsons who became his wife. They returned to the United States in 1938. At the beginning, Kline worked as a designer for a department store in New York State and after the moving to New York City, the painter had to accept different jobs like painting the murals in bars and making illustrations for the newspapers. His style still relied on the Old Masters, such as Rembrandt, until 1943 when he met Willem de Kooning who brought him in the Cedar Bar introduced with Jackson Pollock and Philip Guston. Under their influence, Kline began to move away from the figuration, exploring the new abstract gestural technique on the large scale paintings.
Already using black-and-white palette in a series of ink on paper sketches, Kline now expanded the method employed the canvas and house-painting brushes that enabled him to create broad strokes of dark color intersecting the white background. It is believed that de Kooning also impacted him to scale up the work, encouraging him to explore the paintings using an enlarger – Bell-Opticon projector to project a sketch onto the wall of his studio. "A four by the five-inch black drawing of a rocking chair...loomed in gigantic black strokes which eradicated any image, the strokes expanding as entities in themselves, unrelated to any entity but that of their own existence." – the painter explained his observations. Exactly these pieces were the part of Kline's first solo show at Charles Egan Gallery in New York in 1950, an event that established his reputation of recognized abstract painter. Eleven canvases displayed different compositions and moods, but reflected unity in an essential element, marking his signature style of black on white. Although the critics related his paintings to the Japanese calligraphy, Kline denied it, asserting that his inspiration came only from unconscious sources. Asked to explain the meaning of his art, Kline claimed that his aim was not to impose the suggestions, but to let the viewer feel the painting at its sole discretion. Unlike his contemporaries, such as Mark Rothko and Barnett Newman whose art expressed an urge to transcendence, Kline was focused on pure abstract forms and gesture itself, deprived of any symbolic character or "painting experience". During the second half of the 1950's, he decided to enrich his black-and-white palette, starting experiments with color and more complex chiaroscuro, emphasizing the sense of space.
Kline was an Abstract Expressionist whose work was deprived of any symbolic character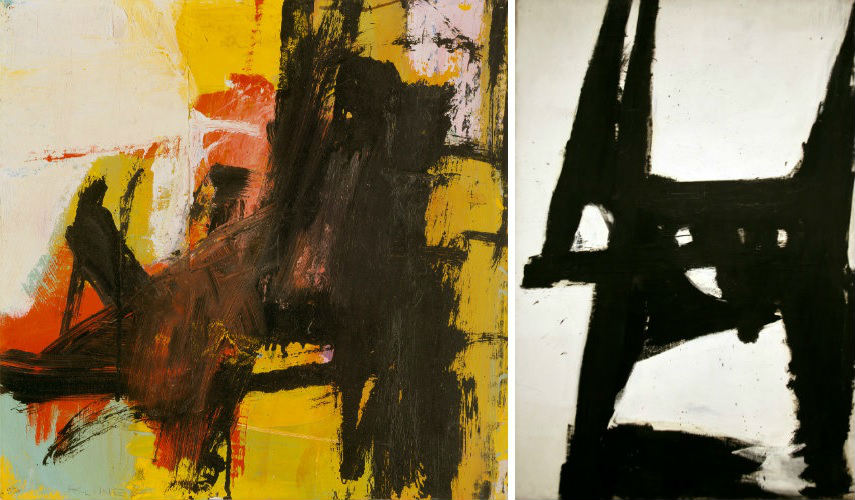 Featured Artworks: From Chief to Meryon
Among the pieces shown at his first solo exhibition in 1950 was the canvas entitled Chief that indubitably referred his childhood, maybe the locomotive with the same name, her power, sound and steaming engine he remembered, or, as some also believed, that the artists fascination with dark color was the result of his growing up in the mining community. It is also important to mention that his early abstractions had the resemblance with Kline's drawings of his wife Elizabeth. He made numerous sketches of her sitting in a rocking chair in the years when her mental illness progressed. The circular forms in Chief could be compared with her face in the drawings.
Painting No. 7 (1952) is one of the finest examples of his black-and-white pictures. Never experimenting with figurative elements in his mature work, the strict geometry of broad dark brushstrokes determined this composition, maybe referring his admiration of iconic squares by Kazimir Malevich.
Exploring the angular compositions, the artist created Four Square (1956) which also represents one of the finest realizations of his gestural approach to painting. Through its rigid composition, the viewer had the myriad ways to comprehend the image, seeing as either a close-up of linguistic symbol or maybe a set of open windows. Unlike the other Abstract Expressionists who preferred two-dimensional treatment, Kline strived toward three-dimensional visual effect and impression of depth using the dynamic juxtapositions of vertical and horizontal strokes, overlapped with diagonal lines.
An early attempt at recovery of color in his work is seen in Black Reflection (1956) and referred to contemporary paintings of de Kooning and Hans Hofmann. Focusing on the dark shape that he previously announced in the Untitled composition from 1954, Kline confirmed his devotion to pictorial forms.
The example of his late work characterized by wider palette, Probst I (1960) represents a review of artist Jack Probst, who was his neighbor at Greenwich Village. At first glance, it seems like any other black-and-white painting but more carefully observed, there are traces of yellow and pale salmon that adorn severity of dark shapes, giving the sense of warmth.
With a strong architectonic impression of its composition, Meryon (1960) could be distinctive representation of a clock tower by the nineteenth-century French artist Charles Meryon. Typical for Kline, the artist painted his own vision of this object, conceived through numerous preliminary studies and sketches.
Each painting was carefully prepared through numerous drawings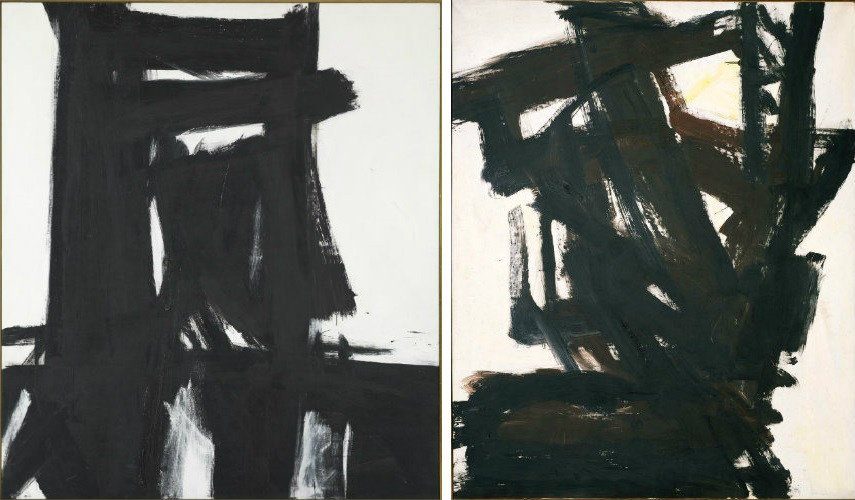 Legacy of Franz Kline
These experiments with color use remained unfinished, interrupted by his sudden death caused by heart failure at the age of only fifty-two, on May 13, 1962. By this time, Franz Kline was already considered as a leading Abstract Expressionist with a considerable number of exhibitions behind both in the United States and abroad, including the Venice Biennale in 1960 and American Vanguard in 1961, a show that traveled throughout Europe, organized by the US government as an effort to advance itself as a guardian of free expression during the Cold War. His style was greatly distinguished among his peers Jackson Pollock, Willem de Kooning and others and his label of action painter rested on his spontaneous and intense approach focused on the expression of the brushstrokes and use of canvas instead of imagery or literal content of the painting. His paintings only seemed like they were done in a moment of inspiration, but the truth is that Kline carefully prepared extensive studies for each of his pieces. A bit forgot after his death, Franz Kline got into the limelight during the art market boom in the late 1980's. In 2012, his untitled black-and-white work from 1957 was sold for $36 million, a record price for the artist at auction. His previously sold Crow Dancer (1958) reached the price of "only" $6.4 million. The new generation of Minimalists found their inspiration in his work, especially attracted by the feeling of power transferred through the architectonic forms of his motifs.
Featured image: Franz Kline - Artist portrait - Image via quotationof.com