Things often aren't as simple as they appear. Deeper meaning is sometimes hidden behind the visual aesthetics. Fredster is a French contemporary artist, working mostly in illustration, drawing, and graphic design. His works are overwhelmingly homo-erotic, but only on first sight. In fact, he uses this type of imagery to question gender identities, deconstructing them (male one in particular) and exposing virility and masculinity along the way. And yet, the artist himself doesn't find his work to be sexual or even erotic – they might contain some sexuality, but the pieces are far from being one-dimensional. There is always something else, something dark, tender, poetic. Drawing inspiration from a post-punk and melancholic Cocteau, Fredster questions the relation between creation, fantasy, and obsession, by developing hallucinated graphical orbits, and introducing, here and there, disperse parts of self-portraits.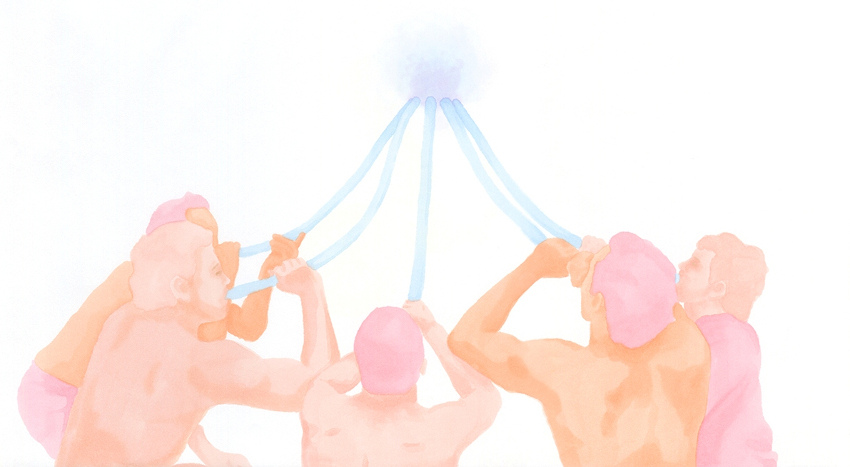 Process
Fredster's drawings originate from homoerotic images found on the internet, which are then transfigured through the use of bright and sharp pastel colors. He is constantly browsing pictures on Internet, spending a lot of time on Tumblr, Facebook, and other similar sites, admitting it's an obsession for him. Prior to that, he always has ideas and themes for series he wants to work on, so when he sees a picture that relates to one those ideas, whether it's a specific position or simply the color palette or a landscape, he collects it. Later, at some point, Fredster will start drawing and mixing these images. Occasionally, the image source isn't the Internet – sometimes, these pictures are taken by the artist himself at queer parties. When he's more advanced in a series, he can ask someone to model for him. While the majority of the works begin Internet-related, some of them are completely autobiographical. Fredster's Disorder is one of those series, depicting a time when his love life was a mess and a shift in his perspective on love. In fact, every single piece contains some autobiographical part, as he often hides self-portraits, objects from his childhood, and other personal references in his drawings.
All works contain some autobiographical experiences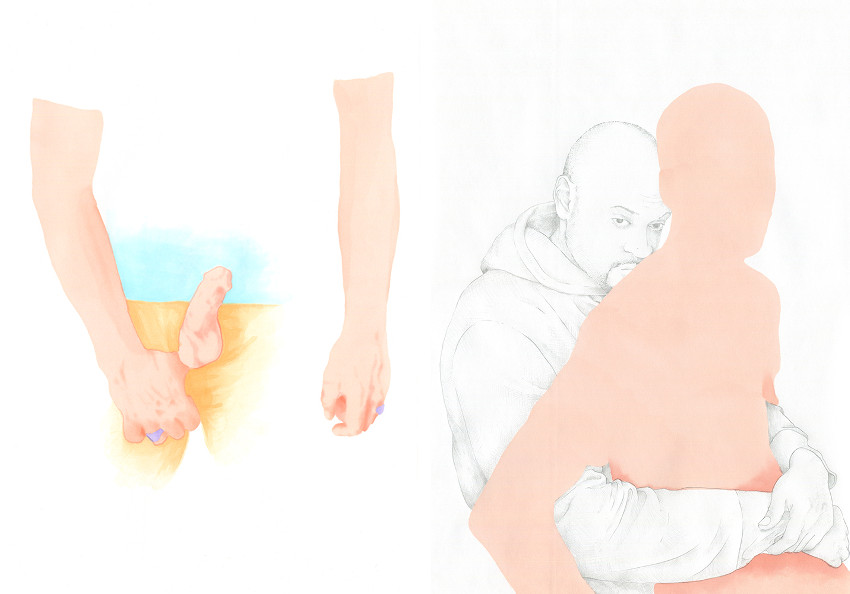 Who is Fredster?
He grew up in a small town in north France and studied Arts in Belgium before moving to Paris. Working full time, his time is split between being an Art director in a communication agency and his personal artistic activities. Previously he would organize queer parties and work as a DJ, but now he prefers to focus on his art projects. Since he was a child, Fredster drew a lot, considering it to be the most natural and easy way to express himself. Frequently thought of as an illustrator, but he doesn't feel as one, being unable illustrate on demand. His work has been exhibited in galleries and art festivals around Germany, France, and Canada. Most recently, he had showed his pieces in exhibitions Queerodrome, at Lieu Unique, in Nantes, and TRAUM, Le cas Y, at Bel Ordinaire, in Pau, in the Pyrenees Region of France. For his first solo show in Italy, Fredster came to Burning Giraffe Gallery in Turin. The exhibition will be on display until September 24, 2016.
He is represented by Burning Giraffe Art Gallery.
Fredster lives and works in Nantes.
Featured image: Fredster - Koinobori
All images courtesy of the artist