Respected as both one of Mexico's prominent artists and the most influential female figure of Surrealism, Frida Kahlo was a remarkably gifted painter whose imagination opened the door to an entire fascinating universe full of emblems and allegories. Although she originally wanted to become a doctor, faith had a much different path in store for her - Frida began painting after she was severely injured in a bus accident. Although it's not easy to pick the strongest trait of Frida's creative arsenal, Kahlo's self-portraits undoubtedly stand as a highlight of her artistic outlet. Out of her 143 paintings, 55 are depictions of herself, often incorporated with the symbolic descriptions of physical and psychological wounds Frida sustained during the course of her life.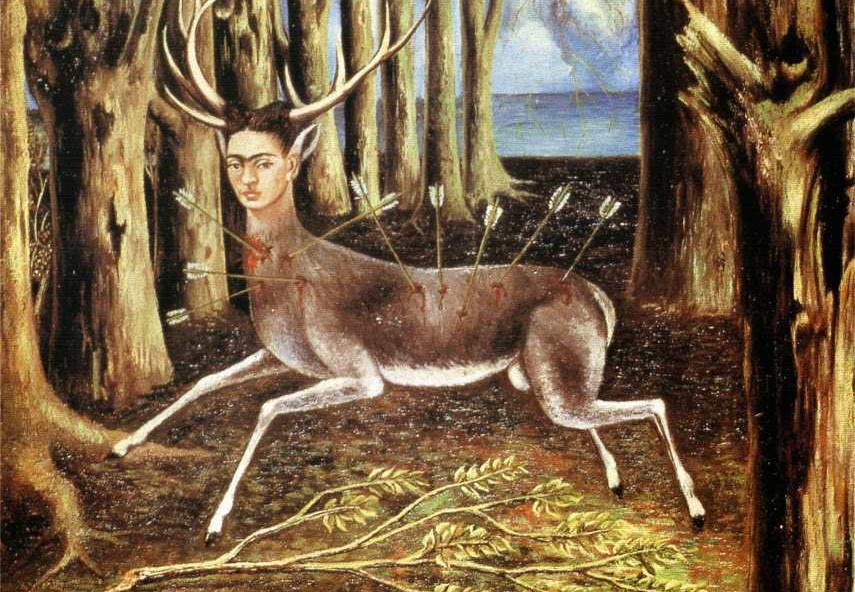 Frida's La Casa Azul
Magdalena Carmen Frida Kahlo y Calderon was born on the 6th of July, 1907, at the nursing wing of her family residency in Coyoacan - a small town on the outskirts of Mexico City. That particular house of Frida's birth will later be known as La Casa Azul, which in Mexican stands for The Blue House. Her father Guillermo Kahlo actually had German blood in him, which subsequently meant Frida had a mixed heritage - Kahlo herself preferred claiming her father was of Jewish and Hungarian ancestry, but later studies undoubtedly proved and stated he was in fact a descendant of a long line of German Lutherans. During his youth, Guillermo was an amateur photographer. Frida's mother was named Matilde Calderon y Gonzalez and was a pious Catholic of primarily indigenous, as well as Spanish origin. Kahlo's parents got engaged and married shortly after the death of Guillermo's first spouse who lost her life during the birth of her second child. Even though their wedlock was quite unhappy, Guillermo and Matilde had four daughters, with Frida being the third one - not only that, but she already had two older half-sisters from Guillermo's aforementioned first matrimony. For those reasons, Frida once remarked that she grew up in a world surrounded by dominating females. Although Guillermo had troubles with communication and stubbornness, he and Frida stayed extremely close throughout most of her life.
When The Mexican Revolution struggle commenced during the year of 1910, Frida was a mere toddler who was anxiously looking forward to her fourth birthday. Later in life, Kahlo often claimed that year of her birth was actually 1910, wishing to put additional attention to her commitment and support of ideas behind the Revolution's reforms. In her writings, she recalled that Matilde would usher her and her sisters inside the basement as gunfire echoed in the streets of her hometown, commemorating the stress and traumas these kinds of events had on both herself and her sisters. Occasionally, soldiers would even spring over the walls into their backyard and her mother would prepare a meal for the hungry revolutionaries. As The Mexican Revolution was approaching its zenith, Frida contracted polio at the age of six - the relentless illness left Kahlo with one leg thinner than the other, a disability that she often tried to hide by wearing long skirts. It also caused her to be bedridden for nine months, as well as generating much psychological suffering. Some experts claimed Frida also suffered from spina bifida, a congenital disease that affected both spinal and leg development of the poor girl. To allow her body the best chances of a healthy recovery, Kahlo participated in boxing and other sports that were meant to provide her with enough physical activities to beat her illnesses.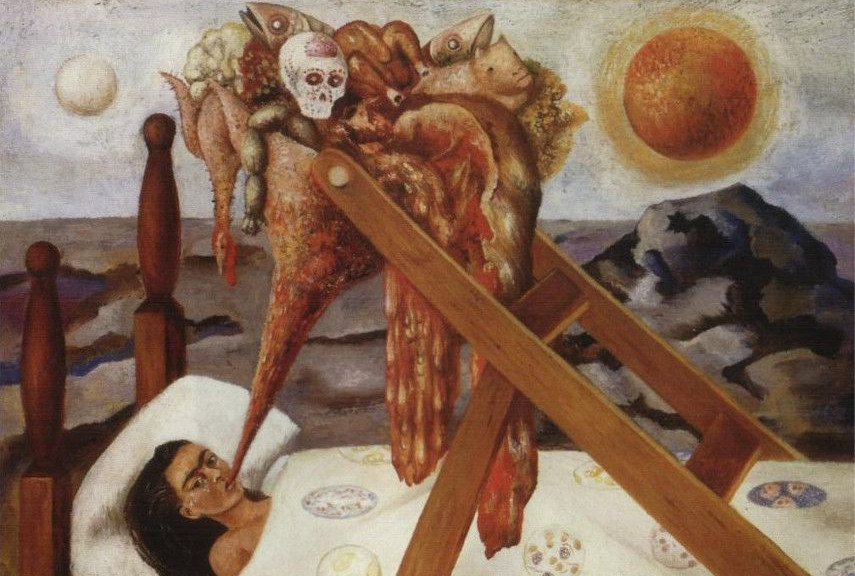 A Terrible Accident
During the year of 1922, Frida started attending classes at the Preparatoria, one of Mexico's premier schools which had a ridiculous boy-girl ratio at the time - Kahlo was but one of only thirty-five girls. As she was growing up, Kahlo joined a rebellious group of politically and intellectually like-minded students and fell in love with the unofficial leader, Alejandro Gomez Arias. During this period, Frida witnessed violent armed conflicts in the streets of Mexico City as the struggles in her home country were not showing any signs of ceasing. On September 17, 1925, Kahlo and Gomez Arias were traveling via bus when the vehicle collided with a streetcar. As a consequence of the collision, Kahlo was impaled by a steel handrail, which went into her hip and came out the other side. She suffered several grave injuries as a result, including fractures in her spine and pelvis. After the collision, Kahlo turned her attention away from the study of medicine to begin a full-time painting career, a vocation she never desired previously. The accident left her in a great deal of pain while she recovered in a full body cast - in order to somehow both occupy and entertain herself, she sketched constantly, often creating scenes in which she was depicted in a state of immobilization. From that day forward, painting self-portraits became a dominant part of her life. Frida spent over three months in a full body cast but that terrible period proved to be a real anchor of her future creative efforts. Frida did not enjoy talking about the time she was bound to the bed, but she once gave a statement that utterly explained the state of mind clouding over her during those days: I paint myself because I am often alone and I am the subject I know best. Much of her forthcoming art will be converging on her self-portraits and self-reflection, a method derived from over one hundred days of lying and not being able to move. Her mother had a special easel made for her so she could paint in bed and her father lent her his box of oil paints and some brushes.
Ever since she started the art segment of her biography, Kahlo concentrated on painting self-portraits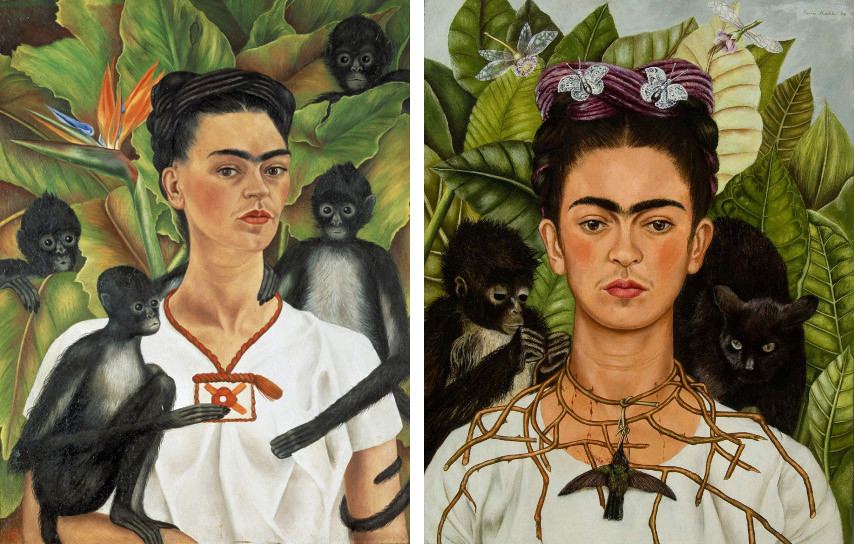 Frida Kahlo and Diego Rivera
When she was still mobile, Frida would regularly sneak up on the famed Mexican muralist Diego Rivera as he was working on projects at Kahlo's school. Frida frequently watched as Rivera created a mural called The Creation in the school's lecture hall and, according to some reports, she told a friend that she would eventually give birth to Rivera's baby. It is believed that much of her creative output that was made during the time she was bound to bed is somehow romanticly connected to Rivera, although the very first self-portrait Frida composed was given to Gomez Arias. After Kahlo recovered, the young painter became more politically active - she accompanied the Young Communist League and the Mexican Communist Party on various happenings. All the while, she never ceased painting. She did recover her movability, but the tragedy's impact heavily affected the physicality of tiny Frida whose height barely went over 5.2 feet (1.6 m). Kahlo reconnected with Rivera in 1928 through blind luck - he encouraged her artwork and the two commenced a relationship that soon intensified as the couple married the next year. As Diego did not stop working as a muralist, the newlyweds were forced to travel quite a bit, following the road wherever the next commission took them to. In 1930, the couple lived in San Francisco, California, where Kahlo showed her painting Frieda and Diego Rivera at the Sixth Annual Exhibition of the San Francisco Society of Women Artists. Afterward, the duo traveled to New York City for Rivera's show at the Museum of Modern Art and later moved to Detroit for Rivera's assignment with the Detroit Institute of Arts. During the year of 1932, Frida's art suddenly took an unexpected turn as additional graphic and surrealistic elements started appearing in her compositions. In one of her pieces from this period, titled simply as Henry Ford Hospital, Kahlo depicted herself as she was laying naked on a hospital bed with several objects hovering around her: a fetus, a snail, a flower and a pelvis, amongst other things. As was the case with her earlier self-portraits, this depiction was profoundly personal, revealing a story of her second miscarriage.
Among her key influences, Frida looked up to Diego Rivera and his work, as well as a couple of European artists such as Duchamp, Picasso and Breton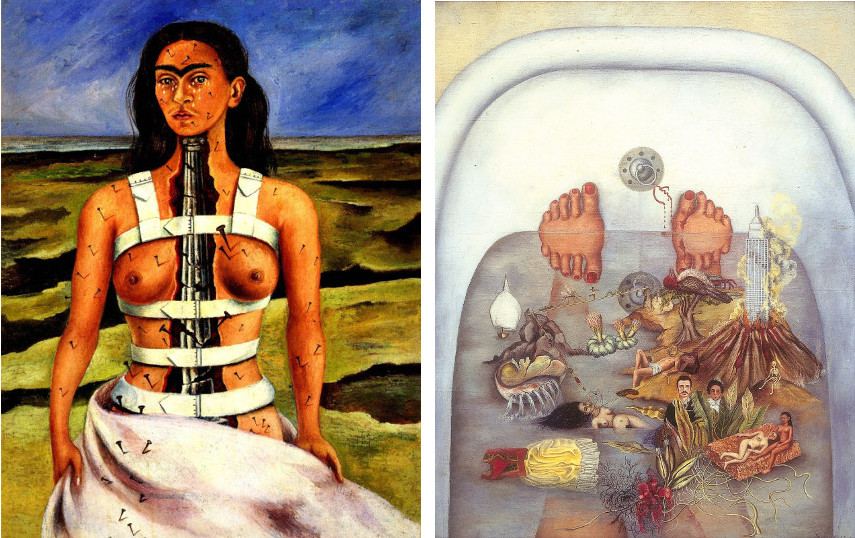 Troubled Marriage and It's Reflection on Frida's Art
Frida and Diego were not a match from heaven, to say the least - Kahlo was intensely disheartened by his numerous infidelities, comprising an affair with her sister Cristina. In a hysterical response to this familial treachery, Kahlo cut off most of her long dark hair that served a trademark to that point. Frida desperately desired to have a child with Rivera, hoping that fulfilling that old promise given to herself would bring a solution to an ever growing predicament she called her marriage. Unfortunately, she again experienced heartbreak when she miscarried in 1934. These occasions certainly had an immense toll on her creative outlet. While she never considered herself a genuine Surrealist, Kahlo befriended one of the primary figures in that artistic and literary movement, Andre Breton, in 1938. That same year, she had a significant exhibition at a New York City gallery, selling about half of the 25 paintings shown there. In 1939, Kahlo went to live in Paris in pursuit of some new inspirational grounds. There she displayed some of her compositions and formed associations with such artists as Marcel Duchamp and Pablo Picasso. Delighted with the outcome of the trip to Paris, Frida divorced Rivera later that year - during this time, she painted one of her most famous works, The Two Fridas. The paintings show two variants of the artist sitting side by side, with both of their hearts revealed. One Frida is dressed nearly all in white and has a damaged heart and spots of blood on her clothing. The other wears bold colored clothing and has an intact heart. Considered to be one of Frida's straightforward compositions, these figures are believed to represent unloved and loved versions of Kahlo. Oddly, Kahlo and Rivera did not stay divorced for long. They remarried in 1940, and yet the couple continued to lead largely separate lives. And both became involved with other people over the years.
Relying on all her symbolic tools, Kahlo created her famous The Two Fridas in order to depict her psychological state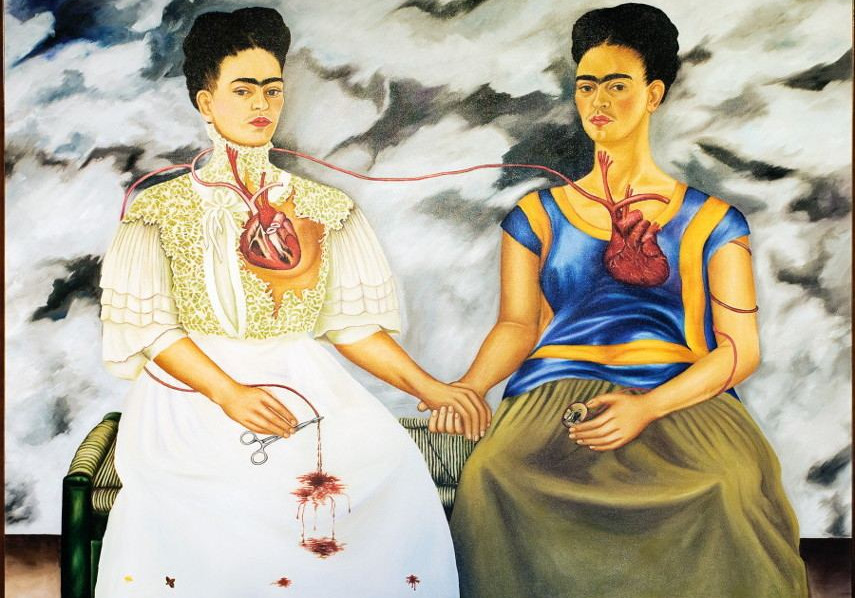 The End of a Tragic Biography
At the height of her career, Kahlo received a commission from the Mexican government for five images of important Mexican women in 1941, but she was incapable of concluding the project. She lost her beloved father that year whilst continuing to suffer from chronic health difficulties. Despite her personal challenges, her work continued to grow. Frida simply proceeded to do what she always did - channeling all her feelings and sorrows through her art, letting all the anger unload at the canvass. In 1944, Kahlo painted The Broken Column, which depicted a nearly nude Frida split down the middle revealing her spine as a shattered decorative column, wearing a surgical brace and her skin is studded with tacks or nails. Again, Kahlo shared her physical challenges through her art. Around this time, she had several surgeries and wore special corsets to try to fix her back. She would continue to seek a variety of treatments for her chronic physical pain with little success. Her health issues became nearly all-consuming in 1950. After being diagnosed with gangrene in her right foot, Kahlo spent nine months in the hospital and had several operations during this time. She continued to paint and support political causes despite having limited mobility. In 1953, Kahlo received her first solo exhibition in Mexico. She may have been bedridden at the time, but she did not miss out on the exhibition's opening. Arriving by ambulance, Kahlo spent the evening talking and celebrating with the event's attendees from the comfort of a four-poster bed set up in the gallery just for her. Kahlo's joy was dampened a few months later when part of her right leg was amputated to stop the spread of gangrene. Deeply depressed, Kahlo was hospitalized again in April 1954 because of poor health, or, as some reports indicated, a suicide attempt. About a week after her 47th birthday, Kahlo died on July 13 at her beloved Blue House. It was reported to be caused by a pulmonary embolism, but there have also been stories about a possible suicide.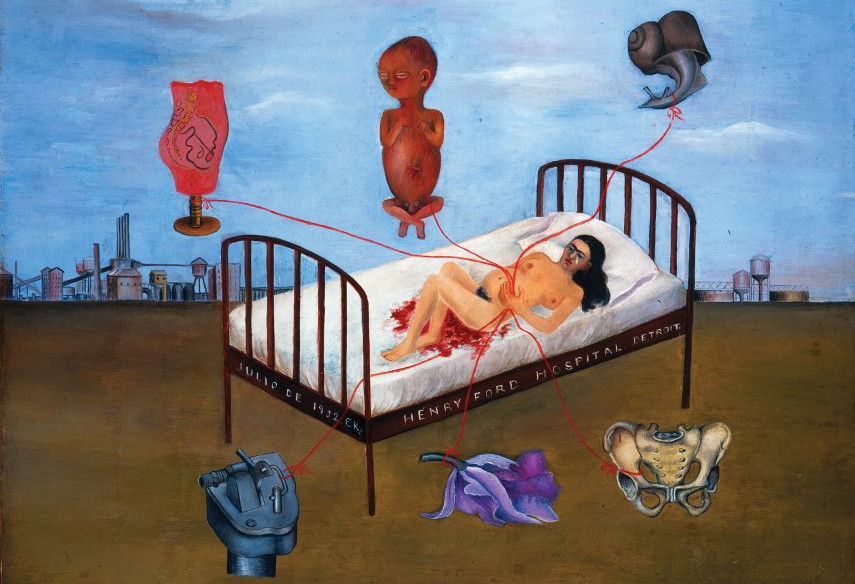 What Frida Left Behind
Since her death, Kahlo's fame as an artist has only grown as she became a true icon of both womanism and Surrealism. The feminist movement of the 1970s led to renewed interest in her life and work, as Kahlo was viewed by many as an icon of female creativity. Ever since the days she was bound to bed, Frida was always painting and drawing on personal experiences - including her marriage, her miscarriages and her numerous operations. These kinds of inspirational sources turned Kahlo's works into uncomfortable and nightmarish sights, often characterized by their stark portrayals of pain. Although that was a key of Surrealism, Frida always insisted that she never painted dreams, only her own reality - in a sense, Kahlo documented one of the most incredible stories of the 21st century.
Featured Image: Frida Kahlo - Photograph of the artist by Toni Frissell, 1937 - Image copyright Toni Frissell
All images via frida-kahlo-foundation.org