There is little in the way of rigorous logic in Friedensreich Hundertwasser's art. He avoided theories, preferring the realm of the senses. There is little in his introspective art of a purely speculative nature. That has irritated and confused many of his more literal-minded critics, who supposed that an art as rational as his must also be logical. Hundertwasser has been a dedicated artist and craftsman for forty years and has earned a place in the front rank of those who craft their artwork well and do not merely offer it up as an illustration of an idea. Representational art was out of fashion for decades and after a generation of minimalist colorist, the lush opulence of Hundertwasser's colors was winning admirers by sheer force of contrast.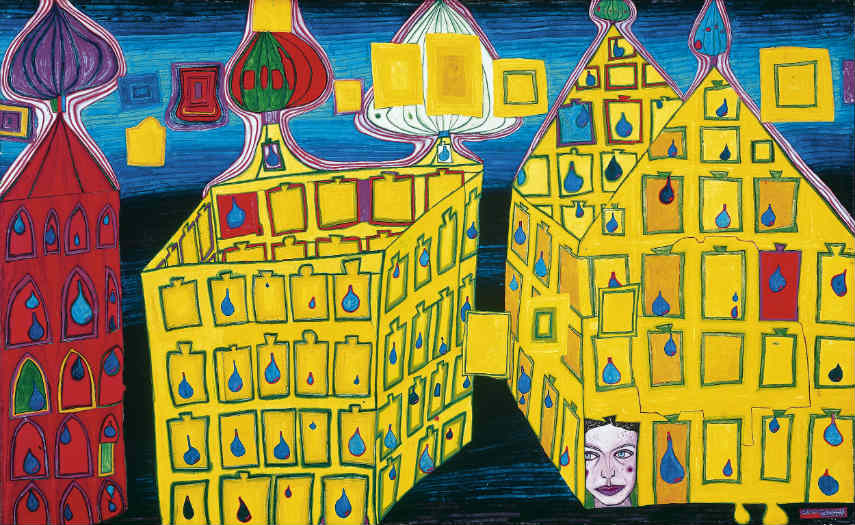 Early Life and First Artistic Steps
Hundertwasser was born on December 15, 1928, in Vienna as Friedrich Stowasser. Soon after his birth his father died. By the time he was five, he was beginning to express himself in art and in 1943, at the age of fifteen he first consciously drew in pencil, though he soon graduated to crayon and began to collect pressed flowers. Untutored, these works have already displayed distinct personality. His first watercolors show the picturesque woods and the palaces of old Vienna. During the Second World War, Hundertwasser and his mother lived in the cellar of their house near the Danube canal, where the family had been obliged to live since forced resettlement in 1938. A couple of months after the war, the young artist worked as a farmer where the vividness of the land convinced him to become a painter. He decided that only art could be the adequate expression of his feelings of nature thereafter his life's principal concern.
He decided that only art could be the adequate expression of his feelings of nature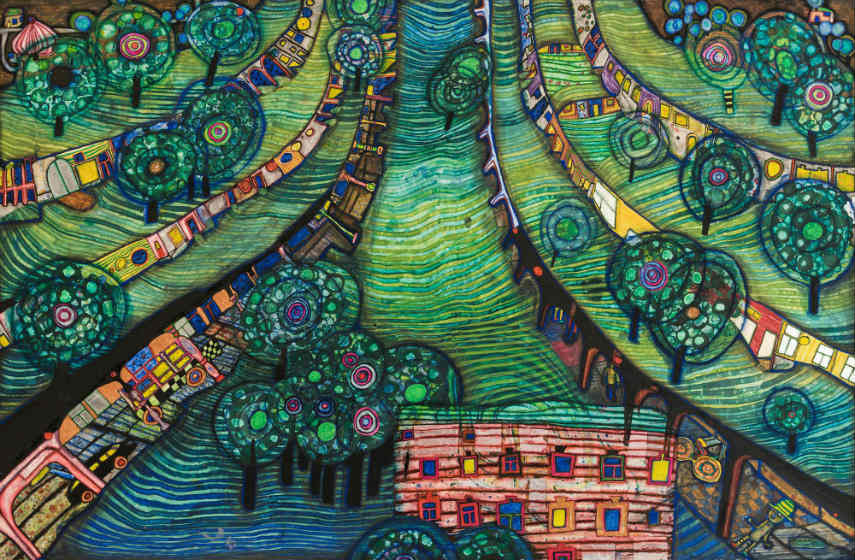 From Friedrich Stowasser to Friedensreich Hundertwasser
In 1948, he entered the Vienna Academy of Fine Arts in Robin Christian Andersen's class, but shortly after, he chose to leave: "I felt bored and I left. I did not protest. Christian Andersen did not leave any mark." Formal training did nothing to shape Hundertwasser's evolution. On the other hand, the influence of Egon Schiele made a considerable impact and from his art, he derived the plastic expression of peaceful beauty, particularly impressed by his palette and the cities he conjured. Schiele's buildings seemed vitally and soulfully human, nothing like real architecture or the houses conceived by other painters. Young artist recognized the same inner luminosity in the work of Walter Kampmann, completed with the great reputations of Paul Klee and Gustav Klimt.
In October 1950, Hundertwasser first exhibited pictures in Paris in the Galerie Librarie Palmes. That was the time when he chose the name by which he would be known thereafter. In the Slavic languages "Sto" means one hundred, thus out of Stowasser emerged Hundertwasser. He transformed his first name in 1961 when he lived in Japan for a year, from Friedrich to Friederich, then to Friedereich and finally to Friedensreich that has a double meaning as "Peace-realm", in the sense of "peaceful". His other names were Regentag (Rainy day), that occurred to him when he noticed how colors shine in the rain, and Dunkelbunt (Dark-colorful).
Hundertwasser was widely influenced by Egon Schiele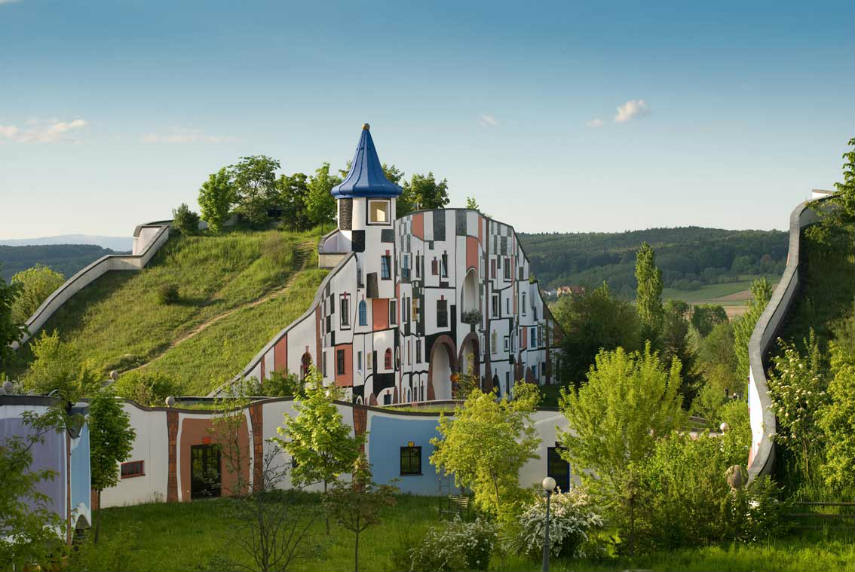 The Use of Spiral Lines
Hundertwasser's revulsion for the rectangular rationality of the mechanism into which life is forced derives from impressions made by Austrian Baroque's voluptuousness and the curvaceous richness of Jugendstil ornamentation. He contended that ruler-straight lines make people sick because, not occurring in nature, they incessantly subject people to an irritation for which the organism is unprepared. Spirals first appeared in his work in 1953. Possibly Jugendstil, that was still manifested all around him, in posters and paintings, in architecture, typography and book design, graphic, textiles, stamps and decorative arts, predisposed Hundertwasser to respond to the spiral form. His first architectural expression of that kind appeared in his Integrative School, Church, Office and Dwelling Complex in Frankfurt (1987). The sweeping ramps that come spiraling back upon themselves are all grass-covered and, seen from air, the building disappears. The first paintings in which the spiral occurs as a motif is Blood Flowing in a Circle and I Have a Bicycle.
Spirals first appeared in his work in 1953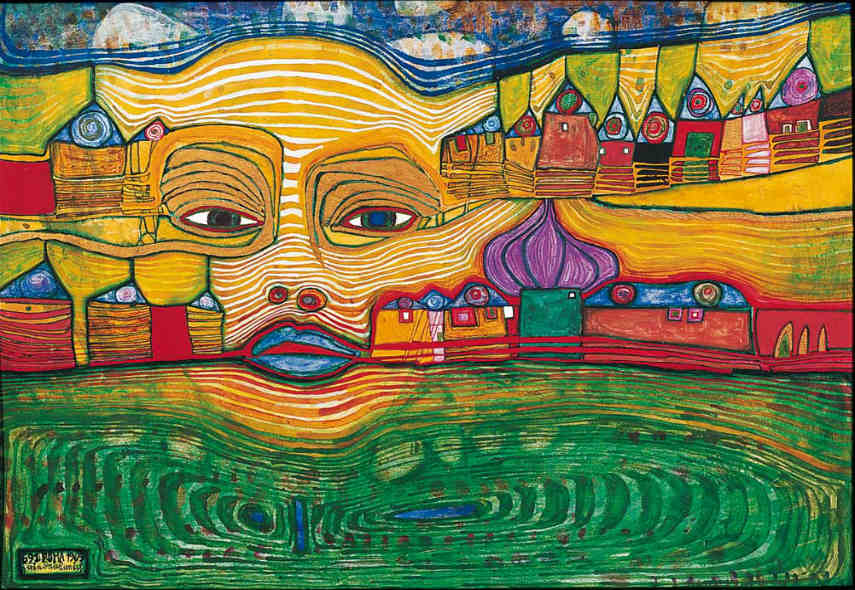 Famous Works
One of his strongest and most enduring images, Irinaland Over the Balkans (1969), was inspired by Bulgarian actress Irina Maleeva. The original painting had been done on aluminum foil covered with layers of paper. As he revised graphic conceptions derived from it, the silkscreen was a new work, full of marvelous graphic devices. Each version of the theme became stronger, more compositionally focused. Irinaland over the Balkans bespeaks love of a woman, the land, and art. Through and above the landscape floats Irina's face. This painting finalizes much of the artist's previous experimentation. It reaches a new frontier of formal and technical achievement, while distilling and emotional essence.
The artist left the significant mark by creating the Hundertwasserhaus – an apartment building located in the Landstrasse district in Vienna. The vaulting joyous roofline evokes Gaudi's Casa Mila, but the Austrian one contain a roof garden, indoor winter garden, and numerous terraces reachable by stairs from the downstairs apartments. It was built between 1983 and 1985, according to the ideas and concepts of Hundertwasser with architect Joseph Krawina as a co-author and architect Peter Pelikan as a planner. The conventional engineering shape was broken with non-organic embellishments, scattered windows, undulating stripes of color and mosaics of broken tiles and glass.
The vaulting joyous roofline evokes Gaudi's Casa Mila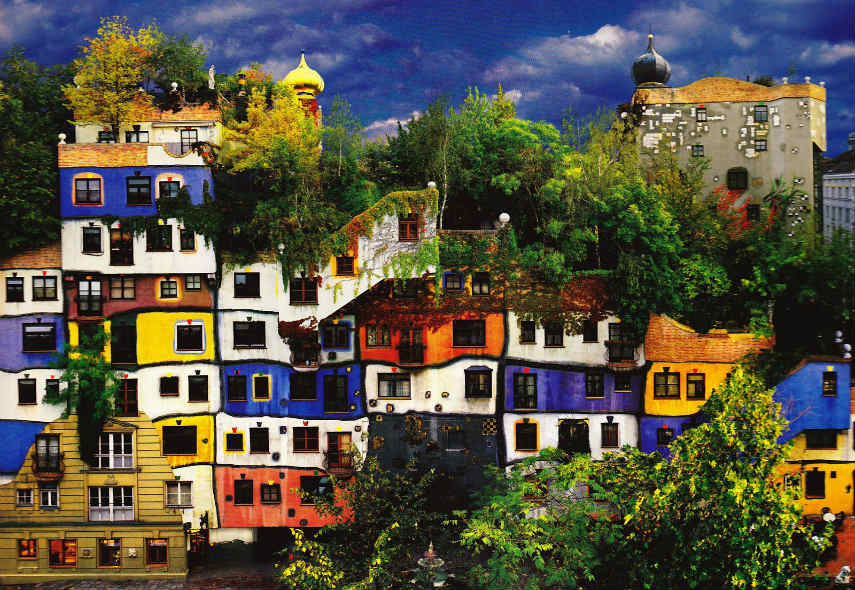 Conjoining Ecology and Art
Hundertwasser strived to make his art rich in effects. He never preaches that "less is more", but successfully animated many colors, often on small canvases rich with princely patterning. He died on February 19, 2000, and according to his wish was buried on his New Zealand farm in what he called "the garden of the happy dead". During his whole life, he traveled extensively. Dedicated to the ecological movement, his aim was to make life livable in a humane environment. Propagating new type of architecture that must be in harmony with nature, planting trees in urban environment was to become obligatory. Hundertwasser protested for the preservation of the natural habitat, demanding a life in accordance with the natural laws. His last project named Die Grüne Zitadelle von Magdeburg was finished after his death in 2005.
Featured image: Friedensreich Hundertwasser - Artist portrait, Image via mcgrathartroom.weebly.com