Internationally renowned for raising awareness of his country's culture and heritage, G. A. Dandekar is a talented painter from India who has been working tirelessly at breaking cultural barriers between Asia's countries, as well as introducing them to the lands of the West. G.A. Dandekar's work is a reflection of the kindness and dynamics India's people go through every day and the vibrancy this painter is so famed for make his pieces instantly appealing to both a layman, an average viewer or an expert, regardless of the fact if you've been previously introduced to the ways and the pace of India's life.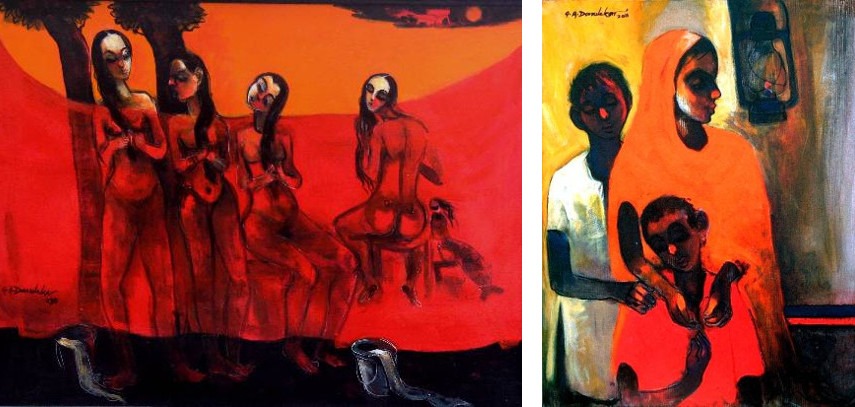 Artistic Navigation Through India
Growing up as a farmer's son, G. A. Dandekar had an interesting childhood set in such idyllic surroundings that his inner harmony was manifested through a fascination and preoccupation with nature. He spent his early years in his homeland in the foothills of Sahyadri, otherwise known as the Western Ghats of India (a famous UNESCO World Heritage Site) and the experiences gathered here can easily be seen in both Dandekar's early and mature artwork - this environment especially helped form the style of Dandekar's early landscape paintings. After his family realized he had both massive artistic potential and a strong drive for painting, G. A. Dandekar was sent to Mumbai where he joined an art school to pursue his love of painting. After he graduated with flying colors, G. A. Dandekar decided it was the right time to take an inspiration journey throughout his country, hoping that travels would be enough to fuel his inner desires to paint. These trips actually changed him for good as he found most beauty and appreciation not in India's nature but in her people - the colorful celebrations, village life and interactions of his countryman left G. A. Dandekar speechless and from that point onward, he would try to replicate these influences on canvas in his own unique way. After he became famous for his depictions of his country's different aspects, G. A. Dandekar was often asked where did he find his inspirations and influences - he would often give thanks to his childhood and nature, but would also name the likes of Picasso, Matisse, Van Gogh, Da Vinci, Goggin and the Indian masters of the past as they've all had a massive role to play in shaping Dandekar's aesthetics. As was said before, Dandekar praises his style for being simultaneously both approachable to laymen and experts as it manages to present India's style of life to anyone who is interested into finding out more than they know, regardless of how much art experience they have behind them. G. A. Dandekar is also highly regarded for his theoretical contributions to the India's art scene - with the statement like If simplifications and distortions are considered as mathematical or methodical steps in the creative process achieving simplicity can be considered as metaphysical one, you can be rest assured that this artist knows what he's doing.
Many elements of India's culture and modern life find their way into the art of G.A. Dandekar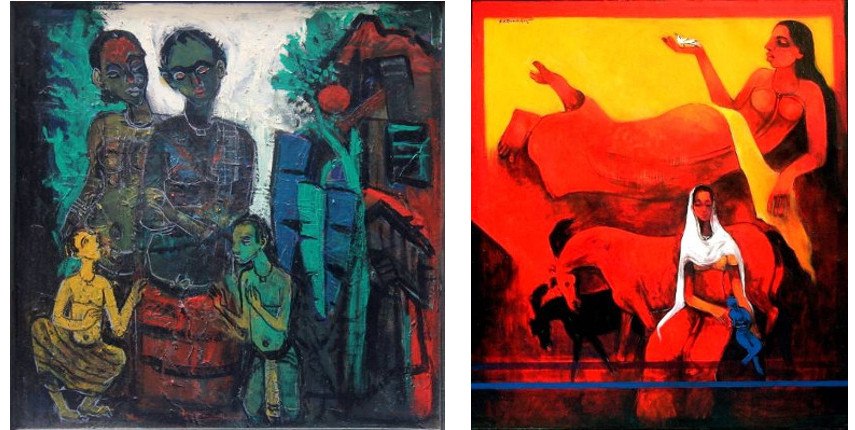 G. A. Dandekar and His Accomplishments
G. A. Dandekar has exhibited extensively throughout South and East Asia, with many solo and group shows proving to be a massive hit with the local audience, but his work can also be found in many private collections worldwide. He also appeared on a few television shows in which he sponsored art programs and has been commissioned by several large organizations to design their programs. This only comes to show how influential and important G. A. Dandekar is for art in Asia, especially his own country - here's an artist who proudly represents his heritage and presents it to the rest of the world, introducing India's culture to the audience who would never be in a position to meet the everyday life of one of the largest countries in the world.
G.A. Dandekar lives and works in Mumbai, India.
Featured image: G.A. Dandekar - Bride to Be (detail) - Image courtesy of Addicted Art Gallery
All images used for illustrative purposes only.