Gaia is a street art creative coming from the vibrant scene of New York. The artist named himself after the ancient mother of Earth in Greek mythology. But he was also inspired by the Gaia hypotheses created by scientist James Lovelock. According to his theory, Earth is a living, breathing organism infected by people like a virus, the same way people may be affected by the cold. The unusual connotation of the hypotheses attracted the young artist whose art contains a strong environmental undertone and is known to convey an end of the world feeling.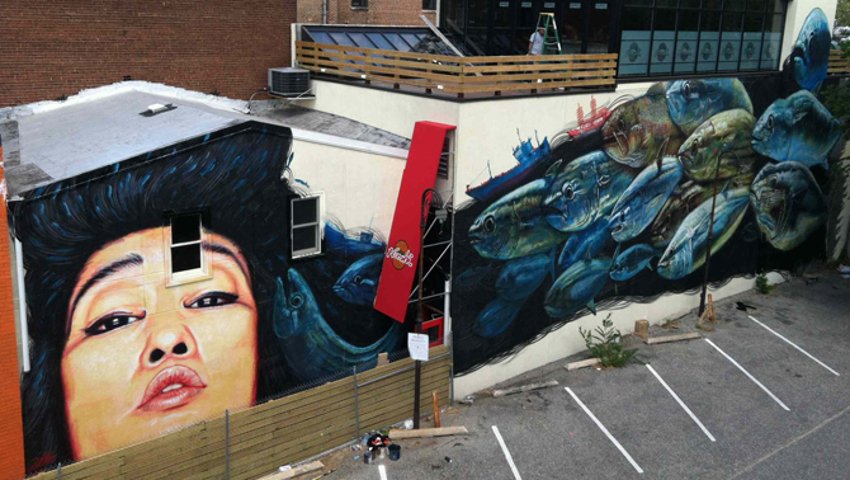 Portraying Human Path to Destruction
Andrew Pisacane aka Gaia was born in New York and grew up in the Upper East Side neighborhood to which he even dedicated a tattoo on his wrist. He began painting when he was in school and in 2007 he made his first wheat-pasting print of the side of his linoleum blocks. Gaia studied art at of the Maryland Institute College of Art in Baltimore, Maryland. At first, his artworks depicted humans morphing into animals but later on his interest spread to encompass a variety of issues that lead the human kind to destruction. Immigration, climate change, environmental degradation, urban blight, and gentrification all found their way to the artist's pieces.
Mural Artworks by Gaia are often inspired by rich men and local figures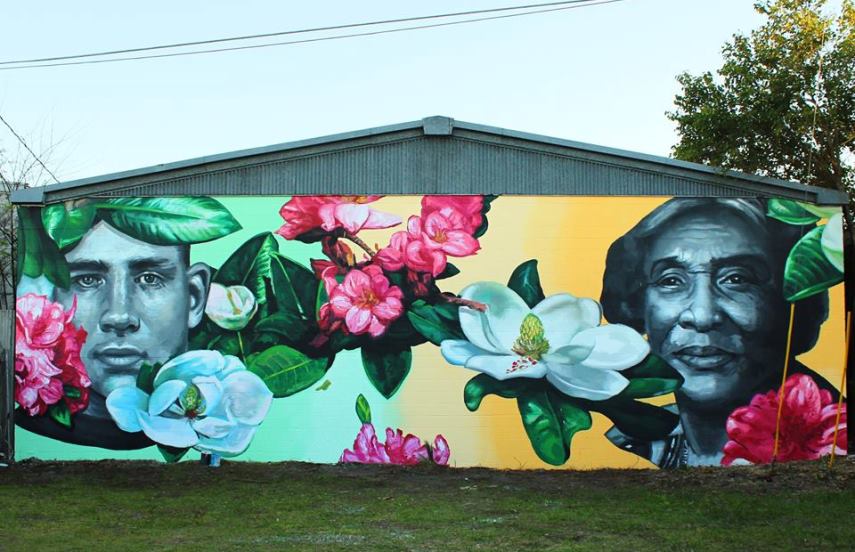 The Dark Side of Urban Development and its Key Figures
Gaia is particularly interested in the development of the big cities but also people who shaped urban environments as we know them today. That's why his pieces often incorporate black and white portraits of rich men, planners, and politicians like Nelson Rockefeller, Henry Flagler or James Rouse who changed cities structure and become their eternal part. The artist always creates pieces with numerous social and political references about the neighborhood they were painted in. His artworks often highlight the diversity of New York's natives who by coming from a variety of backgrounds and having different destinies. At times the only thing his characters have in common are the city they live in, the moment they came together and a place in a mural by Gaia. In 2015 the artist dedicated a series of his works to the immigrant crisis that still troubles the world today but simultaneously payed homage to his own Italian roots.
Gaia creates street artworks with numerous social and political references about the neighborhood they were painted in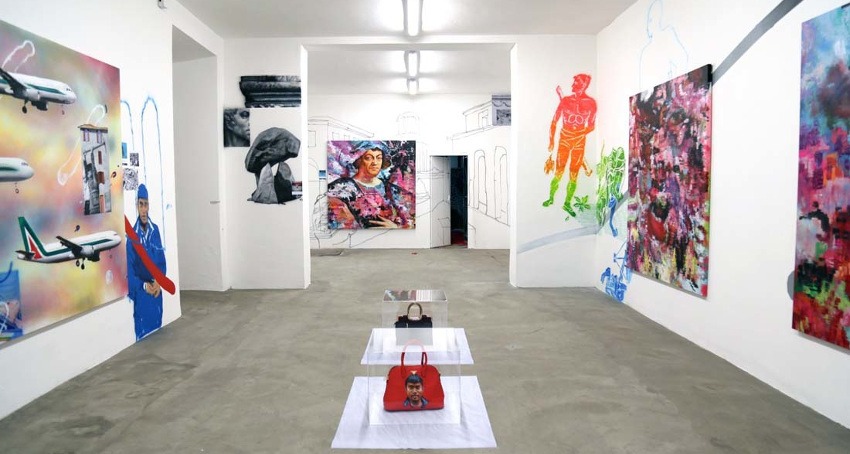 Critical Acclamation of Thought-Provoking Works by Gaia
Black and white portraits of important figures and community members are often juxtaposed with colorful images of flowers entangled together to portray the unity of all living beings. Apart from embellishing buildings around the globe, Gaia also produces a variety of studio works who nurture the same artistic approach. The artist has participated in numerous museum shows at Pera Muzesi, Istanbul, Palazzo Collicola Arti Visive, Spoleto, Baltimore Museum of Art and Smithsonian Museum in Washington. Body of work by Gaia was featured in solo shows in Huston, Chicago, New York, and Washington DC, among others. Apart from painting murals and creating indoor pieces, the artist also writes about art and curates show including Open Walls Baltimore project in 2012.
The artist lives and works in Baltimore, USA.
Featured image: Gaia - Portrait
All images copyright the artist