Garry Winogrand was a legendary street photographer best known for his depiction of the modern American lifestyle in the mid-20th century. Along with his European counterparts such as Henri Cartier-Bresson and Robert Cappa, Winogrand has captured many pressing social issues as well as revolutionary attitudes and anxieties of his time. Because of his restless work fueled by unlimited passion, it is safe to say that Winogrand is considered one of the most important American photographers of the 20th century. He began his career as a journalistic photographer but eventually decided to change this approach and started capturing unique moments of the post-war American life. Unlike Cartier-Bresson, Garry Winogrand wasn't looking for any decisive moment. No moment is most important, he said. Any moment can be something.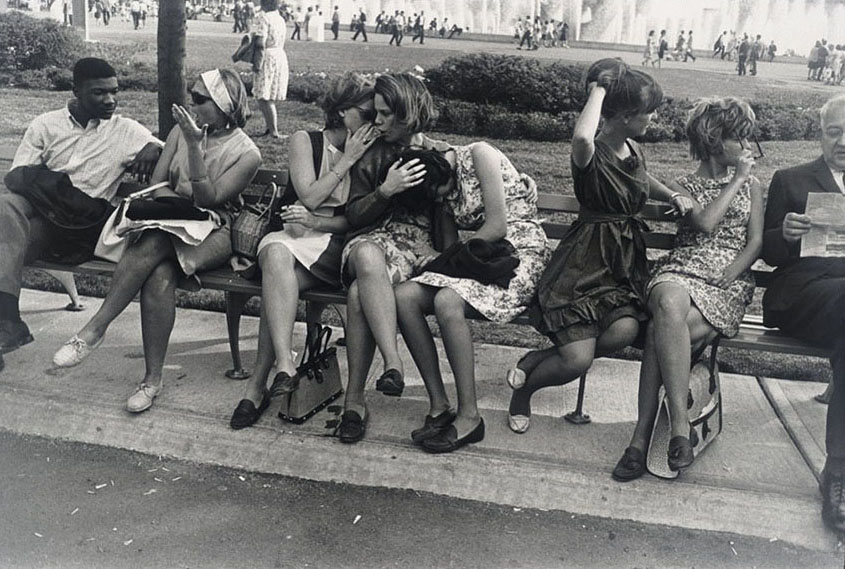 Education and Early Life
Garry Winogrand grew up in a Jewish working-class area of the Bronx, New York. His father, Abraham, was a leather worker, while his mother Bertha used to make neckties for piecemeal work. Winogrand was interested in fine arts ever since his early childhood and he was quite decisive and self-assured related to his educational path. He studied painting at City College of New York and afterward painting and photography at the prestigious Columbia University in New York City. In addition to his basic art courses, Garry Winogrand also attended a photojournalism class taught by Alexey Brodovich in 1951, where he fell in love with this specific photographic style which is radically different from studio photography normally taught at art schools. In the early 1960s, Winogrand started shooting on the streets of New York City along with his contemporaries, also very successful photographers, such as Joel Meyerowitz, Tod Papageorge, and Diane Arbus. Thanks to a large number of really successful photographers, 60s and 70s were the golden era of street photography, photo books and exhibitions in both Europe and the United States.
In the early 1960s, Garry Winogrand started shooting on the streets of New York City as well as organizing exhibitions of his modern candid pictures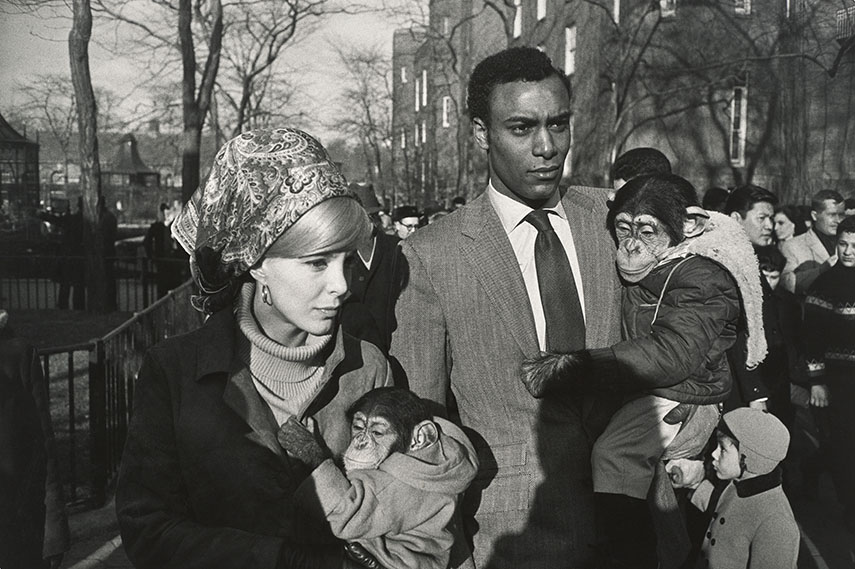 Winogrand's Early Career
Winogrand's aesthetic vision began to emerge in 1960 when he started strolling down the streets of New York City with his Leica camera and his energetic and curious approach to people and events. He started using wide-angle lenses to create a certain lyrical feel in his depiction of the human condition. He was influenced by documentary photographers such as Walker Evans and Robert Frank and he taught himself how to tilt the camera in order to include the peripheral elements that would have been cut off by the frame normally. This practice also yielded quite bizarre compositions as well as some degree of distortion. This means that Winogrand didn't strive for classical, perfectly composed pictures which are praised in traditional photography. His unique style quickly got the name snapshot aesthetic, which Winogrand himself disliked because it implied that his approach was casual and unprofessional. Garry Winogrand worked mainly as a photojournalist and advertising photographer throughout the 50s and 60s. Between 1952 and 1954 he worked as a commercial photographer at the Pix Photo Agency in Manhattan and from 1954 he started working for Brackman Associates. In the early 1960s, he started developing his own style while photographing the busy streets of New York City. His collection of photographs taken at the Bronx Zoo and the Coney Island Aquarium was featured in his first photo book from 1969, called The Animals. This is a very emotional collection which depicts various connections between humans and animals. His second book from 1977, called Public Relations, shows an entirely different topic - press conferences, protesters beaten by cops, but also museum parties. In his third book called Stock Photographs, published in 1980, Winogrand has documented his view of the Fort Worth Fat Stock Show as well as many rodeo shows. In 1966, Winogrand had his debut exhibition at the George Eastman House in Rochester, New York, along with his fellow photographers such as Bruce Davidson and Danny Lyon. The exhibit was entitled Toward a Social Landscape and it was curated by Nathan Lyons. Just a year later, in 1967, Garry Winogrand's work was already considered important and it was included in the Museum of Modern Art show in New York, along with the legendary pieces of Diane Arbus and a couple of other street photographers.
Garry Winogrand worked mainly as a photojournalist and advertising photographer throughout the 60s, experimenting with 28mm film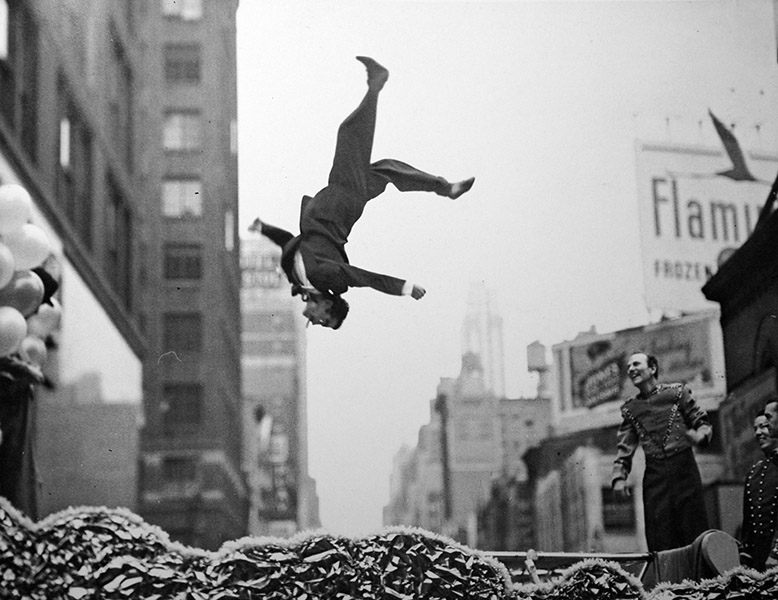 Winogrand's Best Known Series: Women are Beautiful
The themes of Winogrand's photography include a wide span of most diverse topics - business moguls, ordinary people on the street, celebrities such as actors and athletes along with hippies, soldiers, even animals in zoos, cars, and antiwar demonstrations. To put it simply, Winogrand gave his best to show every aspect of daily life in postwar America. He usually used a small-format camera, which was lightweight and it helped the photographer move quickly in the streets, without carrying any heavy equipment. He portrayed those who were rich and blessed with new opportunities of getting even richer along with those who have lost everything and had to live anxious lives, threatening to spin out of control. For the artist, all these characters were an excellent source of inspiration. He was able to make anyone's story unfold for him. Skillful at photographing the visual cacophony of the city, Winogrand was basically restless. City streets, people, rodeos, airports and animals in zoos – all these subjects were equally important for him. At the time of his sudden death, he left behind a staggering amount undeveloped film. His photographs of people, mostly women, in public places such as the Fifth Avenue in New York City were infused with humor and satire, but above all they were unique, offering a different insight into the life of the city. Winogrand's photos featuring women were collected and carefully arranged in his photo book from 1975, called Women Are Beautiful. This book was considered quite controversial and it seemed misogynistic to many readers who were used to different kind of photo books. Yet, this didn't influence Winogrand's outstanding reputation – he was the recipient of numerous awards, including a Guggenheim Fellowship and a National Endowment for the Arts Fellowship.
The themes of Winogrand's photography include a wide span of most diverse topics - business moguls, ordinary people on the street and celebrities, all shot with his signature Leica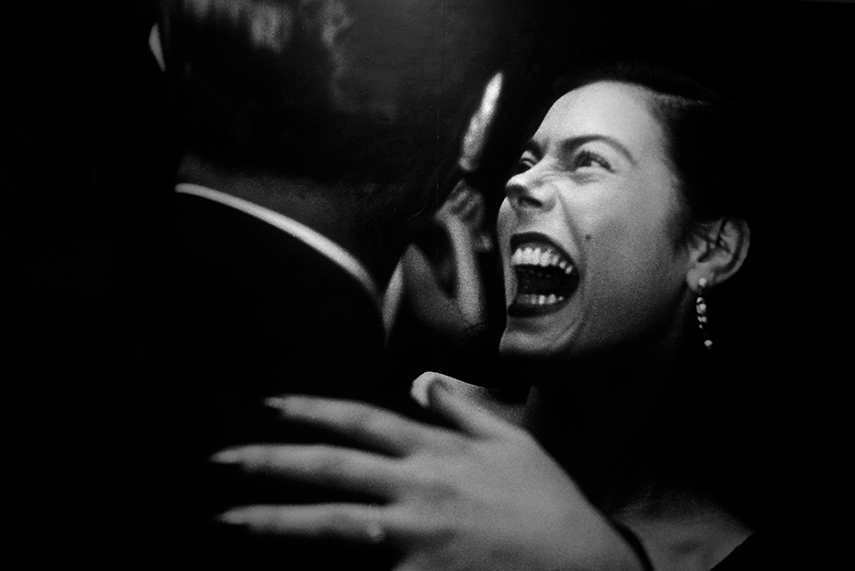 Winogrand's Photographic Style: Exploring the Very Heart of New York
Garry Winogrand's photography represents the very attitude he had in his everyday life. The awkwardness of invading someone's private space and disturbing the personal intimacy can easily be seen in his artworks. While Joel Meyerowitz did the same thing, there's still one important element that makes their approaches radically different. Meyerowitz, similarly to many other candid or street photographers, did his best to stay invisible, but Winogrand was sailing against the wind and doing quite the opposite. He didn't mind getting noticed, yet he knew how to approach his subjects in a good way. The moment we notice another person in our closest surroundings is very short and Winogrand knew how to recognize that moment. Preparing for the given moment, he would stay outside of the subject's view until he was absolutely ready to press the shutter. For example, one of his most famous images shows a bizarre scene when a young girl stares at him in horror and anticipation, while another girl barely catches him with the corner of her eye. The confused gaze most of his subjects give creates another meta-image of the events. Photographing solely people or the city wasn't enough for Winogrand and he always wanted to document the everyday life along with some specific location. If we take a closer look at his pieces, there is always some latent melancholy in his visual poetry, as a result of all those anonymous passer-by souls with their sad, angry, lost or simply beautiful faces, engaged in their as their daily roundabouts.
The awkwardness of invading someone's private space and disturbing the personal intimacy can easily be seen in Garry Winogrand's photography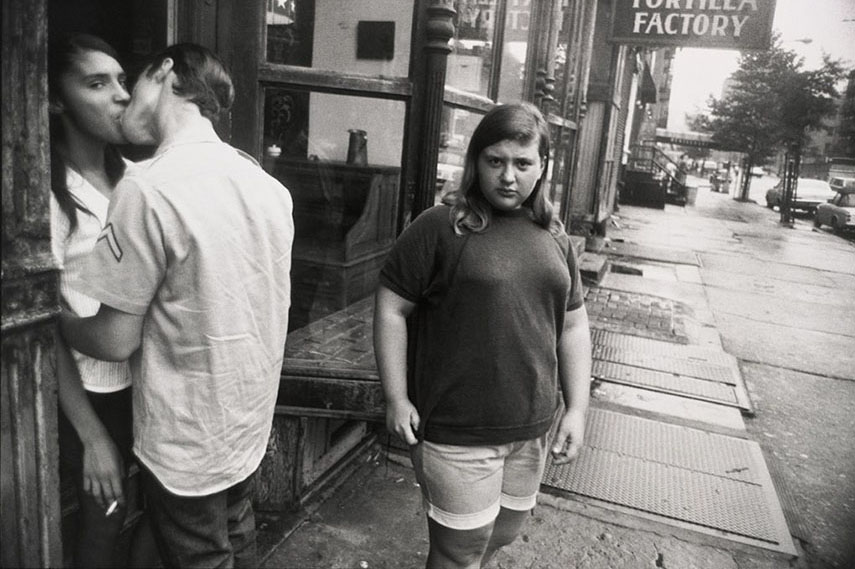 Later Career and Legacy
In the 70s, Winogrand wasn't freelancing anymore. Instead, he began supporting himself by teaching photography. Initially, he worked in New York, but he moved to Chicago in 1971 and started working at the Institute of Design, Illinois Institute of Technology. Afterward, he moved to the American south, namely to Texas, and started teaching at the University of Texas at Austin in the mid-70s. This wasn't the end of his travels quite yet – in 1978, he moved again, this time to Los Angeles. Only a year later, in 1979, he started using his Guggenheim Fellowship in order to keep traveling throughout the southern and western United States. His goal was to investigate social issues of his time. In his photo book from 1980, called Stock Photographs, he showed complex human relationships but also the way people treat animals since he documented the Fort Worth Fat Stock Show and Rodeo. Around the same time, Szarkowski, who was the Director of Photography at the Museum of Modern Art, became an editor of Winogrand's extremely large body of photos. Unfortunately, in the early 80s, Garry Winogrand was diagnosed with gallbladder cancer and he decided to seek an alternative treatment in Tijuana because he wasn't a great supporter of traditional American medicine. Sadly, his cancer quickly took its tool and Winogrand died in 1984, at age 56. At the time of his death, a large portion of his late work was still unprocessed – there were more than 2,500 rolls of undeveloped film. It is estimated that he left almost 300,000 unedited images. Nowadays, The Garry Winogrand Archive is the owner of his entire oeuvre, which consists of roughly 20,000 prints, 20,000 contact sheets as well as 100,000 negatives. A portion of his undeveloped work was exhibited and published by the Museum of Modern Art in the retrospective called Winogrand, Figments from the Real World, in 2003. Ten years later, even larger amount of his unexamined work was included in another retrospective as well as in the book on his life and work, called Garry Winogrand, published in 2013.
It is estimated that Winogrand has left almost 300,000 unedited images. He used really incredible amounts of film, always focused not to miss any interesting scene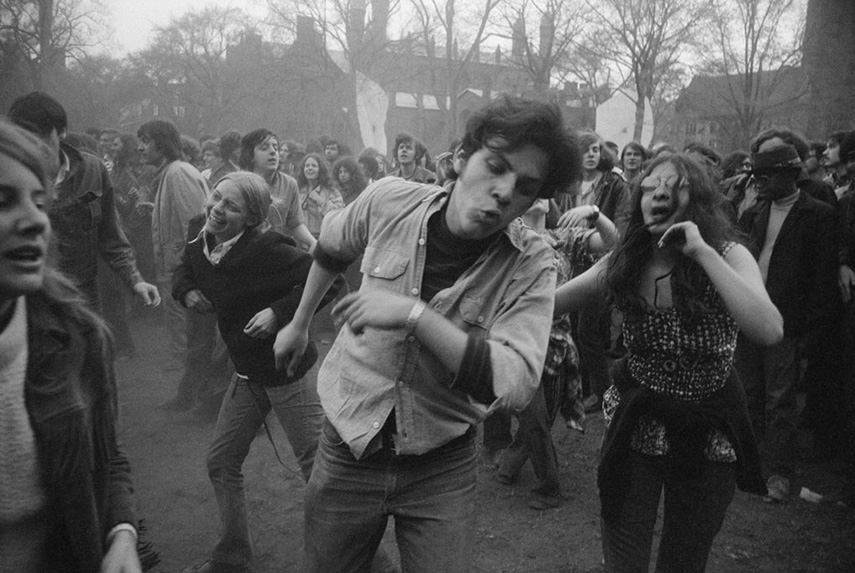 Important Exhibitions and Awards
In 1955, The Family of Man group exhibition at the Museum of Modern Art hosted two of Winogrand's pictures, which was the artist's successful debut show. As for Winogrand's first solo exhibition, it took place at Image Gallery, New York City in 1959. However, his first noticeable exhibition was in Five Unrelated Photographers in 1963, which also took place at the Museum of Modern Art in New York City. Besides him, other famous names at the exhibition were Minor White, George Krause, Jerome Liebling and Ken Heyman. Another important exhibit was Toward a Social Landscape at the George Eastman House in Rochester, New York with Lee Friedlander, Duane Michals, Bruce Davidson, and Danny Lyon in 1966. Winogrand also presented his photography in 1967, in the New Documents show at MoMA, NYC with Diane Arbus and Lee Friedlander. This exhibition was curated by John Szarkowski, the Director of Photography at the Museum of Modern Art, who later became an editor and reviewer of Winogrand's work. Winogrand was awarded a Guggenheim Fellowship Award in 1964 and only two years later he got his second Guggenheim Fellowship, which was a great honor. He used this award to fund his documentary work, with the aim of exploring the effects of media and press on the public and publishing more photo books. It is important to note that Winogrand was known for his continuous practice of taking an enormous number of shots. From 1969 to 1976, he shot about 700 rolls of film and the result of this passionate effort was 6,500 eleven-by-fourteen-inch prints for the exhibition and photo book entitled Public Relations. Another great honor that Winogrand received was the National Endowment for the Arts Fellowship, in 1975. In 1979, he received his third Guggenheim Fellowship and consequently he moved to Los Angeles to document the life in California. Winogrand's entire body of work was exhibited at the San Francisco Museum of Art Retrospective, held in 2013. This amazing show included more than 160 of his photographs. Afterward, this exhibition traveled to the National Gallery of Art in Washington D.C., the Metropolitan Museum of Art in New York, Jeu de Paume in Paris, France and Fundacíon MAPFRE in Madrid, Spain. When it comes to his main publications, many of Winogrand's monographs have achieved a great success, such as The Man in the Crowd: the Uneasy Streets of Garry Winogrand, The Animals, Women are Beautiful, Arrivals and Departures and Winogrand: Figments from the Real World.
The artist has used his Guggenheim award to fund his documentary work and travel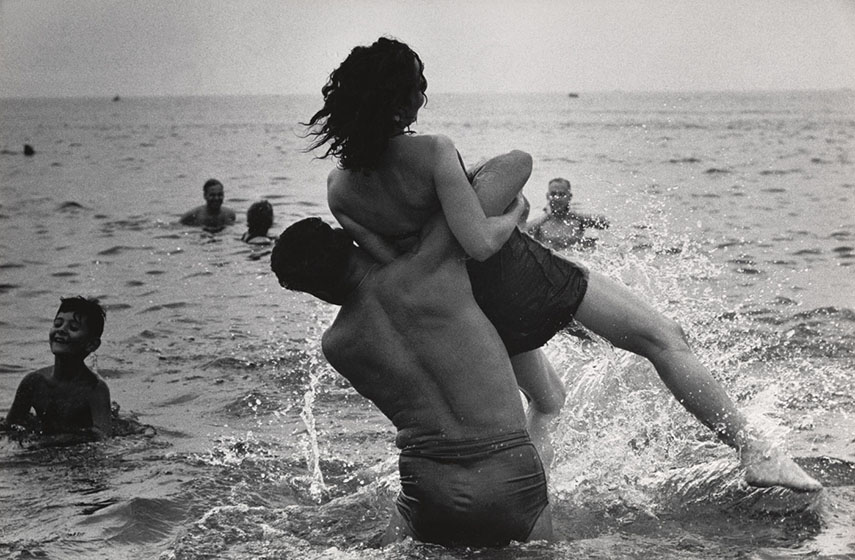 Unstoppable Energy of the Street
For Garry Winogrand, the energy of the street, always chaotic and unstoppable, was an everlasting, unfathomable source of inspiration. In the 1960s and 70s, he defined street photography through his particular, recognizable style. Nowadays, more than thirty years after his early death, Winogrand's legacy endures - the instinctive genius of American photography is still present in the world of photography and his obsessive dedication to shooting on the streets of New York is revered by many aspiring photographers. In 2013, around the time of Winogrand's retrospective in San Francisco, even BBC News have announced: For those of us interested in street photography there are a few names that stand out and one of those is Garry Winogrand, whose pictures of New York in the 1960s are a photographic lesson in every frame.
Garry Winogrand lived and worked in New York.
Featured image: Garry Winogrand's Portrait, 1991 - image via americansuburbx.com
All other images © The Garry Winogrand Archive