Gary Webb is a British artist known for making colorful sculptural works out of industrial materials, such as aluminum, steel, brass and glass. His approach to materials, colors, and compositions has made Gary Webb one of the best artists of his generation. Almost like an alchemist he takes the familiar materials of everyday use and turns them into something unusual, joyful and witty. A variety of influences are noticeable in his work including Minimalism, Pop, and Kinetic art as well as the Tropicalia movement. Influences of masters such as Anthony Caro, Donald Judd, and Joan Miro resonate throughout his work, but the artist also draws inspiration from compatible arts like furniture design, industrially produced objects, and advertising. The choice of industrial materials enables the artist to create a bond with the tradition of Modernist sculpture and contemporary reality.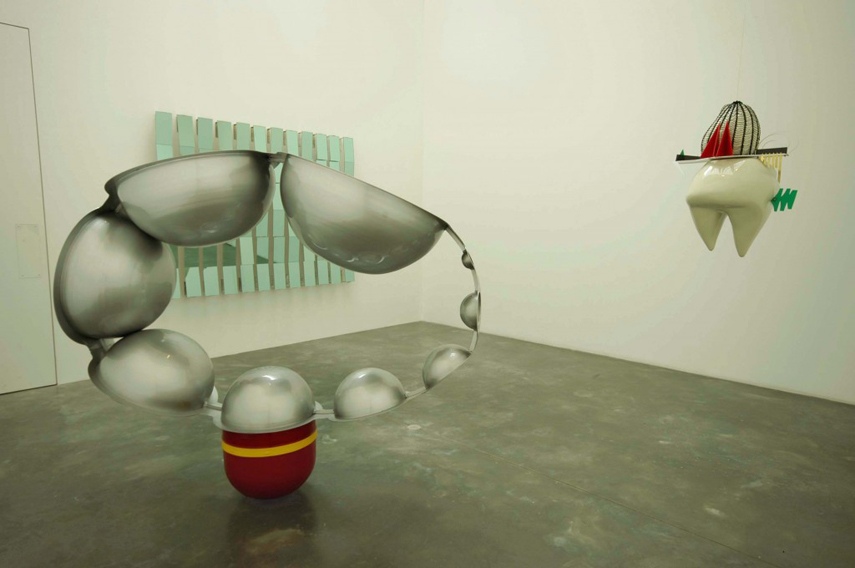 From Playing With Found Objects to First Exhibitions
Gary Webb was born in 1973 in Bascombe, Dorset, United Kingdom.[1] He first begun making sculptural forms when he was fourteen. As a young boy he experimented with a variety of media but was particularly drawn to sculpting as it provides more choice in the selection of material than painting. Finally, he got his BFA Goldsmiths College, London, UK. In his works, Gary Webb employs an array of hard materials such as iron and aluminum and turns them into an array of playful and funny objects thus showing the human ability to turn anything that's given to them to something interesting and fun. He often works with found objects that have a higher symbolic value and connects his art pieces with reality. Though at first glance, they seem colorful and light artworks by young British artist often contain an anti-consumerist and environmental tone. By employing the array of mass-produced objects in his works the artist raises the question of the environmental consequences of our consumerist lifestyle.
Gary Web got interested in sculpture as it provides more choice in the selection of material than painting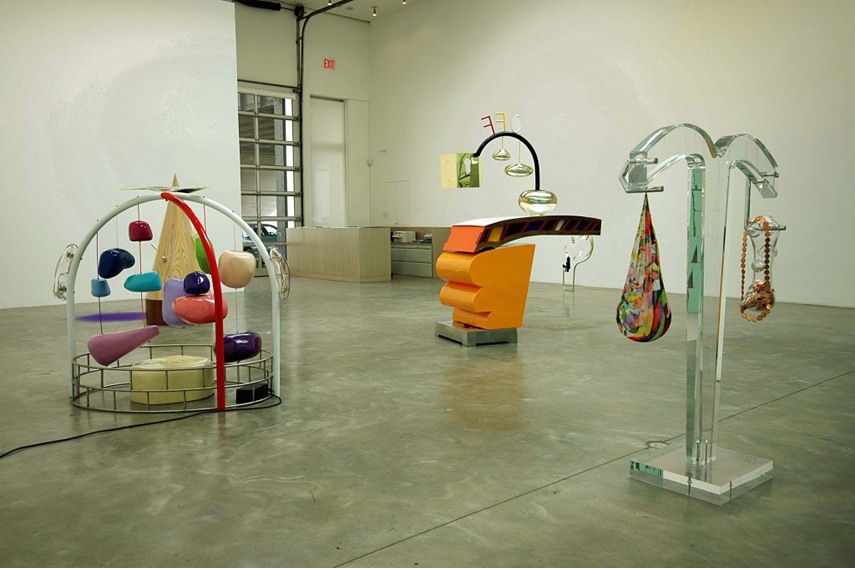 Music as an Integral Part of Gary Webb's Sculptures
Gary Webb employs music in his work to create striking and at times humorous effects. For instance, in his Muppet Box artwork, an array of pulsating disco lights was accompanied by Bee Gee's hit Saturday Night Fever. In 2005 he created a piece Mr. Miami that's accompanied with the artist recording of his own voice. [2] Music was an integral part of the art piece as the sculpture composed of yellow metal, black pigment and stems accompanied with pink, yellow and orange bowls, contained small shapes made of glass with loudspeakers inserted in them.
Colorful work by Gary Webb is often placed in public spaces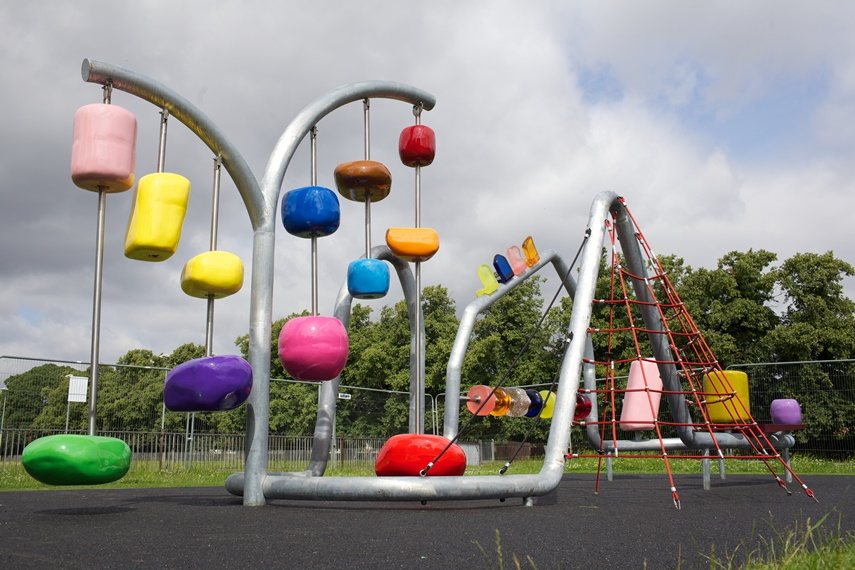 Art Pieces Residing Outside of Gallery Walls
The artist is also known for creating massive outdoor pieces placed in public spaces. In 2016 the artist was commissioned by Frieze Projects East to construct a permanent public sculpture in Greenwich. He responded by creating Squeaky Clean his trademark playful construction made of wood, aluminum, and cast resin. The large scale art piece represents a unique candy-like the playground and the children are encouraged to use it. Another two of Gary Webb's outdoor artworks are on permanently on view at De Cordova Sculpture Park and Museum. Artist's colorful pieces found its ways to numerous collection and were on view at numerous exhibitions at some of the world's finest art venues in London, New York, Salzburg and all over the world.
The artist lives and works in London, UK
References:
Anonymous, (2012), DeCordova Sculpture Park and Museum to Present Gary Webb's First US Museum Exhibition, , All Art News [March 4, 2017]
Anton K.G Gary Webb, Mirage of Loose Change, Presses du Réel (2011)
Featured image : Gary Webb - Portrait, via elephantmag.com
Images courtesy of bortolamigallery.com unless otherwise credited