Gavin Turk is a British artist who questions the conceptual foundations of contemporary art. He is a photographer and sculptor. Since the beginning of his career he wanted to explore the role of art in modern society, so naturally he is prone to have many philosophical inquiries. He belongs to the group of Young British Artist from the 1990s. His main interests are identity and authenticity. Quite often he uses his own character and reflection in his sculptures and installations. What art reveals in the artist is what his subject should be. How we perceive the world and how the world observes us is what interferes with our own reflection of self.
Gavin Turk is an experimental and conceptual artist and he always backs up his work with theory
Releasing Ideas from the Cave
Turk was showing amazing artistic talent since he was a child, and he started experiencing the world around him through colors, shapes and creations. He studied at Chelsea School of Art and continued his education at the Royal College of Art. However, he never graduated and did not receive his MA diploma because he caused a controversy and that escalation was the best career move he could never imagine that could happen. Turk set up an installation called the Cave which consisted of white painted room with blue plaque alike the ones that could be found on historical sites, saying Gavin Turk worked here, 1989-1991. His professors were not pleased with this act of egoism, and although that was not his intention, he was labeled as a narcissist and denied his degree.
The artist chooses sculputure because it gives him space and opportunity to experiment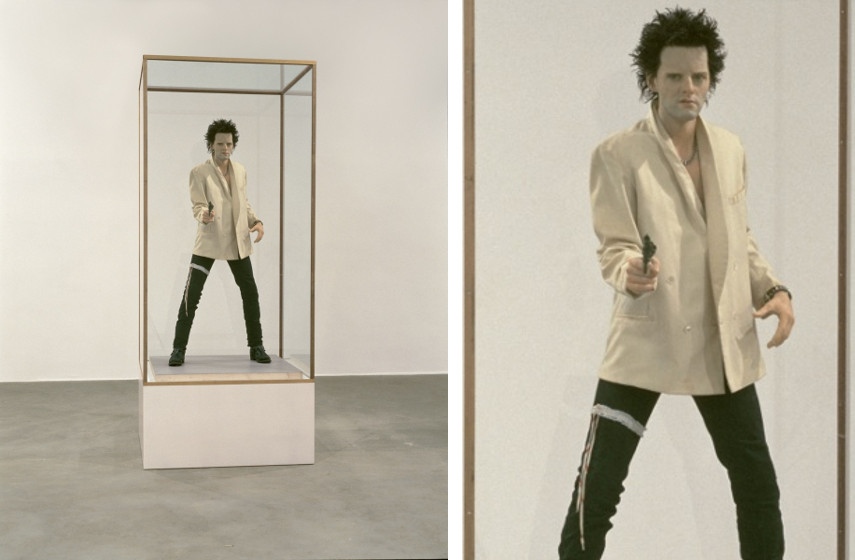 Pop Culture Icons and the Admiration That They Get
After the unfortunate event, he was recognized in the art world, and with his partner, and now wife, he began to explore and create. For him, art has to deal with philosophical and psychological. He chooses his medium because it gives him space and opportunity to experiment and put himself out there. Ignoring the traditional uptake that art should be pretty, he is more concerned about what his work communicates. Turk believes that true artwork must be questioned and examined, it must always be open to analysis. When he made his Pop installation in 1993, where he made a wax statue of himself, posing as Sid Vicious with the revolver in a manner Andy Warchol portrayed Elvis, he jumped over iconic symbols in order to question the icons and symbols people respect and admire.
Wittgenstein's Dream exhibition challenged the credibility of Freud's psychoanalytic theory




Gavin Turk - Wittgenstein's Dream, 2015, Freud Museum London, photo credits Telegraph UK

Relativism and Arbitrary Theories People call Science
Turk's idea is that art is about the artist, and that is the reason he is the subject of many of his works. After the concept behind his creations is presented and explained, it is obvious that he is more of the object of his art, and the theme is the idea of the identity. He shares a lot of theories about culture and philosophy and he analyzes every single thing he does. He does that in order to provide an explanation, to give more essence to his substance. Without theoretical knowledge artist's vision would be hollow and his creations shallow, so Turk tries to give the audience something to think about. In Sigmund Freud Museum in London in 2015, he set up an installation called Wittgenstein's Dream where a wax statue of philosopher Ludwig Wittgenstein is holding an egg, insinuating the fallacies of Freud's theories about what is real and what is just an impression. Turk contemplates and speculates, and continues to grow as an artist and as a skeptic.
The artist is represented by Hang-Up Gallery London and Cat Street Gallery.
Gavin Turk lives and works in London.
All images used for illustrative purpose only © Gavin Turk