Known for tackling the visceral reality of postwar Germany, Georg Baselitz is an artist who has been able to grasp the world's attention for the last fifty years. Equally controversial, both his works and personal statements have provoked and strongly separated the public. He emerged as a pioneer of German Neo-Expressionist painting style, but from a European perspective, it is seen more as postmodern. Arguably, his strongest quality is the uncanny consistency with which he's been creating for more than half a century. Always in the spotlight, he never truly belonged to mainstream, rather categorizing himself as an outsider opposed to expectations and popular trends.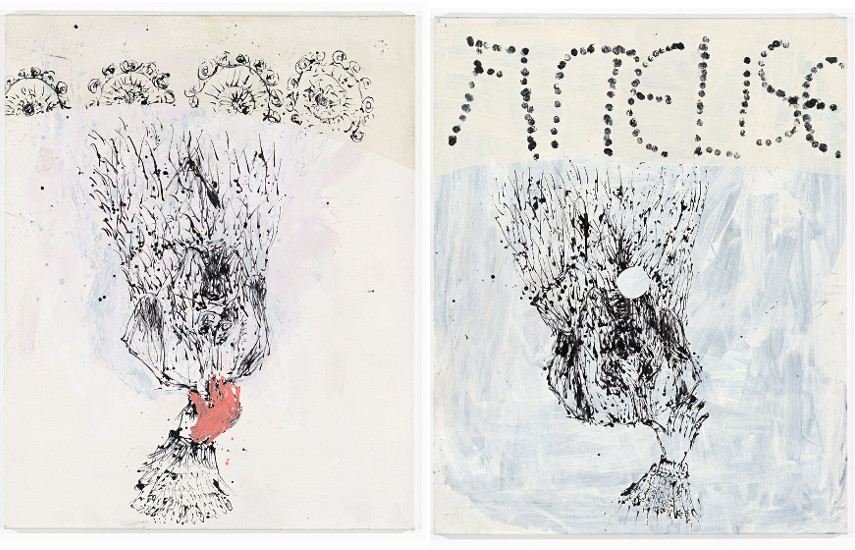 Georg Baselitz – Early Life and Education
Born as Hans-Georg Kern, the artist was raised in Deutschbaselitz in Germany. His father worked as a teacher at an elementary school, and the family lived in a flat above a schoolhouse. Young Georg first discovered the 19th-century pencil drawing in the school's library, and these helped him to begin creating himself. When he was just eleven years old, he assisted wildlife photographer Helmut Drechsler on his ornithological photo shoots, which subsequently led to the painter's later landscapes of the Saxony countryside, but also inspired the painting Wo ist der gelbe Milchkrug, Frau Vogel? meaning Where is the Yellow Milkjug, Mrs Bird? - a piece that featured upside-down yellow birds. This reversing of his subjects is also one of Baselitz's trademark imagery, along with figuration and controversial themes. In 1950, the family moved to Kamens where he attended high school. Interlude During a Hunt in Wermersdorf Forest, a painting by Ferdinand von Rayski, hung in the school drill hall, and it greatly influenced the artist's later pieces, including his very first inverted painting Der Wald auf dem Kopf (The Wood on its Head). Originally denied acceptance into the Art Academy in Dresden, Baselitz began studying painting under Herbert Behrens-Hangler in 1956 at the Academy of Visual and Applied Art in Weissensee, East Berlin. However, after just two terms, he was expelled because of his "political immaturity".[1] A year later, he enrolled at the Academy of Visual Arts in Charlottenburg, West Berlin, where he developed an interest in the work of Ernst-Wilhelm Nay, Wassily Kandinsky, and Kazimir Malevich.
Branded as politically immature, he was expelled from East Berlin art school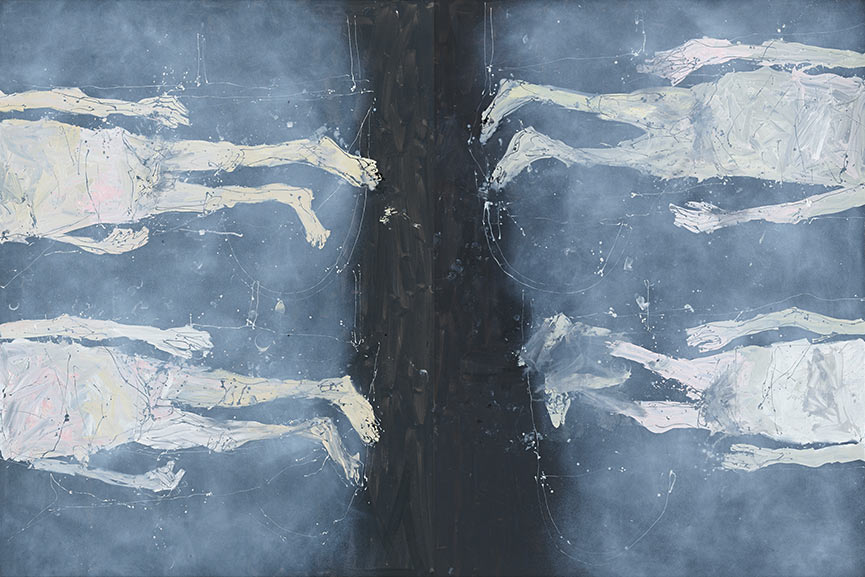 Mature Period and Transition to Sculpture
In 1958, he adopted the name Baselitz in a tribute to his hometown, and the same year he met his future wife, Elke Kretzschmar. While still studying, the artist created a series of imaginary portraits, including the Rayski Head and Onkel Bernard, beginning to focus on German identity in the post-WWII era. The paintings were composed of thick, fluid brushstrokes, the individuals appearing more as caricatures rather than traditional realist portraits. Having previously lived under Nazis, followed by the Communist regime and the approved social realism he studied at college, Baselitz knew almost nothing about German expressionism, dadaism, surrealism or even cubism. Upon his arrival to West Germany, he attended a touring show of the American painting, and "suddenly here was abstract expressionism. Paintings by Pollock, de Kooning, Guston, Still and many others, in the very buildings where I took classes every day. It was overwhelming. And not just for me. Even the professors had not seen this sort of work before."[2] In the early 1960s, he concentrated on specific archetypes in paintings and woodcuts, mostly of rebels, heroes, and shepherds, becoming increasingly interested in anamorphosis, the distorted or monstrous representation of an image, as exemplified in the proportions and facial features of his figures. Experimentation was the only way to reinvent his exaggerated art style, and in 1969, attempting to free the style from the subject matter, Baselitz painted his first inverted piece entitled Der Wald auf dem Kopf (The Wood on its Head). A decade later, he once again reinvented his approach to art, making a decision to start producing sculptures.
He reinvented his exaggerated style through experimentation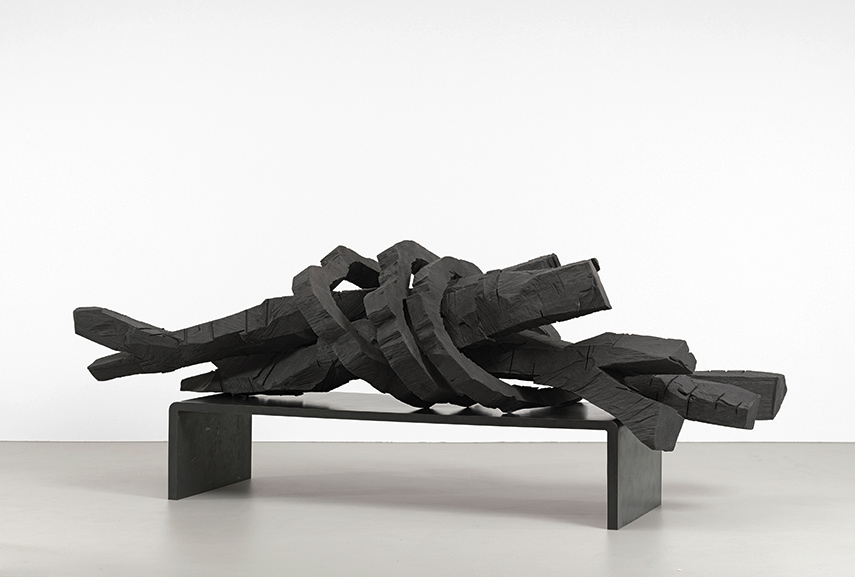 Artistic and Personal Controversies
These sculptures, similarly to his paintings, were unrefined, forceful, and crude. By refraining himself from polishing his works, the artist would often simply leave the surface uneven, scratched, and chipped, adding to rough-hewn appearance. In 1980, his already established reputation was confirmed when was chosen to represent his country at the Venice Biennale. The prestigious event was the perfect opportunity to exhibit his first sculptural artwork – Model for a Sculpture. It was a crudely carved wooden figure which immediately sparked controversy due to the similarity of its out-raised arm gesture to a Nazi salute. It was one of many controversies regarding his work. Baselitz is also known for having some questionable opinions. For example, his infamous claim that women can't paint raised more than a few of eyebrows. Basing it on the many years of teaching experience, where the percentage of female students was up to 80%, he stated: "Women don't paint very well. It's a fact. There are, of course, exceptions. Agnes Martin or, from the past, Paula Modersohn-Becker. I feel happy whenever I see one of her paintings. But she is no Picasso, no Modigliani and no Gauguin."[3] He added Helen Frankenthaler, Cecily Brown, and Rosemarie Trockel to the list of exceptions, saying that he respects their work. Attempting to provide an explanation, he stated: "There is, of course, quite a lot of brutality in art. Not brutality against others, but brutality against the thing itself, against what already exists. When Modersohn-Becker painted herself, she looked very unpleasant, and extremely ugly…", and "…she hesitated to destroy others, in other words, to really destroy Gauguin by going beyond his art. Men have no problem with that. They just do it. But you must know that I do love women."
Baselitz represented his country at 1980 Venice Biennale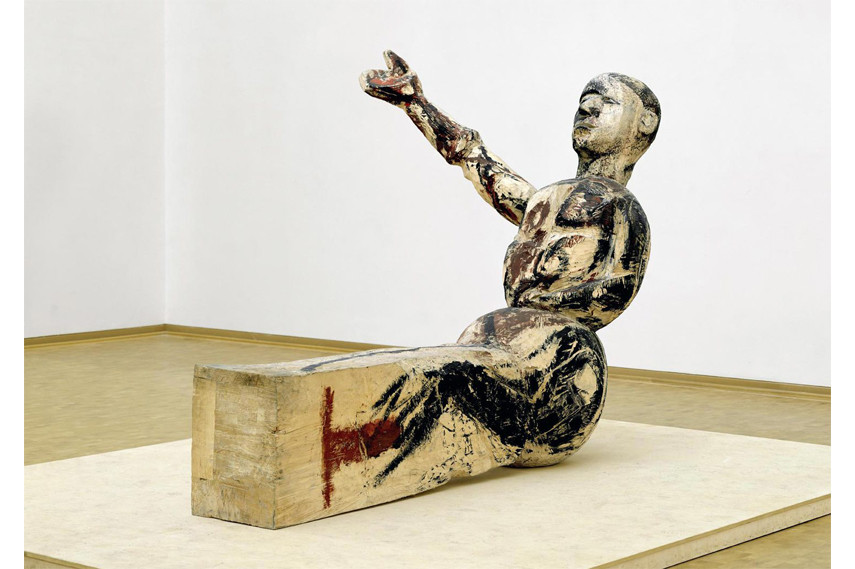 Remix Paintings, Activism, and Recent Exhibitions
In 2005, the painter introduced the 'Remix' in his work, marking the return to key phases of his own artistic history. This concept included making new versions of the previous works, now painted intuitively, with quick and spontaneous flashes of bright, transparent color. It also allowed him to revisit and excavate the past, pushing his own painterly vocabulary to create works that are fresh and liberated. Baselitz revisits paintings such as The Great Friends and Finger Painting-Eagle in a dynamic process that virtually reinterprets the original versions' significant features, thereby transposing the artist's work into a more contemporary framework.[4] The impulse to improve, clarify, and update is clearly evident, but the haunting, fleeting quality of the Remix work has also to do with a mature artist's meditations on time, presence, failure and possibility. In 2014, faced with the possibility of Germany introducing a new legislation concentrated on the protection of the country's culture (which would have brought significant financial damage to galleries, dealers, and artists), Baselitz pulled his artworks that were loaned to some of biggest German art museums. Near the end of 2015, the artist had a show at CFA Berlin, where dogs weren't just a banal decoration in the corner of the canvas, but take a central stage and the artist identifies strongly with his animal subjects. The exhibition's title Sigmund's Cave is spelled out above and around every subject, thus alluding to the fact that these are not simple dog portraits but rather codes of a Freudian universe. In 2016, Baselitz had a major solo show at White Cube in London, entitled Wir fahren aus, where he occupied the entire gallery space and showed his monumental paintings and sculptures.
His modern and expressionist art ushered a path for postmodernism and neo-expressionism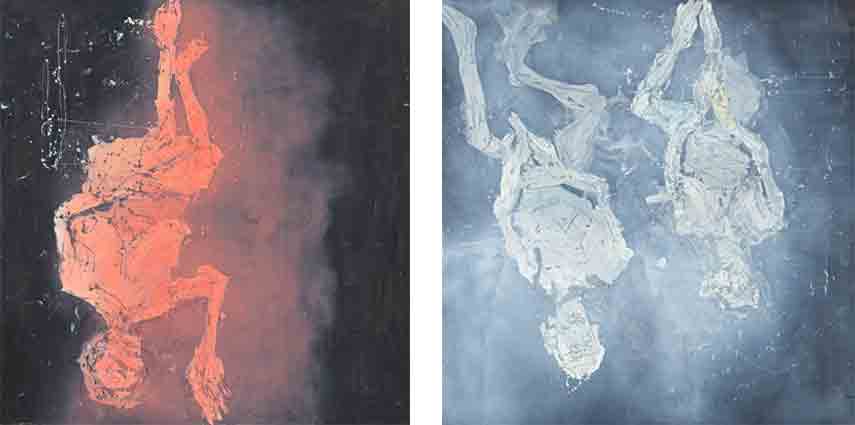 Legacy
Best known for the incredible quality and consistency present in his work, Georg Baselitz was exposed to Social Realism and Abstract Expressionism before playing a major role in reviving the German Expressionism and ushering a path for Neo-Expressionism. Inspired by the work of Edvard Munch and Philip Guston, the artist himself inspired many others, including Julian Schnabel and Jean-Michel Basquiat. Presenting himself as an outsider, he put a lot of effort in reviving symbols of German national identity that were tarnished after World War II. After much experimentation and after conquering nearly every artistic medium, Baselitz has established a reputation of being not just one of the German best known painters, but as one of the most famous artists in the world.
He is represented by White Cube, Gagosian, and Kunzt Gallery.
Georg Baselitz lives and works in Saltsburg, Austria.
References:
Searle A. On the Offensive, The Guardian [November 2,2016]
Wroe N. Georg Baselitz: 'Am I supposed to be friendly?', The Guardian [November 2,2016]
Beyer S and Knöfel U. 'My Paintings are Battles', Der Spiegel [November 2,2016]
Heinze A. Georg Baselitz: Back Then, In Between, and Today, Prestel, 2014
Featured image: Georg Baselitz – portrait – photo credits Michael Dannenmann, courtesy of Huck Magazine
All other images are copyright of the artist